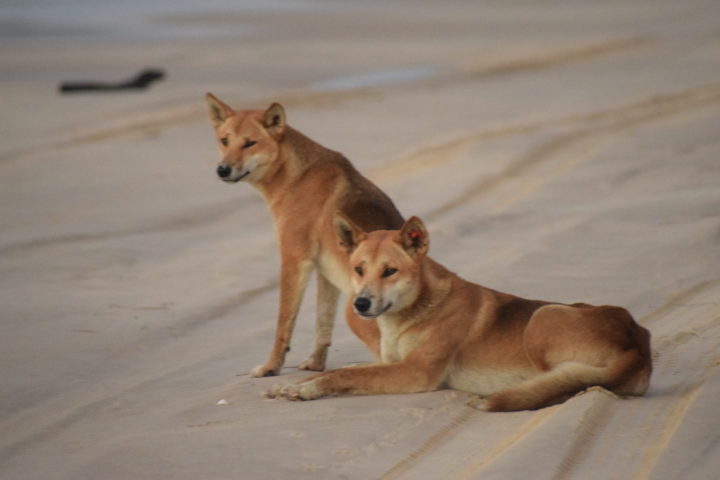 Why visit Fraser Island
Fraser Island is paradise and its also the place to see a real wild Dingo. They are often found wandering on the beach in search for an easy meal and often find themselves being photographed by bus loads of tourists If  you have the opportunity to visit this paradise you will be surprised by its beauty and all that it has to offer. Not only is it the largest sand Island in the world it is also World Heritage listed. Many thousands of tourists and backpackers visit every year and love it.  We are sure you will too and here is a few reasons why
TOP  10 REASONS TO VISIT FRASER ISLAND
It is the largest sand island in the world approx. 122km long and between 5-25 km wide.
You can explore hundreds of sandy tracks linking beaches to the majestic rainforest and perched lakes to coloured sands.
Swim in the crystal clear waters of the pristine Lake McKenzie and Eli creek.
Climb the rocky headland of Indian Head for a magnificent view.  Keep a lookout for stingrays, sharks,dolphins & whales in the water below.
Take a photo of a wild Dingo.
Drive along 75 mile beach for a bit of real 4Wheel driving..boggy sand, creek crossings and rocky headlands.
Photograph the diverse range of flora and fauna.. everything from turtles to tawny frogmouth owls, wallabies to whales including 350+ species of birds.
Fancy a walk ?….try a 6-8 day hike on the walking tracks and explore the island on foot.
If your a keen fisherman you will be sure to fill your esky with some whiting or dart while you fish from the beach.
If you love camping either in a tent, camper or caravan you will have spectacular views from your campsite to enjoy the ocean and go stargazing at night.
Start planning your trip
These 10 great reasons to visit the island are only a few to see and do. Start planning your trip and experience for yourself the paradise they call Fraser Island.
Having lived on the island for years ourselves we are still fascinated by the wonders of this island and we still have much more to explore. Thankfully we wont be leaving this island anytime soon !! Our daughter Lotus took the photo of the two Dingos on the beach at Waddy Point. Part of a huge pack that roam the dunes up here.
Please take a few minutes to check out our other pages on our website  as you will find some really helpful information that will answer many of your questions.