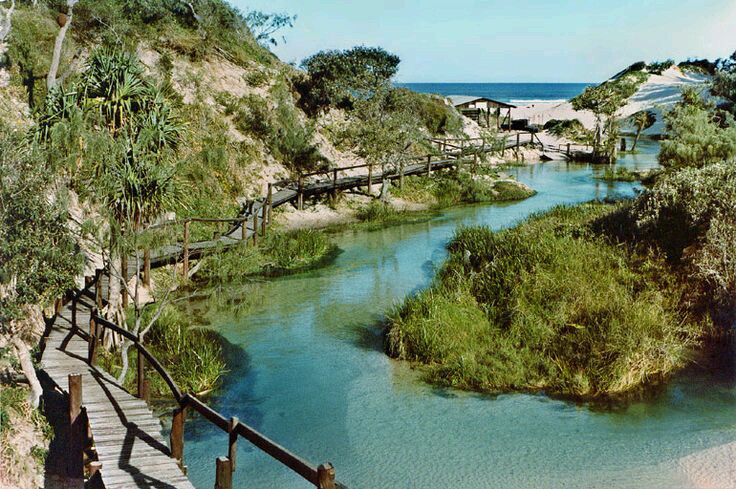 Eli Creek – Eastern Beach
Australia is the lucky country that's often recognised for its beaches and rainforests. But few people know about one of the most beautiful island chains. The island paradise called Fraser Island.
It's a wonderland of stunning natural formations, making it a desirable tourist destination with visitors coming from all over the world.
One of those magic Fraser Island destinations is the stunning gem called Eli Creek.
It is one of those must see spots to visit on Fraser Island. Well worth the stop. In the summertime this is a perfect spot to cool down for a refreshing shallow water swim.
Eli creek is a pristine, crystal clear freshwater creek that flow out of the surrounding hills. The creek is stunning.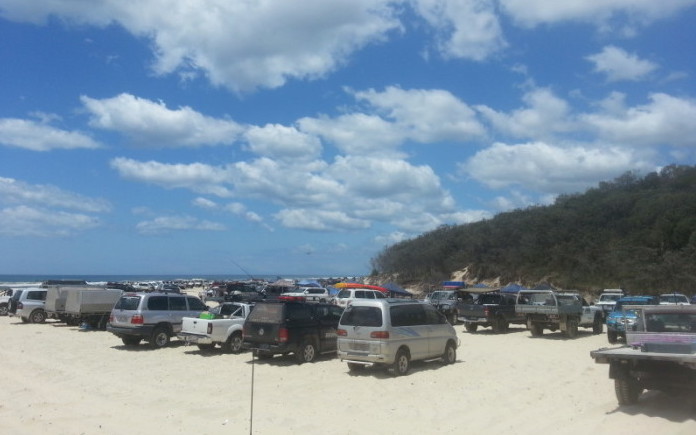 Eli Creek is like a Myer car park at sale time
Where is Eli Creek on Fraser Island?
Eli Creek is found on Fraser Island's eastern beach and is a popular destination for campers and other visitors who want to enjoy the island's natural beauty.
The creek can be reached by taking a short walk from the Eli Creek camping ground, located south of Happy Valley .
There you'll find a sign pointing out the path that leads to it.
It is a very popular spot for families and backpackers and in peak season the surrounding area looks like a Myer car park at sale time.
What Can You Do At Eli Creek?
Eli Creek is about 200 meters long and is fed by natural springs which keep the water clear and clean.
It's the perfect place to pop up the beach umbrella or roll out your awning for a picnic.
Our kids love to float down the crystal clear water on their boogie boards and air beds.
It's so tranquil that it looks like a river flowing through the sand rather than an actual body of water.
As you follow its course downstream, you'll be surrounded by lush vegetation on both sides, making for a truly idyllic spot for a swim.
This includes tall eucalyptus trees, ferns and palms.
There are also some small streams that connect with the creek further downstream which make for perfect places to cool off during hot summer days.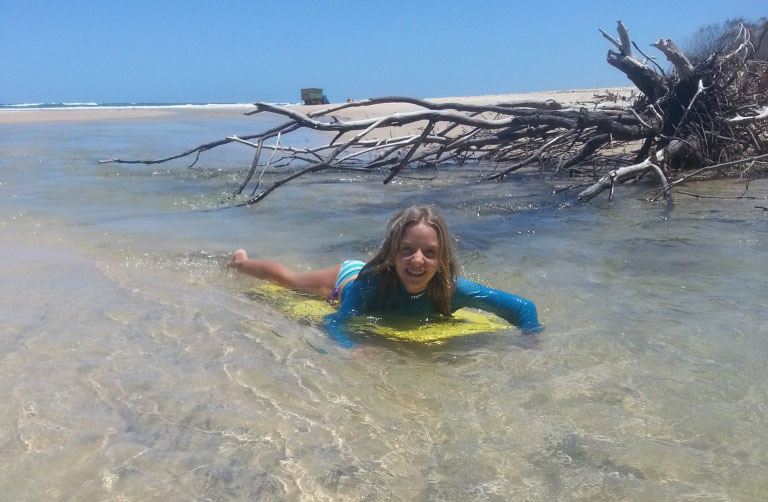 If your lucky you may get to see a local Eel or Tiger Perch swimming along side you.
The creek has a boardwalk that you can follow and stroll along.
The boardwalk is a few 100 meters long to the top where you can enter the creek to swim or float down if you wish or walk leisurely back.
In the winter time the water can be icy cold so the board walk is perfect to view the creek and its surrounding vegetation if you want to avoid hypothermia.
Having a game of cricket or kicking the ball in the shallow water is popular with the kids, ( the little ones and the grown up ones )
The creek does have toilet facilities however at peak times toilet paper can be scarce.
For anyone that visits Fraser Island all will agree that Eli Creek is one of the highlights and a must see for all visitors.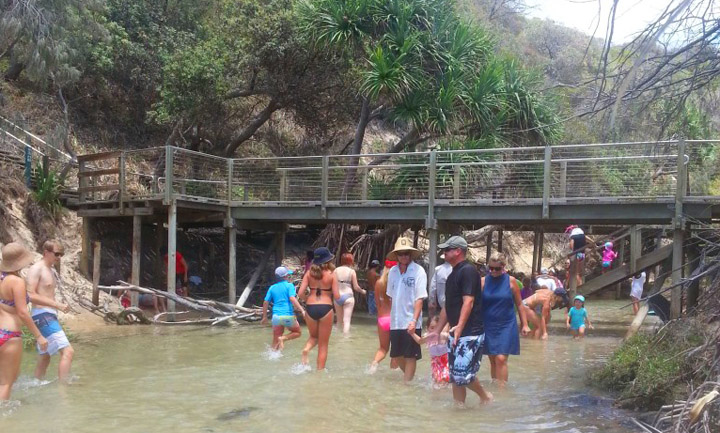 Eli Creek and the Boardwalk
But despite its popularity, Eli Creek never feels over crowded and is a wonderful place to escape the crowds for a few hours.
With clear waters and white sand that's as fine as powder, it's easy to see why people from all over the world travel to Eli Creek in their thousands.
So if you ever find yourself visiting Australia, be sure not to miss Fraser Island. Our island paradise.
The perfect place to cool down after a day at the beach.
Eli Creek Image Gallery
Paddling Down Eli Creek
Driving to Eli Creek From The South