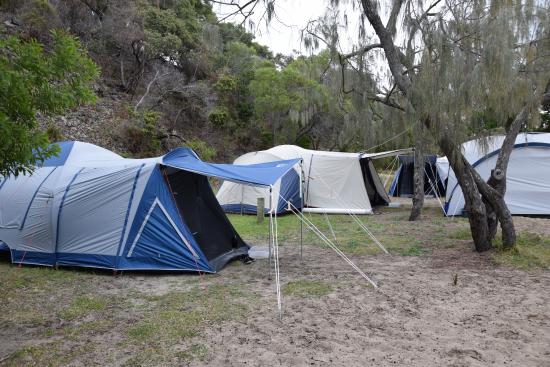 Waddy Point Beach camping in the national park Kgari Fraser island
Category: Caravan and Camping
This inland camping area is set in coastal woodland close to the rocky headland of Waddy Point near Orchid Beach.
It's also close to some of the island's top attractions, such as the Champagne Pools and Indian Head.
It's a perfect spot for wilderness camping with the bonus of ocean views if you choose so.
There are high and low campground areas depending on how much privacy you want and if you prefer to be in a dingo-proof fenced area.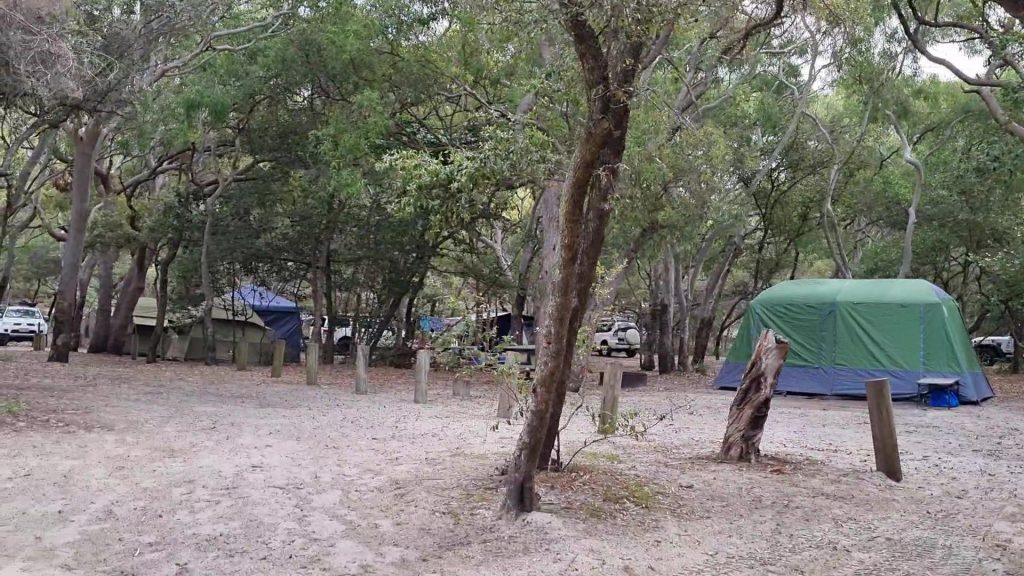 Waddy Point Top Campground
The higher area has ocean views from the front camps and behind you are protected from the wind and rain under huge trees.
The camp spots are pretty big in size with good parking for vehicles.
The area is well kept as it is managed by the park rangers. Facilities are clean and a short walking distance from most sites.
Waddy Point Beachfront Camping Area
The beachfront camping area is the lower campground. You can certainly hear the waves, and if there is an extremely high tide you can often be surrounded by big pools of water that get trapped in the tyre ruts.
Your tent won't get flooded as it is on slightly higher ground.
However with this in mind sometimes you can be driving through salt water to get access to your spot. The camp spaces in this area are generous and a toilet block is also located down on this ground level.
Waddy Point Campground Gallery
Waddy Point Lagoon
The beach is always changing, although recently the new lagoon has formed in front of the campground between the beach at Marloo Bay and the lower campground.
It is salt water and shallow for a paddle with the kids. It usually gets washed out with the incoming high tides so it is clean.
However, if it looks murky or has algae growing in it don't swim in it as it may have bacteria forming in the stagnant water.
In this area, you will also find some great sand dunes. This is perfect for entertaining the kids with some sandboarding.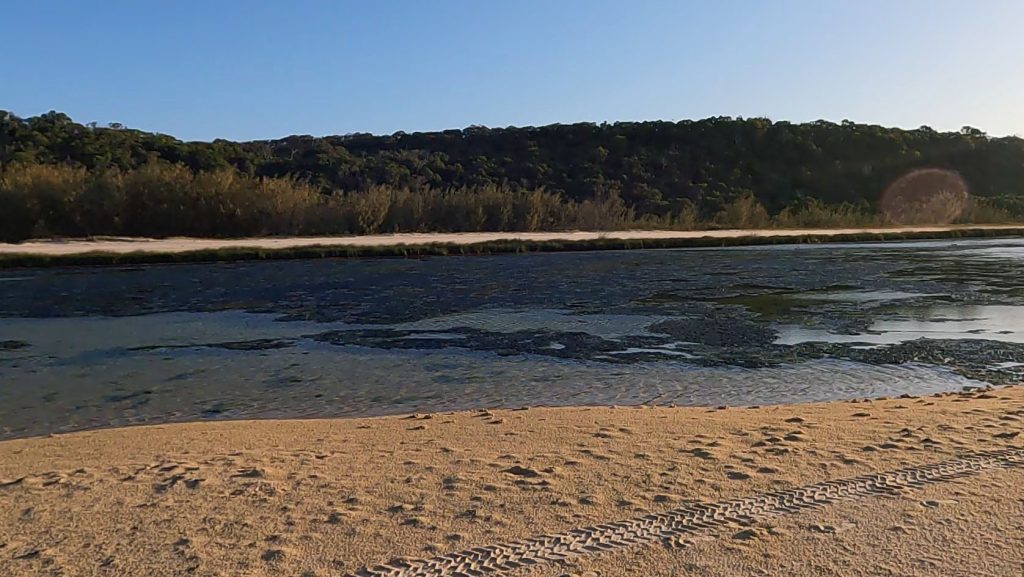 Campground Facilities include:
Tent sites
Camper trailer sites
Toilets
Hot showers ($2)
Water
Fire rings
Gas BBQ (coin-operated)
Ranger Station
Mobile phone reception
Things you can do around Waddy Point include:
Go rock fishing off Waddy Point Lookout ( 1km away)
Go kayaking or canoeing on a calm day in the bay
Explore the natural rock pools at the point
stroll along the dunes to Conner's Corner
Go sandboarding on Big Mumma Sand dune…You won't miss her she is big and steep
Find beach worms at Middle beach ( restricted vehicle access)
What To Bring?
The campground has toilets and showers. You will need to bring a pile of $2 coins if you want to use the hot showers. If you are camping here you will need to be basically self-sufficient, with food, water and equipment.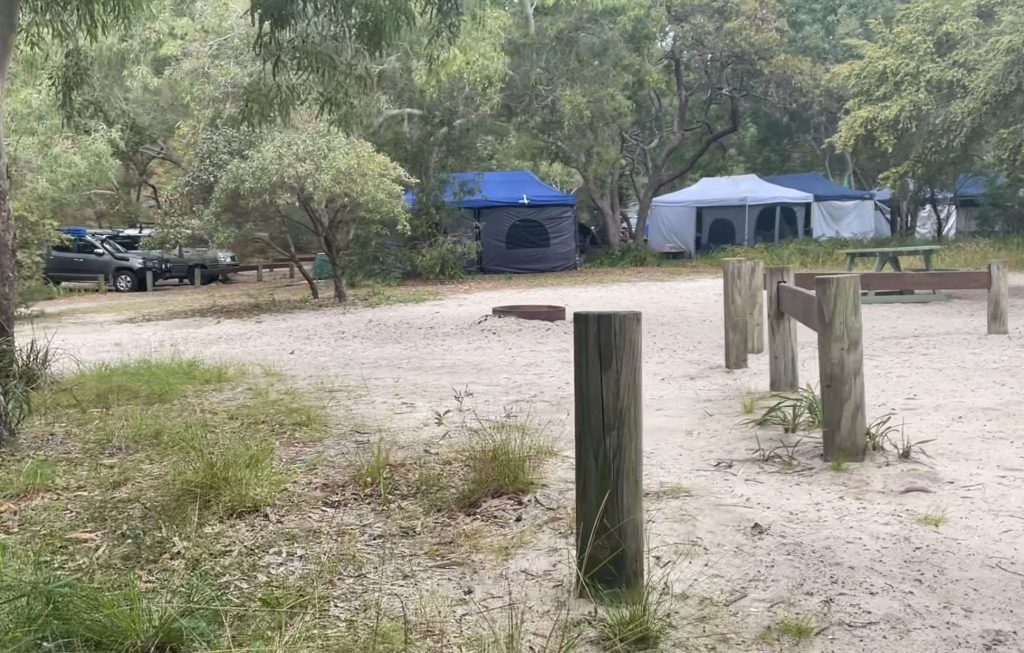 Where is Waddy Point located?
Waddy point campground area is located between Champagne Pools and Orchid Beach township. It's a great location if you want to explore the northern part of Fraser Island.
How to get to Waddy Top Campground?
To get to the campground area you will need to make your way up 75 Mile Beach towards Indian Head. Then you will exit the beach to an inland track up to Champagne Pools.
From Here you will exit this area and follow the boarded track towards Orchid Beach township. This track takes about 20 minutes.
From here you will see a sign that indicates you to turn right to the Waddy Point Campground.
This track is steep as it makes its way up the hill. It is not difficult to drive as the track is well maintained. It will take a few minutes and then you will reach the upper campground where you will find the QPWS hut. It is here you will check in.
Inland Track From Orchid Beach
Waddy Point camping bookings
Waddy Point camping map
Waddy Point beachfront campgrounds
Fraser Island camping map
Govi camping area
Related Questions About Waddy Point Camping Area
Are there showers at waddy point? Yes…They will cost a $2 coin for a hot shower.
Can you have fires at waddy point campground? There are allocated fire pits to use but it is dependent on the fire danger at the time.
Can you swim at waddy point? Yes…. waddy point is a great place to swim as it is in a little bay.
How much does it cost to camp on Fraser island? You will be required to book a camp spot from the QPWS website. Prices vary from $7.50 per night per person
Is there mobile reception at waddy point? If your mobile phone is connected with Telstra as your service provider you will have coverage. No other carriers are supported.
Waddy Point Photo Gallery
More about Camping on Fraser Island