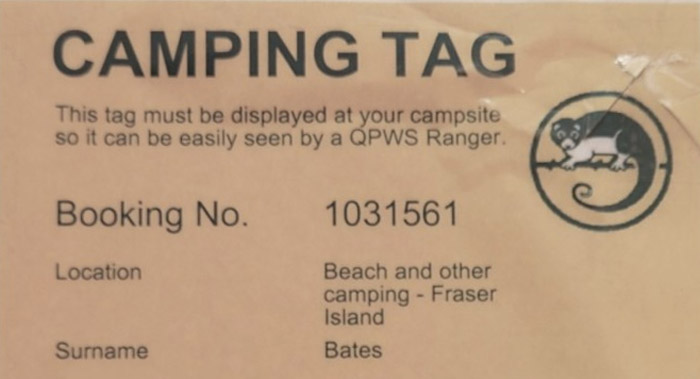 If you're visiting Fraser Island and plan on Camping you will need to purchase 2 permits.
To drive a vehicle onto the island you will need a Vehicle Permit and then a separate Camping Permit if you would like to camp on the island.
Fraser Island is exactly as the traditional Aboriginal owners describe "K'gari"… meaning Paradise. If you decide to take a holiday and travel here you will certainly not be disappointed.
No matter what the weather or what time of the year you visit you will surely be amazed at the beautiful natural offerings this island has to show.
However before you embark on this adventure you will need to get all the paperwork sorted. Below is all the information that you will need.
PS: Don't try to evade permits and fees. If you get caught the fines are hefty and its not a pleasant way to start a holiday.
Vehicle Permits
A RAM vehicle access permit must be obtained before entering the National Park area of Fraser Island.
The permit can be ordered online prior to arrival here www.nprsr.qld.gov.au or by calling the Call Centre 131340
Alternatively you can obtain your permits at :
QWPS Rainbow Beach Office (7am – 4pm daily) ph: 54863160 – Main road into Rainbow Beach
River Heads Info Office – Barge landing car park – (6.15am – 11am daily )
Marina Kiosk Hervey Bay – Urangan Boat Harbour – (6am – 6pm daily)
Rainbow Beach Permit Centre
If you are heading into Rainbow Beach and you need a vehicle or camping permit or a Barge entry ticket you can stop in a the Permit Office.
You will find it as you enter into the township on your left hand side. You will see a massive Green and Yellow sign " QPWS VISITOR PERMITS".
Pull in here and grab everything you need to get onto the Barge and onto the island.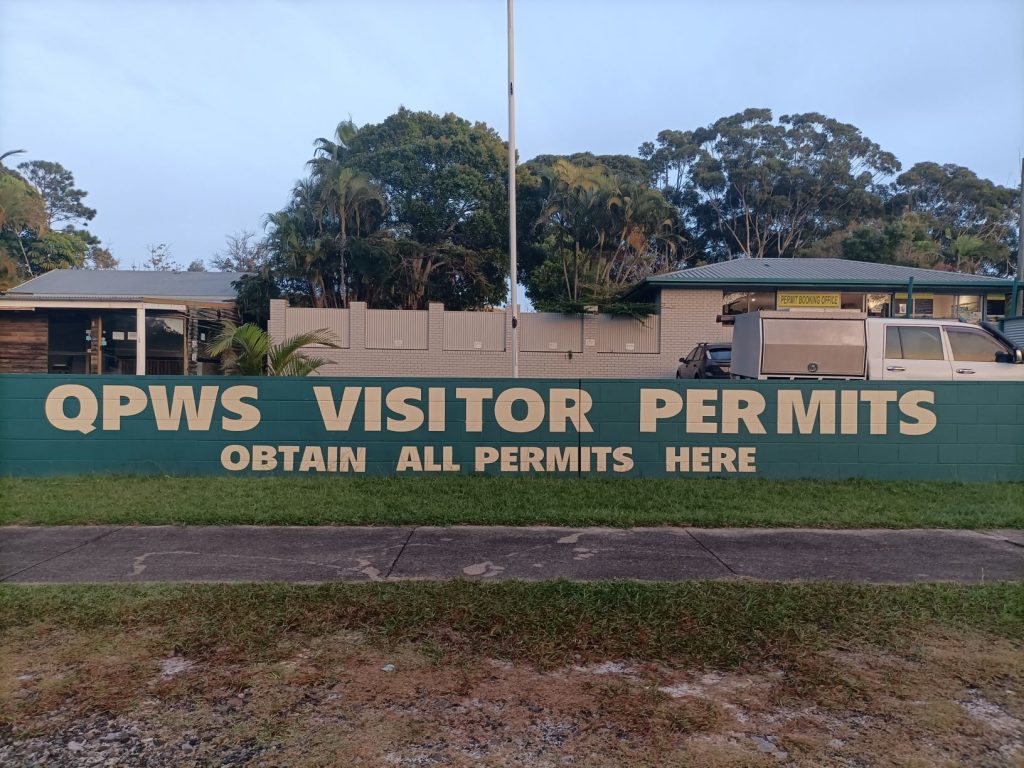 Rainbow Beach Permit Centre
Cost for the Vehicle Permit
The cost for the permit is $54.55 for up to a month as of 01/07/2021
The permit must be fixed to the left side windscreen of the 4WD vehicle.
You can obtain your Vehicle Access Permit online, pay online and then print your permit and place it on your windscreen for the duration of your trip. (max 30 days.)
Camping Permits
A camping permit is required if you plan on camping on the island as a freelance beach camper or if you prefer to camp in a designated camp ground.
They are relevant for tent camping or if you have a camper trailer or caravan. You will pay per person per night for each camp destination.
If you are planning to stay at multiple sites you will need to book each individually on the dates that your require with the number of people at your site.
You can obtain your camping permit online at www.qld.gov.au/camping
Once you have registered online and paid, printing your permit it is a good idea. Ultimately, have it laminated or put in a zip lock plastic bag to protect it.
If you are freelance camping on the eastern beach please be aware of the NO Camping signs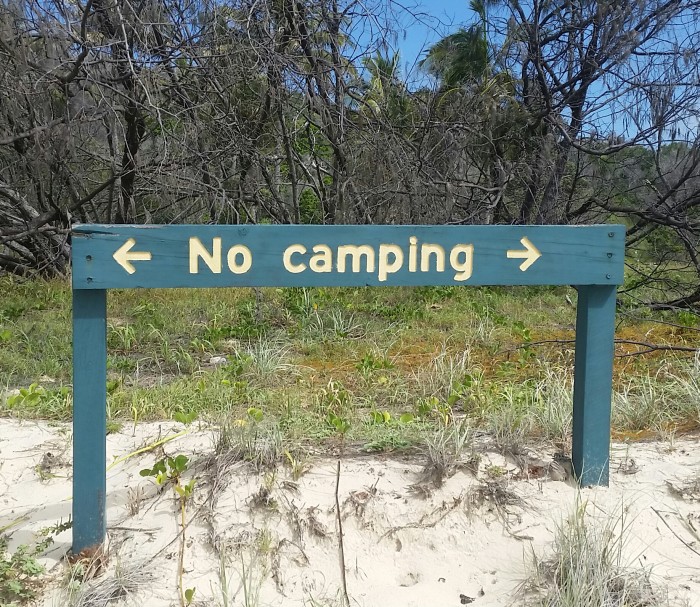 Keep an eye out for the NO camping signs
The permit then must be displayed on the structure. ( such as: your tent, camper, swag etc ) For easy viewing for the Park Rangers to find upon entering into your camp site for inspection.
If you are unable to book your permit online you can also obtain one at the QPWS office at Eurong or Rainbow Beach.
The camping permit displays information such as :
the location you have booked
your name
your arrival and departure dates
vehicle registration number
number of people booked on the permit.
Cost for the Camping Permit
The cost is $ 6.85 per person per night with children under 5 free. Discounts are also given for families and concession card holders.
This camping cost does not include any cost for hot water or showers that are provided at the managed camped grounds.
Please allow an extra $5.00 at least for this luxury in the public amenities. (TIP: have a good supply of $1 coins available)
What Happens if You Don't Have a Permit?
Fines will apply if you are caught by rangers without a permit as they check the beaches and camp grounds daily.