Platypus Bay is Fraser Island secret natural wonderland. The beach has brilliant turquoise waters that lap the snow white sand and it has very few people that know about it or where it is.
It is breathtakingly beautiful and those that have had the pleasure of swimming in its waters or sun baking on the sand only wish that this little spot would stay a secret forever.
Let's learn some more…
Where is Platypus Bay ?
Located on the north western side of Fraser Island just south of Rooneys Point. Platypus Bay is accessible by 4wd drive on the inland tracks or by boat from the mainland.
You can access the track from Orchid Beach by following the Wathumba track and turning off to the right just before Marloo avenue.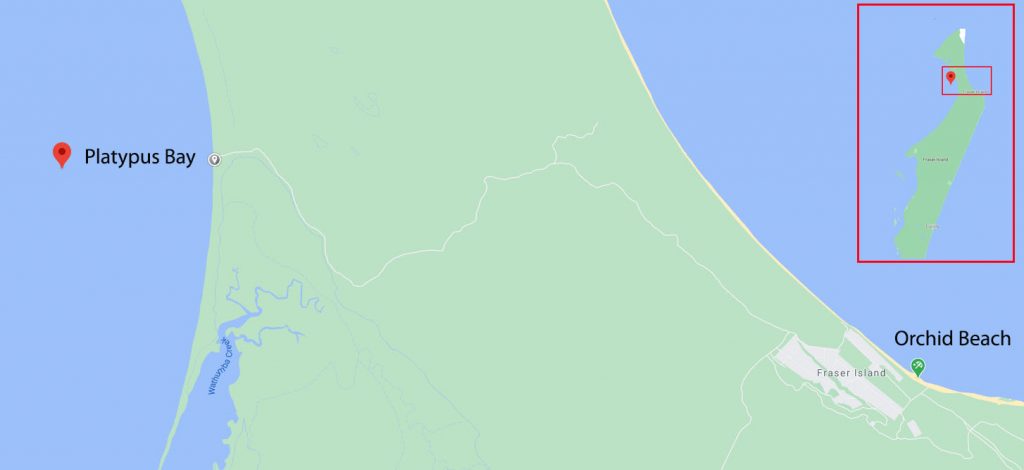 Why Is Platypus Bay So Good ?
The beach at Platypus Bay is usually flat and continues for miles and miles. On low tide it is a beautiful spot to park your 4WD , set up your shade tent, throw down your beach towel and sip on your champagne.
You will feel like you are in absolute paradise and hopefully you wont be sharing it with anyone else.
The northern end of Platypus Bay has beautiful scarped dunes reaching up to 60m high. You can walk the beach for miles and take amazing photos along the way.
Often shells are washed up on the shore and it just adds to the ambiance of this paradise.
It is the perfect spot to go when the treacherous 35knott winds from the south east are blowing over the island as it is sheltered and calm.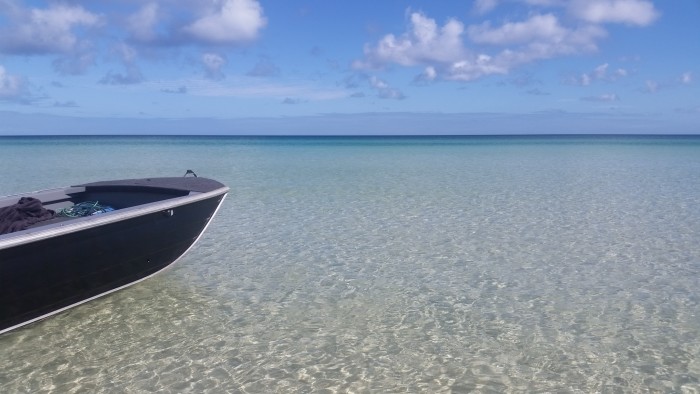 What Else Must I Know
Visit a few hours before low tide to maximise your time in this beautiful spot.
At high tide the beach becomes very narrow.
Pack a picnic,  plenty of drinking water and your camera
It is a 35 minute drive on a rough inland track from Orchid beach.
There are no signs to navigate the track, hence it is referred to as a secret spot.
It is only accessible by 4WD and there is a  freshwater creek crossing that has a year round depth about 600 high
It is a great place to catch whiting off the beach
During whale watching season Humpback whales frolic just of the shore in the calm waters
It is a perfect spot for swimming however sometimes depending on winds and tide stinging jellyfish can be found in the water during summer months.
How Rough is the Track
You can access the track by following Wathumba road at Orchid Beach . The turnoff to the left is approx 100 before the Marloo Avenue sign.
If you see the Marloo sign you have driven to far, turn around and head back.
The track is easy driving most of the way and the view is lovely. There is a sandy hill to negotiate, usually looking worse than it actually is with a side access track if the main one looks a bit to boggy to get up.
A small creek crossing makes the drive interesting. The water is dark tannin coloured so you presume its deep however it is only about top of wheel in depth.
Keep to the far right as you enter on the way there ( far left on your return ) Once you cross the creek you have about 200m before you arrive at the bay.
The entry to the beach can be boggy at times and at high tide the beach access can be narrow.
Pack a bean bag and enjoy a well deserved nap…guaranteed you wont want to leave.