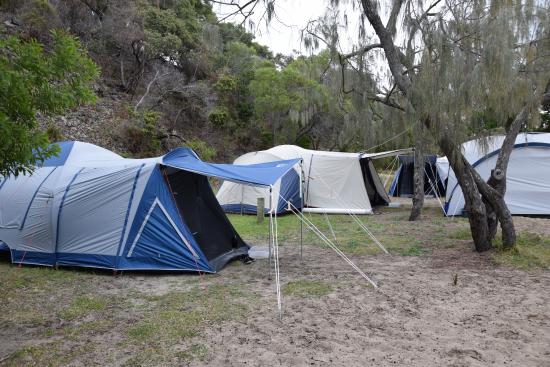 Fraser Island is not only famous for its beautiful coastal views and diverse marine wildlife.
It also boasts exceptional landforms, ranging from complex dune systems to vast mangrove forests, eucalyptus woodlands, and rainforests growing straight from the sand.
All these make the island an ideal spot for avid campers. If you're on the hunt for the best places to camp on Fraser Island, this guide is for you.
You will find easy-to-navigate Fraser Island maps of all the camping zones for your convenience. Plus, we'll share exclusive tips and hacks to make your trip worthwhile.
Deciding Where To Camp On Fraser Island
Deciding where to camp is a tough decision, as you don't want to get here and be disappointed. Further to this, camping on the island is very popular, so you should try to secure a spot as soon as possible, as places fill up fast during the holiday season.
Before planning a camping trip to Fraser Island, you need to ask yourself a few very important questions.
Do you want to freestyle campsite?
Do you want to stay in a managed campground?
Where on the island do you want to stay? (North, South, East, West or Central)
To find the best spot for you on Fraser Island, you will need to first decide if you want a freestyle campsite or if you want to stay at a managed campground.
So, what is the difference between a campsite and a campground?
What is a Freestyle Campsite?
A freestyle camp is where you are totally self-sufficient. This type of camping requires a camping permit, however, you will have a little more privacy and not be confined in such a restrictive area. These campsites are for both tent and camper-trailer access.
Most of the freestyle sites have beachfront access and ocean views.
However, you will need to have your own toilet and shower facilities. This includes having sufficient water supply for both drinking and washing.
This type of camping allows a little more freedom and a larger choice of camping areas to choose from.
What is a Managed Campground?
Managed Campgrounds are typically shared with lots of other campers in a restrictive area. You will need a camping permit and you can choose between a tent site and a camper trailer site.
They have a Dingo deterrent/protection fence, picnic tables and access to toilet and shower facilities.
Generators are not permitted and they have restrictive arrival and departure times. Some campgrounds allow campfires if fire rings are present and there are no weather restrictions.
What Part Of The Island Do You Want To Camp?
Fraser Island has a whopping 45 camping areas over 9 Zones, making it one of the most camping-friendly destinations in Australia. Before you go, what you need to ask yourself is where you want to camp on the Island.
Do you want a central location with easy access to to the main sightseeing tourist attractions?
Do you prefer to be in a more remote area with no camping neighbours?
Do you want to be close to freshwater swimming spots?
Do you want to keep the kids safe from beachside vehicle traffic
Once you have decided this you will need to find which part of the island you want to camp at.
Do You Want To Camp With A Dingo Protection Fence?
It is advisable that if you are camping with small children you may want to consider a managed camping ground that has Dingo deterrent/protection fences.
The best camp areas for this are the Managed Campgrounds at :
Eli Creek campground
One Tree campground
Wongai campground
Do You Want To Have A Campfire?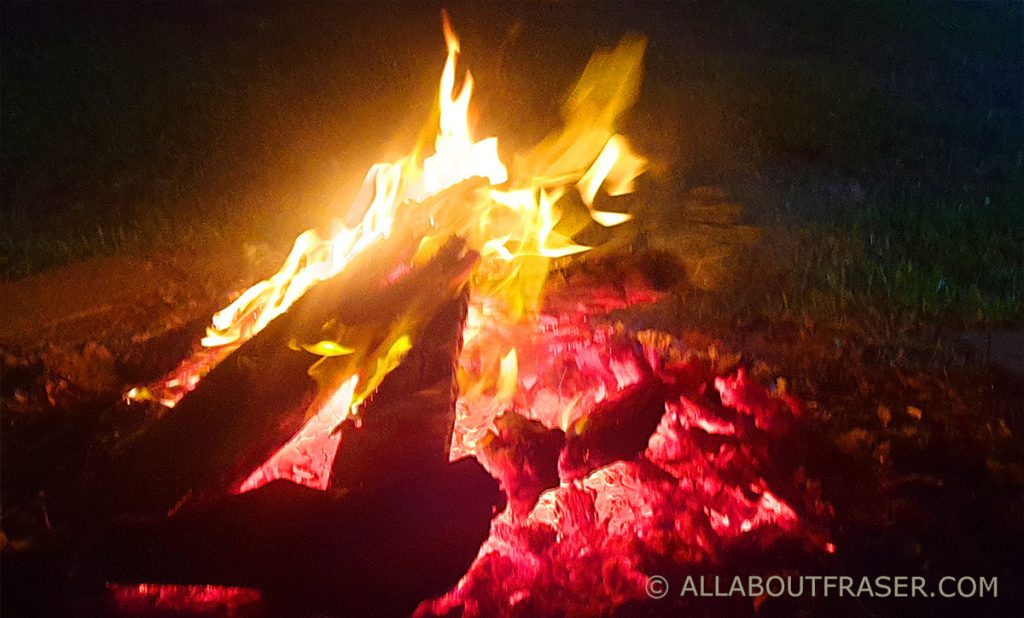 If you would like to be able to cook on a campfire and roast marshmallows with the kids you will need to get a camping permit for a Managed Campground that has suitable fire pits.
Fires on the beach or in freestyle campsites are totally prohibited on the island.
Once you think you know where you want to go and what side of the island you prefer you need to find a spot or zone that is suitable to your needs.
Once you have decided on the place to set up camp you can then go and book your camping permit.
You can access this online at the Queensland Parks and Wildlife Service QPWS website and book your campsite. You are able to do this up to 6 months prior.
Eastern Freestyle Campsite Zones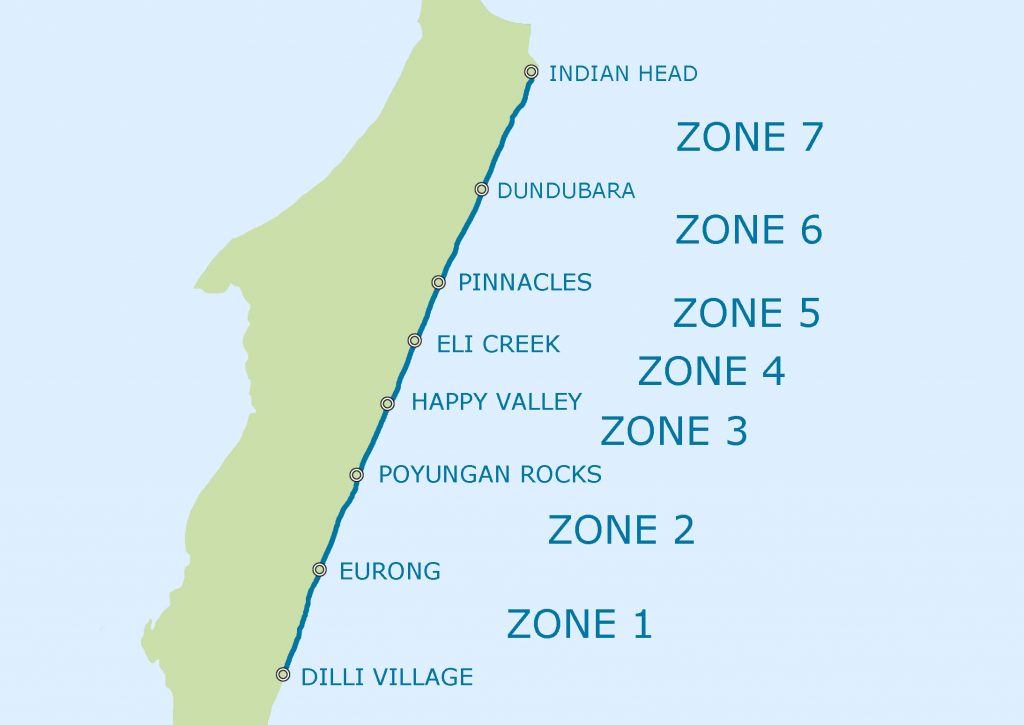 Map of the Eastern Campsite zones on Fraser Island
The east coast of Fraser Island along 75 Mile Beach gives you access to 9 camping zones that can accommodate up to 1,600 people.
These Fraser Island campsites feature a range of set-ups suitable for different types of campers, from walk-ins to those taking off-road trailers or putting up their tents.
The only downside of some of the camping areas on the eastern coast is the lack of facilities. This is due to the fact that the campsites are dotted along the beachfront.
Apart from the managed camp-grounds that fall within these zones, they do not have toilet facilities and you will need to bring your own water.
As they are beachfront with ocean views and situated along 75 Mile Beach they are heavy traffic areas with 4WD vehicles driving at high speeds.
This can be very dangerous when you have small children playing on the beach. If this is concerning for you then perhaps a managed and fenced camping ground is more suited.
Freestyle Northern Camping Zones
Western Freestyle Campsite Zones
Eight camping zones comprise the western part of Fraser Island and can only accommodate as many as 215 people.
However, these campsites give you some of the most stunning views on the island. You probably won't find another camper for miles
The caveat is that they are extremely remote and some sites are only accessible by boat. Tent and camper trailer sites are typically available in these areas.
Freestyle Central and Southern Campsite Zones
The southern central inland zones have three main camping areas with 2 of them being fenced and managed we will also cover them in the Managed campground area below.
Managed Campgrounds
The managed camping options on Fraser Island are nowhere close to your idea of "glamping" or luxury camping.
These formal campgrounds feature basic facilities, with most having toilets, showers, barbecues and communal washing-up and picnic areas.
Below are some of the most popular Managed Fraser Island campgrounds.
Fraser Island Camping Ground Etiquettes And Best Practices
It takes conscious effort to maintain the beauty of this World Heritage Site. It's important for everyone to Keep It Clean and Don't Harm or feed the Animals
Here are some things you can do to make your stay on the island eco-friendly:
Avoid using body care products containing chemicals that may harm the reefs, impact water quality, and affect wildlife. This is especially important in the perched lakes.
Take your garbage with you or use the trash bins provided at the campsite (if any). Don't leave a trace. Always bring trash bags anywhere you go.
Never light a campfire. Open fires are prohibited on Fraser Island, except for communal fire rings at select campgrounds. (Waddy point, Central station, Dundubara)
Observe quiet hours between 9 pm and 9 am.
Don't feed or approach native animals, especially the Dingoes.
Generators are permitted in most campsites.
Strictly no pets are allowed on Fraser Island unless for medical reasons and a special exemption permit needs to be acquired.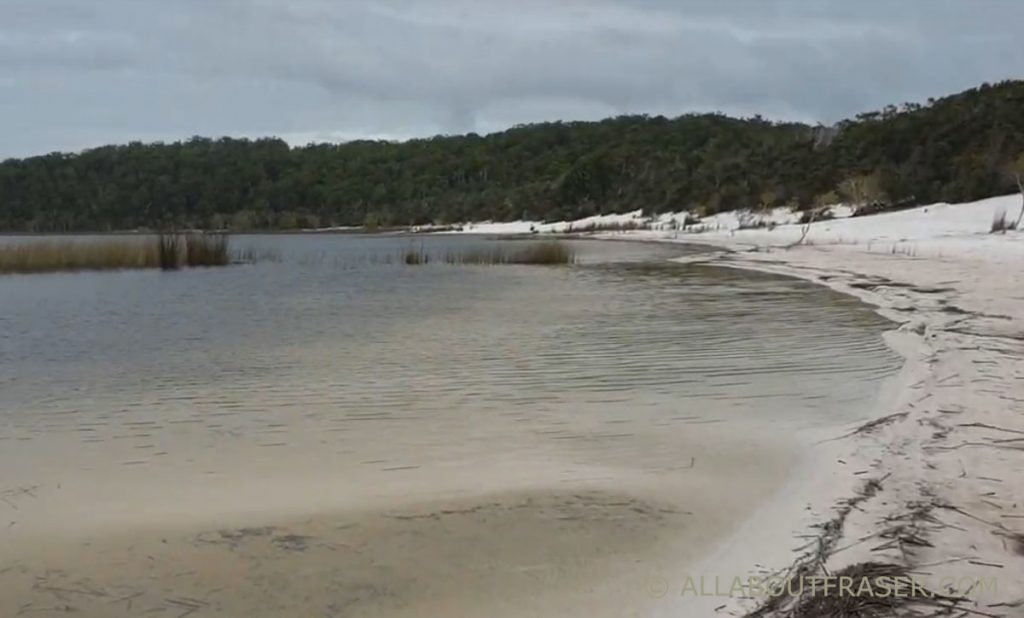 Other Camping Tips:
Here are a few more important notes:
1. Before you go camping on Fraser Island, you have to obtain a camping permit from Queensland Parks and Wildlife Services. You can get it online or go to their office.
2. You can book each campsite for a maximum of 29 nights, and there's a max of eight people per group.
3. Make sure you bring camping essentials, most especially food and drinking water. You're not going to see a restaurant or food stop anywhere near the Fraser Island beach camping areas.
4. Before Camping read our articles: Fraser Island Camping Checklist and Fraser Island Camping Mistakes and have a great trip.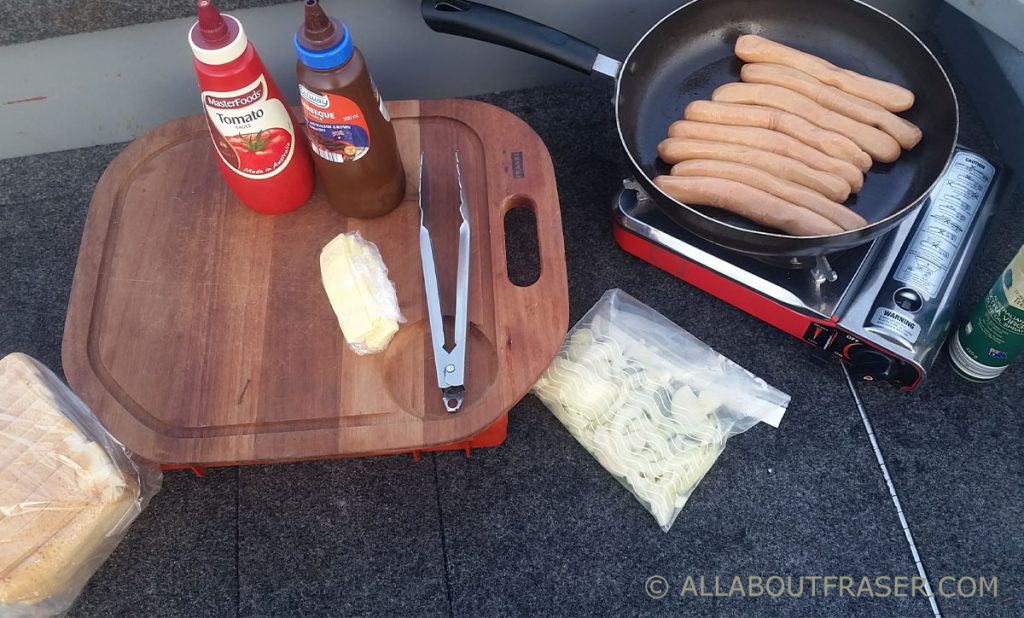 Fraser Island camping checklist
Camping on Fraser Island: The Conclusion
Even though Fraser Island is not an ideal place for beach swimming due to the harsh waves and sharks, it is very much camping-friendly.
Camping is a great way to immerse yourself in the natural beauty of the island. It makes for a wonderful family holiday and a great cheap adventure for our international Backpackers that visit.
There are plenty of things to see and do on Fraser Island, especially if you enjoy 4×4 driving. You can bathe in Champagne Pools (the only safe place to swim in salt water).
Swim & relax in freshwater at Eli Creek, drive to the Maheno Wreck, or fish in the ocean and catch dinner.
You can do everything from hiking the rainforest trails, canoeing Platypus Bay, fishing for whiting, catching beach worms and even going birdwatching.
More (K'gari) Fraser Island Lakes to Visit