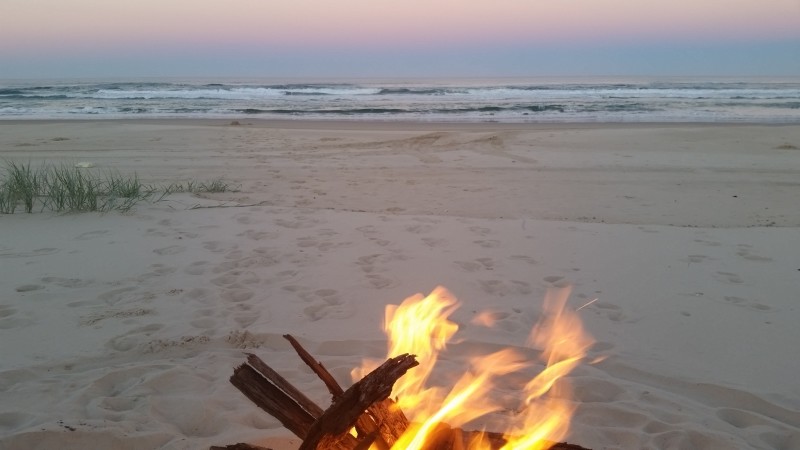 We can all share a story of a horror camping trip or at least know of someone who has had one.
Whether you are an experienced camper or camping virgin, you need to read this list to avoid having a Fraser Island camping nightmare.
The 5 Biggest Fraser Island Camping Mistakes
Not testing your equipment
Not researching your Location
Getting to your camp site in the dark
Relying on a camp fire
Not being prepared
Sounds pretty obvious but you will be surprised just how many people simply don't have camping common sense.
1. Always Test Your Equipment Before Arriving
Always a good idea to test you camping gear if you have bought it new.
You don't want to be wasting hours setting up a tent that should only take 10 minutes or realising that your new torch needs batteries or the gas cooker doesn't actually come with gas canisters.
Check this stuff out first and become familiar with how it works and make sure no parts are missing or damaged.
2. Research your Location Prior to Arrival
Research your location before you arrival.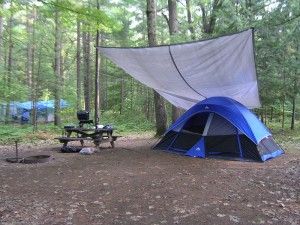 Find out what facilities are available, such as toilets, hot showers and other facilities.
It is always handy to get a weekly weather forecast for the area.
There is no point packing the bikinis if it is forecast heavy rain and thunderstorms.
Remember to book any camping permits that may be required in advance.
3. Don't Arrive at the Camp site in the Dark
In planning your camping trip, it's always a good idea to arrive at your destination a few hours before dark.
You want to give yourself plenty of time to unpack and set up camp.
Nothing worse that spending hours pitching the tent in the dark under the car headlights, only to wake up in the morning and find that you are sleeping under a huge ant nest.
Or worse, the previous campers "drop box" is too close for comfort.
4. Don't Only Rely on a Camp fire for Cooking
Never rely solely on a camp fire for cooking or comfort.
Many campers are disappointed to find that open fires to roast the marshmallows are prohibited in some National Parks.
Also, if a severe weather warning is pending.
Keep a back up gas cooker to boil your Billy or cook your snags, in the event a fire is prohibited or wet weather sets in.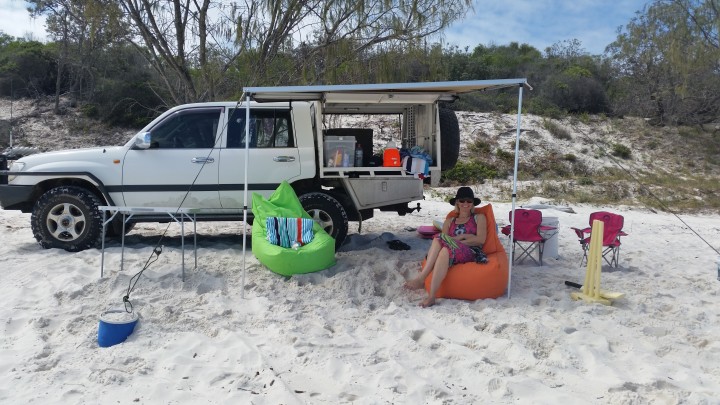 5. Try to Be Prepared for Everything
Pack the sunscreen and Bug spray and ensure that you travel with at least a basic medical kit in case of an emergency.
Simple stuff to remember but vital to your comfort and safety.
If your camping in the winter ensure you have a thermal rated clothing and bedding or sleeping bag.
Nothing worse than freezing in your tent because you sleeping bag is rated only to 10 degrees and its -2 degrees outside.
Always pack suitable footwear & clothing for your camping activities.
You don't want to be hiking bushland in thongs or climbing scorching hot sand dunes in bare feet in the middle of summer.
Pack the sunscreen and Bug spray
Take along a basic medical kit
Pack appropriate clothing for the season
Pack suitable footwear for proposed activities
If you follow this simple advice you can minimise the chance of the horror camping trip.
Things can still go wrong as you are relying on the mother nature but at least your camp stove will be in working order.
You will have packed the tent pegs and you know exactly where your heading to…we hope.
Camping Freelance On Fraser Island Versus a Managed Camp Ground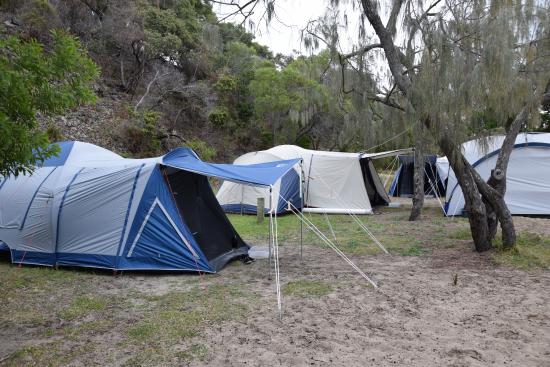 Camping is a perfect way to enjoy and explore the island and its surroundings.
Most camp sites offer a wonderful authentic wilderness experience.
If you are planning to camp you will need to be sure to get a camping permit along with your vehicle access permit.
You have the choice of beach side freelance camping or camping in designated camp grounds with amenities.
Need Help with Accommodation on Fraser Island? – Call Ursula on 0405057205
Freelance Camping on Fraser
Camping in tents, camper or caravans is a popular option for families particularly in the peak school holiday times. You can find a relatively secluded spot along the eastern beach behind the fore dunes.
Always keep a look out for the NO camping or Closed signs, as sometimes they can be missed as you drive along the beach looking for the perfect spot. Keep an eye out for the NO camping signs
Find a spot that has already been used by campers before and drive into these spots following the vehicle tracks.
Do not make new spots by making tracks and pulling out native shrubs and grasses to widen your camping area.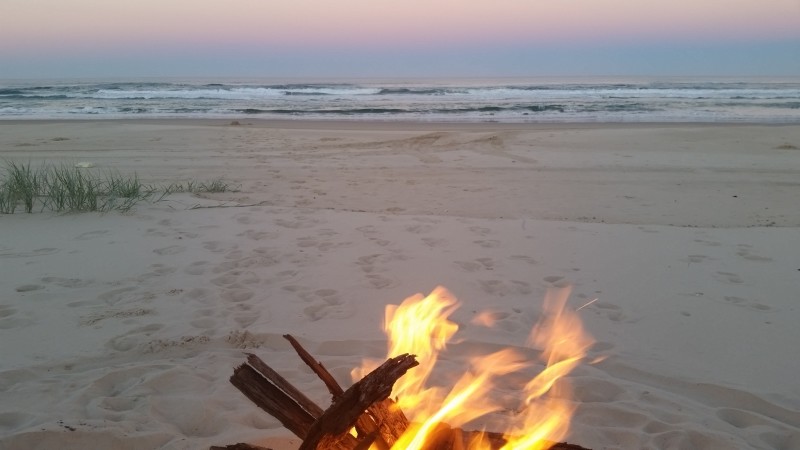 Once you have set up and organised your camping space you must clearly display your camping Tag on your tent or structure.
The Rangers will enter your camp to check your permit and make sure you are respecting the environment and surroundings.
Remember also that the island has strict fire bans so having a camp-fire to roast some marshmallows is not permitted unless in a designated QWPS camp ground in the supplied fire rings.
Fraser Island Freelance Camping – Check-list
For your own health and safety here is a list of camping Do's & Dont's :
Secure all rubbish, (Dingos, Goannas & other wildlife will try and savage any food scraps)
Secure you food. ( Dingos will scab and run off with all sorts of food & items, bags of potato's, wine casks, fresh fruit, loaves of bread)
Bury all human waste at least 50cm deep and dispose of toilet paper thoughtfully. Do not let it blow in the wind
Do not use detergents or shampoos in freshwater lakes or streams (it is harmful to aquatic life)
Do not light camp fires. It is illegal except in designated fire rings in managed camp grounds
Gas cookers are required for cooking
Remember if you are not in a camp ground there will be no facilities so it will be bring your own porta-potty or dig a deep hole and portable shower.
When camping on the eastern beach side it is a good idea to be prepared for strong winds especially if they are coming from the east, pack some heavy duty ropes and pegs.
Managed Camp Grounds
If a toilet and hot shower are a necessity I would suggest to stay at a managed camp ground at Central Station, Dundubara, Lake Boomanjin or Waddy point.
Besides the added benefits of having the simple luxuries it is also a consideration if you have small children and are worried about the potential threat of the Dingo.
Managed grounds are fully fenced and the kids can play while you can relax.
In the managed camps you will find public amenities including toilets (some are drop boxes), showers, picnic tables and tap water.
Bring a stack of $1 coins for coin box payment if you want a hot shower.
They are basic facilities but they can make the camping experience a little more comfortable especially if you are travelling light.
If you are staying in a camp ground you must bring your own firewood to the island, chopping down trees or burning dead wood and tree branches is not allowed.
You can contact QWPS directly on 131304 to find out further information.
Best Place To Camp On Fraser Island
If you want to experience a bit of wilderness yet have a few small luxuries like hot showers and a flushing toilet.
The Waddy Point Managed Camping ground is a top spot.
Waddy Point Managed Camping Ground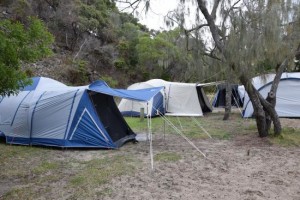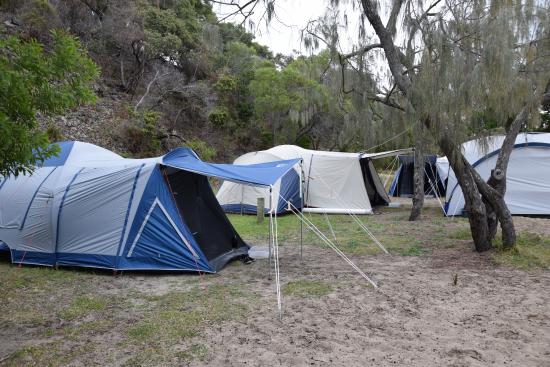 A great camping spot that has upper and lower tent sites and facilities.
It is perfectly positioned at the northern end of the island close to some of the biggest attractions Fraser Island has to offer.
This is why we recommend it.
1. Secure
It is a Dingo proof, fenced camp ground. This is great peace of mind if you have small children.
2. Good Amenities
Hot Showers. Not free, but hey! Bring plenty of $1 coins. There are flushing toilets and toilet paper. The daily cleaning as it is managed by Queensland Parks and Wildlife Service
Coin operated gas BBQs for cooking your dinner. And Firepit rings to have a small fire for roasting the marshmallows in the evening.
Telstra 3G mobile coverage is available.
3. Accommodation
30 spacious camp-sites available in top area & 90 available beach front. It is Sheltered from heavy winds and has big shady trees all around.
It is Conveniently located near Champagne Pools and Indian Head. With brilliant views and close to the best fishing gutters on the island.
4. Conveniently Located
Waddy point – 1 minute
Orchid Beach Trading Post – 5 minutes
Champagne Pools – 2o minutes
Indian Head – 25 minutes
Sandy Cape – 35 minutes
Ocean Lake – 15 minutes
Eli Creek – 50 minutes