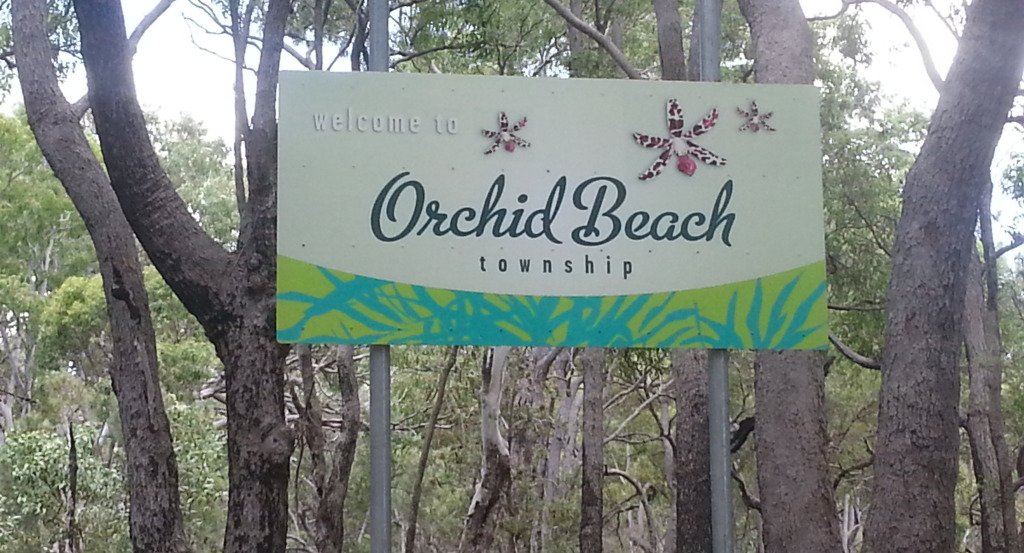 Orchid Beach is a small and remote community located on Fraser Island. Unlike other parts of this popular island, you will find more local people living here than in any place other on the island.
Why it is so popular, despite its remote location? It's not only because Orchid Beach has a spectacular location. The main reason for this is the ….FISHING !!
Orchid Beach is the fishing Mecca of Fraser Island.
It also has an element of seclusion as well as a natural beauty where the bush meets the beach.
You can marvel at the beautiful scenery from the balcony of a holiday rental or enjoy just watching your rod bend in the water from your campsite.
It is located close to the most amazing attractions on the Island. Indian Head, Champagne Pools, Ocean Lake, Orange Creek and the Cape Lighthouse to name just a few.
It's also the gateway to Wathumba Creek and Platypus Bay…The best-kept secret on the island.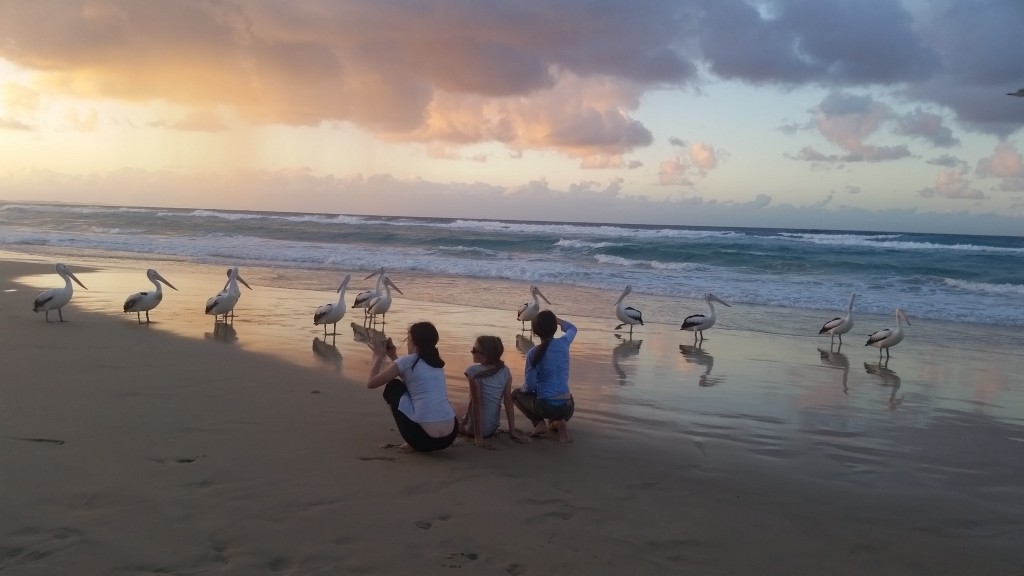 Pelicans at Orchid Beach Fraser Island
Where Is Orchid Beach?
You will find Orchid Beach on Fraser Island. The world heritage listed and largest sand island in the world just off the East Coast of Queensland.
You can access the island from either Inskip Point at Rainbow Beach or alternatively from River heads at Hervey Bay via a ferry/ barge ride across to the island.
How Do You Get There?
To get to Fraser Island you will need to have a 4WD vehicle. From your point of departure, you will catch a ferry /barge across to the island.
Once you are on the eastern side of the island along 75 Mile Beach, you will drive north past Eurong Beach until you reach Indian Head. This drive will take approx. 1 hour and 30 mins depending on beach conditions.
From this point, you will drive west on the inland track past Champagne falls until you reach the signs welcoming you to the community of Orchid Beach. This drive is only a few km but will take approx. 25 mins on a sandy and bumpy track.
Once you arrive you will be pleasantly surprised at how beautiful the township is. It is not directly on the beach but the roads have rows of acreage homes built on the elevated land that has fantastic beach views.
The roads are not bitumen but they are made from timber railroad sleepers or plastic grids. The only exception to this is the road to the Orchid Beach Trading Post.
This road is actually a boggy and sandy track that becomes a severe bog trap in the busy seasons with hundreds of vehicles digging deeper and deeper ruts. So if your vehicle has low ground clearance, be prepared to get bogged and drop your tyre pressure.
A good idea if you are coming up to this end of the island to be prepared with recovery gear just in case you need it or may have to use it to assist someone who does not.
What It's Like To Drive Through Orchid Beach
In this video, you can ride with Rusty as he cruises through the township. See all the houses and some of the local sights.
Take a good look at 2 min and 40sec in the above video to see one of the local wild dingoes strolling through town.
Can You Fly To Orchid Beach?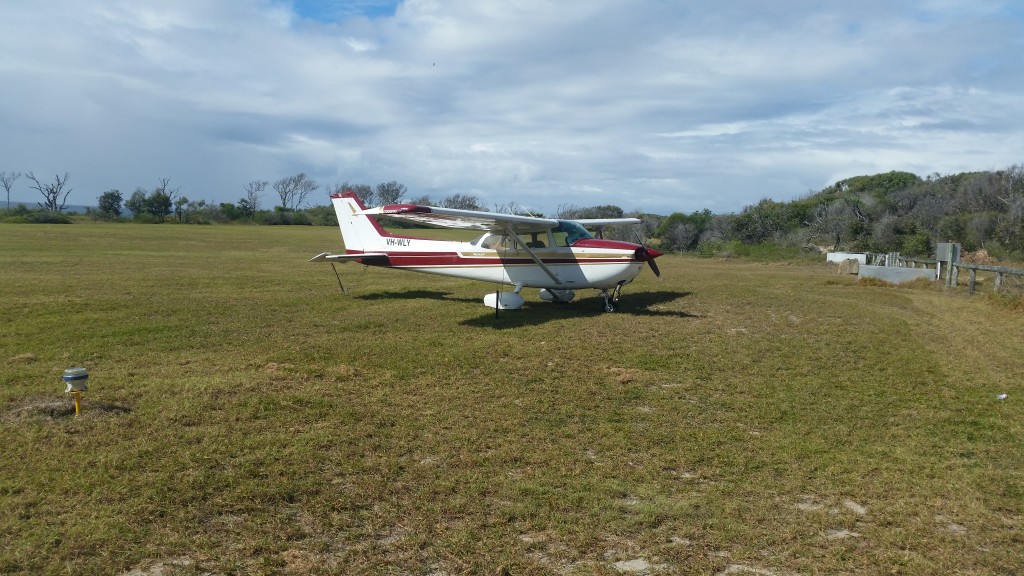 The airstrip at Orchid Beach
Yes… you certainly can. The township has its own grassy airstrip that allows both commercial and personal light aircraft. You can catch a flight with " Air Fraser" from Hervey Bay or even a Chopper ride from Rainbow Beach or the Sunshine Coast.
A few locals have their own small planes that they land on the airstrip. It is also a landing spot for the Emergency Services Helicopter.
Unfortunately, it lands to collect patients regularly, especially in the peak holiday season with injuries ranging from Broken limbs from sand boarding, lure and hook gashes and even jellyfish stings.
What Facilities Are At Orchid Beach?
The heart of Orchid Beach can be found at the Orchid Beach Trading Post. From here you will find :
Fuel bowsers (unleaded and Diesel)
Post Box ( cleared on Tues & Thurs)
General supplies ( milk, bread, snacks, drinks)
Souvenirs ( t-shirts, thongs, stubby coolers)
Fishing tackle ( limited but great for general fishing)
Ice
Take away food ( Chips, fried food, burgers)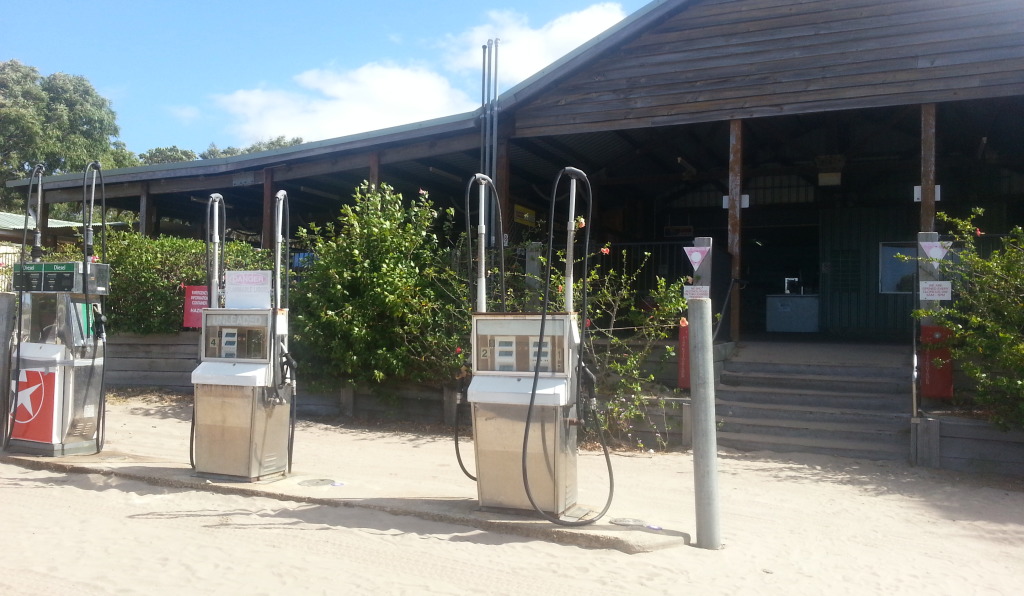 Be warned that there are toilets on the premises but they are not for general public use. Don't think you can use them if you buy an ice cream or if the kids are busting.
The owners have a strict policy and will only allow patrons of the "Driftwood Bar" to use them as directed by their liquor license and council regulations.
The Driftwood Bar is open 7 days per week to sit, relax and enjoy a beer or glass of wine. It has a friendly and casual atmosphere and a spot where the local residents like to hang out.
If you need some insider information about where to fish or catch worms you can strike up a conversation with a flanno-wearing middle-aged man, drinking XXXX Beer, it will probably be a local.
They may look a bit dishevelled but I guarantee they will be happy to chat and always friendly.
Dingo Protection Fence Around Orchid Beach
Is There Accommodation At Orchid Beach?
Yes, there is. You can enjoy a luxurious stay at the Eliza Fraser Lodge – a very private and all-inclusive retreat. Prices cater to all budgets and all group sizes.
There are also plenty of private holiday houses and apartments to rent at Orchid Beach
Alternatively, you can opt to camp at a managed campground at Waddy Point or close by at Ocean Lake in a freestyle camp.
The choice is yours.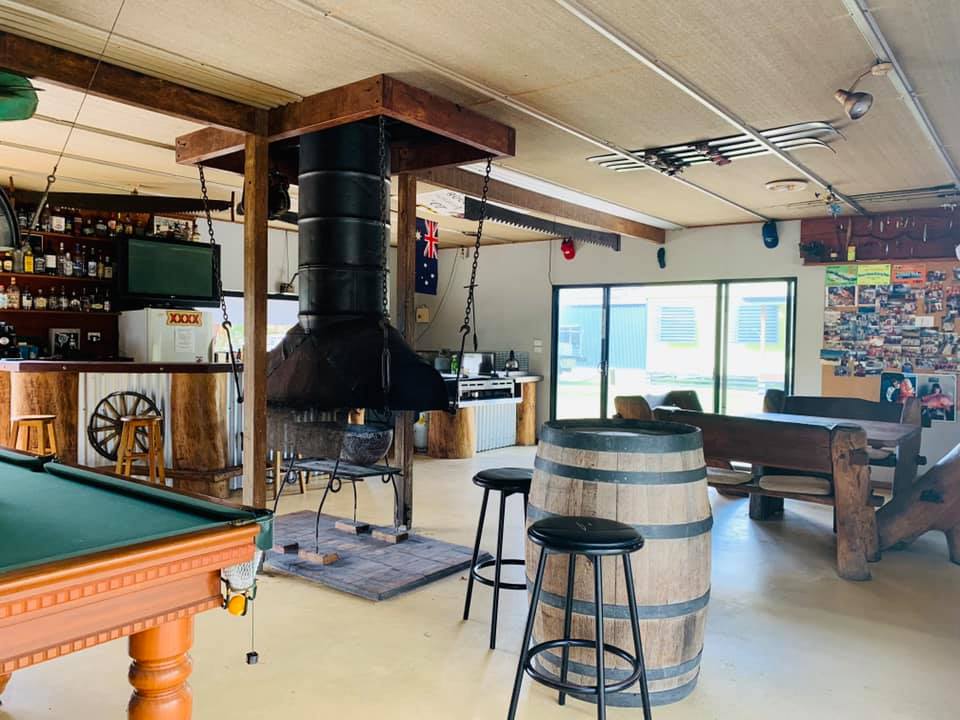 Inside the entertainment pavilion at "Footsteps on Fraser" Orchid Beach
What Can You Do At Orchid Beach
Orchid Beach itself is nestled between bush and beach so you have the choice to do water and sand activities or land-based adventures. You can :
Go rock fishing at Waddy Point
Go sandboarding down the dunes ( Big Mumma )
Take a walk around the many tracks of Orchid Beach
Go canoeing in the bay
Pack a picnic
Play a game of noughts & crosses or Bocce on the sand
Find and photograph the beautiful Orchids of Orchid Beach
Spearfishing on the Marloo Wreck
How To Get To Orchid Beach Tip?
Watch as Rusty Drives to the orchid beach dump
How Long From Eurong To Orchid Beach?
Also see: How long from Hook Point to Orchid Beach
What Else Should We Know?
During peak holiday times especially between Christmas and New Year, Orchid Beach can be extremely busy with visitors and vehicles. Always be mindful of:
Dingoes wander the area frequently so keep your children supervised at all times. Dingoes are dangerous
In the summertime, the sand can become extremely hot, especially on the sand tracks where vehicles get bogged.
Be careful swimming in the ocean. The sharks are BIG.
Watch the tides when driving along the beach.
If you are staying in Orchid Beach be sure to take the trek to The Cape and then visit Ocean lake for a freshwater swim. It's a must-do adventure.
Most of all RELAX, THROW IN A LINE, CATCH A FISH & ENYOY your stay.
This is our hometown and we have had our home here since 1999 and we love it… so we are sure you will too.