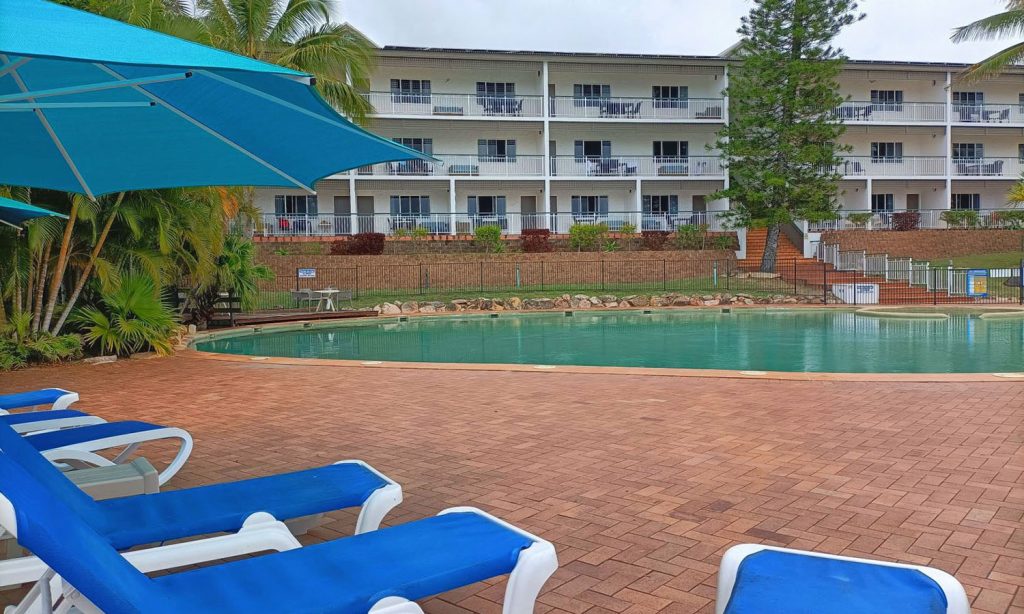 A very common question that every one asks is the time that it takes to get on the barge and cross over to Fraser Island from Inskip Point to Eurong Village.
And then all the other driving times to get from one point to another on Fraser Island.
How Long Does It Take To Go From Rainbow Beach To Inskip Point To Catch The Barge?
Once you arrive at Rainbow Beach it is about a 15 minute drive out of town to get to Inskip Point. You will drive through the national park and the camping grounds that is on this strip of land.
It is a highly populated camping area especially at peak holiday times.
At the far end of the camp ground is where you will find the car parking area underneath all the shady trees.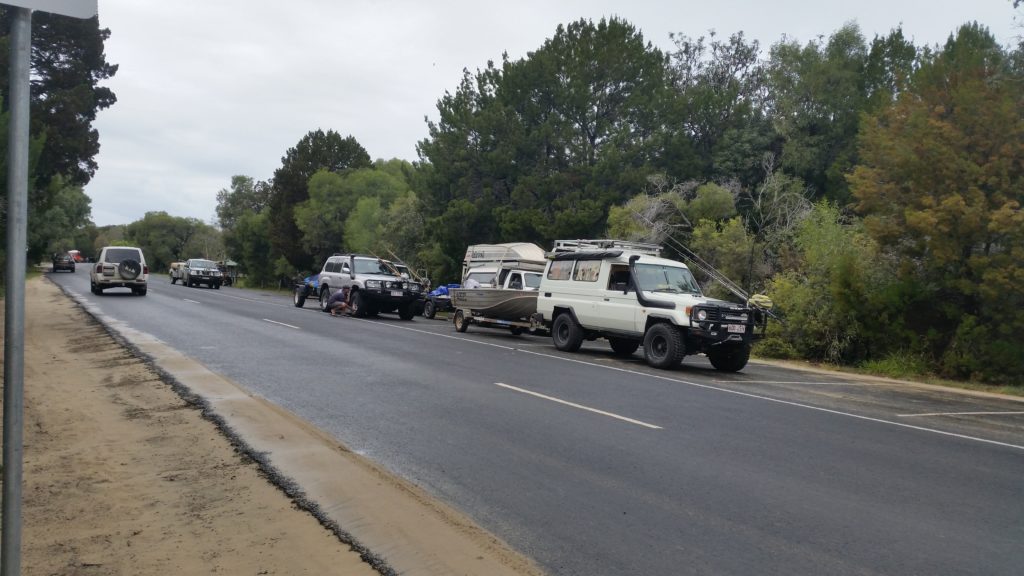 Inskip Point Parking Area – Park your vehicle to adjust tyre pressure
It is here that you should park your vehicle and let down your tyre pressure in preparation of the sandy beach track ahead. This can take 15-30 mins depending on how many tires you need to let down, especially if you are towing.
Once you have the correct tyre pressure ( we recommend 18psi as a general guide) you can safely drive off the bitumen and down the dirt track to where you meet the sandy area of the spit to get to the Barge.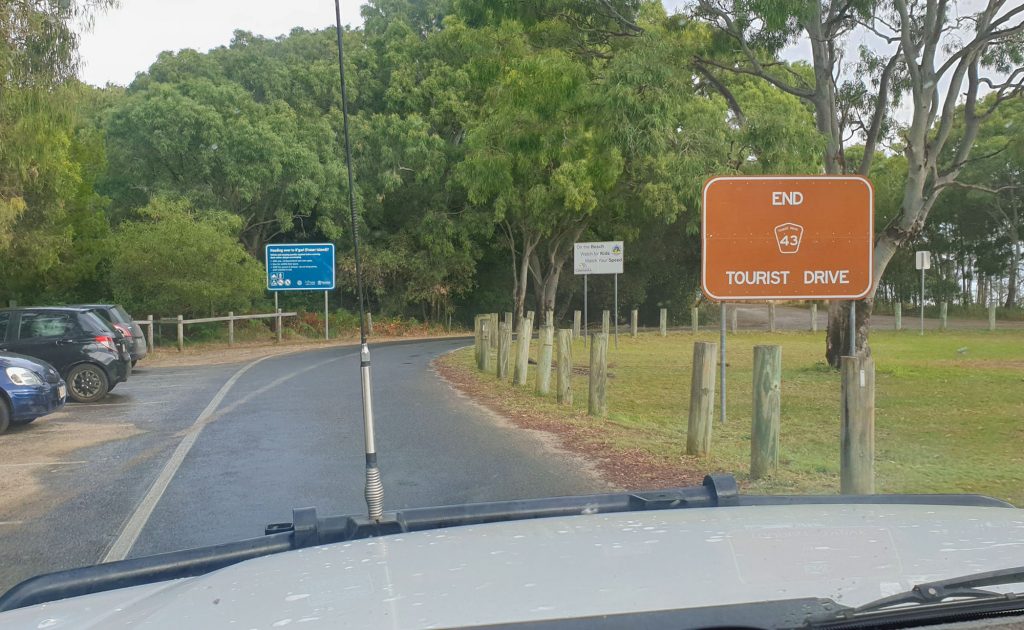 Inskip Point – the end of the bitumen road to the entry of dirt track
Inskip Point – The Notorious Beach Boggings
This beach at Inskip Point is notorious for vehicles getting stuck. It is sometimes narrow ( especially with higher tides) and is frequented by hundreds of vehicles everyday.
The boggings are usually because vehicles have too much air pressure in their tyres, as drivers presume that they can lower their vehicle tyre pressure once they get onto the barge.
BE WARNED – LOWER TYRE PRESSURE BEFORE YOU GET TO THE SAND AT INSKIP POINT
The Barge Crossing
In peak holiday times you can wait for up to an hour to get onto the barge. So factor this in when you are planning your tide travels as a worse case scenario. Most often however you can drive strait on the Barge no worries.
For further information about the Barge check out our other informative pages…Barge and Barge Boarding
Once all the vehicles are loaded on board the trip takes about 20-30 minutes to get across to the other side.
Once you reach the island you will disembark at Hook Point. Then the real journey begins.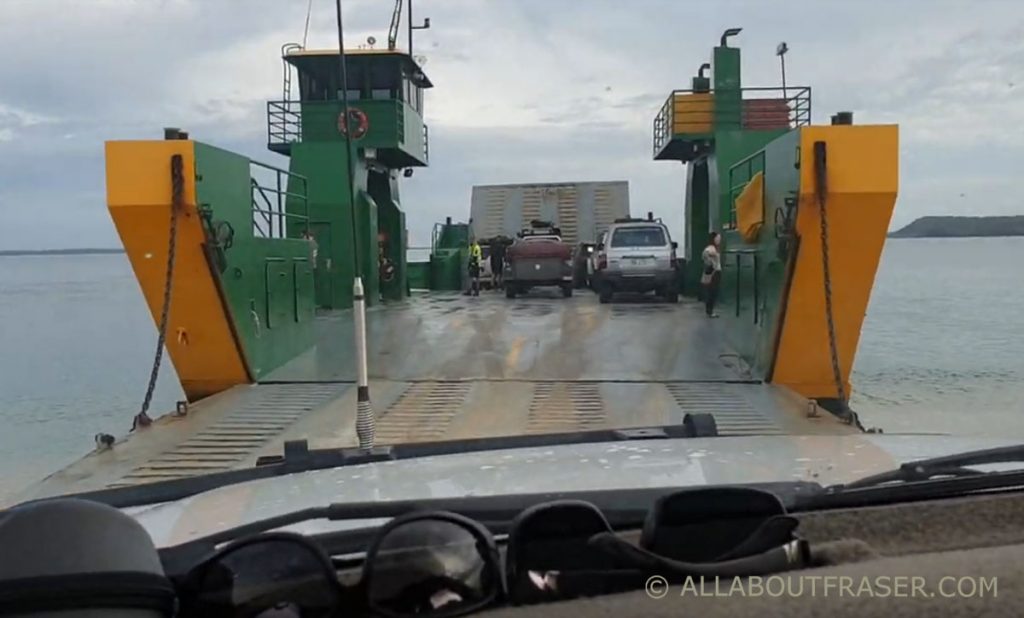 Loading onto the barge to cross to Fraser island
Welcome to Paradise – K'Gari fraser Island.
How Long Does It Take To Drive From Barge To Eurong?
This is another frequently asked question when people are planning their trip to Fraser, especially the first time.
You must remember that the times that we estimate are a guide only, and are from our experiences driving the island. Many factors will alter the times including:
Tide times – Even low tides can be higher than usual with large swell, especially windy days.
Beach Conditions – sometimes the beach can be full of debris, washouts and whoopies.
Barge availability – May be a huge line up to get on the barge so you will need to wait.
Traffic – traffic on the beach can be hectic, be aware of speed zones.
Weather -wind and rain lowers visibility so the drive can be slower.
Towing – this can make for a slow trip with a heavy load.
Only attempt this drive 2 hours either side of low tide as the beach around Hook Point can be very soft at high tide.
At the car park at Inskip Point Rd Inskip – Let down your tyres (5-10min)
Head east on Inskip Point Rd and out across the sand to meet the manta-ray barge at the end of rainbow rainbow beach (2 min)
Take the Ferry accross to Fraser Island (25 min)
When you exit the barge turn right and follow the beach ( 75 Mile Beach) to Eurong.
If it's High Tide Take Bypass Rd and Fraser Island Beach Track (1 hr 30 min)
Low tide from Hook Point along 75 mile beach to Eurong (1 hr 15min)
Taking into consideration of all this information, it would be reasonable to allow time to travel from the carpark at Inskip Point, time to reduce tyre pressure, board the Barge, make the crossing, navigate around Hook point and then drive along 75 mile beach to Eurong.
Estimated travel time 1.45 to 2.15 hours
Fraser Island Speed Limits
Driving on the beaches at Fraser Island is like driving on a normal road. The beach is classed as a gazetted road therefore road rules apply. There is a Police presence on the island and rules are enforced.
The Police Station is located just north of Eurong Beach about 2km. It is well signed should you require police assistance.
There are many different speeding zones around the island that you should generally be aware of when you are driving around Fraser Island. Different zones have different speed limits.
When driving along the beach – 80km/hr.
In or around any of the tourist areas or townships – will lower to 40km/hr.
Usually because of a high volume of traffic and pedestrians.
Inland tracks are usually 35km/hr.
Following the speed limits on the island is important to ensure that every driver and passenger stays safe.
Use the blue link for a more detailed explanation of the road rules, speed limits and driver courtesy on the Island.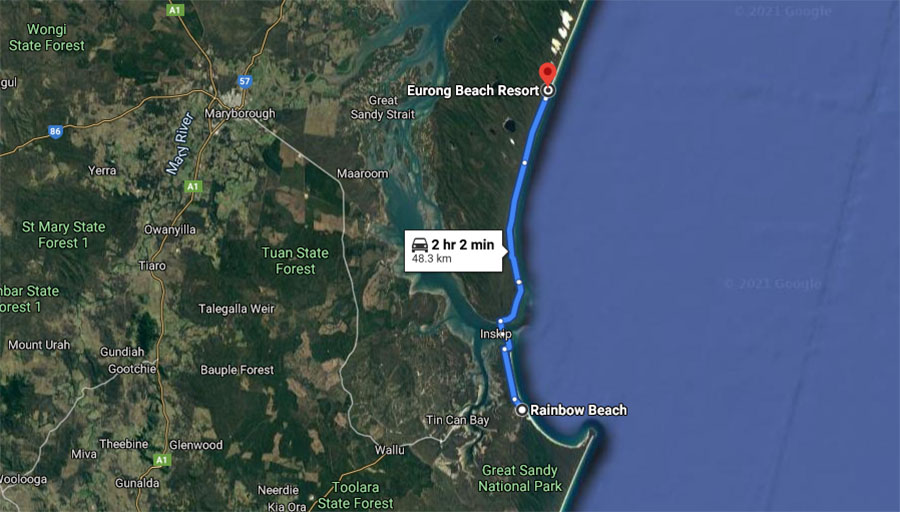 Map from Rainbow Beach – Inskip point across on the Barge – Hook Point to Eurong
Fraser Island Driving Times