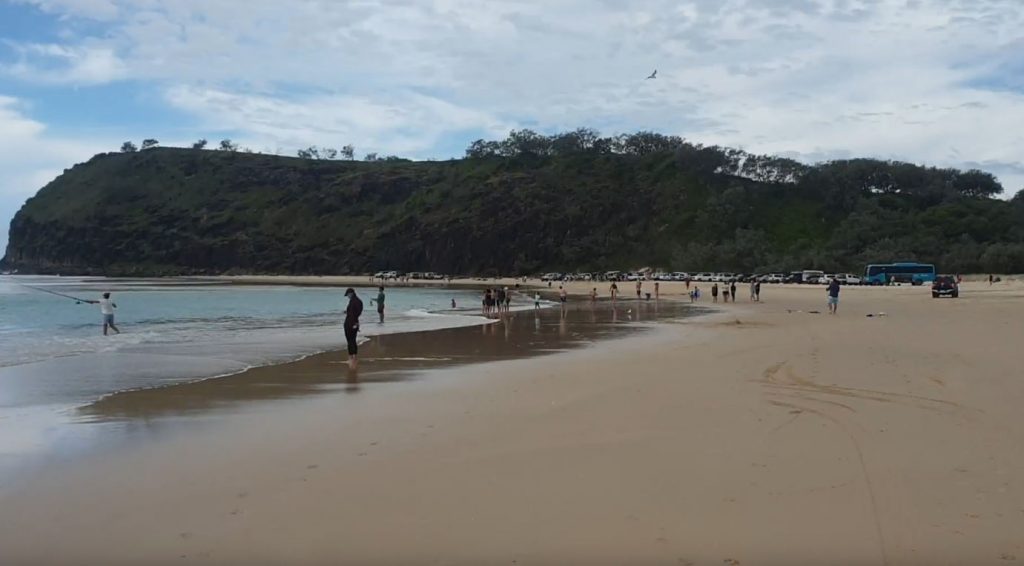 Fishing and frolicking at South Waddy – North of Indian Head
South Waddy is the protected Bay between Champagne Pools and Indian head, located South of Waddy point at the north eastern side of Fraser Island.
Fraser Island is notorious for its strong winds, so this little Bay is the perfect escape from the windy weather.
Its also a great spot to take the kids to swim and even do some fishing.
Watch Our Video About South Waddy
How To Get To Fraser Island and South Waddy?
You access Fraser Island from the mainland at either Inskip Point / Rainbow Beach or River Heads Hervey Bay. You will be required to cross to the island via the operating Barge/Ferry services.
You can only access the Island by driving in a 4WD vehicle or on a Guided Tour. The beach driving and the inland tracks can be dangerous and tricky to navigate if you are inexperienced in 4WDing.
For further information about beach driving.
How Long Is The Drive
The drive to South Waddy can take up to;
1 hour 45 minutes from Hook point if you are travelling northwards
30 Minutes if you are coming south from Orchid Beach township.
Heading North
Once you offload from the Barge you will follow 75 Mile Beach all the way north. You will pass the townships of Eurong, Poyungan Rocks, Happy Valley and Cathedrals.
You will also cross paths with some of the islands most iconic sightseeing destinations, Eli Creek, the Maheno Shipwreck and The Pinnacles.
If you plan on visiting these spots on your way north to South Waddy allow extra time.
Once you reach Indian Head you will deviate from the beach to travel up a sandy track towards Champagne Pools.
Once you pass through the sandy track you will find a most beautiful Bay. This area is Known as South Waddy.
Heading South
If you are travelling southwards from Orchid Beach you will have actually passed South Waddy on your way up.
It is located in the Bay between Champagne Pools and the northern side of Indian Head.
What Can We Do At South Waddy?
South Waddy is a secluded and protected Bay. It is a large stretch of beach that often becomes a meeting point for avid fishermen and also families.
If you want to escape the windy days this is the spot to travel to especially if you are on the eastern Beach.
Its a great place for the kids to swim as the water is generally shallow and clear. The kids will love having a boogie board or a paddle.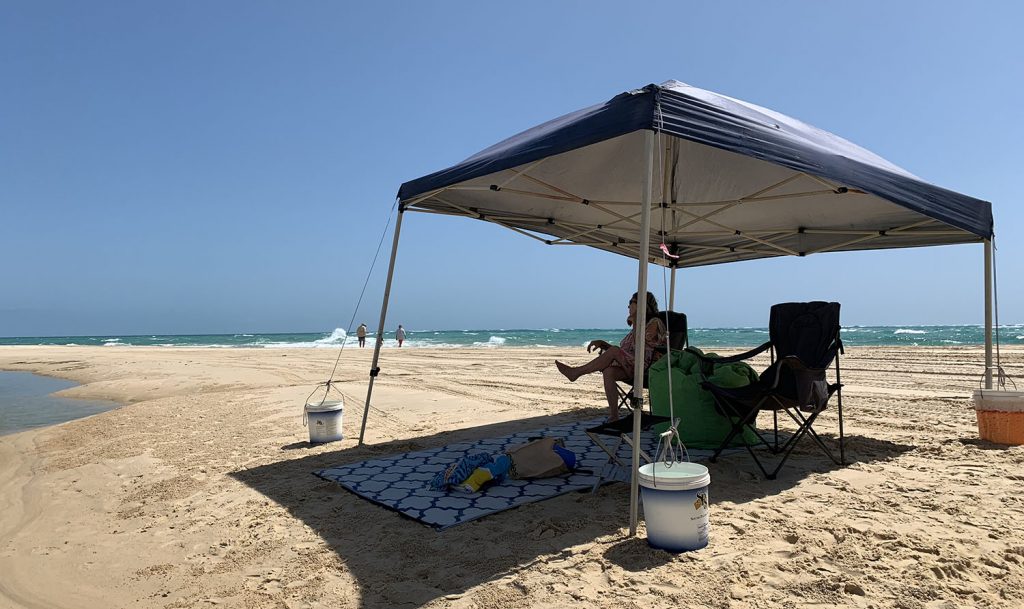 Sunny days on Fraser Island
The fishing in the Bay is great for whiting, Dart and Tailor. You just need to find a good gutter, have some tasty bait like worms or pipis on your hook and you will be sure to catch yourself some dinner.
What Are The Dangers To Be Aware Of ?
Being that you are on a remote island and surrounded by water there are some dangers to being on this Paradise Island.
Beware of Rips and strong currents. There are no lifeguards on the beaches here or flags to swim between. Always watch your children when they are in the water.
Dingo's – Those fury canines are wild animals and this must not be forgotten. They are sneaky and cunning. Never feed them or try to pat them. Always keep a safe distance from them and never walk alone. For more info about Dingo read here.
Marine Stingers – Always keep a look out on the sand for Blue Bottles that may have washed up on the beach. If they are present on the sand they are in the water. Do not swim.
Sharks – Be mindful of sharks in the water. There is yet to be a fatal incident on the island from shark attack but they are about. If you stand atop Indian Head you can actually see them swimming below in the waters of the Bay. Never usually near swimmers but they are out there.
Beware of vehicles – This spot can be very popular and often full of vehicles driving by or trying to find a spot to park. Keep an eye on your kids and look and listen for vehicles.
Rock Fishing – There are some good spots to rock fish however incoming large waves and swell is dangerous, so never turn your back to the water when perched out on the rocks below Indian head.
If you would like to read a more detailed description of the Fraser Island dangers read more.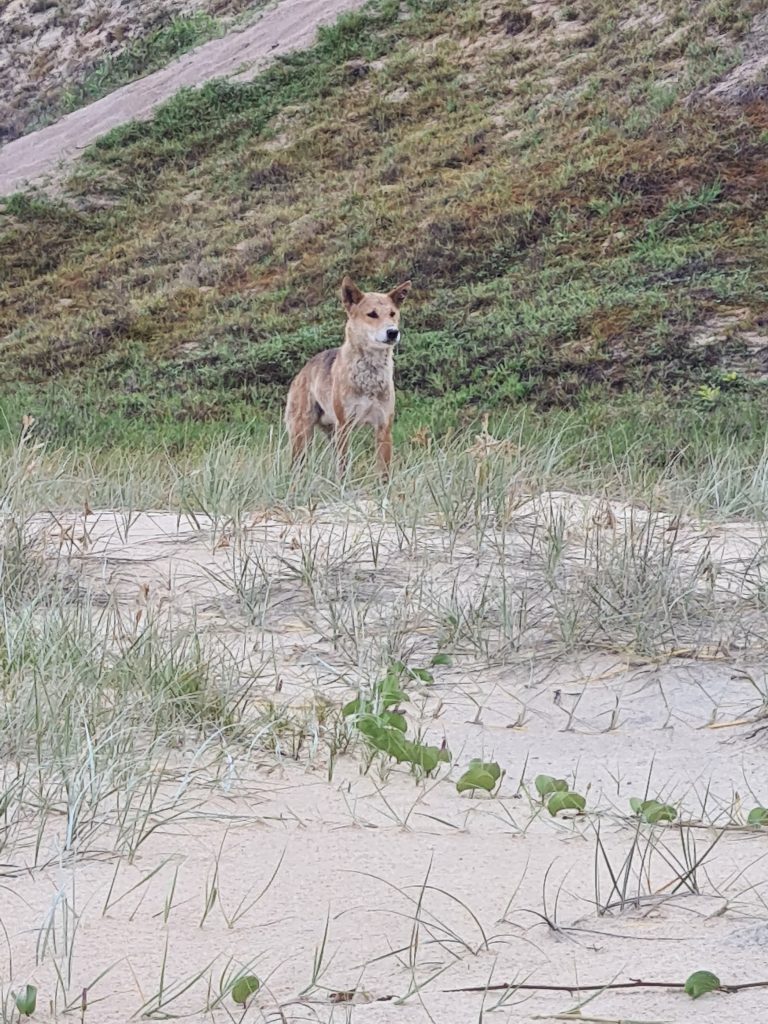 The dangers of the Fraser Island Dingo
When Are The Fishing Closures ?
If you would like to try your hand at a bit of fishing at South Waddy its is a great spot to cast a line at any time of the year.
However there is a fishing ban closure. All fishing is prohibited on the foreshore within an area from a point 400m north of Waddy Point to a point 400m south of Indian Head, and 400m out to sea from low water. This includes the South Waddy zone that falls between these two points.
During the closure signs are erected to warn people of this ban from noon August 1 to noon September 30 each year.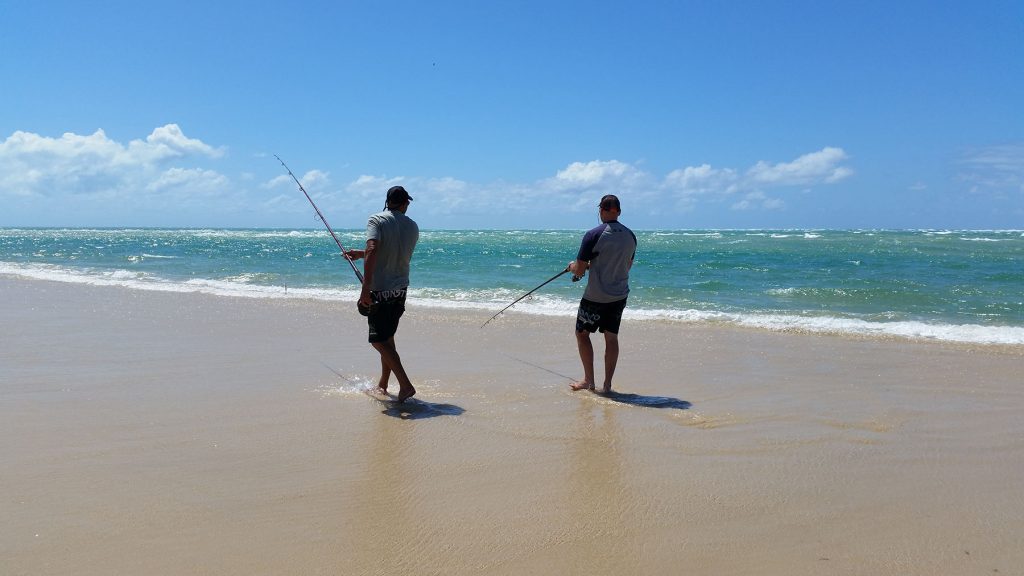 Fishing for a feed of whiting
Last but not least about South Waddy
This a a great spot to take the family, particually on a sunny or windy day. You can pick a nice parking spot, errect your gazebo or awning and stay for a full day of swimming, sunbaking, eating and relaxing.
It is a favourite spot for the local Island residents as you can be sure to escape the wind and catch yourself some dinner.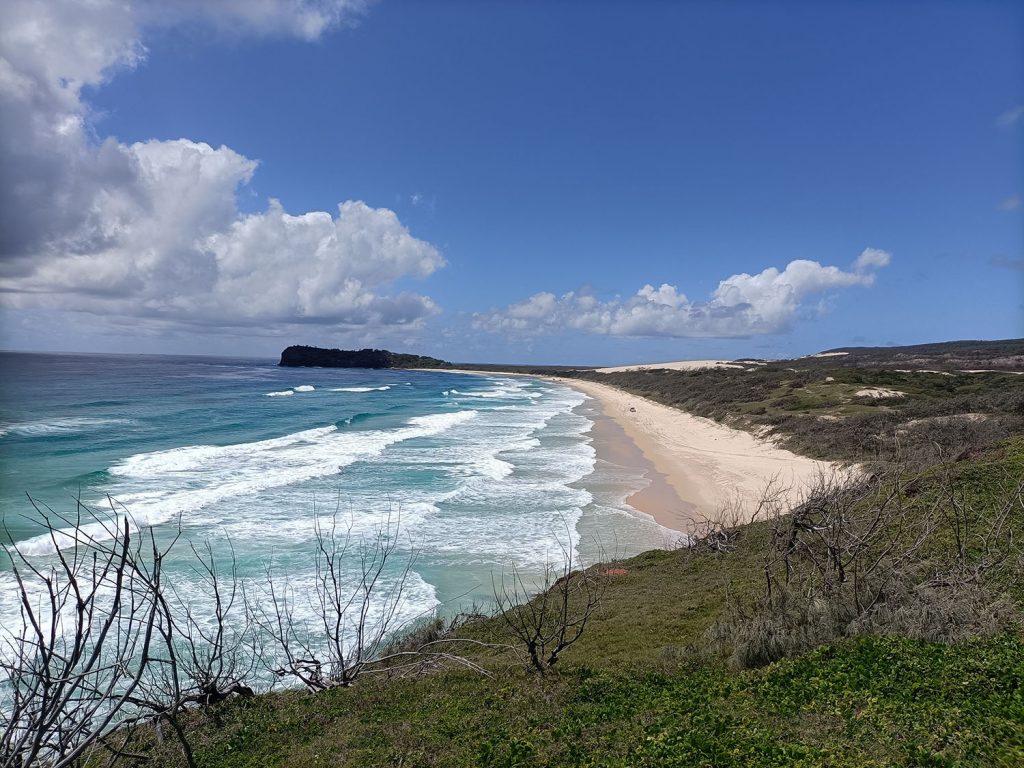 The view from Waddy Point to Indian Head
Related Video – Indian Jump Up Track
Waddy Photo Gallery
Map of Fraser Island