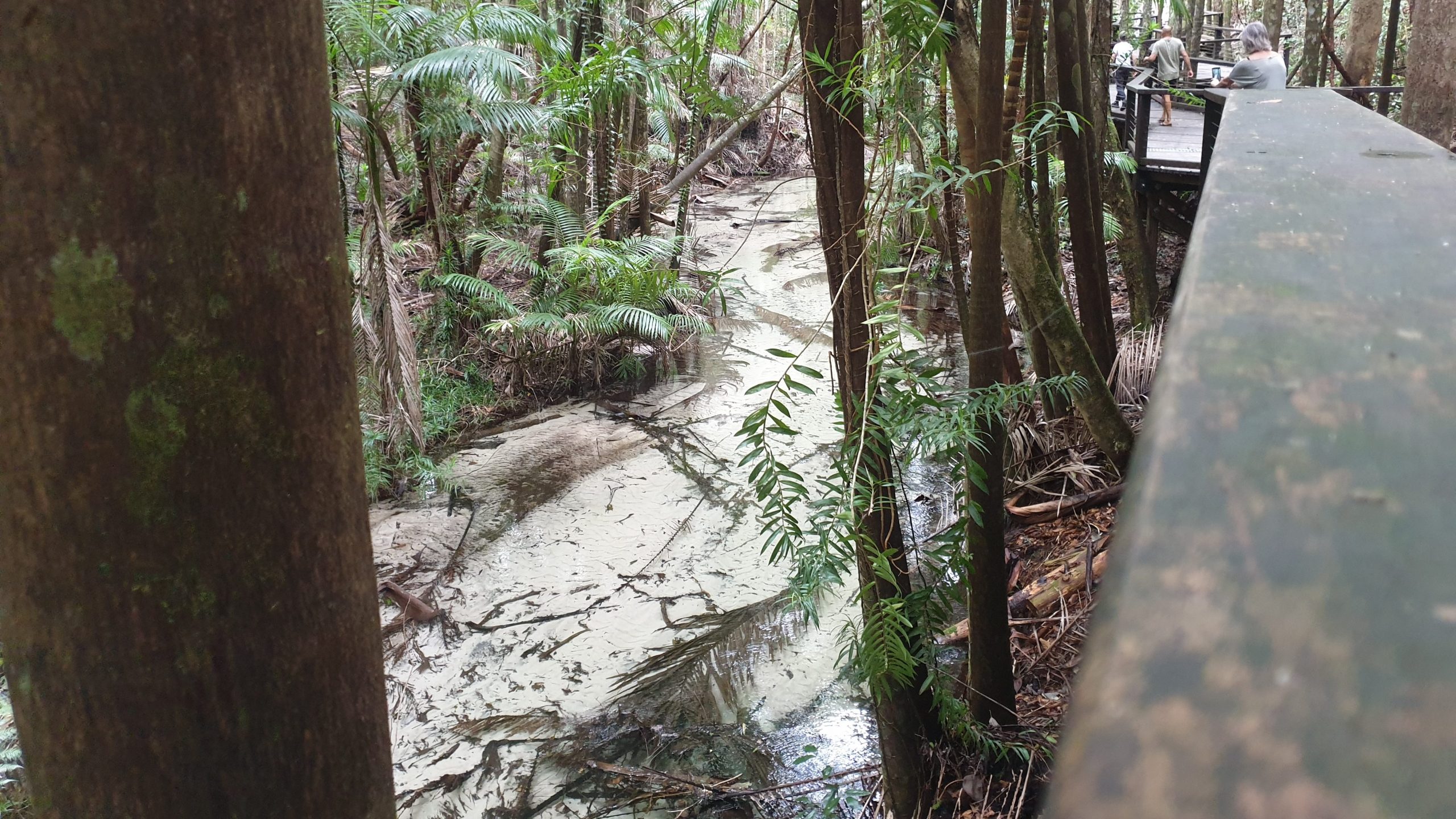 This stunning creek begins deep in the rainforest at Pile Valley on Fraser Island. This World Heritage Listed Island is also the largest sand Island in the world and has natural attractions like Wanggoolba Creek that are truly stunning.
Wanggoolba Creek meanders from the Pile Valley all the way to the mouth of the salt water of the Sandy Straits where the barge / ferry lands from River Heads.
Its difficult to believe that the brown muddy waters that you see upon disembarking the Barge leads to this pure, fresh and freezing freshwater creek. It is one of the most amazing attractions that the island has to offer.
Wanggoolba creek is a sight to behold. You could be mistaken to think that the sandy bottom of the creek is dry, however the waters are so crystal clear and calm it looks transparent.
The surrounding rainforest has incredible Angiopteris Ferns that are believed to be around 2000 years old. It gives the feeling of being immersed in the Jurrasic Era without the Dinosaurs.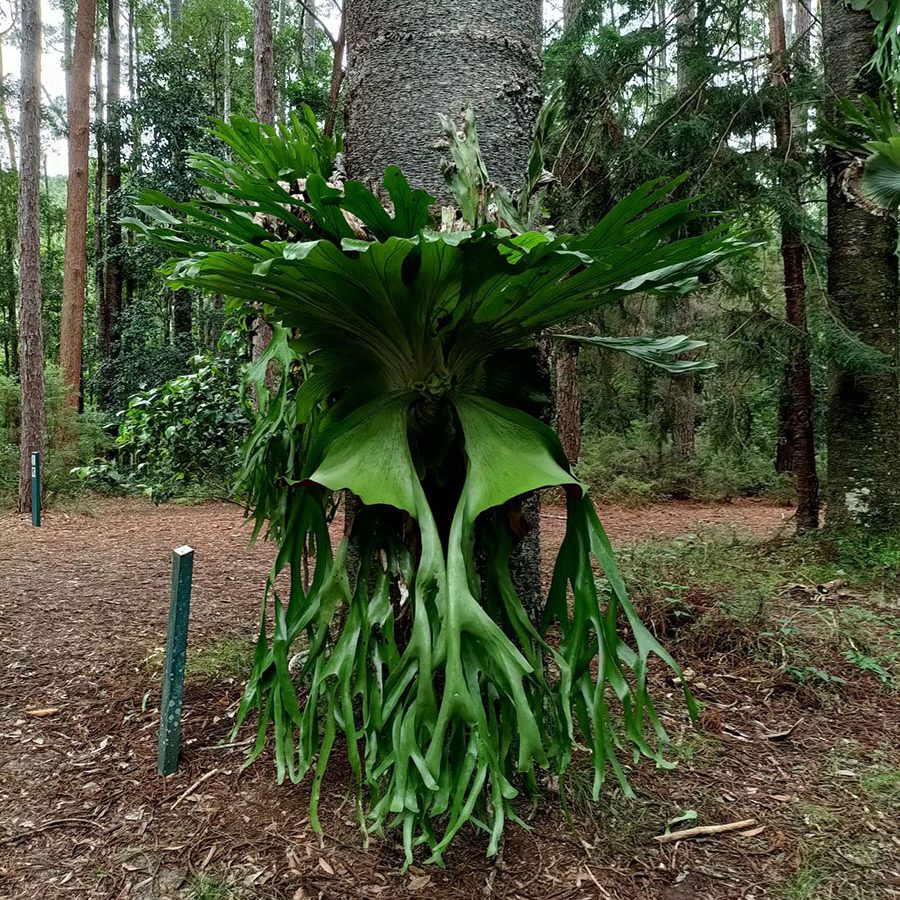 How to Get to Wangoolba Creek?
If you want to visit Wangoolba Creek you can get their by via either of these two ways.
From River Heads
If you are heading over to Fraser Island from Hervey Bay you will need to book a spot on the Barge at River Heads.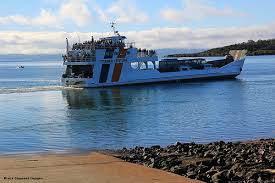 The Barge crossing over to Fraser Island takes about 45 minutes. You will need to make a reservation as it has a limited timetable.
The barge has snacks and drinks for your convenience that can be purchased onboard.
This a 20 minute drive from central Hervey Bay. You will need to have a suitable 4WD vehicle or be part of a tour group to get over to the island.
The Barge will land at the mouth of Wanggoolba creek on Fraser Island and you will drive your vehicle off or disembark.
From Hook Point or 75 Mile Beach
If you are travelling to Fraser you will hop on the Barge at Inskip point and ferry across to Hook Point.
Once you hit the sand you will travel North along the eastern 75 Mile Beach to Eurong.
Here you will head inland to Central Station. It is here that you can experience the natural beauty of this creek deep in the rainforest.
Wanggoolba Creek at Central Station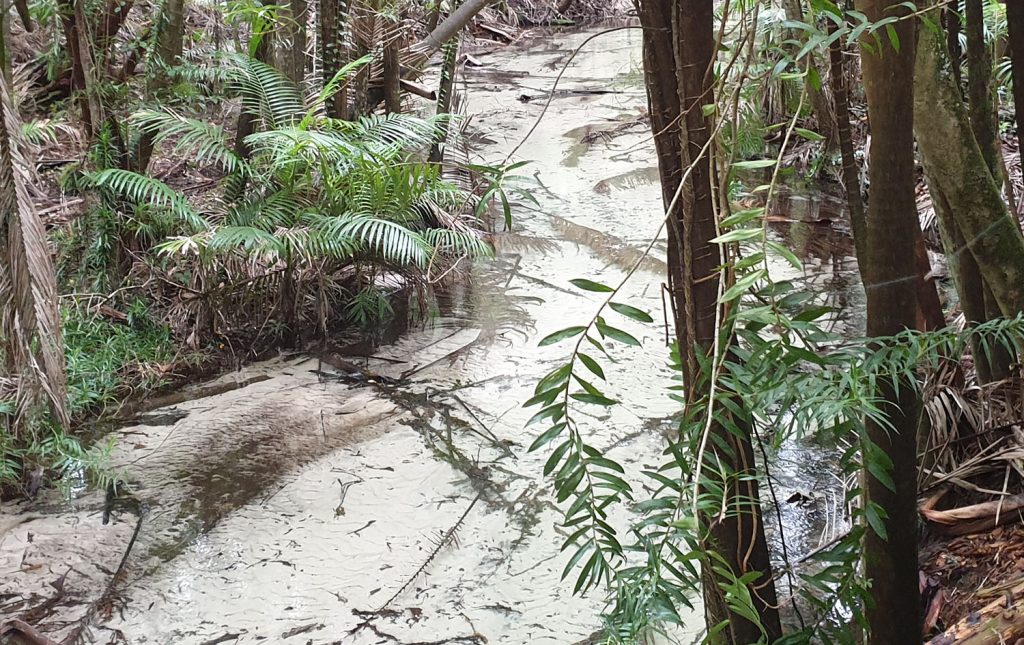 The best way to appreciate the Islands natural surroundings is at Central Station.
At this point you will get an insight into the history of Fraser Island and be immersed into the sacred surroundings of the Butchilba tribe that inhabited this area long before white man settlement.
You will feel the moist air deep in the rainforest, smell the raw scent of the moss covered ancient ferns and see just how crystal clear and fresh this incredible creek is.
You can walk alongside the creek on a purpose built board-walk that overlooks the creek and gently winds past and through the rainforest.
You have the options of walking through yourself or you can opt to have a tour guide to explain in detail all the sights and questions about this area that you may have.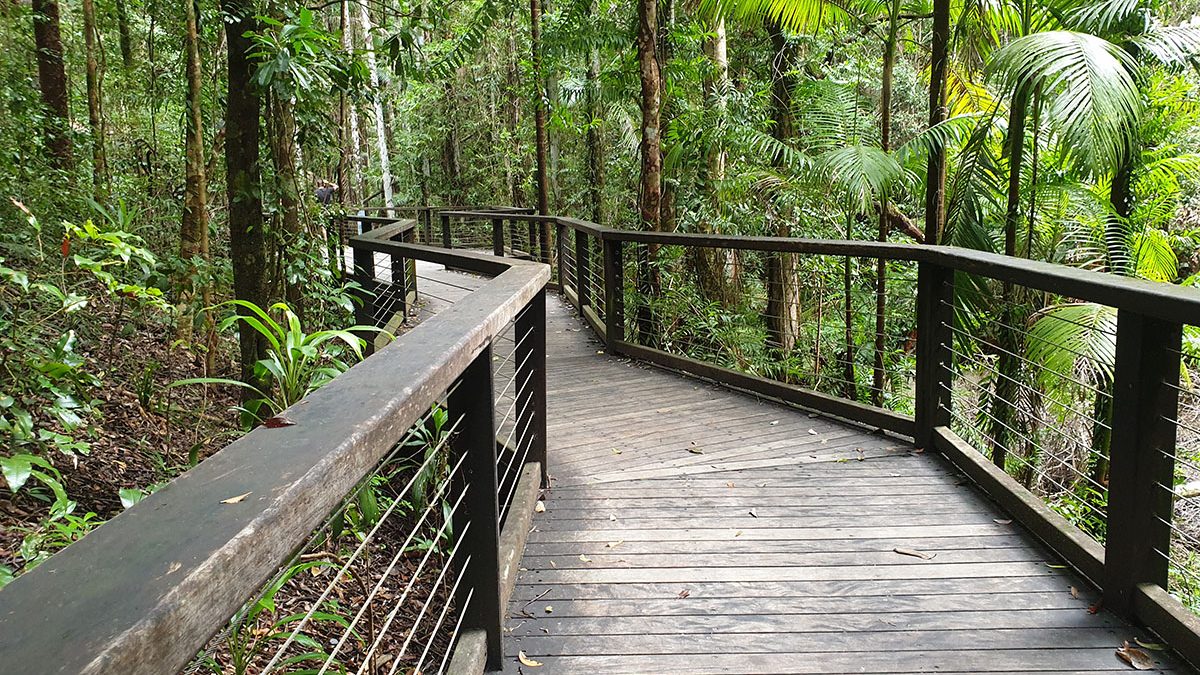 The boardwalk takes about 15 minutes and is suitable for all ages, fitness levels and is wheelchair and pram accessible.
Central Station has parking stations, day use picinic areas, toilets and camping facilities that are available.
Wanggoolba Creek Camping
If you want to stay close and admire this beautiful setting in the rainforest you can camp at Central station.
The area has ample campsites that are suitable for tents or camper trailers. You will need to book online with QPWS for a camping permit.
The facilities are clean, the grass is green and you can get phone reception.
For more info about Central Station follow this link.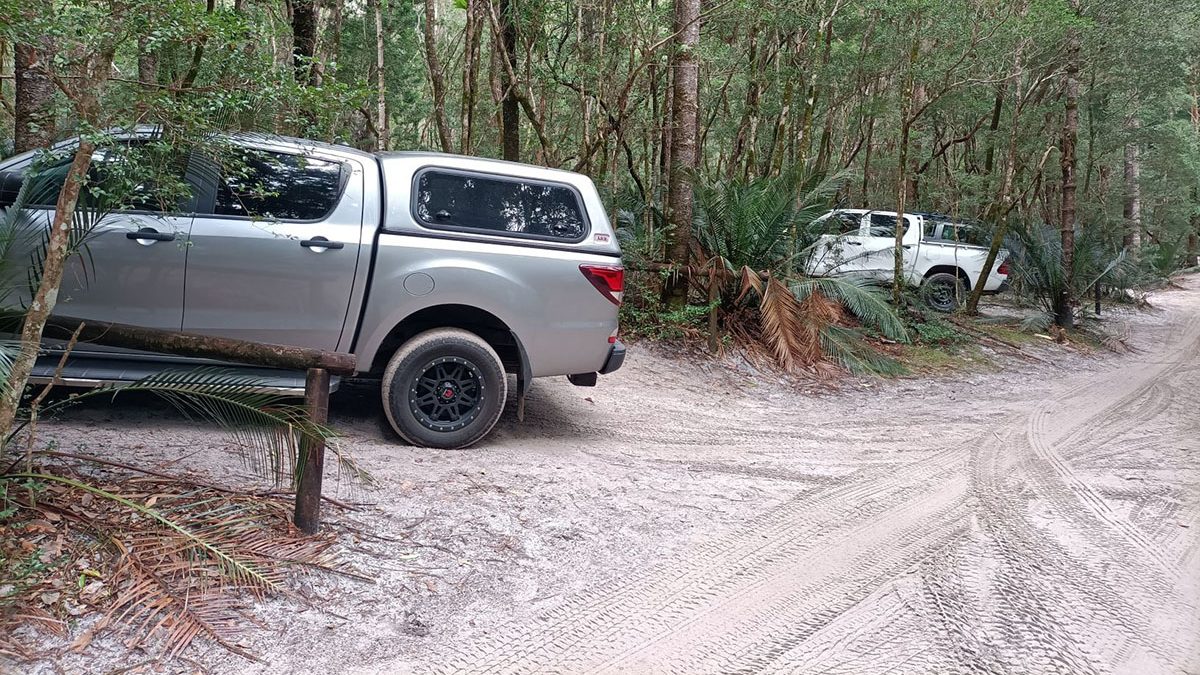 Vehicle parking at the camping area
Wanggoolba Creek and Surrounds
If your wondering what else is around this area of Wanggoolba Creek you may be surprised. Surrounding Central station you have an easy access to some of the best locations and places of interest.
Nearby you will find: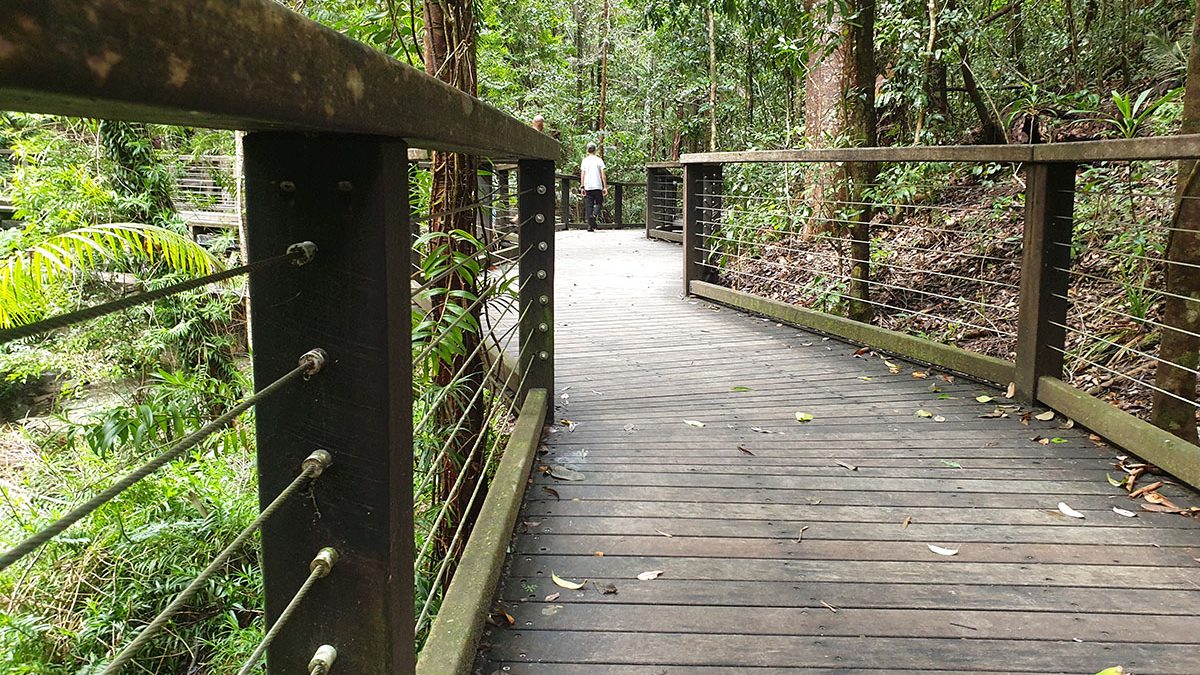 Boardwalk to Wanggoolba Creek at Central Station
Wangoolba Creek – Closest Accommodation
If you prefer 5 Star rather than 5 tent pegs there are a few accommodation options close by. Depending on your budget and the time of year prices and styles do vary.
For Apartment or Unit style I would suggest Eurong Beach Resort.
If you are looking for something mor Hotel Style with extra services and activities I would recommend Kingfisher Bay Resort.
For an Eco Experience I would suggest Happy Valley Eco Lodge.