Fraser Island is full of lakes and secret swimming spots. As we are full time local residents on Fraser. We can show you all the best places to swim.
Here are a few of our favourites :
---
Eli Creek
Eli Creek is a must see spot on Fraser Island. It's a pristine, crystal clear freshwater creek the flows to the sea from within the island.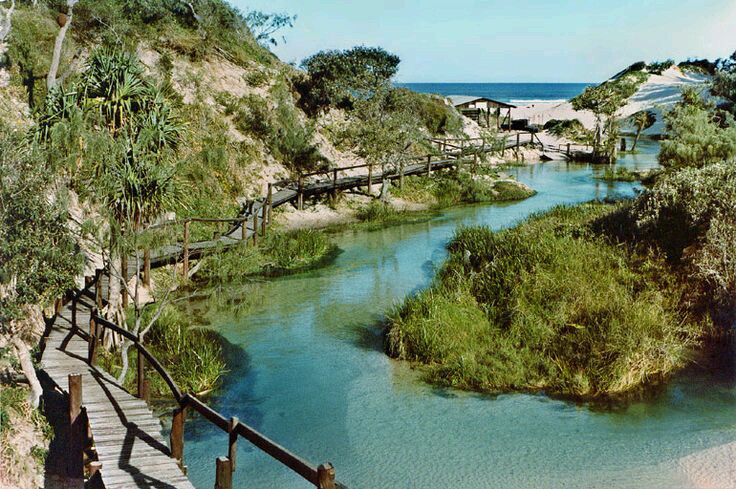 Paradise at Eli creek on Fraser Island
It's little wonder why it's such a popular spot for families and backpackers during the summertime. The perfect place to pop up the beach umbrella for a picnic.
The creek has a board walk that you can follow and stroll along. It's a few 100 meters up to the top and then you can enter the creek to swim or float down if you wish or walk leisurely back.
Our kids love to float down the crystal clear water on their boogie boards and air beds.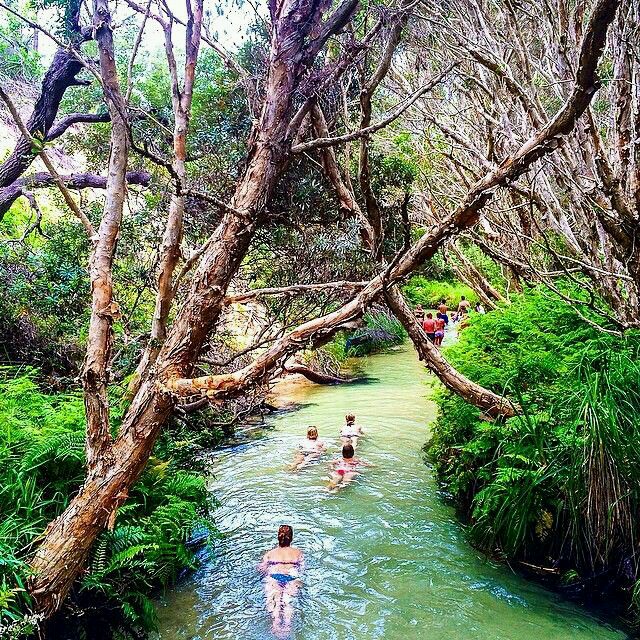 Read more about Eli Creek on Fraser Island
---
Lake McKenzie
Lake McKenzie is an absolutely stunning looking lake. It's the most popular freshwater perched lake to visit on Fraser Island.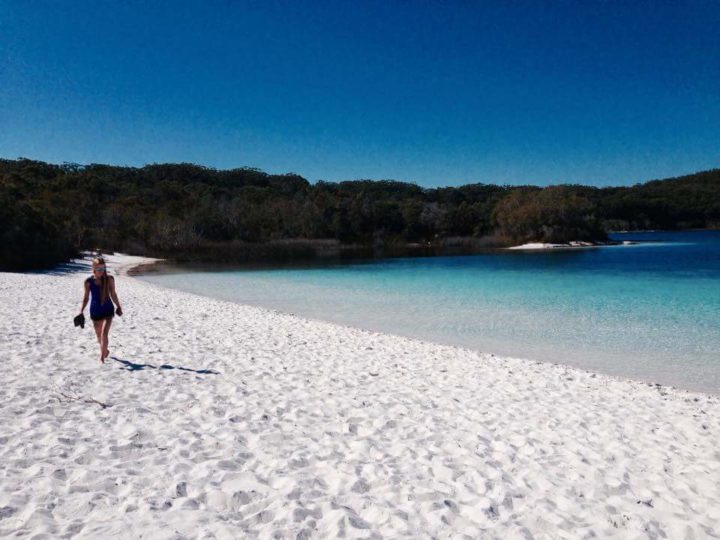 The stunning water of Lake McKenzie
The lake is circled by pristine white sand and is approx. 13ha in size. The lake itself sits about 80m above sea level.
You can swim or snorkel in the crystal azure waters. It is amazing to say, it's a natural and beautiful wonder of the world.
We visit here many times a year to bring friends and family. It never disappoints.
Note: This popular spot does have toilets however carry some spare TP as it runs out very fast when all the buses pull up. Nothing worse than empty toilet roll holders.
Read more about Lake McKenzie on Fraser Island
---
Orange Creek
Orange Creek is a fantastic little freshwater swimming hole. Yes! it is orange-ish. Maybe even a brownish-orange, kinda tea coloured.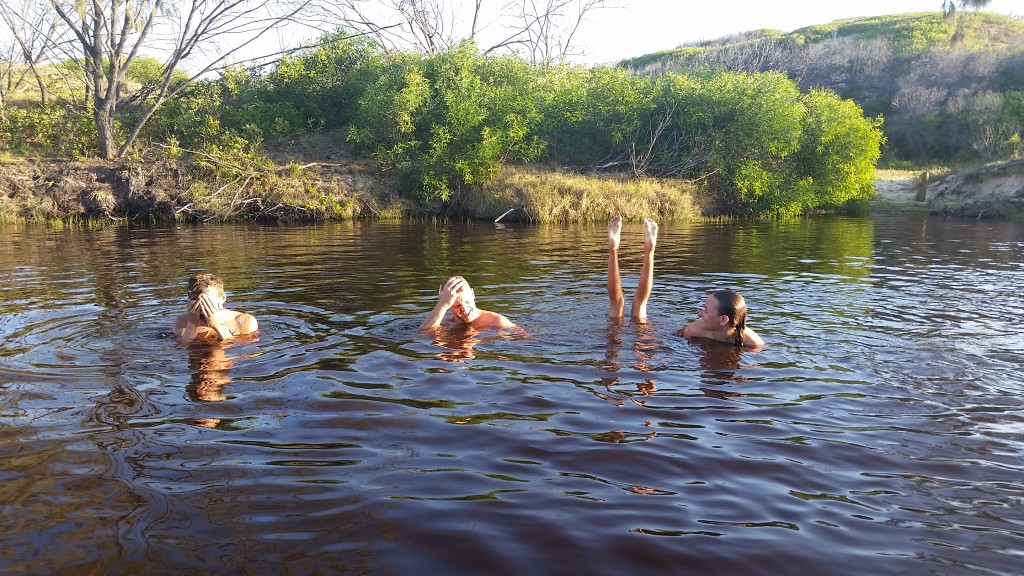 Swimming in the tannin coloured water of Orange creek
It's completely harmless. The tannin from dead leaves and other organic matter stain the creek water an orange-ish colour.
The water looks a bit eerie, but looks can be deceiving. It's actually an ideal spot to have a refreshing swim. It has a sandy bottom with no rocks so it's perfect for the kids to swim around in.
The water is lovely and fresh, so there is no need to worry about creatures lurking in the water below. (Like: Sharks and crocodiles)
It's mostly waist deep with shallower water on the edges and where it flows through the sand down to meet the sea.
You can find Orange creek towards the northern end of Fraser Island. 10 minutes up the inland track from Orchid Beach.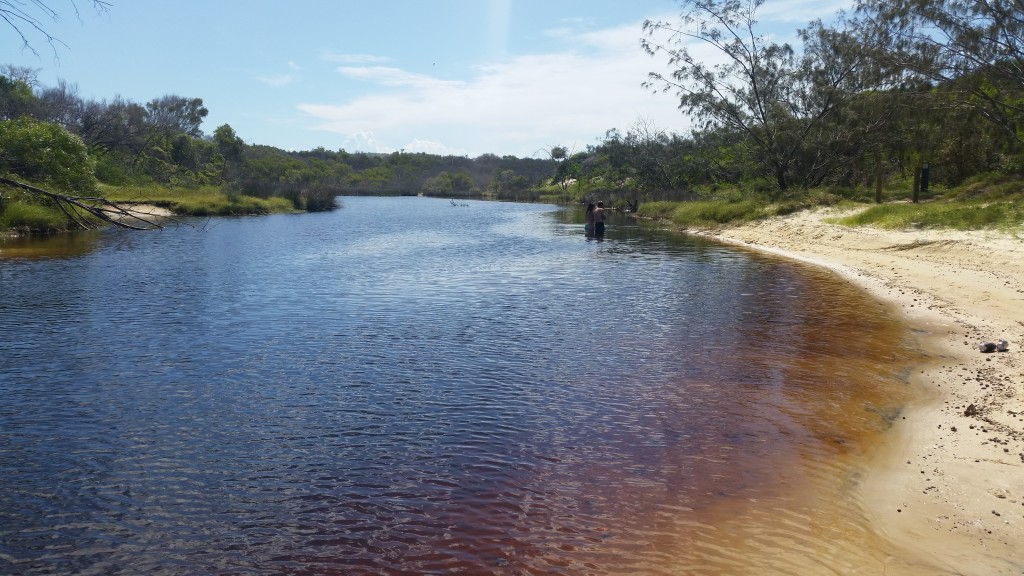 Look up Orange Creek
Read more about Orange Creek on Fraser Island
---
Ocean Lake
Ocean Lake is one of the most spectacular lakes on Fraser Island. Unlike some other lakes, not many people are aware just how beautiful ocean Lake is.
Let alone how to get there.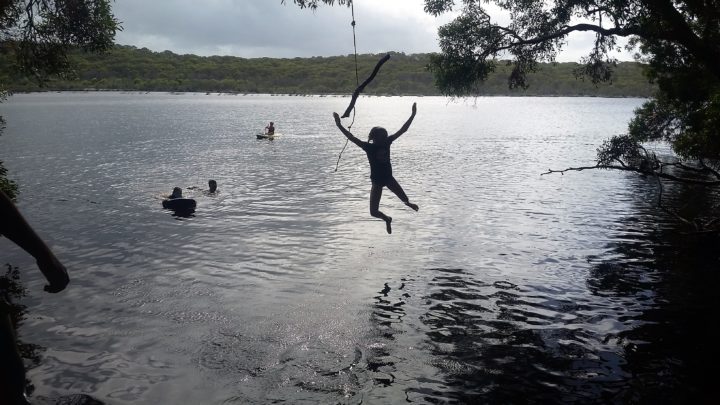 Swinging about at Ocean Lake with the kids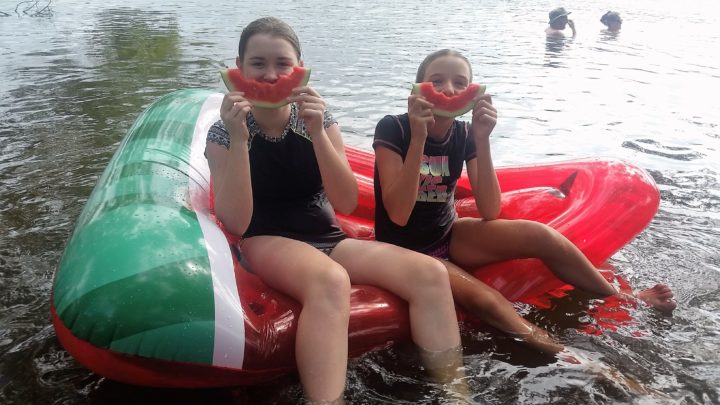 Perfect spot for Fun & Games
Ocean Lake might not be as popular as Lake Mackenzie however it is a natural wonder of the island.
Similarly to Orange Creek the water is orange coloured. Is not scary, as the water is simply coloured by tannins from the leaves that fall in from the surrounding trees.
But don't be put off by this as it is a truly peaceful and beautiful spot.
Ocean Lake is short drive from Waddy Point and Orchid Beach. It's located 7.5 km up the beach from Waddy Point. Look out for the sign that is mounted in the dune near the entry. It's a further 1 km inland on a sandy track.
Read more about Ocean Lake on Fraser Island
---
Lake Boomanjin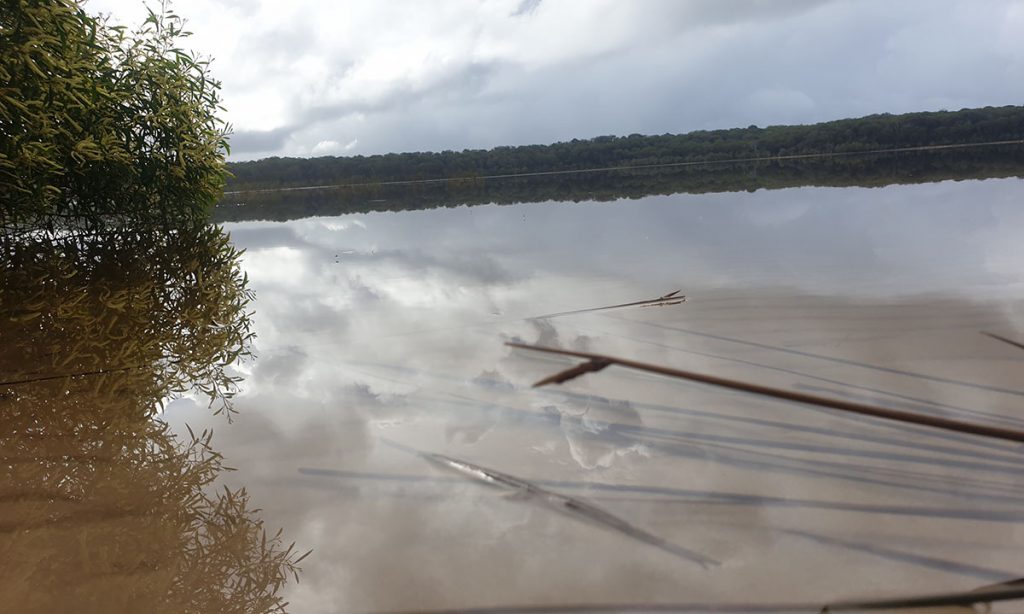 Lake Boomanjin is the largest perched lake in the world which is amazing in of itself. With it's crystal clear water it is a lovely place to visit.
It's a freshwater lake that covers an area of approximately 200 hectares. With the shallow edges of the lake, it is a great place to take the kids for a swim. And if you're a bit more adventurous, you can venture out in the middle where the water can get up to 5 meters deep.
Sometimes the water can appear murky which is a result of tannin staining, but it is clean, fresh and perfectly safe to swim in.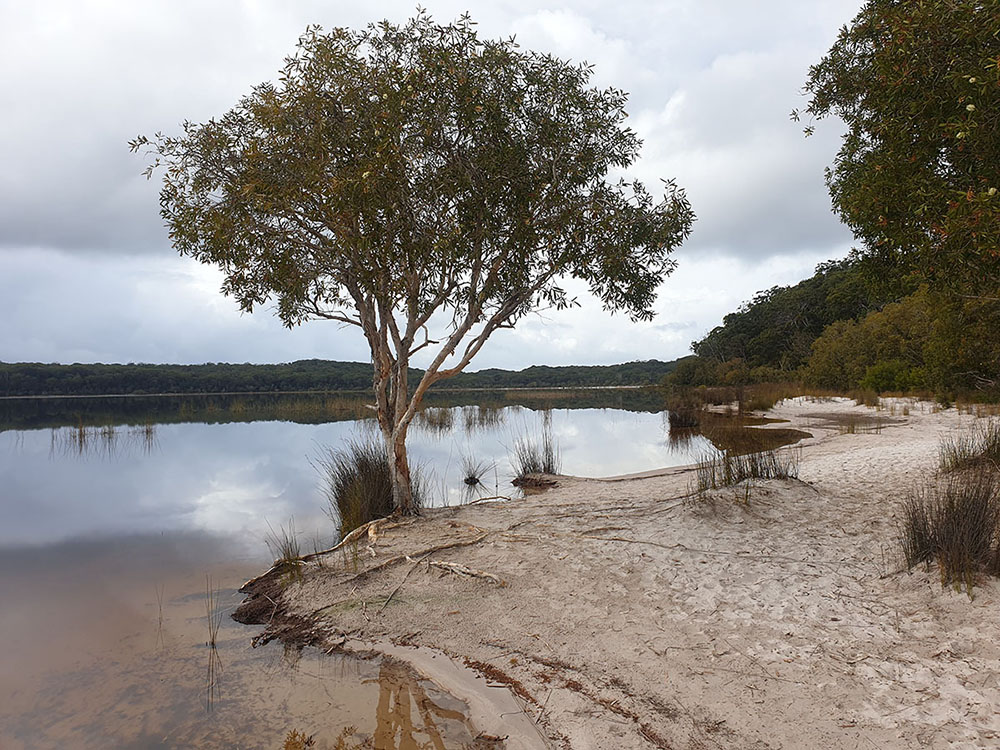 Read More About : The Amazing Lake Boomanjin Here
---
Map of Fraser Island