If you're looking for a great place to go beach fishing, Fraser Island is 100% worth considering. With its long coastline, sheltered bays and an estuary system there are plenty of places to cast your line.
The island is also home to a wide variety of fish, so you'll surely catch something if you give it a go.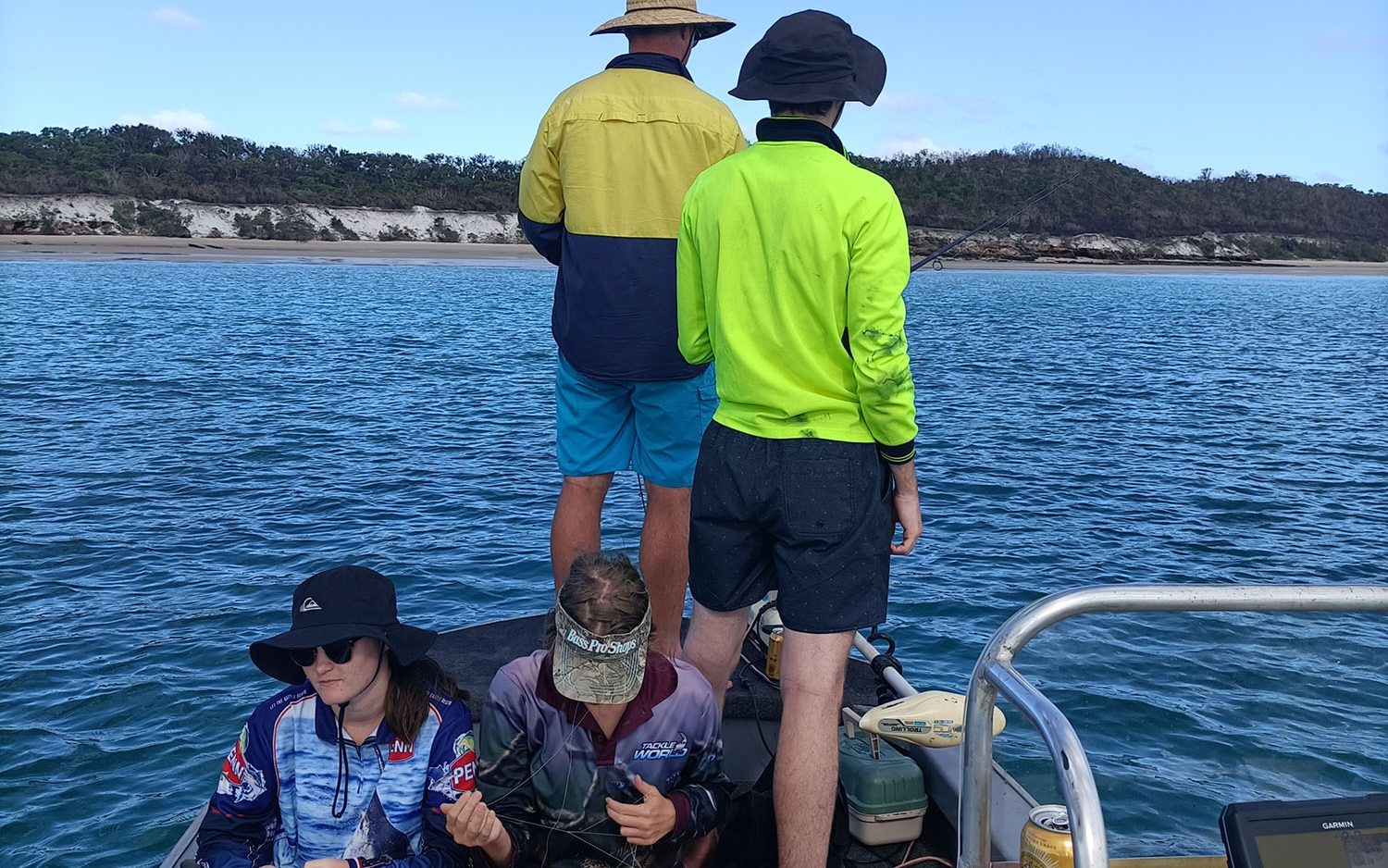 Thousands of fishermen and women invade the island to catch the renowned "Tailor" fish. They line up like dominoes along the beach when a session is on.
This is a sight to behold and even more exciting when you are fishing and catching amongst it.
Tailor are caught in the winter months from late June to October. So if you want to tick this sport off your bucket list start planning a trip now.
In the summer & warmer months you are more likely to catch Whiting, Bream and Dart.
Be aware that parts of the beaches are no fish zones in the areas between Indian Head to Waddy Point from 1st of August to 30th of September each year. Look out for the beach signage.
Where Is A Good Spot To Go Fishing on Fraser Island?
One of the best places to go fishing on Fraser island is along 75 Mile Beach from Happy Valley to Indian Head. This wide, stretch of sandy beach is a great place to throw in a line.
To be successful in fishing it's important to be able to read the beach to find a gutter.
How To Find a Gutter Along the Beach?
Changing weather conditions and tides combine together producing low-tide and high-tide gutters.
It is in these gutters that you will have the best chance of catching fish.
The gutters form between the beach and outer sand banks. You will find gutters that can open at one end or both ends.
The length and depths of these gutters can vary significantly. You can fish the gutters anytime, day or night but dusk and dawn seem to provide better results.
It's important to note that if it's blowing a strong easterly you may need to move to a more sheltered fishing spot just north of Indian head out of the wind.
Nothing worse or more frustrating than trying to cast into the wind, getting your line tangled and not being able to reach a gutter a few meters away.
What Tackle To Use For Beach Fishing
Best Fraser Island Fishing Spots
There are many great places to go beach fishing if you are visiting Fraser Island.
Some of the best spots include:
Fishing at North Indian Head / South Waddy
Indian Head is a great spot for beach fishing. This spot is known for its variety of catches.
It is a rocky headland so you can fish from the southern end along the beach or you can head a little north on the other side and fish in the bay or on the rocks.
This is a great spot if the easterly winds are blowing or if you want calm waters to take the kids for a fish or practice casting.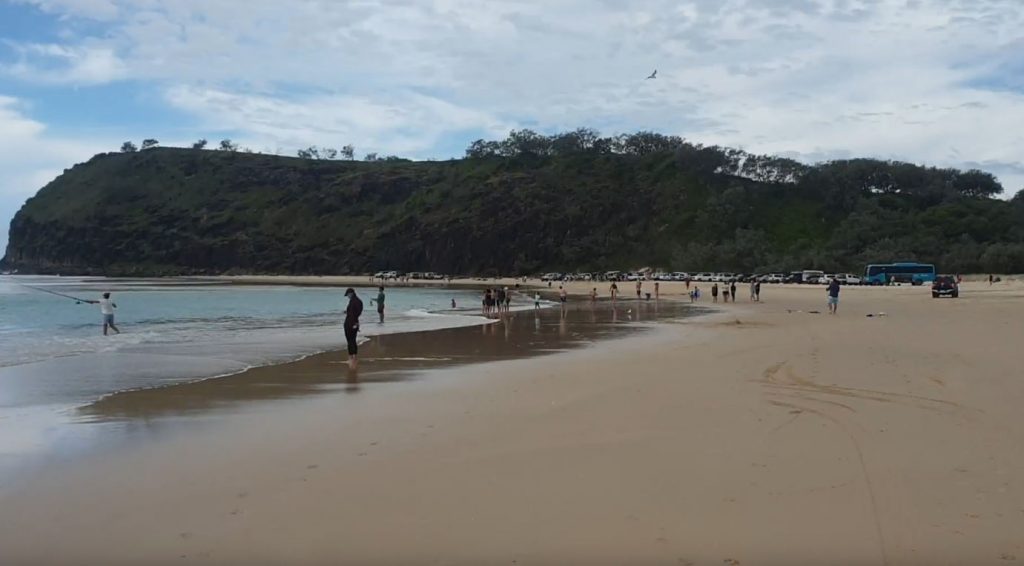 North Indian Head / aka South Waddy
Fishing at Wathumba Creek
This beautiful spot is located on the western side of the island.
Wathumba Creek is a great place to start your fishing adventure. The creek/estuary is teeming with fish, particularly sand Whiting and Flathead. It is a bit of an adventurous 4Wd experience to get there but you are sure to catch something for dinner.
It is shady with large trees lining the water's edge. It has mangroves at one end and the mouth heads out to the ocean. It has a diverse landscape that you will surely appreciate and want to take photos of. The sunsets are also spectacular here.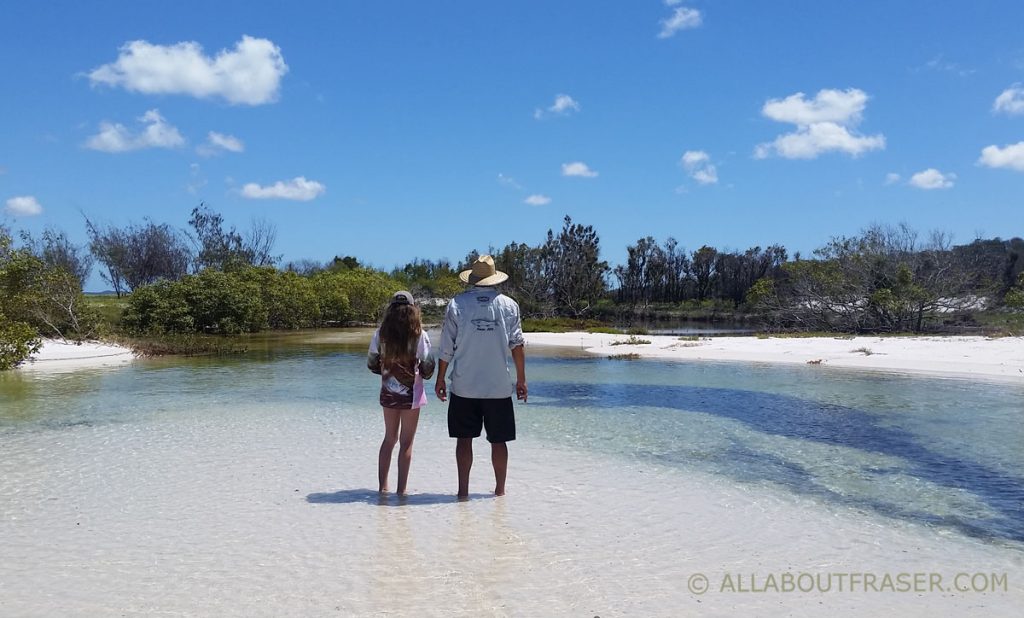 It's also the best place to catch fresh bait. You will find thousands of small yabbies or one-armed bandits as we call them in the mudflats of the creek. These are great for catching flathead and whiting.
Fishing Sandy Cape
If you are looking for a bit of a challenge, try your luck at the Sandy Cape. This spot is known for its hard-fighting fish and larger species like Mac Tuna and Mackeral. You will also find some great Dart in the gutters along this stretch.
If you don't have the gear for this type of fishing the basics will always provide Whiting for dinner. They are easy to catch and supply is plenty.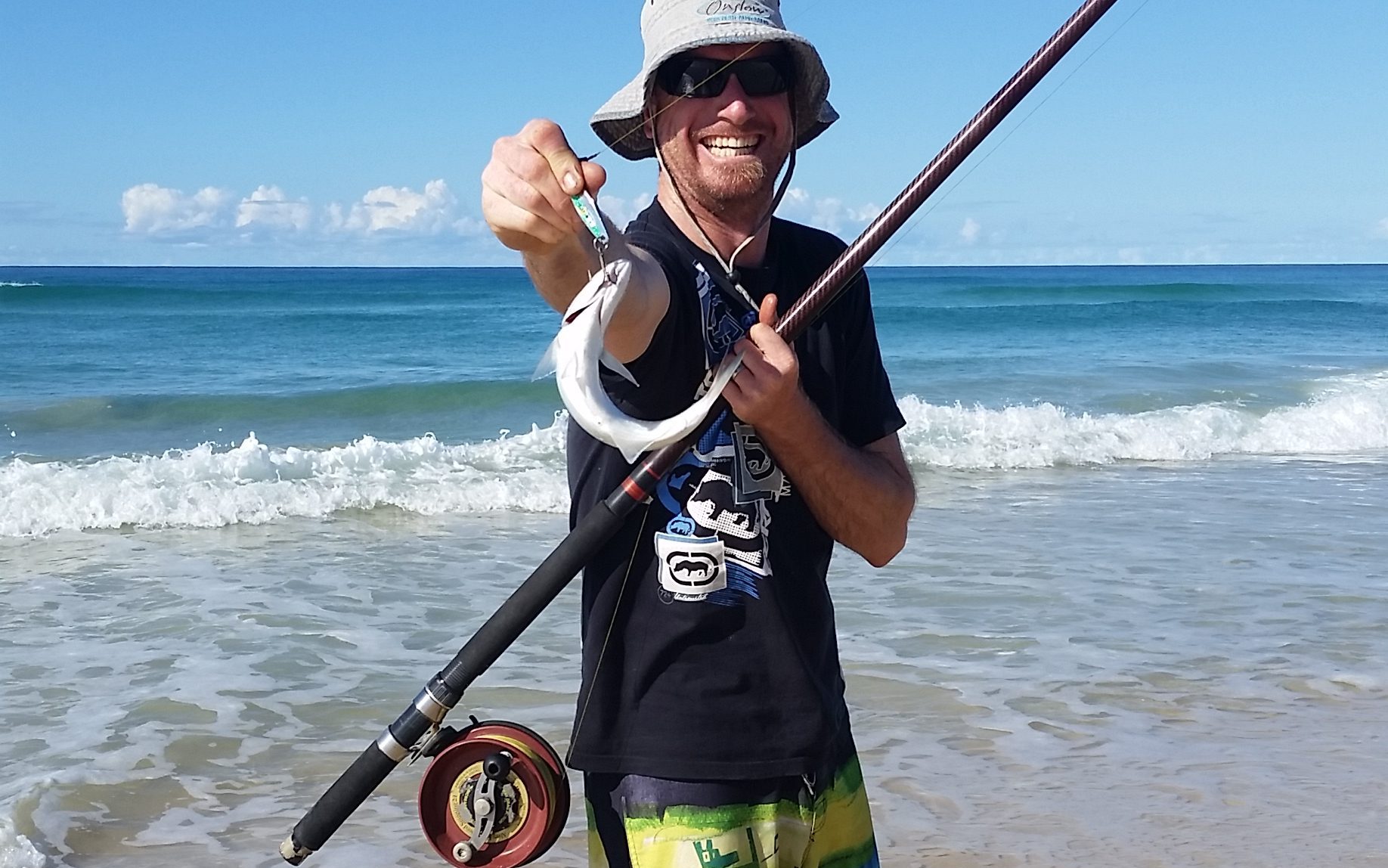 Fishing at Waddy Point
Waddy Point is another great spot on Fraser island for beach fishing. This spot is well-sheltered and has a wide variety of fish to choose from.
You can catch Bream, Whiting, Tailor and Jewfish. It is a small rocky headland similar to Indian Head. It is shady and sheltered so it is suitable for all the family to enjoy.
The island is also home to a wide variety of fish, so you're sure to catch something if you spend enough time fishing here.
What Type Of Fish Will You Catch On The Beach at Fraser Island?
The most common beach fish on Fraser Island are Whiting, Bream and Flathead. These fish can be caught using a variety of methods, such as bait fishing, lures or fly fishing.
If you're looking to catch a feed of fresh fish, Fraser Island is the place to be!
What You'll Need For Fishing Off The Beach
When fishing on the Island, it's important to pack the right gear to catch the right type of fish.
Here are some Beginner basics for fishing on Fraser.
Basics for catching Tailor
Surf rod and Alvey side caster reel
15-20lbs quality line,
Gang Hooks
Medium sinkers
Asst selection of Lures/spinners – if not using bait
Shoulder bag
Fishing knife and pliers
20L clean bucket
Bait – frozen pilchards
It's also important to pack sunscreen, insect repellent, a hat, and plenty of water and snacks. And don't forget to bring your camera – Fraser Island is an amazing place to fish, and you'll want to capture the memories!
Basics for catching Bream, Dart and Whiting
Light, flexible 7″ foot rod – Shimano or Ugly stick are great
4-6 lbs line & leader – braid or monofilament
Asst. small sinkers
Asst small hooks
Fishing knife & pliers
Shoulder bag
20L clean bucket
Bait
HOT TIP – Do not apply sunblock or insect repellent on yourself or get it on your hands. Let someone else apply it for you. This will contaminate your line and your bait and the fish don't love it.
How To Catch Fish Off The Beach on Fraser Island?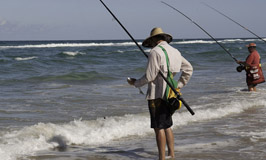 Fishing from the beach on Fraser Island can be a fun and rewarding experience, as long as you are prepared for the challenge.
Here are a few tips to help you catch fish from the beach:
1. Choose a spot on the beach that offers good fishing prospects. Look for deeper gutters close to the shore.
2. Rig up your tackle accordingly. Use a light-action rod and reel combo. The best bait is freshly caught beach worms or pips that you will find along the beach.
3. Cast your bait into the desired area and wait for a bite. Be patient, as it can often take a while for fish to strike.
4. Reel in your catch once it takes the bait. Be careful when removing the hook, as some fish can be quite slippery and sharp.
5. Repeat the process until you've caught your limit!
What's Biting At Fraser Island Right Now?
The fishing at Fraser Island is really good right now. There is plenty of bream, whiting and flathead to be caught. I've been using bait, such as prawns and worms, and have been getting good results.
The fishing is definitely worth a try if you're looking for a bit of a challenge. I'm sure you'll be able to catch some good fish if you give it a go.
Be prepared to get wet! Fishing from the beach can be a messy business, so make sure you're wearing clothes that can get dirty.
Have fun and enjoy the great outdoors! Fraser Island offers some of the best fishing in Australia, so make the most of it.
With these tips in mind, you're ready to tackle Fraser Island's beaches and catch some fish! Just remember to take it slow and be patient; good things come to those who wait.
Beach fishing FAQs
Where can I clean my fish on Fraser Island? – You can clean your fish on the beach but you will need to dispose of frames and waste in the waste bins provided. It is prohibited to bury fish offal on the beach. Huge fines apply if you are caught.
Do you need a fishing Licence for Fraser Island? No fishing licenses are required but be aware of fishing restrictions and bag limits.
What is the best time to fish Fraser Island? Any day of the year, fish are always here. But as a general rule incoming high tide for beach fishing, dusk and dawn are great too.
Pictures From a Successful Trip!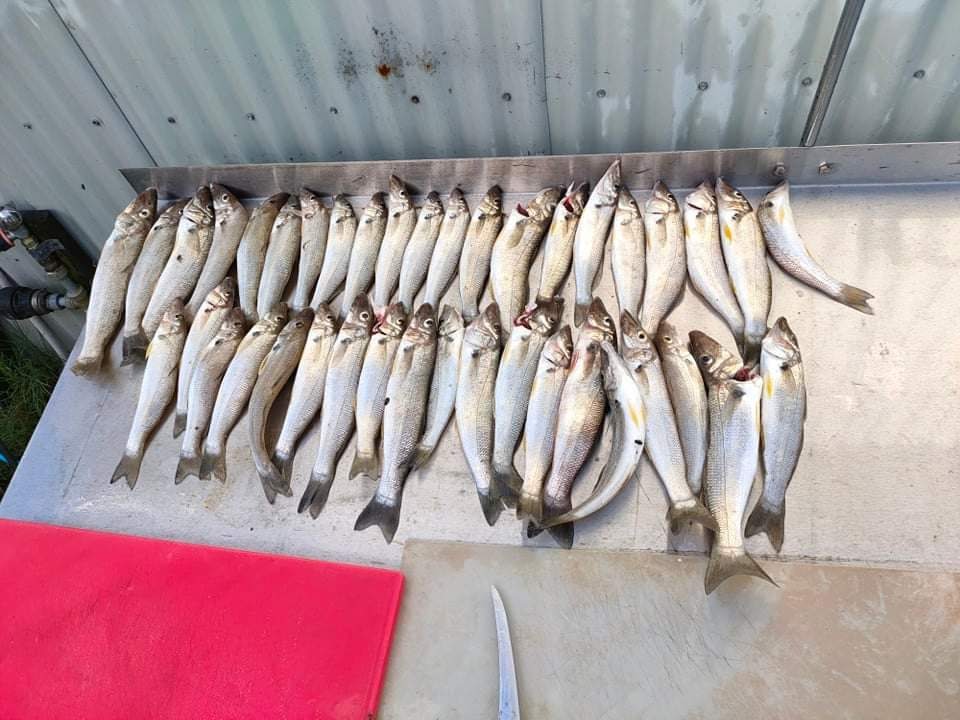 A days catch from Wathumba Creek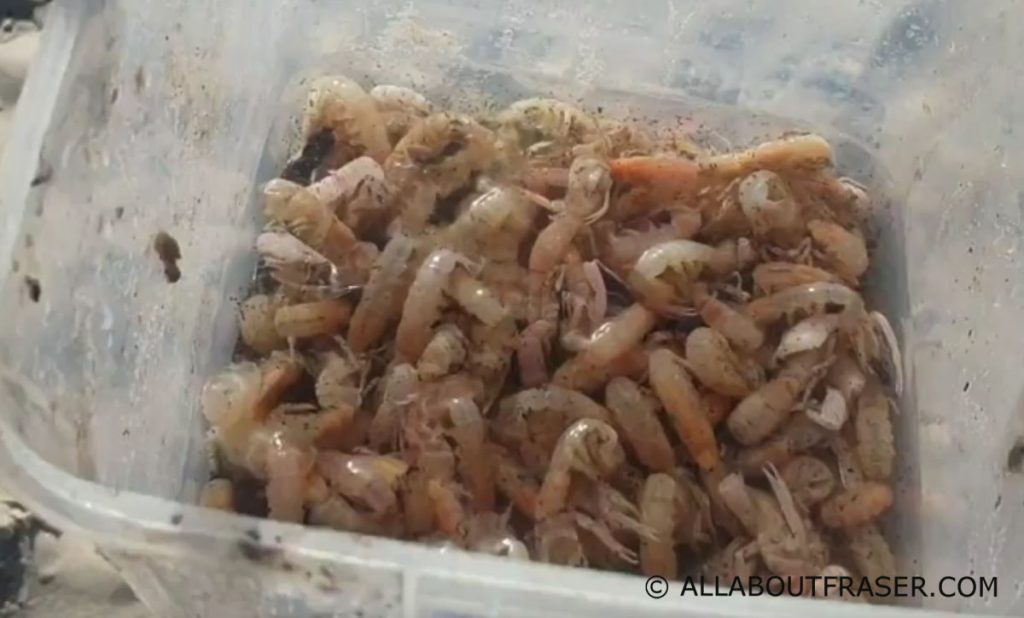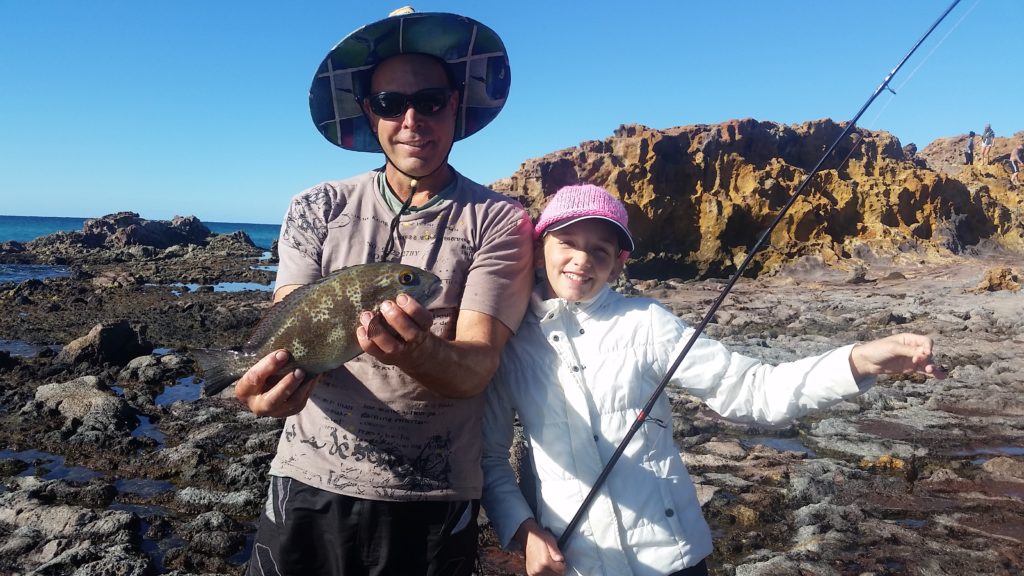 Fishing off the rocks at Waddy point on Low tide catches all the fish.