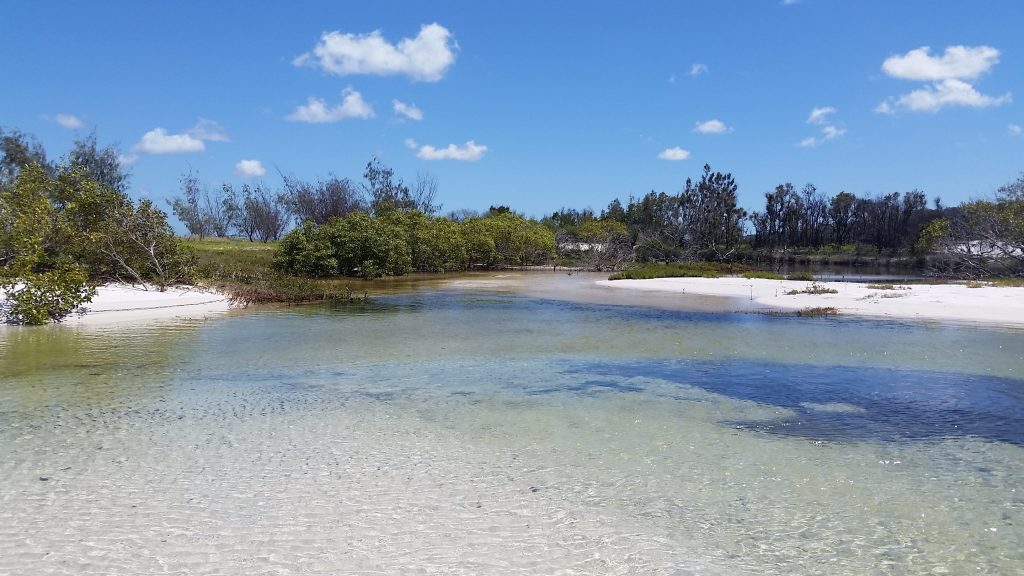 Australia is a lucky country that's often recognised for its beaches and wild oceans.
But few people know about the island paradise called K'gari Fraser Island.
It's a wonderland of natural attractions, making it a most desirable tourist destination with visitors coming from all over the world.
The creeks on Fraser Island are just one part of this World Heritage-listed natural wonder.
Let's explore some of the best Creeks in the world right here on Fraser Island.
Eli Creek on Fraser Island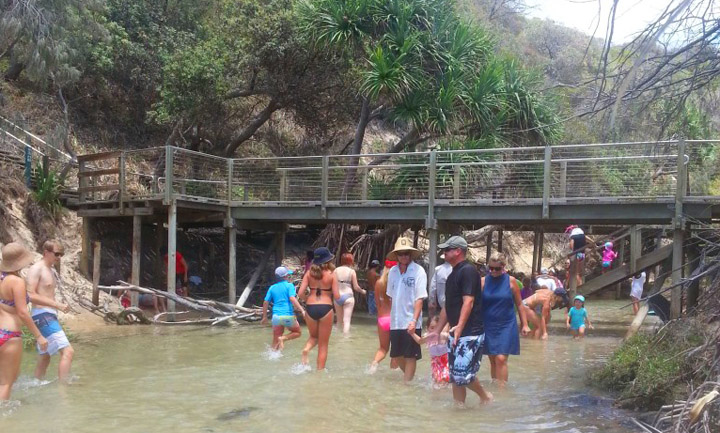 It is one of those must-see spots to visit on Fraser Island.
Well worth the stop. In the summertime, this is a perfect spot to cool down for a refreshing shallow water swim.
Eli Creek is a pristine, crystal-clear freshwater creek that flows out of the surrounding hills. The creek is stunning.
One of those magic Fraser Island destinations is the stunning gem called Eli Creek.
Wanggoolba Creek in the Rain Forrest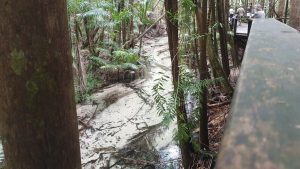 Wanggoolba Creek begins deep in the rainforest at Pile Valley on Fraser Island.
This World Heritage Listed Island is also the largest sand Island in the world and has natural attractions like Wanggoolba Creek that are truly stunning.
Wanggoolba Creek meanders from the Pile Valley near Central Station, all the way to the mouth of the saltwater of the Sandy Straits where the ferry lands from River Heads.
It's difficult to believe that the brown muddy waters that you see upon disembarking the Barge lead to this pure, fresh and freezing freshwater creek.
It is one of the most amazing attractions that the island has to offer.
Wathumba Creek – Offers Everything
Fraser Island has so many amazing places of interest. However, one place that is grossly underrated is the amazing Wathumba Creek.
And when we say creek it is more like a secluded miniature bay.
It is not like a traditional creek only a few meters wide with high banks.
This creek is wide and protected with stunning landscapes all around it.
It has its own beach and the mouth of the creek flows into the sea so it is tidal.
Orange Creek: Is It Actually Orange?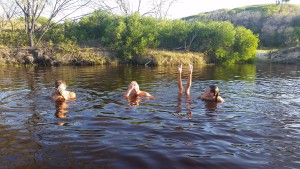 Swimming in the tannin-coloured water of Orange Creek
Fraser Island has a unique little freshwater swimming hole called Orange Creek.
And yes it is orange-ish, perhaps a little browner than an orange. I would describe it as tea coloured.
Most part of it is waist deep with shallower water on the edges and where it flows through the sand down to meet the sea.
The other great thing about the spot is it has a sandy bottom with no rocks so perfect for the kids to swim in.
Wyuna Creek (Little Eli Creek)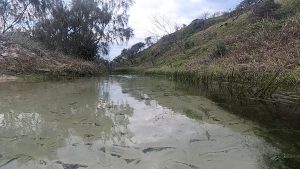 Wyuna Creek. We call this creek "Little Eli", due to its striking resemblance to its bigger counterpart, Eli Creek, only it's a bit smaller.
It's a beautiful little creek. If you're looking to cool down after a hot day in the sun, wash off the salt from a swim in the ocean. Wyuna Creek is the ideal spot.
For those staying at the Northern end of Fraser Island, it is a convenient alternative to the more distant big Eli Creek.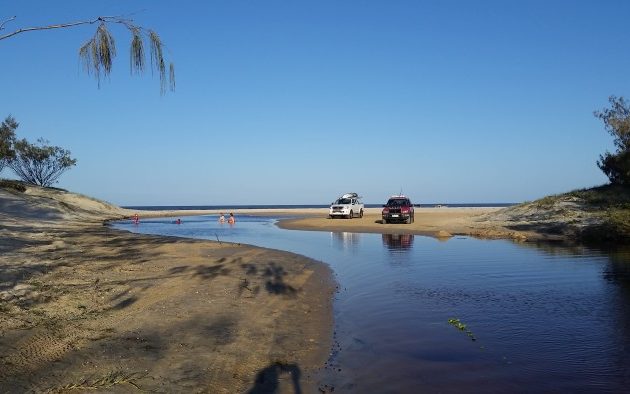 Best Swimming Spots on Fraser Island
Fraser Island is full of lakes and secret swimming spots. As we are full-time local residents on Fraser. We can show you all the best places to swim.
Here are a few of our favourites :
Read More about all the secret swimming spots
Map of Fraser Island