Fraser Island, or K'gari (Paradise) as it's known to the local Butchulla people, is a place of exceptional beauty.
One of the most exciting ways to explore this World Heritage-listed island is by embarking on an adventurous drive from Kingfisher Bay Resort to Eurong.
How Long Does it Take?
The dive from Kingfisher Bay Resort to Eurong can take anywhere from 45 minutes to a bit over an hour, depending on the track conditions. See the full track in the video below.
The Journey Begins at Kingfisher Bay Resort
We start your journey at the beautiful Kingfisher Bay Resort, located on the western side of Fraser Island, it's a perfect base for exploring the island.
You can get to Kingfisher via the Kingfisher Bay Resort car ferry that departs River heads.
Once you are at the resort, you can choose to navigate through the island's interior. These sandy tracks take you through sub-tropical rainforests, providing a truly immersive experience.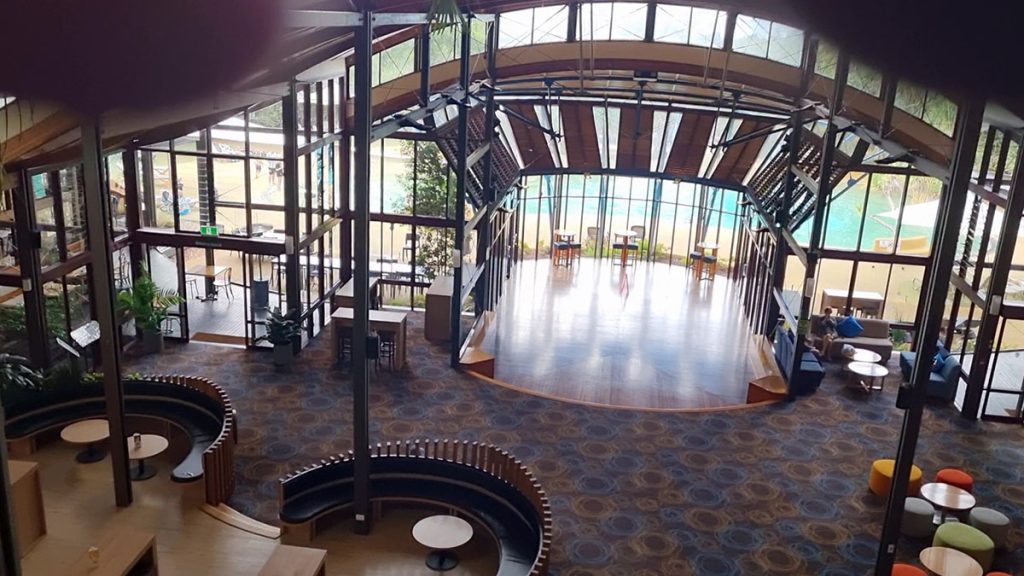 Leaving Kingfisher Bay and Heading Down the Track
Follow the signs to Central Station and Eurong. Make sure that you have engaged your vehicle's 4WD after leaving the bitumen road at Kingfisher and approach the sandy tracks after the dingo grid.
Just keep an eye out for these keep-left signs as it's obviously a one-way track down there, you don't want to go down a one-wayer.
They're pretty well signed, so just, when they say keep left – keep left.
Exploring Fraser Island's Interior
In general, the track is fairly firm. Some parts can be sandy and deep but usually there it a fair bit of moisture so it keeps the tracks a bit firmer.
Be on the look out for tree roots across track. You can hit them and often they have deeper ruts behind them that you fall into, especially towing trailers.
Passing Vehicles on the Track
Kingfisher to Central Station is a two-way track – so the passing lane is often on our side of the track. We just simply indicate and just move across into the tracks passing lane and let the other vehicle go through.
If the passing lanes are on the opposite side of the track, the basic track etiquette is to let them go over to that side.
If you see somebody towing a big boat or a trailer it's a general courtesy to let them stay on the track and keep moving so they don't get bogged.
If it's possible we'll just move off the track and let them go through with their trailer on.
Just be mindful when you are on these tracks that they are two-way tracks so you want to stick to the speed limit and don't go too fast flying around these blind corners and have a head-on with a bus or another vehicle.
Simply take it nice and steady.
When people do pull over to let you through first, it's always nice to just give them a wave and say thanks mate, the Aussie way.
If you get vehicles that come up behind you – and it obviously looks like they are going faster – it's always polite to pull over and let them go through.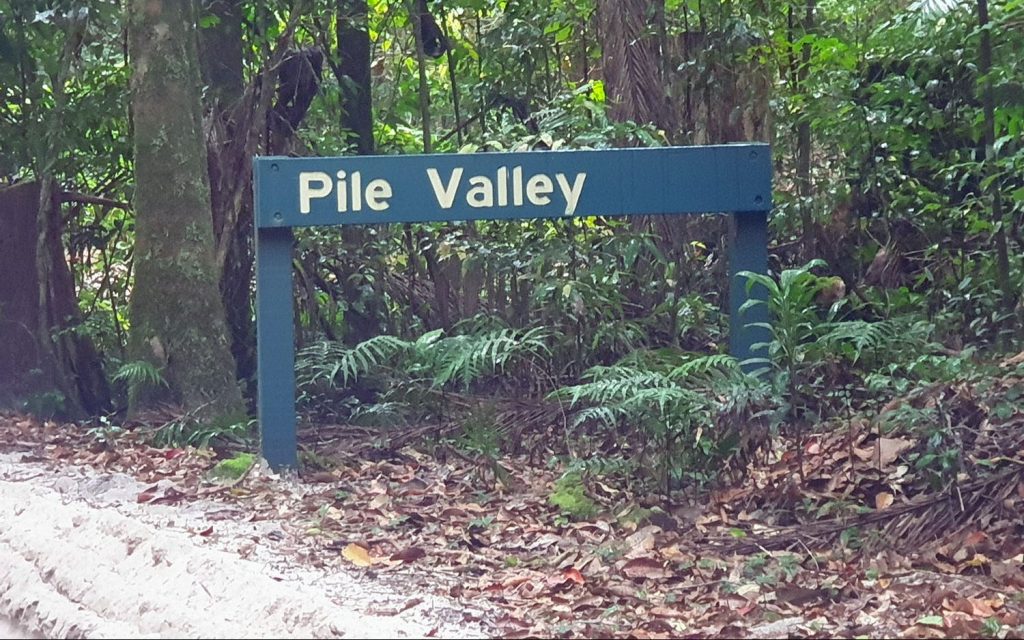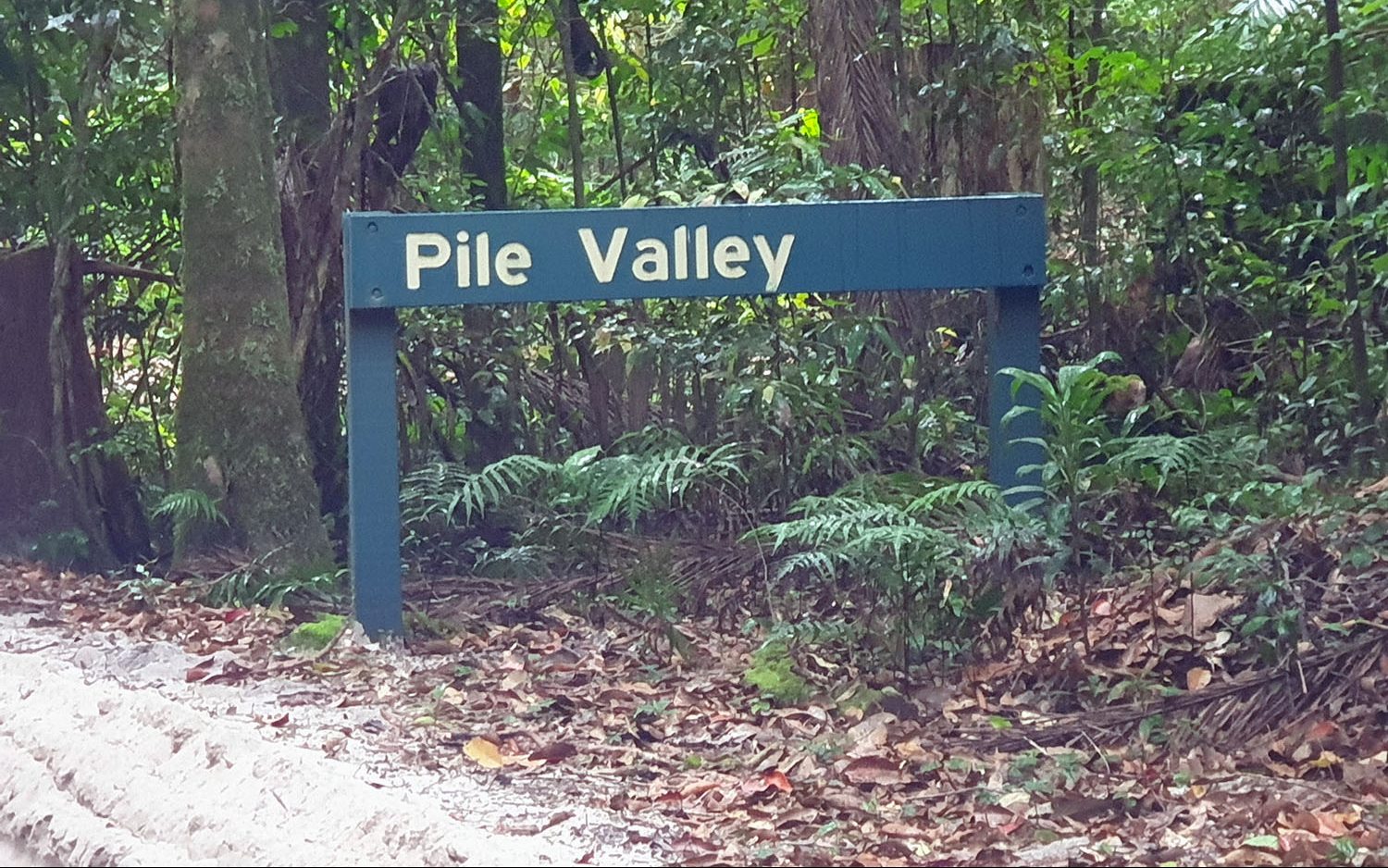 Passing Pile Valley – Rainforest in the sand
The track passes through Pile Valley. The renowned rainforest in the sand. The rainforest is amazing to see with massive trees that are just growing in pure sand.
What is fascinating to know is that the whole island has billions of litres of fresh water flowing under it.
The Crossroads
Driving along the track you will come to the crossroads . Basically lots of signs pointing different directions and palaces of intrest.
AS you are travelling from Kingfisher, through Central Station you now want to head to Eurong. on the eastern side of the island.
Eurong is on the left, look for the sign and follow.
Tyre Pressure
It's a good idea to have your tyre pressures at 18-20 on this track or anywhere inland. Often you can be caught with some unexpected soft sand, especially deep in the sandy rainforest areas.
It's a good idea to buy your own portable air compressor – and have it in the vehicle just incase you ever need to let tyres down low and then have to pump them back up. Especially after getting bogged somewhere.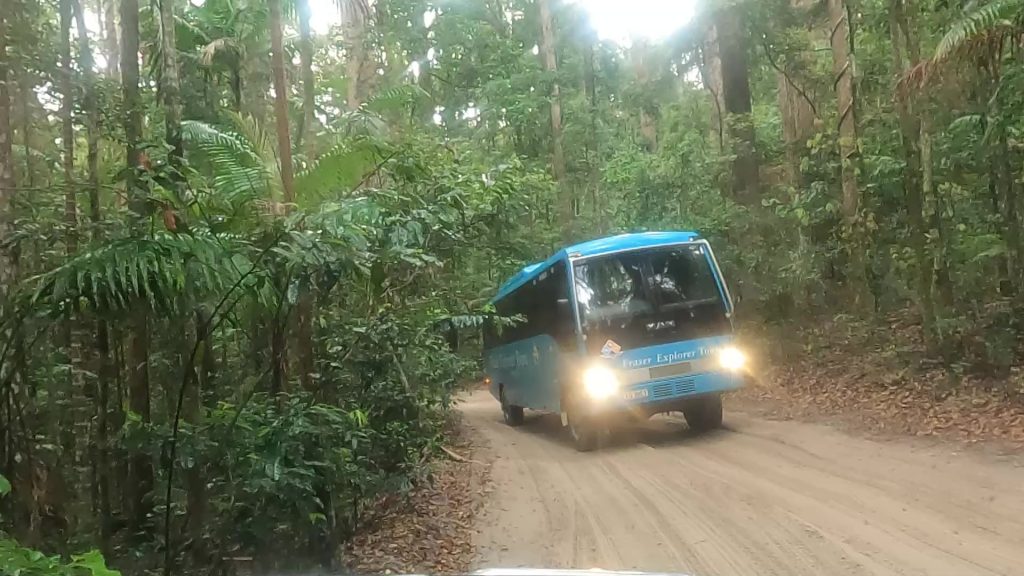 Passing The Tour Buses
When you see tour buses, just keep an eye on the bus drivers as they are coming through.
They are usually are courteous and will give us clear signals. Often indicating other vehicles behind him, move let, move right.
Give the tourists a wave in the busses as they pass, they love it !!
When you're travelling with a group – just do the same thing – let the oncoming vehicles know how many vehicles are behind you. That way they can count off vehicles before they take off, and they're not stopping and starting all the time.
Arriving at Eurong
Now when we're coming into Eurong, remember to knock it out of 4WD drive again. This is because your tyres are low there'll be a lot of stress on your gearbox if you leave it in four-wheel drive on the bitumen.
You could end up blowing your transfer box up. There'll just be too much stress when you turn with the soft tyres on the hard surface.
You've finally arrived at Eurong about an hour from departure.
This area is home to the Eurong Beach Resort, which has an absolute beachfront position on the 75-Mile Beach. Eurong's location makes it easy to explore Fraser Island's eastern coast, including the Eastern Beach scenic drive.
Driving from Kingfisher Bay Resort to Eurong is not just about getting from point A to point B. It's an adventure that lets you explore Fraser Island's diverse landscapes and experience its natural beauty firsthand.
Be prepared for a journey that will leave you with memories to last a lifetime.
Continue the Journey