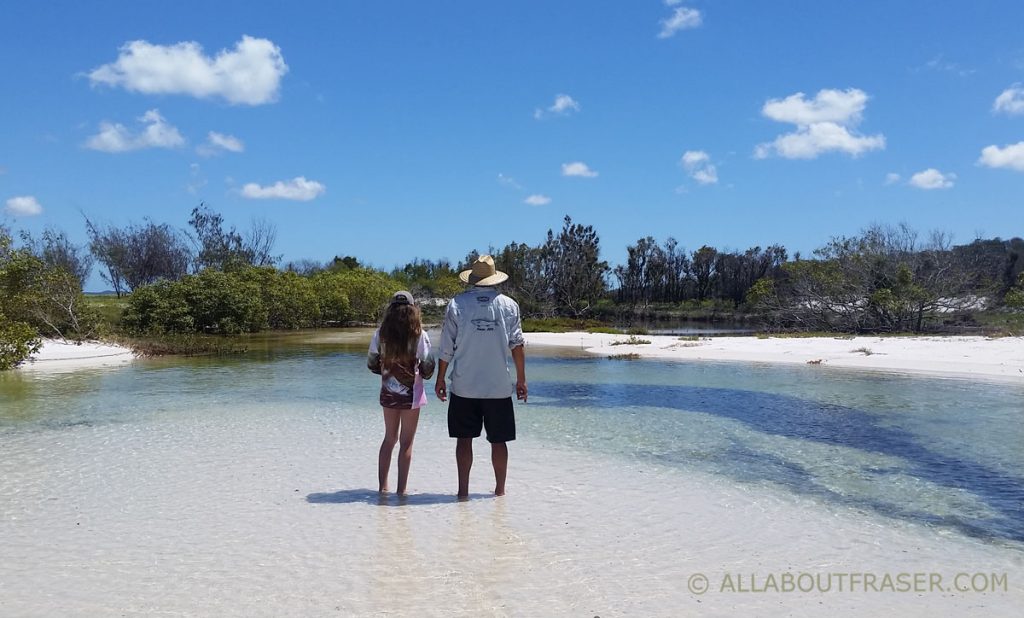 Wathumba Creek on Fraser Island
Fraser Island has so many amazing places of interest. However, one place that is grossly underrated is the amazing Wathumba Creek. And when we say creek it is more like a secluded miniature bay.
It is not like a traditional creek only a few meters wide with high banks. This creek is wide and protected with stunning landscapes all around it. It has its own beach and the mouth of the creek flows into the sea so it is tidal.
It is for this reason that it is so versatile and could be described as a creek/estuary/bay. It offers the perfect spot for day trippers and for boaties coming over from Hervey Bay and other places to anchor boats in rough weather and to also explore the area.
It is secluded and has two entirely different landscapes. One part has crystal clear water in the creek, with banks of pure white sand and large shady paperbark trees.
The other part is an estuary system behind the banks full of muddy swampland and mangroves. It really is a special place and one that must be explored if you are planning a trip to Fraser Island.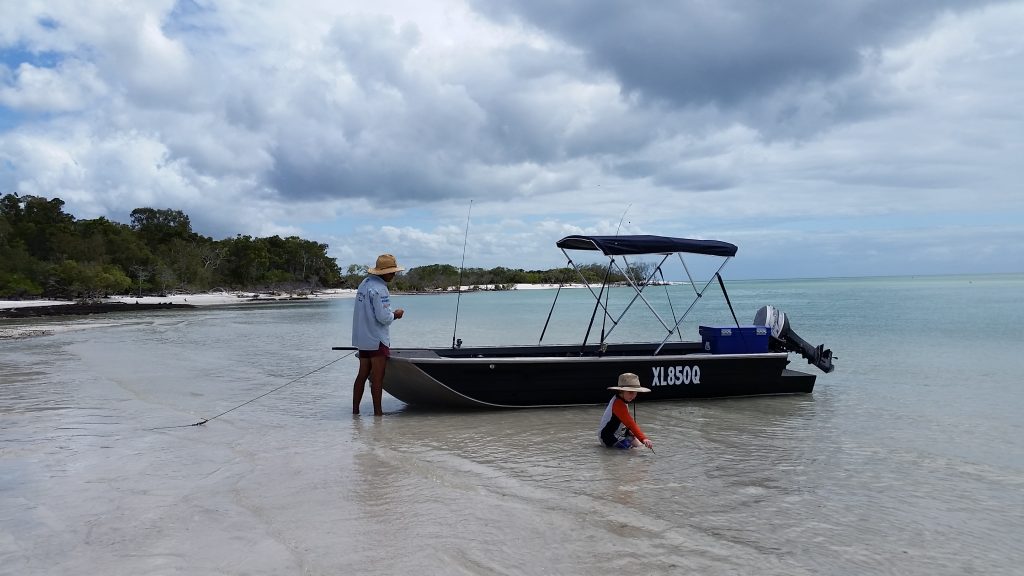 Look out towards the mouth of the creek at High Tide
Where Is Wathumba Creek?
This spot is located on the western side of Fraser Island. It is north of Moon Point towards the northern end of the island, just south of Platypus Bay.
The drive from Moon Point to Wathumba is potentially dangerous with soft boggy sand. It is not a drive that we would recommend nor take our 4WD into.
How To Get To Wathumba Creek?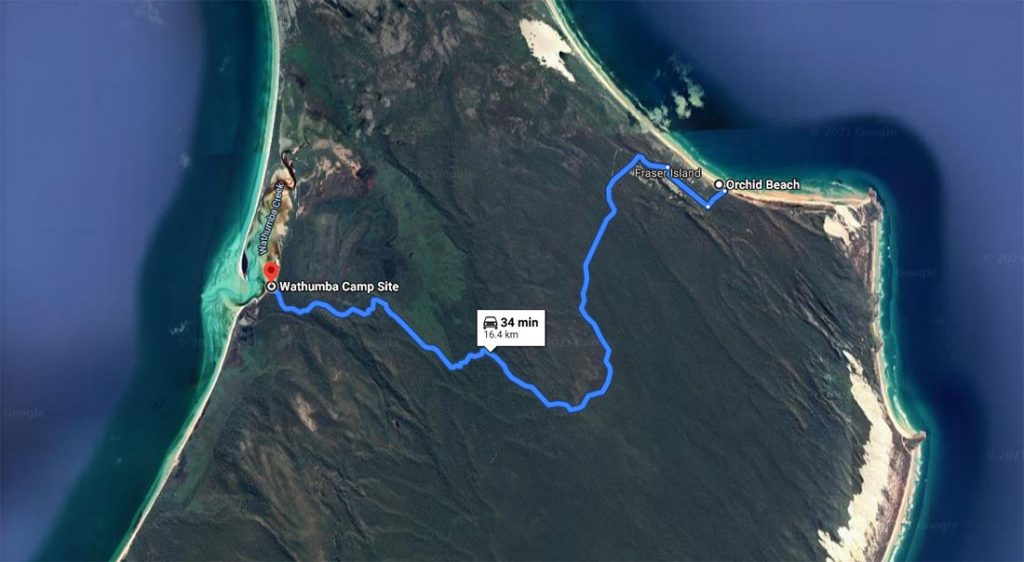 How to get to Wathumba Creek from Orchid Beach?
The creek is most commonly accessed via Orchid Beach. Once you enter the township follow the signs to Wathumba Creek Road and drive west across the island for approx 16km until you reach your destination.
This drive takes about 45 minutes.
The track is sometimes boggy as it is sand for about 1/3 of the way. As you continue further inland you enter the firmer ground and dense bushland.
The track is easy to navigate however, it is narrow so oncoming vehicles can cause a problem when trying to pass as you both squeeze past each other.
Often a vehicle will need to reverse into a safe clearing to allow the other vehicle to pass.
The creek is popular, especially with 4WD's towing aluminium Tinnies. Most visitors to the is area are just day trippers coming over for a fish or families enjoying a lovely natural setting for lunch.
Fishing at Wathumba Creek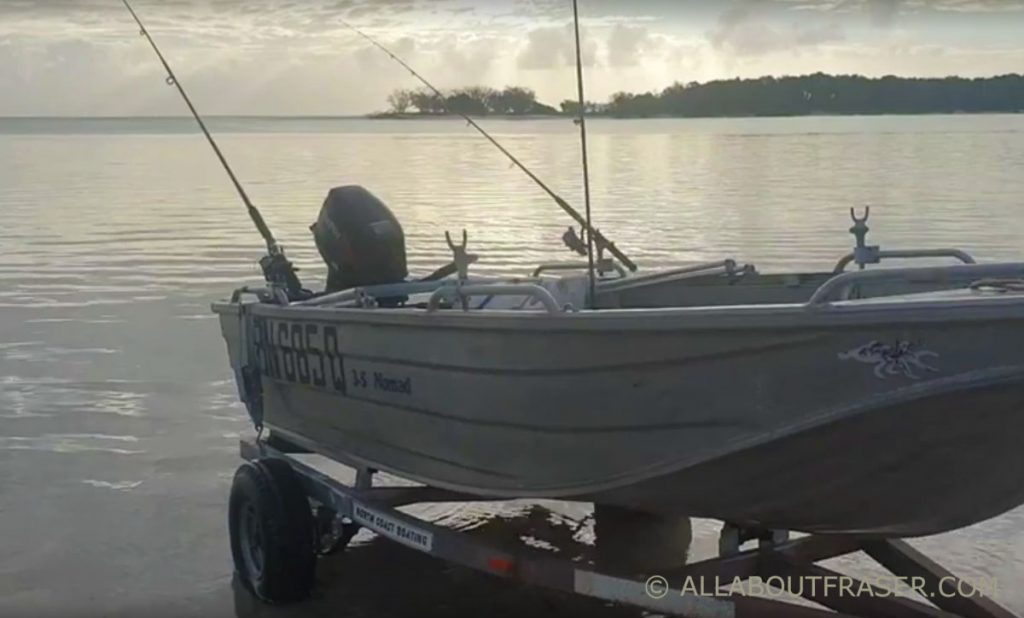 Ready to fish Wathumba Creek overlooking Teebing spit at the mouth of the creek.
Fishing Off The Beach
The predominant fish caught in the creek are Whiting, Bream, and Flathead. They are the bread and butter species that will provide you with nightly dinner. In fact, nothing is tastier than freshly cooked whiting fillets on some buttered bread for lunch.
So to catch these species you are going to need some live fresh bait. We recommend using Yabbies that can be pumped from the muddy swamp land behind the banks.
You will need to walk about 200 meters or drive the tinny south along the shoreline to the higher sand bank. It's just behind here that you will find the muddy swamp land where the Yabbies can be found in the hundreds.
Where and how to catch live bait
When it comes to catching fish we have a saying that
"you need to feed the fish local cuisine and present it in the most delicious way."
By that, we mean if possible catch bait in the area that you are fishing in and present it on the hook delicately and in the freshest way possible.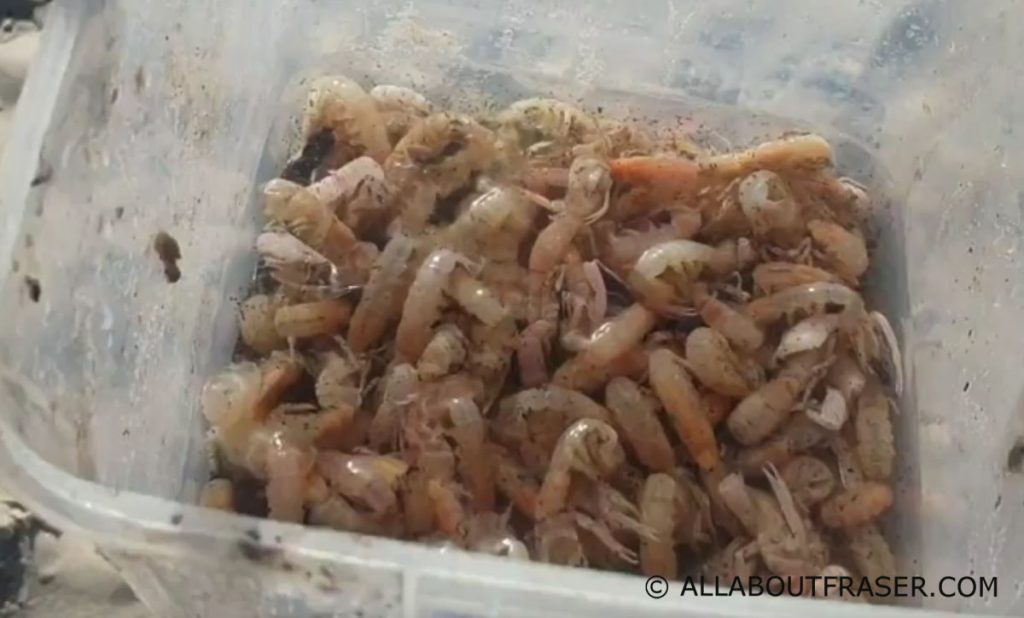 A bucket full of live Yabbies at Wathumba Creek
Avoid stinky defrosted bait bought from the local store, instead catch your own fresh bait. Wathumba Creek local bait is plentiful and free.
We use Yabbies aka One-armed Bandits. We catch them by using a yabby pump and sucking them out of the sand and mud in the creek. You will see a bunch of tiny holes in the mud often just above the waterline.
This is where you need to stick the pump into the middle of it and suck them out.
Once you have caught enough, load two or three onto a hook so they hang nicely and look enticing enough to eat yourself. I guarantee that your rod will be bending after a few minutes.
The resident fish species in this area are used to eating the local yabbies. Rarely will they want to try a new dish served up to them, especially if it comes from a packet.
However, the pesky Pufferfish will eat anything but you want to avoid these vermin fish and certainly do not try to eat them.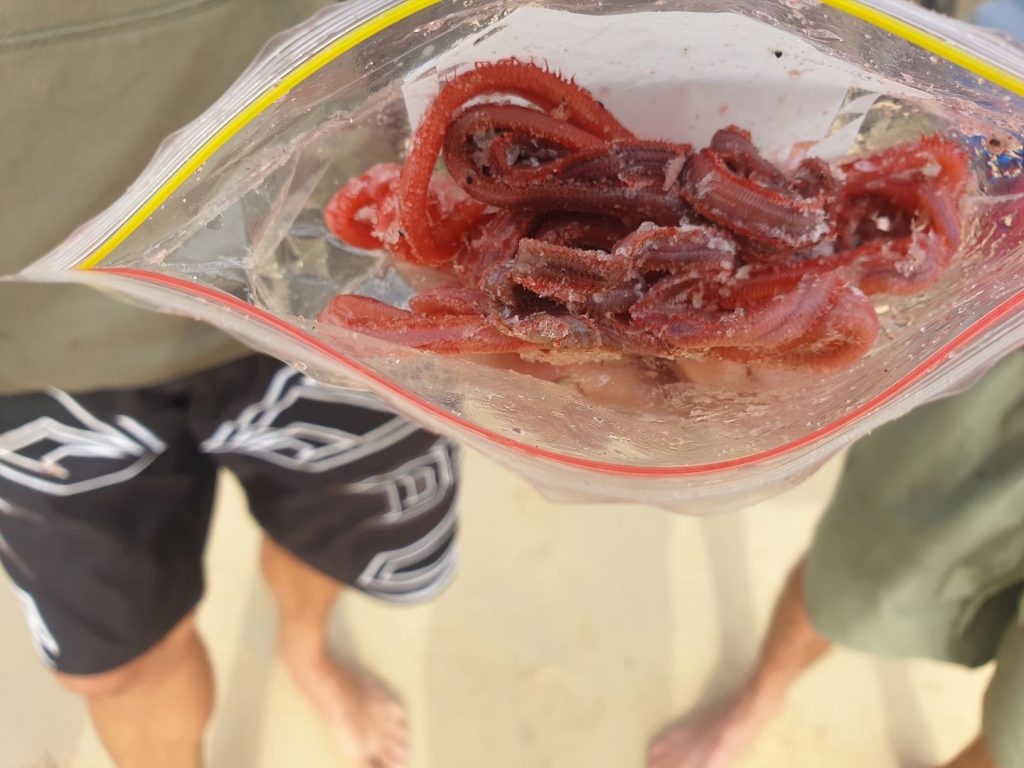 Fresh beach worms soaked in red food dye to attract the resident fish of Fraser Island
Using the Yabbies for bait you will be able to target some monster Sand Whiting, Bream and Flathead. This creek is the perfect environment to give you the best chance of catching your dinner.
If you don't have a yabby pump, Blood Worms or Pipies are the next best. You can catch both of these in the sand on the island or alternatively buy some frozen packets and bring them with you.
The kids will love it and you can almost guarantee they will catch something even if it's only a puffer fish or tiny whiting.
The Camping Facilities at Wathumba Creek
There is a camping area for public use and like other camping spots on the island, you will need to purchase a camping permit.
I will say that sometimes this camping area can get a little overgrown and neglected. However, the location surely makes up for it.
Facilities include:
8 Tent sites
3 Camper Trailer sites
Toilets
Picnic table
Intermittent mobile phone coverage
The site is walk-in-only, meaning that your vehicle needs to be parked outside the camp area in a parking space. A little inconvenient when you have to carry a heap of camp stuff in by hand.
Generators are not permitted and Fires are totally prohibited.
You will need to be fully prepared and self-sufficient to be in this remote area. Bring your own gas cooking facilities as you will not be allowed to start a fire to cook on. You will need to bring your own water for drinking and washing.
Also as you are based at the mouth of the creek and there are surrounding mangrove areas the sandflies and mosquitoes can be a problem, especially at dusk.
Bring plenty of personal insect repellent and coils. We recommend either " Bushmans or Rid" to keep them away.
Camping is also allowed on Teebing spit which is on the western side of the creek. This is where the anchored boats come in.
This area also requires a permit if you plan on pitching a tent.
Most of the boaties just use this area for the day and retire back to their boats for sleep. There are no facilities in this area.
Pictures of Wathumba Creek
What Else Can You See And Do At Wathumba Creek?
Watch the marching of Solider Crabs
On low tide, the creek completely drains leaving massive sandflats as far as the eye can see. Often if you look in the distance you can literally see the ground move.
This movement is an army of thousands of predominantly male soldier crabs (Mictyris Longicarpus) that have emerged from the sand and are on the hunt for food. They gather in massive groups for protection against predators.
If you approach too close they will dig into the sand with a corkscrew motion that is lightning speed. It is fascinating to see. They are amazing creatures with their brightly coloured blue backs.
Our kids loved watching them march around as they provided hours of entertainment.
You only get the privilege of seeing them at low tides for a brief period until the tide starts to flow back into the creek so keep an eye out for this phenomenon.
It's well worth a photo or better still video to show all your family and friends just how incredible they are.
Spot a Humpback Whale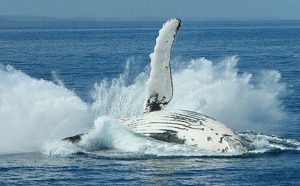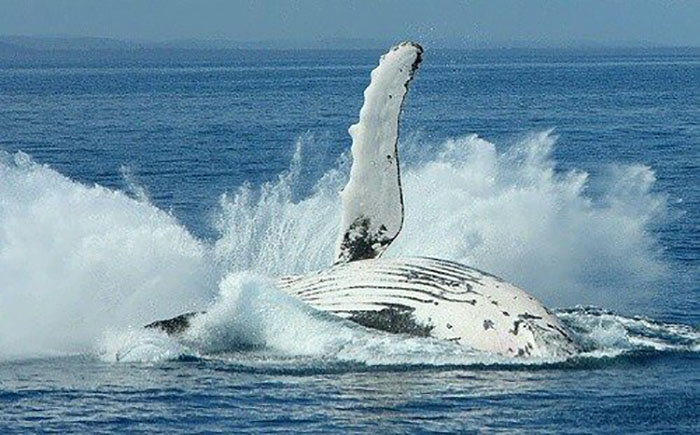 Wathumba Creek is part of the southern end of Platypus Bay. Once you leave the mouth of the creek you enter into the Bays of Sandy Straights.
It is in this bay that you may be lucky enough to spot the Humpbacks.
Many tour operators loaded with excited spotters come from Hervey Bay and travel across to this bay to get up close with the Humpback whales.
This bay provides the Humpbacks with protection and warmer water. The whales migrate from Antarctica in January and make their way to the waters around Platypus Bay from August to November.
This bay is often referred to as "Creche Bay" or " Babysit Bay" as it is full of calves and their mothers. It is in this bay area that the Humpback Whales come to birth to their young.
If you can get out in a boat or Kayak you may get lucky and spot the adults breaching and slapping in the waters providing a great display of their acrobatic skills. Just don't get too close.
For more information about whale watching and tours click here…Humpback Whales
Go Kayaking in the creek
You can go kayaking on a rising tide or high tide when the creek and bay area is full of water. The waters are not overly deep and on a nice sunny day, the water is crystal clear.
You will need to be mindful of the wind direction as a westerly wind will cause ripples and waves that will come into the mouth of the creek.
Take over a Private Boat or Jet Ski
A lot of boaties bring their boats or a Jetski and come over to the island for a visit. They generally come from the Urangan marina located at Hervey Bay.
You would navigate north of Round Island and Big Woodie then cut across to Moon Point.
From there, north to Wathumba Creek.
Other Important Considerations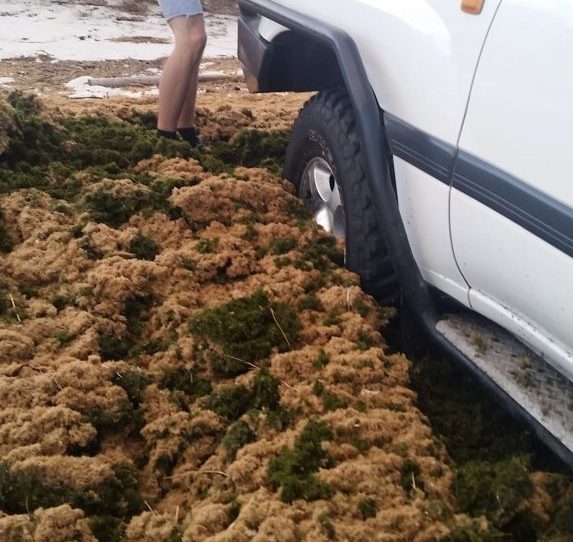 Seaweed on the beach at Wathumba Creek
The western side of Fraser Island including Wathumba Creek and Platypus Bay are renowned for seaweed infestations. The weed is dumped onto the beaches when the seasonal northerly winds start blowing.
The weed accumulates in the beach gutters and sand depressions that are eventually covered over by blowing sand. The result is that although the beach looks innocent underneath the sand crust is deep rotting weed.
This hidden weed is a major hazard for unsuspecting travellers and their vehicles. Drive over this and you can sink up to your diff. Many vehicles have been lost to incoming tides because of this.
In addition, sometimes weed is just dumped on the sand. It may seem easy enough to drive over the weed but this stuff gets caught around your exhaust and in fact, it can catch alight. We have experienced this first-hand.
Another consideration is that you may want to avoid the visit to Wathumba on an Easterly or South Easterly wind. It can be extremely uncomfortable, especially in strong winds.