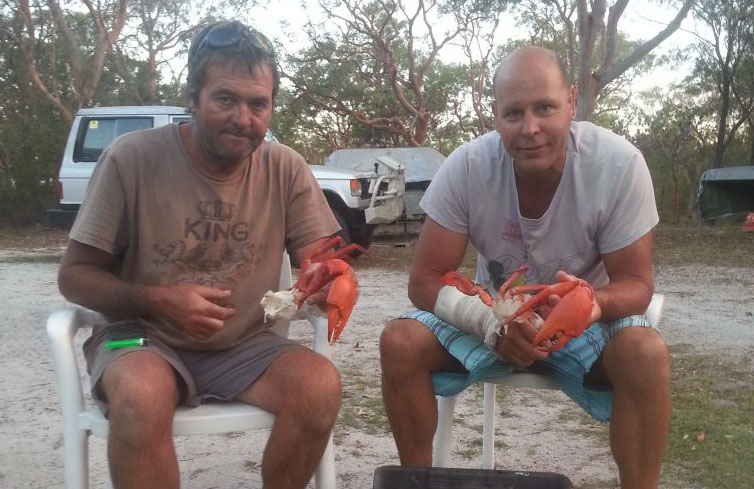 If your planning that trip to Fraser Island and your a keen hunter and gatherer, not only do you want to know where to catch the fish but also where to catch a few crabs.
Nothing like an entrée of juicy crab claws before dining on some freshly cooked fish fillets from the days catch.
But the big question are where do you find them, how do you catch them and what are the Queensland regulations?
Where Is The Best Place To Find Crabs On Fraser?
Our favourite spot to catch the crabs is over at Wathumba creek located on the western side of the island. You can get there either by boat from the mainland or if you are on the Island via Orchid Beach in your 4WD.
The drive from Orchid Beach to Wathumba is about 16km but it will take you about 45 mins to get there dependant on track conditions.
You will find them in the muddy mangroves located behind the southern bank of the creek. You will need to put your pots in at high tide if you have a tinny/boat.
You can check them after about an hour to see if you are successful but then you will need to make a quick exit out of the creek otherwise you will get stranded in there.
Then go back to the creek at the next incoming high tide and empty your pots. Hopefully you are fully loaded. Check the regulations below for catch guide.
Also you need to have a long enough rope to tie the pot to an overhanging tree or branch so it doesn't get washed away in the current.
NOTE : It is illegal to hook for mud crabs in Queensland, you can only use traps/pots.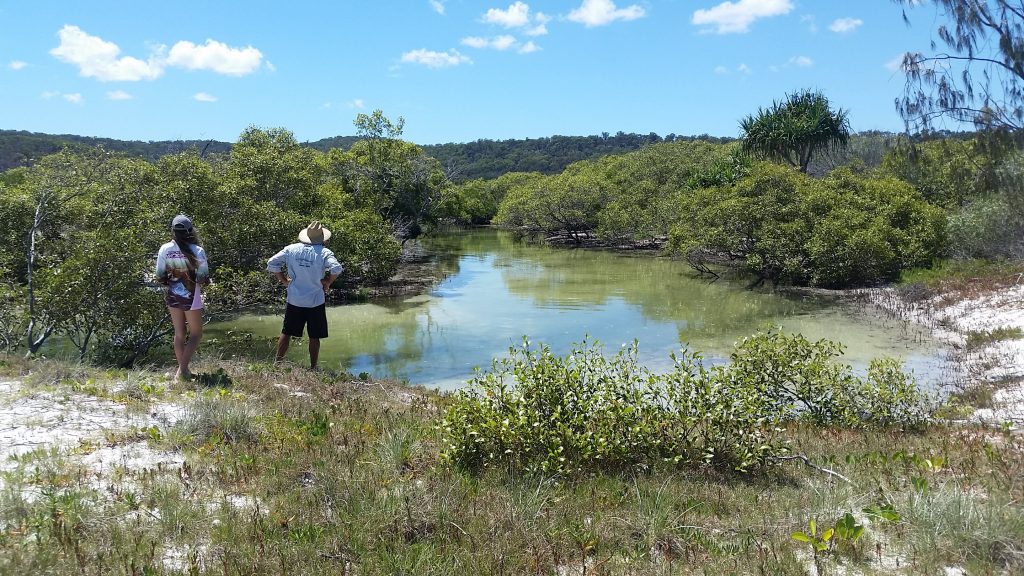 Perfect spot to find Mud Crabs in the Wathumba Creek mangroves
What Do You Need To Catch Mud Crabs On Fraser?
The 5 basic things are:
Crab Trap – There are many different options and sizes but our preferred trap is one that has a bait bag on the bottom and must be heavy duty.
Rope and float – Theses are tied to the trap. You will need to have your name and contact number displayed on the float as well as the trap.
Bait – Fresh is best, use some chicken carcass or kangaroo meat they love it.
Sack – You need a hessian sack or bag to put them in once you pull them out of the trap.
Ice – if you can put them on ice in an esky or straight into your engel fridge it will keep them fresh, alive and calm until you want to eat them.
Be sure to purchase good quality traps that are sturdy. And remember to regularly check for damage as you don't want to give the crabs an easy exit after they've eaten all your bait.
What Time Of Day Is Best To Catch Mud Crabs?
Well this is a loaded question however, if you are catching them in Wathumba creek the following tips apply:
Mud crabs are generally nocturnal. So if you can put your traps in on an incoming high tide. If you can time it that is just before dusk or just before sunset your chances of a catch will be greater.
Being that Wathumba creek is a tidal creek the crabs will usually be found in the deeper gutters in the creek amongst the mangroves. Usually on corners or under hanging mangroves and branches.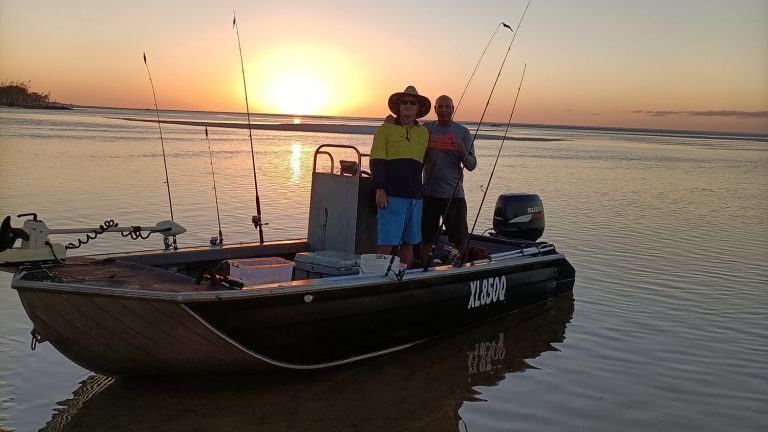 What Is The Best Bait For Mud Crabs?
Mud crabs are scavengers but they are picky eaters. They will eat almost anything but it needs to be FRESH…nothing stale.
Chicken drumsticks, thighs or necks work at treat as do kangaroo meat and fresh bait fish fillets. Make sure that the bait is tied into the bait net well so crabs cant nibble on it from the outside.
What Are The Regulations For Catching Crabs?
Queensland regulations state that:
It is illegal to catch female (Jenny) mud-crabs. So if you find them in your trap they need to be released. You can only keep males. (Bucks)

Queensland State Regulations
Only 4 crab traps/pots per person
A maximum total of 10 legal crabs per person
A minimum size of over 15cm
Pot and float must have name and contact details on both.
No hooking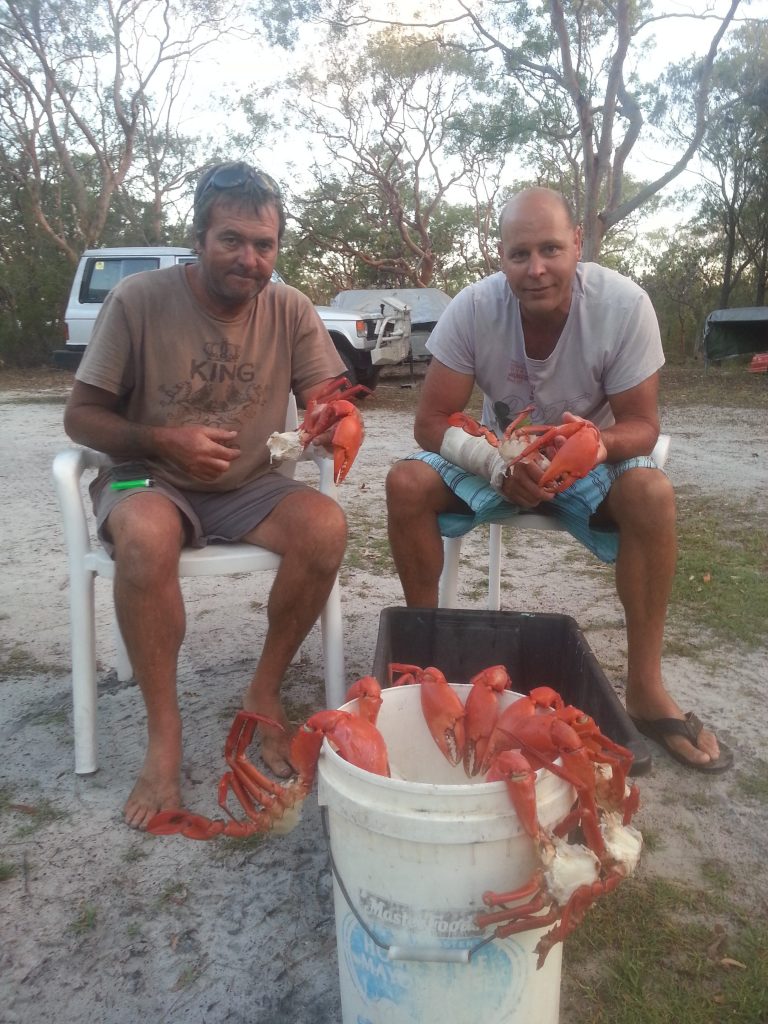 Feasting on Fraser Mud Crabs
What Other Helpful Information Should You Know?
How To Cook The Mud Crabs?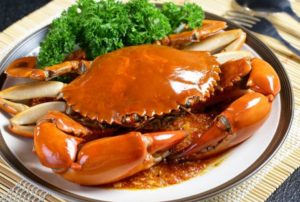 You can only eat and cook live crabs. You can not eat dead ones.
You will need to put the live crabs in a fridge or freezer for approximately 20-30 minutes to numb them prior to cooking.
Cooling the crabs before you cook them is more humane and makes it easier to place them in the pot because they won't be moving around as much trying to bite your fingers off.
Fill a large pot with water and salt heavily then Bring to a boil.
It is best to cook one crab at a time unless you have a super large pot.
Cook the crab for about 15 minutes and then remove them from the heat.
Once they have cooled its time to clean and eat.