Indian Head is a popular spot with a spectacular view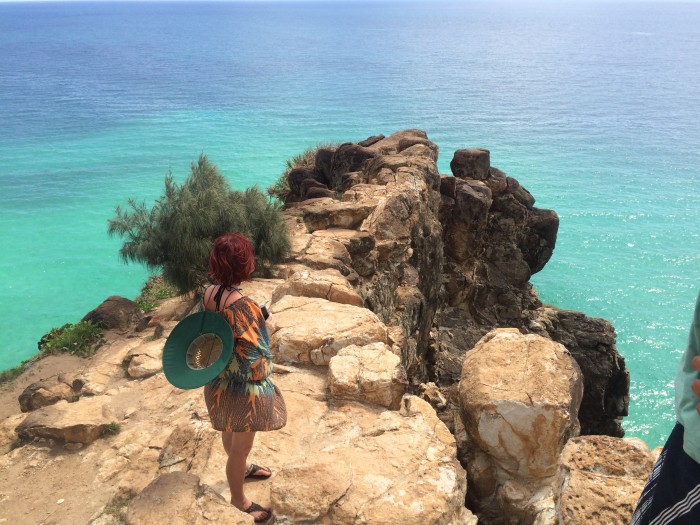 Indian Head is a popular spot with spectacular view. Visitors to Fraser Island are always amazed at the magnificent view at the top of the cliffs at Indian Head.
Many are surprised at just how much marine life you can see from the 50meter cliffs below. Turtles, stingrays and sharks are seen daily and from August to November Humpback whales frolic around the headland.
Where is Indian Head on Fraser Island ?
Indian head is on the eastern side of Fraser Island. It is at the northern end of 75 mile beach. You cant miss it if you keep driving north past Eli Creek and the Maheno shipwreck.
The rocky headland actually looks like a native Indian headdress with trees scattered on top like feathers.
You can only access the walking track from the southern end on the eastern beach side. As it is a popular tourist spot you will find many vehicles and tour buses lined up on the beach unloading passengers that are eager to walk the track to the top.
What to expect
It is a bit of a trek to the top of the cliff with some steep and rocky tracks to follow. Its about a 10 minute walk to the top. A great walk in winter to warm you up and perfect in summer to sweat and burn a few calories.
If you are taking the kids on the walk you may find yourself carrying them part way. We did with ours when they were little.
 What to take with you on the walk:
 a water bottle
a camera
a hat ( especially in the summertime ).
suitable footwear
Be Careful at the top – Dangerous cliffs
Once you reach the top of Indian Head you will notice a few different warning signs. Please take note of these as they are extremely important in ensuring your safety and that of others especially children.
On windy days it can be very dangerous to stand close to the edge of the cliffs…take note of the warning signs.
Keep well back from the edge when taking photos.
Selfies can be particularly dangerous if you lose your footing and slip or trip
Ensure that young children are supervised at all times