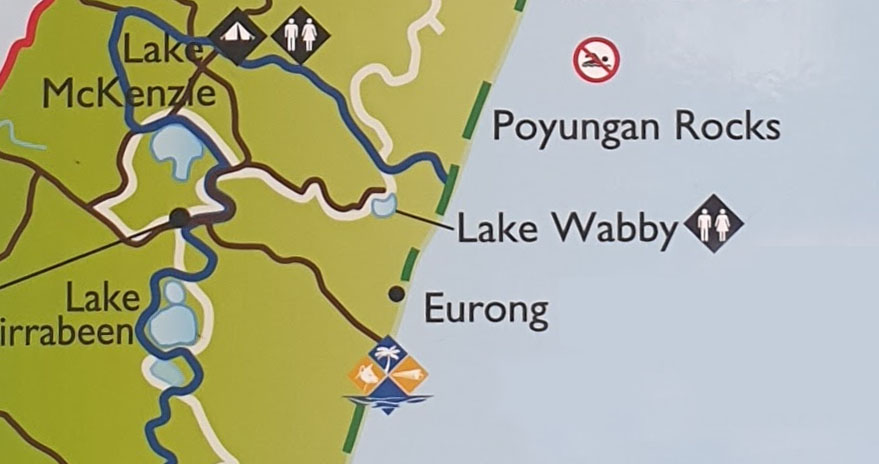 From the beach access point, it's a 45-minute walk over the dunes to reach Lake Waddy
Lake Wabby is located in Queensland's Great Sandy Straights on Fraser Island. It can be found nestled in the sand dunes on the Eastern side of the island between Eurong and Poyungan Rocks.
Can You Drive to Lake Wabby?
You can only drive to the beach access point then you have to do the walk over the sand dunes to reach the Lake.
The access point is located about a 10 minutes drive north of Eurong along 75 Mile Beach.
How Do You Reach The Lake?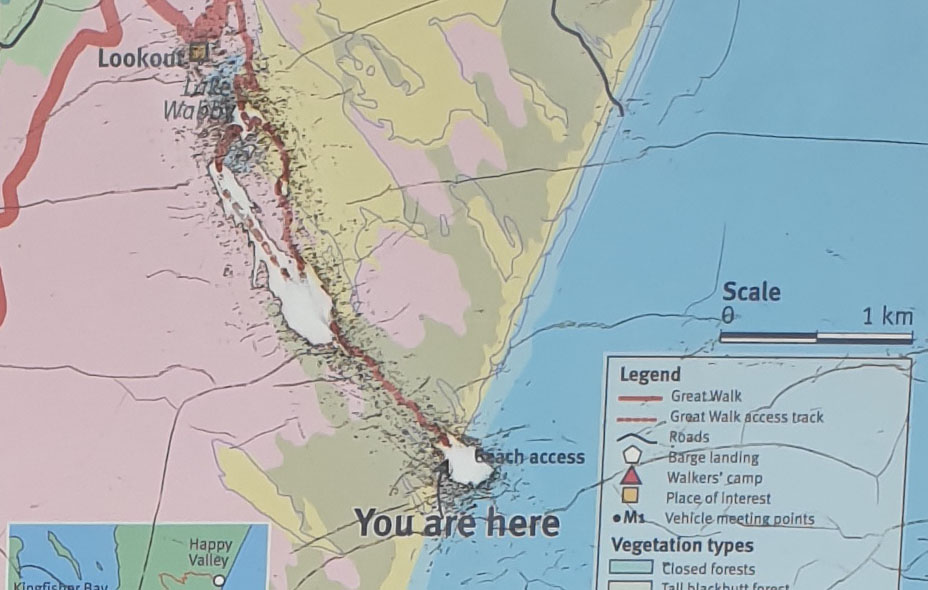 The access point then the trek inland to lake Wabby
Once you arrive at the signed area on the beach you will need to park your vehicle and walk in.
The walk takes about 45 minutes to get over the hammerstone sand dunes to reach the Lake but it is worth the effort.
It is an awesome spot for photographs so as you would imagine it's a very popular spot for visiting tourists.
Why is Lake Wabby So Popular And Special?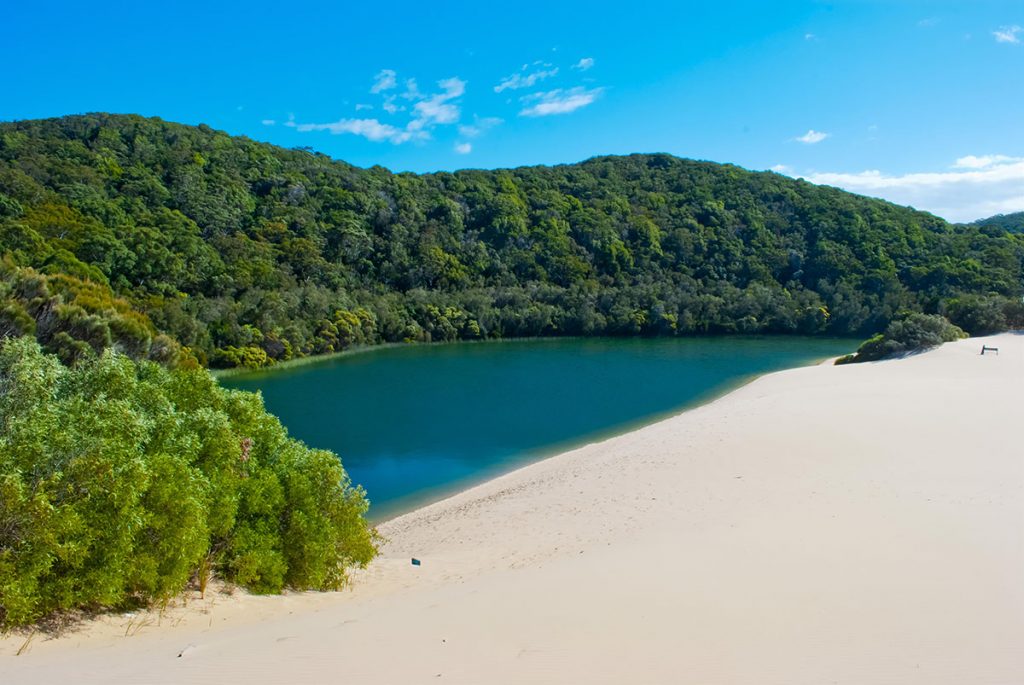 Lake Wabby is where a sand blow meets a perched lake. This spectacular lake is a must-visit.
Lake Wabby is a special lake as it is characterised as a Window lake and a Barrage Lake combined. Window lakes are formed by depressions in the sand that exposes a natural spring water table.
Then a Barrage lake is a natural sand mass that blocks the water flow. This massive sand mass in lake Wabby is called the Hammerstone Sandblow.
Then add to that the amazing emerald-coloured water that looks absolutely striking in photographs. This lake is certainly a jewel in the crown of Fraser Island.
How Intense Is the Walk Into Lake Wabby?
The walk over the dunes is of moderate intensity. You are walking in soft sand for about 45 minutes and up and down steep dunes to get there.
I would not advise walking barefoot in Summertime as the sand can get scorching hot. Enclosed shoes are best.
Is The Walk Suitable For Children?
The walk into the lake is perhaps not suitable for young children especially if you have to carry them.
It is a bit of a trek to get there and the lake is probably too deep for them to swim in anyway.
Can You Swim At Lake Wabby?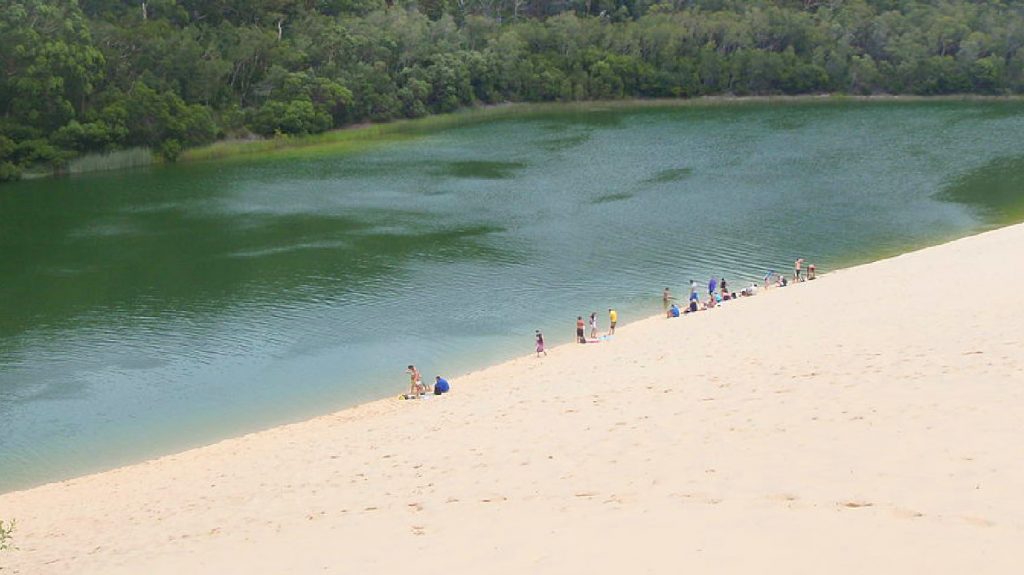 Yes, you can swim. It is a beautiful freshwater lake. It is approximately 11 meters deep in the middle and is the deepest lake on Fraser Island.
It is estimated to be the size of a football field so swimming across it is a long way perhaps take a floating swim noodle or inflatable airbed to take a rest halfway.
Leave the lake for swimming in and not bathing in. The use of soaps and detergents is harmful to the water and the ecosystem of the lake.
Also, be mindful of sunscreen and tanning lotions that leave a nasty slick of chemicals and oils on the surface water.
Are There Fish in Lake Wabby?
Yes, there are lots of fish so don't fear if you feel something strange brush up against your legs if you go swimming.
Unlike the other 40 freshwater perched lakes on the island, it has a very low acidity level. Because of this, it is home to over 13 different species of fish including the very rare Honey Blue-Eye fish as well as Rainbow fish and Catfish.
Even though there are fish in the lake you are not permitted to catch or net them or remove them from the Lake.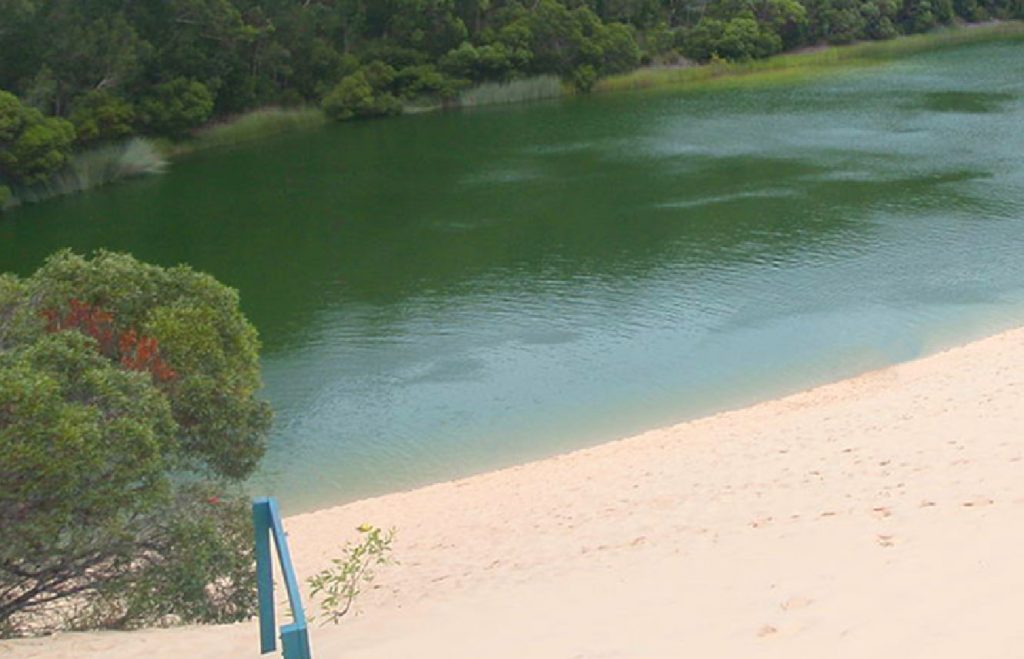 What Are The Dangers At Lake Wabby?
A strenuous hike -The pathway into Lake Wabby is a moderate-intensity hike. You are crossing massive sand dunes to get to the site so as you would imagine if your fitness is weak you may find this walk exhausting.
Sunstroke on a hot day– On a hot day it is important to carry water so you do not get dehydrated and wear a hat to avoid sunstroke.
Sandboarding accidents -There is a real danger with either sandboarding down the steep sand blow into the lake or running full speed down the face and diving into the water. Tourists have been known to break collar bones and arms doing stunts down the dune.
Deep and Dark Lake – The lake is very deep with steep edges. You must be a competent swimmer should you decide to take a dip and swim across the length of the lake.
Not suitable for children -I would not advise children to swim in the lake. There are child-friendly freshwater lakes like Ocean lake and Eli creek that are better and safer for the kids to enjoy.
Beware of Dingoes -Also as you are walking across sand dunes you are heading into natural Dingo territory so be aware of dingoes stalking from a distance. Often if you see one there will be others as they are pack animals. You may not see them but they could be watching.
What Else Can You See and Do?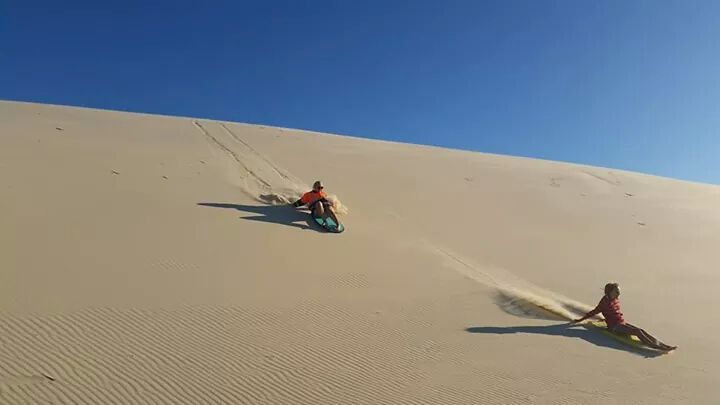 Sandboarding at Lake Wabby
Not an awful lot to do there except take pictures and have a dip. The view is amazing on top of Hammerstone Blow so it makes a nice rest stop for a snack.
Quite often you can see lots of European backpackers sitting at the top sunbathing, having a nap or sandboarding down the dune.