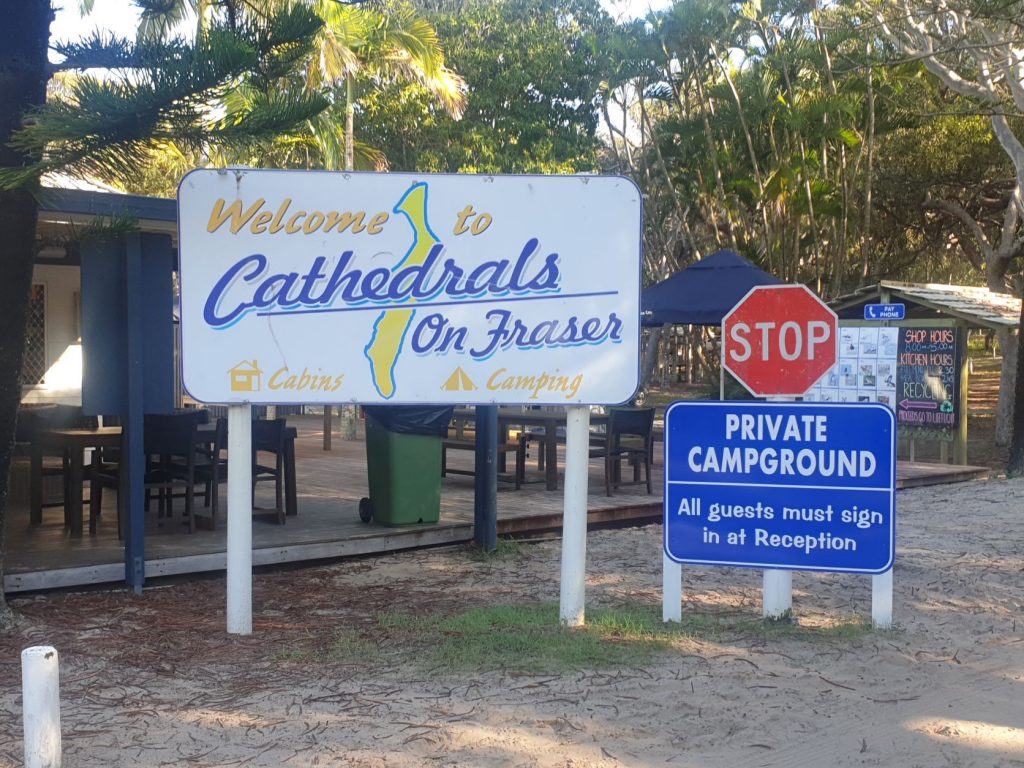 If you're looking for a place to get away, Cathedrals on Fraser may be just what your family needs. It could be described as a retreat/resort/caravan park/campground, its all of it rolled into one awesome place to visit.
It has affordable and comfortable accommodations as well as the best stocked general store on the island – not too mention tree-studded grounds that provide a natural bush oasis that everyone can enjoy! We certainly loved it.
What Is The Cathedrals On Fraser?
Cathedrals on Fraser is a quaint destination for those looking to get away and stay somewhere and be immersed in nature.
The birdlife in the area is abundant and waking up to the sound of Kookaburras in the morning beats the noise pollution of morning traffic.
Cathedrals has cabins, glamping tents and powered sites that will suit every style of traveller.
It's perfect as they offer comfortable accommodation at affordable prices that won't break your bank account especially when you are holidaying with a car load of kids.
In addition the general store is stocked with a variety of things that you may need or run out of during your stay.
You can have the natural bush experience with a few of the comforts and conveniences of mainland living.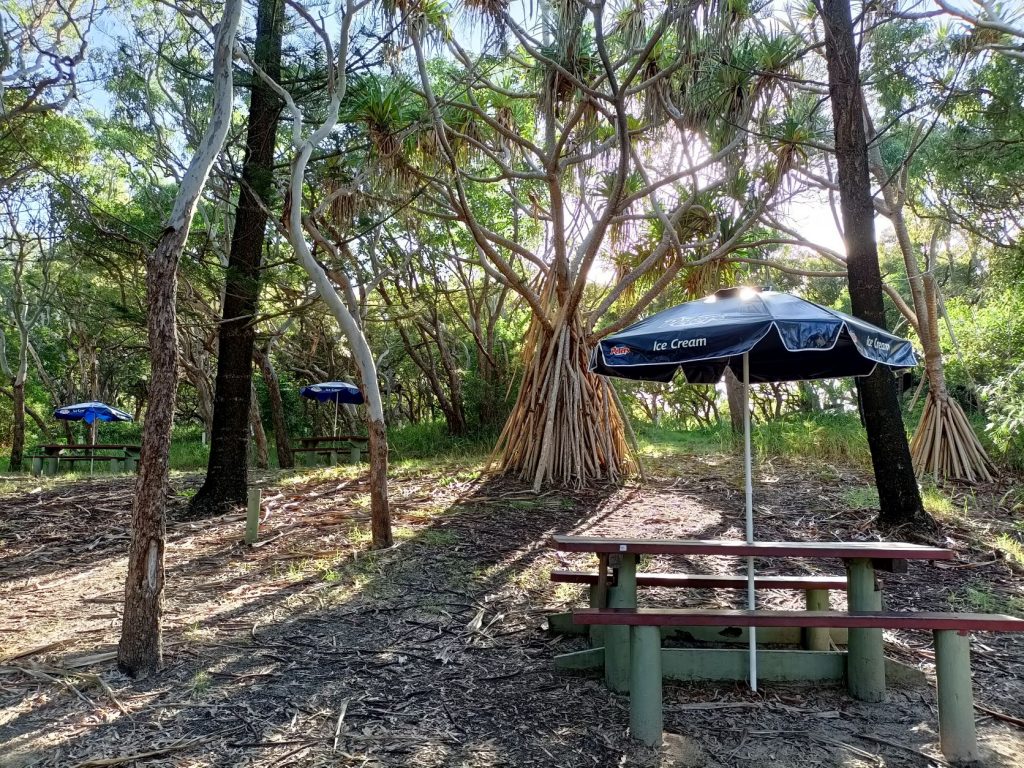 Why stay at the Cathedrals on Fraser Island?
Visit Cathedrals on Fraser Island if your looking for a place to get away from the bustling city busy life and have a more restful vacation.
Get in touch with nature: walk 75 mile beach, go birdwatching, enjoy some beach fishing or just read a book under the shade of a big Stringy Gum tree in the campground.
You can camp, glamp, stay in a villa or park your campervan under a shady tree. The choice is yours. Its a short walk from the grounds to the beachfront so its convenient if you want to stay close by.
The shop is a convenience store that stocks everyday items that you may need.
Fresh milk, bread
some fresh foods
snacks, chips, chocolate
Cold drinks and ice creams
Tin food
Ice
Fuel
Post Box
The onsite café has great burgers and milkshakes and the coffee is pretty good too. So don't panic… you wont miss out on your morning barista made coffee.
You can also purchase alcohol at the take away bar should you need a refill.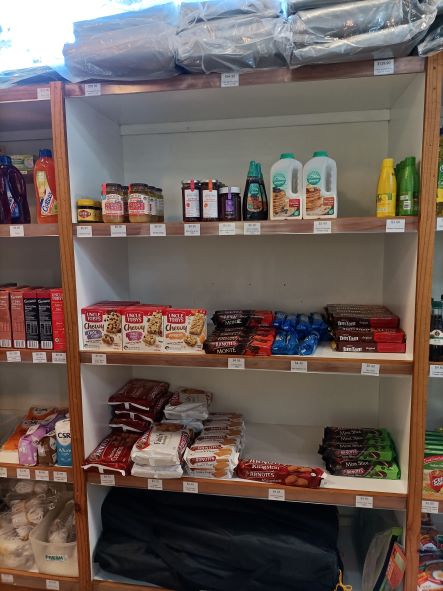 The store stocks Tim Tams – a life essential
How Do You Get To The Cathedrals on Fraser Island?
The Cathedrals of Fraser Island are situated on the east coast of Fraser island along 75 Mile Beach.
The best way to get to Fraser is with your own 4WD or hiring one. Alternatively you can book a tour guide from Rainbow Beach, which is near the entrance gate to the Fraser Island national park.
If you want to try and find your own way there, you'll need an 4WD as you will be driving along 75 Mile beach in some boggy conditions.
How To Get There From Rainbow Beach
The Manta Ray barge departs from Inskip Point (15 minutes from Rainbow Beach). Usual hours are from 6:00am to 5:30pm daily.
The trip takes about 10 minutes to get across to hook point on Fraser Island.
Then drive north up the beach for about 60 km (1.5 hours). Once you pass the Maheno shipwreck its about 10 minutes further north and you will find the sign for Cathedrals on Fraser.
How To Get There From Hervey Bay
Kingfisher barges depart from River Heads (20 minutes from Hervey Bay). Tickets must be booked in advance.
The trip to Wanggoolba creek takes 30 minutes, while the trip to Kingfisher Bay takes 45 minutes.
From either landing point, follow the signs to Eurong (approximately 45 minutes to 1 hour).
Once you meet 75 Mile Beach make a left turn onto the beach and drive north for about 35km (45 minutes).
Cathedrals on Fraser is located about 10 minutes north of the Maheno shipwreck.
Is It Safe For Children Or Solo Travellers?
Cathedral on Fraser Island is a stunning destination in Queensland, Australia. The resort is well-equipped with all the facilities that one would need.
The grounds are fenced and safe from the threat of Dingoes so the kids can play safely.
There are frequent bus tours that come through cathedral and quite often solo travellers are on board. It is safe and the grounds are well managed so you will feel secure if staying and travelling alone.
What Attractions Are Nearby?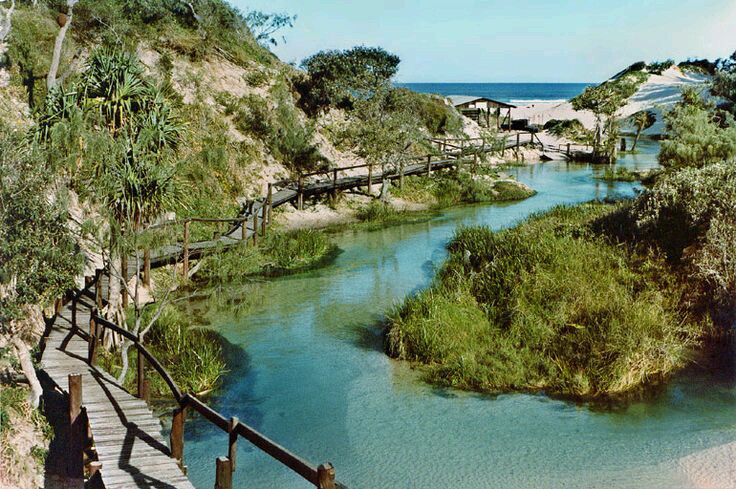 Paradise at Eli creek on Fraser Island
Cathedrals is in a prime location to explore all the attractions located on 75 Mile Beach. The Maheno Shipwreck is a 10 minutes drive south as too is the amazing Eli Creek.
You can escape the heat and cool off in the sparking clear water at Eli. The kids love this spot as it is a winding creek that is great to float down if you have a inflatable pool toys.
However, if you travel a little farther north you will bump into Indian Head. Here you can walk the massive rocky headland and be in awe of the 360 degree views.
Or look down below and see dolphins , mantarays and sharks swimming in the clear waters.
If you want to now more about:
Follow the links.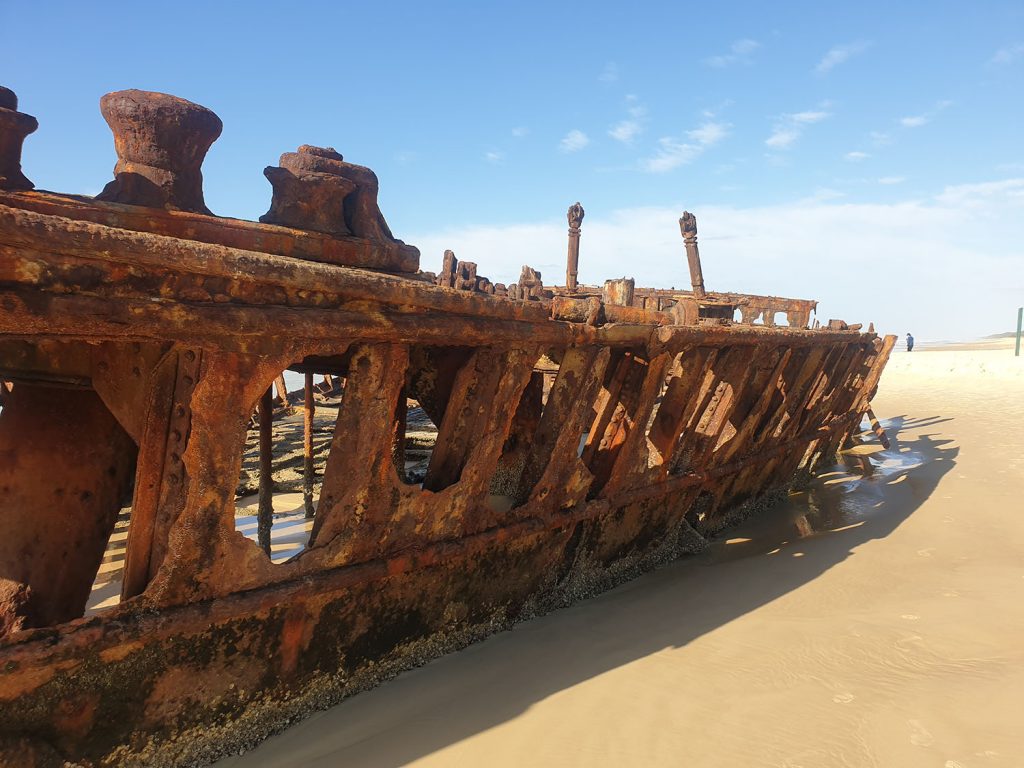 Maheno shipwreck along 75 Mile Beach
Conclusion: Cathedrals on Fraser
Whether you're looking for a place to get away from the hustle and bustle of city life or just want an affordable beach vacation, Cathedrals on Fraser Island is the perfect spot.
With its stunning natural beauty, friendly staff, and comfortable accommodations this island paradise won't disappoint!
Take some time out of your busy schedule today to explore all that it has to offer by contacting us online or booking directly through the Cathedral website.
Another point that our family loved about this spot was it is very eco friendly and has a great in house waste management system. Its simple but no other spot on the island offers recycling options like this.
It certainly gets our tick of approval, especially when you are visiting or living (like us) in a world heritage listed area.