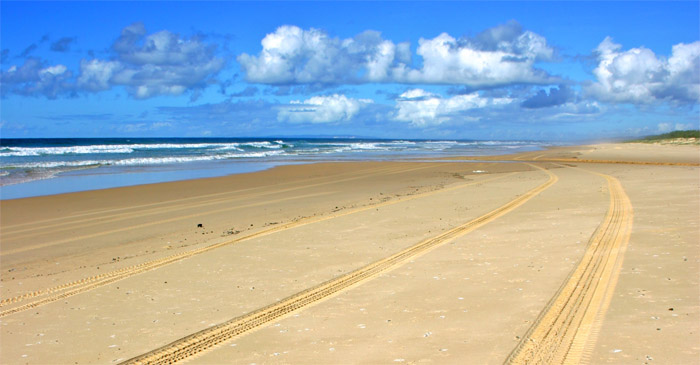 Driving 75 Mile Beach Fraser Island
Fraser Island is the largest sand island in the world and home to one of the longest beach highways.
75 Mile Beach is a glorious scenic drive that must be navigated at low tide in a 4WD vehicle. It has the most spectacular ocean views and is an impressive beach highway in-of-itself.
The sand is clean with patches of coloured sand on the surrounding dunes. It truly is a unique experience to be driving along this beach and even more impressive is the coastal view from either side of your car window.
Even better than this is enjoying all the attractions and activities that you can do along this massive stretch of beach.
Where exactly is 75 Mile Beach?
This stretch of beach starts at Hook Point and continues to the Tip of Sandy Cape on Fraser Island.
You can access this remarkable beach by vehicle from either Inskip Point at Rainbow Beach or alternatively from Hervey Bay on the Eastern Queensland coast.
How long is 75 Mile Beach in Km's?
75 Mile Beach is approximately 120 kilometres long.
This drive must be done between at least 2 hours prior to high tide and 2 hours after low tide.
Outside of these times could result in dangerous driving conditions with high seas and limited sand to drive along.
The drive in optimal beach conditions takes about 2 hours to from Hook Point to Indian Head adhering to all the speed limit zones along the way.
What interesting things can you see and do on the beach
75 Mile beach is the main highway along the eastern coast of the island. Not only will you see a stunning panorama of ocean views but you will see various local natural attractions dotted along the coastline and wildlife every way you turn your head.
Look out for Dingos roaming the beach and Whistling and Brahimny Kites flying overhead. There is also an abundance of birdlife that can be found resting on the shore or wading in the water in search of a meal.
ADVERTISEMENT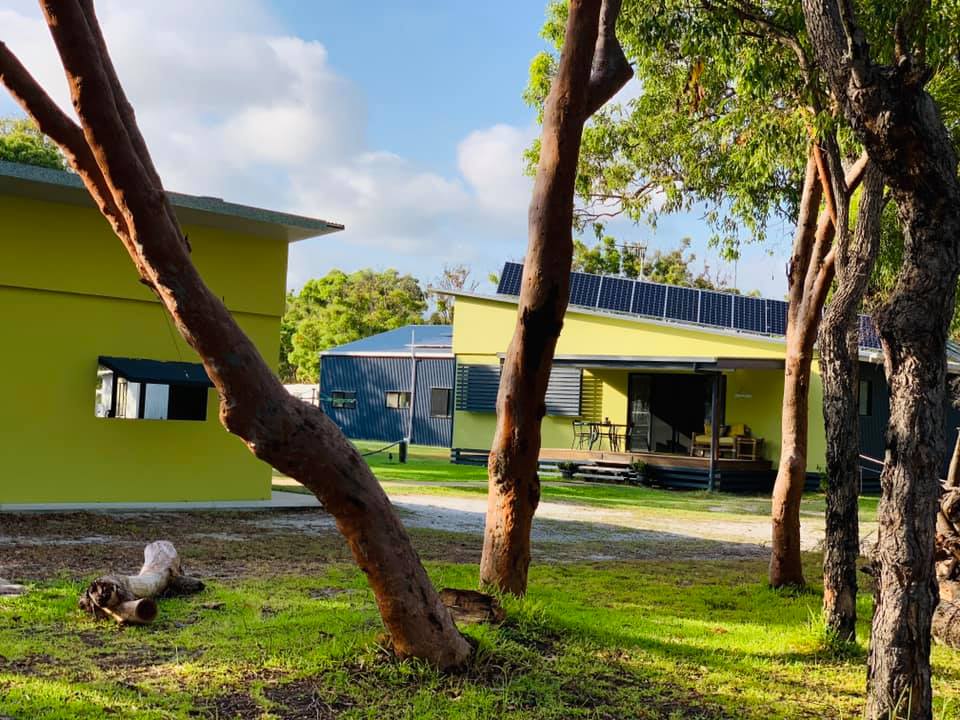 Holiday House
Stay at Orchid Beach
From 75 Mile beach you have direct access to:
On 75 Mile Beach you can see:
On 75 Mile Beach you can:
Go beach fishing
Sunbake
Take a long walk
Driving along 75 Mile Beach you can access the following townships :
Eurong Beach – Has accommodation, fuel, Bakery and basic convenience store
Poyungun Rocks – Has accommodation and private homes
Cathedral Beach – Has basic take away foods, fuel and a convenience store
Happy Valley – Convenience store carrying basic supplies and accommodation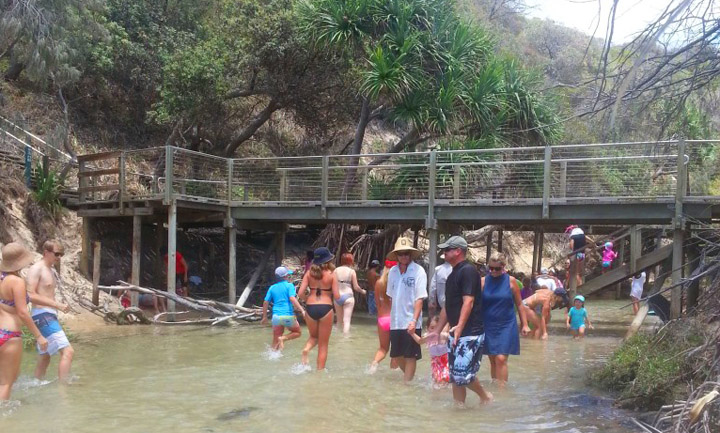 Eli Creek situated on 75 Mile Beach Fraser Island
Is 75 Mile Beach dangerous?
This stretch of beach is the main highway up and down the island. Therefore it can have quiet heavy vehicle traffic flow especially during peak holiday times.
The beach also has large expanses of designated beach camping sites which means there is lots of people walking along the beach and sun-baking on the sand.
Remembering that this is essentially a gazetted highway. Other dangers include:
Creek crossings
People doing recreational activities
Aircraft air strip zones
Washouts
Soft sand patches
Hidden seaweed patches
Roaming Dingoes
Flocks of resting migrating birds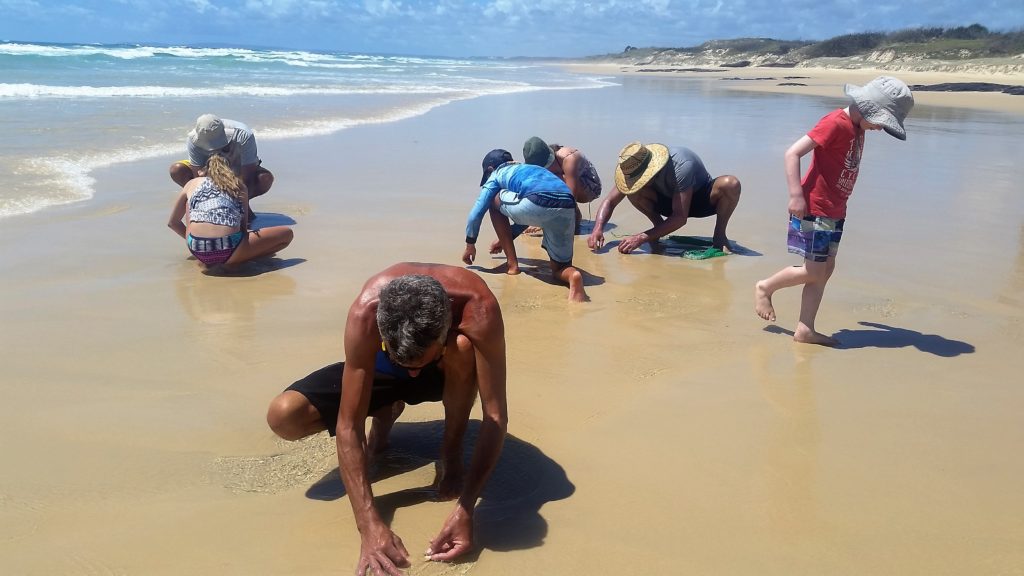 Catching worms on 75 Mile Beach Fraser Island
Tips for Driving on 75 Mile Beach
Related: Best Tips For Sand Driving on Fraser Island
Does the beach have a speed limit for driving?
YES! The maximum speed limit is 80 km hour.
The 75 mile stretch of beach is essentially a gazetted road so it is treated exactly like any other main road and has rules to follow.
Traffic signs are highly visible along the beach as speed zones fluctuate in different areas.
Can you drive around Fraser Island?
Yes! You can drive around the island. Mostly!
The drive is predominantly coastal on the eastern side but inland tracks are required to access certain parts of the western side of the island.
If you were to drive around the island it is a recommended 3-5 day trip. This will allow tidal driving times and opportunity to visit the island attractions that are plentiful.
From freshwater lakes to massive sand-blows, shipwrecks, lighthouses and war bunkers to name a few.
Some tourists and travellers visit and stay on the island for weeks and still have not explored every attraction.
Is 75 Mile Beach a landing strip for planes and aircraft's?
YES. Fraser Island offers tourists the opportunity for scenic flights.
The landing zones are speed limited and are patrolled by a traffic controller.
Therefore numerous small aircraft's are constantly landing and taking off from the beach.
Everyday the designated landing spots are changing due to the condition of the beach from the tides.
It is an awesome experience to see the planes flying so low overhead and landing in front of your vehicle.
There is a danger element to this but it is also a novelty to see aircraft's parked along the beach.