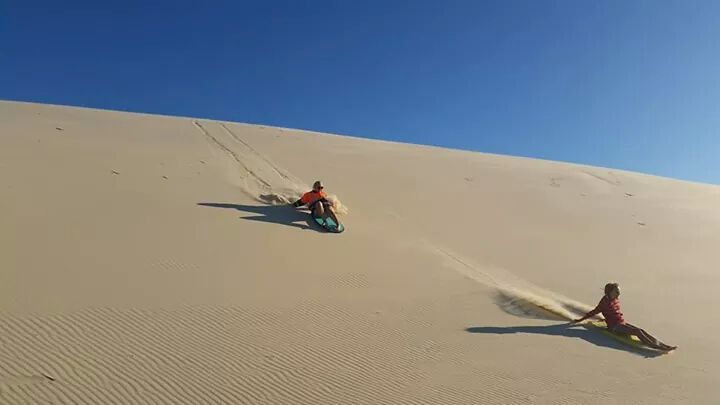 Sandboarding with the kids is awesome fun.
Fraser Island Sand Boarding Fun
Fraser Island is a wonderful destination to take the kids for a family holiday.
Most kids love playing in the sand and sandboarding is one activity that can certainly give kids of all ages, thrills and chills !!
You don't need to purchase expensive sand boards, the good old $10 boogie board is perfect.
We have seen many inventive boards including, old car bonnets, cardboard boxes, surfboards and timber seats.
The island has some great sand boarding dunes, particularly at Waddy Point, Orchid Beach and further afar at the Sandy Cape.
The dunes here are awesome.
Watch: Sorry it takes a minute to start
The weather plays a huge factor in the changing of the dunes, so everyday the sand changes.
However you are sure to find one somewhere in these spots that is suitable, even for the younger kiddies.
11 Sand Boarding Tips For Fraser Island
Here are a few tips that may be helpful for the perfect sandboarding thrill.
If the dune looks to steep and scary try starting low and work your way up
If the kids are inexperienced ensure they start by sitting on the board to slide down before trying to stand up and slide on the board
Safety is paramount so if the kids are high speed duners a helmet is advisable
Find the spot you want to slide down ensuring no debris, tree roots or other matter is on your pathway.
Always walk a few meters away from your slide pathway, so you do not create footsteps that will slow down your board
Ensure that your board is clean and dry
Ensure that the sand is dry
Arrange body weight towards the rear of the board with the front tilted upwards.
Steer the board or slow down by using your fingers to dig in the sand. Your hands should be behind your body at the rear of the board
Ensure the kids wear sunscreen and a hat particularly in summer time
Be aware of dingos that may be lurking behind the dunes. Parents walk up the dunes with the kids first to check the surroundings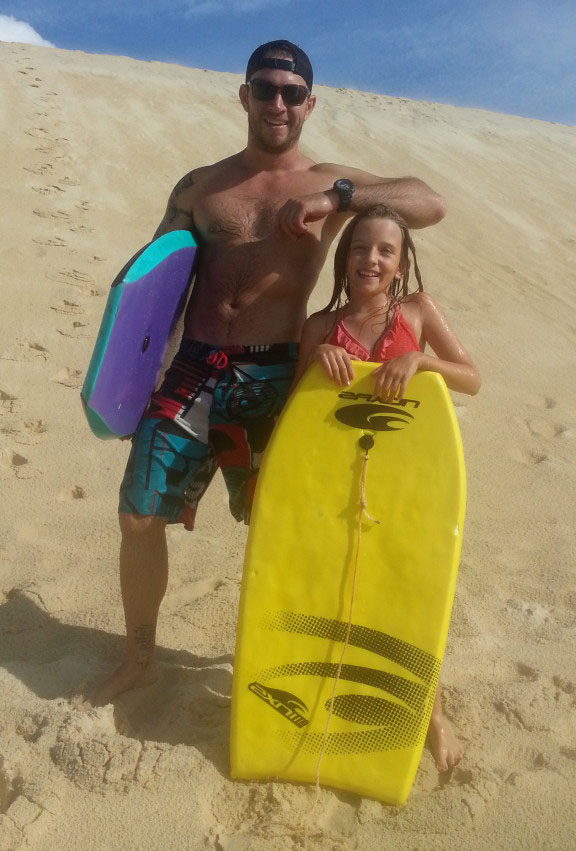 Sand Boarding Fun with a Boogie Board
Safety of the kids is a concern for all parents, however where there is fun there can also be injury.
The sand is usually soft however depending on the downhill speed it can make a difference to how you fall and land.
A few tumbles and rolls is common that usually has the kids spitting out mouthfuls of sand.
Be aware of your kids safety, keep your eyes on them at all times and most importantly join in and have an awesome time.
Fun With Boogie Boards in the Sand on Fraser island