Fraser Island is one of the lucky destinations that has a pretty good climate all year round.
If you are planning at trip its good to know about the climate and the Fraser island weather conditions for particular seasons.
Summer time ( December to February )
Day time temperature averages  28 -34 degrees Celsius – pretty hot with moderate humidity
Night time temperatures averages 18 – 22 degrees Celsius

Occasional rain with  late afternoon thunderstorms with average rainfall  for Jan – Feb 160 mm per month
Possibility of cyclone activity
Summertime is the season for many families to enjoy the island with the beginning of the Christmas and New Year holidays in Australia.
It is a busy time of year however the weather is generally perfect for swimming in the freshwater lakes and sightseeing.
Highlights for this time of year include visiting Eli Creek, Lake Mackenzie or taking a scenic flight over the island.
Autumn ( March to May )
Day time temperature averages 24-28 degrees Celsius

Night time temperature averages 12 – 16 degrees Celsius

These months you can also expect rain
Autumn is a lovely time of year with mostly sunny days and slightly cooler evenings, with  most of the rain falling around the southern end of the island  where the rainforest is thick.
The island is not heavily populated with domestic travellers on school holidays like the summer months.
So if you prefer a little bit of space and quiet time to enjoy all the sights this is a great time of year.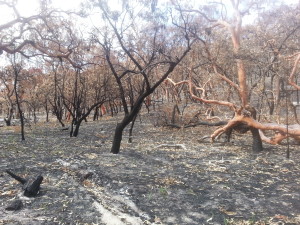 Parks and wildlife on the island sometimes carry out back burning duties at this time of year as the weather is stable and usually good wind conditions.
You may find that parts of the bushland is burning usually around the small townships to protect them from major bush fires in the heat of the summer months.
Winter ( June to August )
Day time temperature averages  18 – 22 degrees Celsius

Night time temperature averages 0 – 6 degrees Celsius

Lakes may be too cold for swimming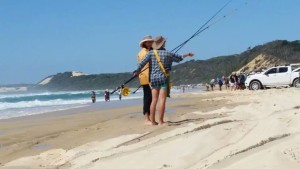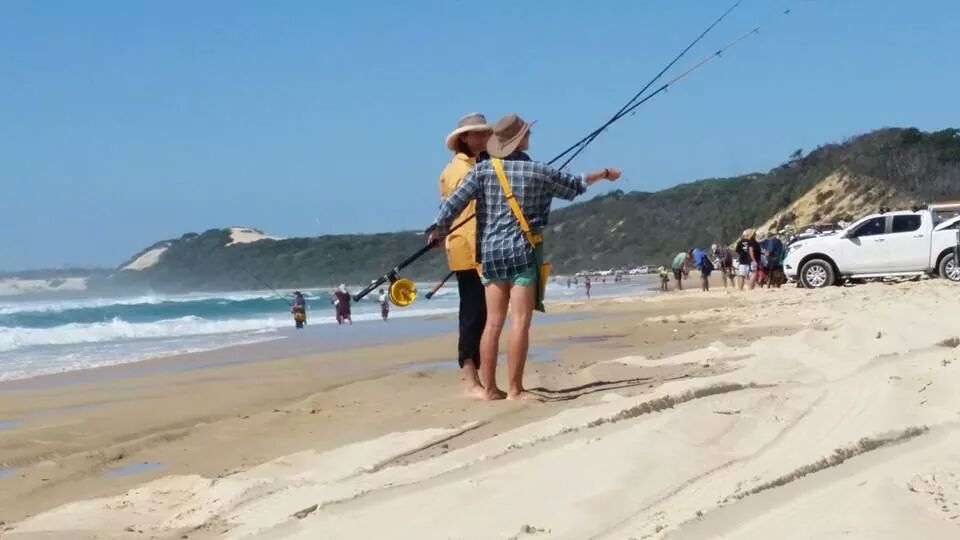 The winter months are usually stable conditions sunny during the day with extremely cold evenings.
If you are camping ensure you have a thermal rated sleeping bag for 0 – 4 degrees.
This time of year is peak Tailor fishing season so the beaches are lined up with fishermen in their waders with rods in hand.
Spring ( September to November )
Day time temperature averages

20 -26 degrees Celsius

Night time temperature averages 14 – 18 degrees Celsius

Strong  South Easterly wind warnings are common this time of year ( 20 – 30 knots )
A lovely time of year to visit with wild flowers in full bloom
It is also whale watching season from August to November so a very popular time of year for this activity.
The wettest months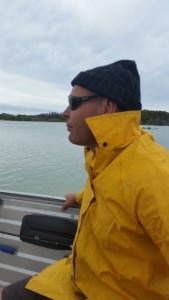 The wettest months on Fraser Island are from January and peaking in March with the highest rainfall totals.
Be prepared and pack an umbrella and raincoat and ensure that if you are camping you are well protected from heavy rains.
The windiest months
The island is governed by the ocean so the worst wind conditions are usually South Easterly which will effect the beach conditions on the eastern side all year round.
Usually winter time has the calmest conditions and better for boating. The winds are unpredictable so it is better to be prepared for windy days.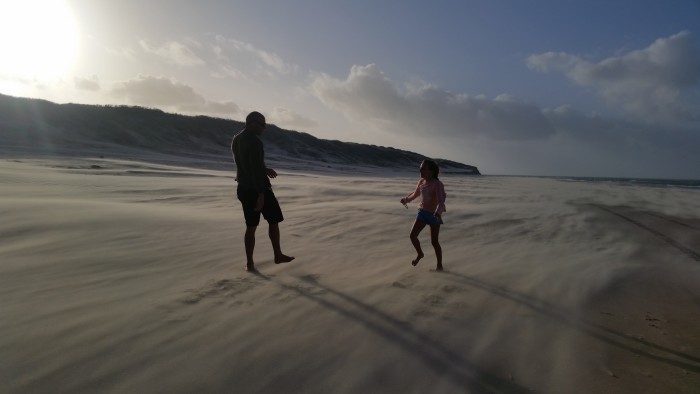 Here we are trying to walk in 40knott winds as the sand moves beneath our feet