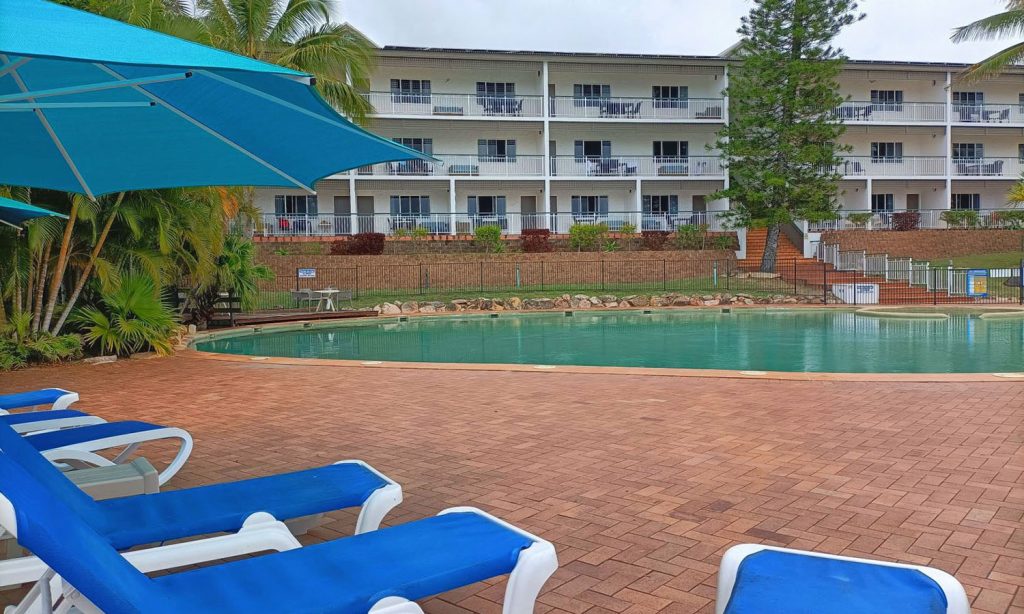 By the pool at the Eurong Beach Resort…
Eurong is a small tourist township located on the eastern side of Fraser Island. The Eurong Beach Resort is one of the main attractions for the town. It's a popular holiday accommodation hub on Fraser Island.
The township is also a place where you can stop in for a pie or to pick up some supplies if you are camping or touring around the island.
Where Is Eurong?
Located on Fraser Island, Eurong is a small tourist township located near Rainbow Beach and 45km from the Hook Point barge landing along the famous 75 mile Beach.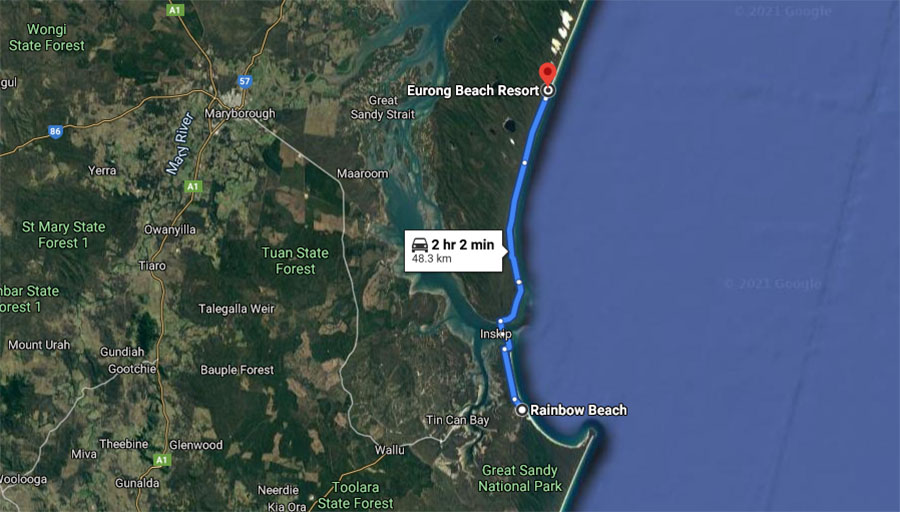 Rainbow Beach to Eurong Beach Resort
How Do I Get To Eurong?
You will need a 4WD to get across to Fraser Island from the mainland by barge at either Rainbow Beach, Inskip Point or alternatively from Hervey Bay, River Heads.
Once you are on the island, a 4WD vehicle is necessary as there is extensive beach driving and rough terrain.
If you do not have a 4WD you can hire a vehicle or otherwise hop on a tour bus and visit for the day or a few nights.
Remember prior to your arrival to check the Queensland Parks and Wildlife Service for the conditions and closure report to tell you about any changes happening on the island.
Its also a good idea to keep a tides table book in your glove box or download a copy from BOM Tides.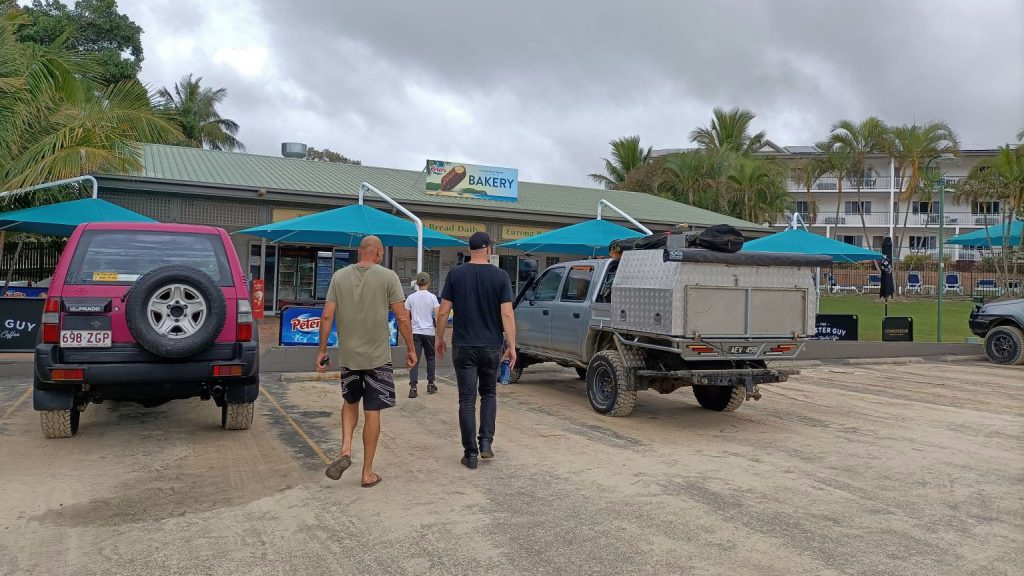 Be sure to only travel 2 hours prior to low tide and no later than 2 hours after low tide.
It is only a small window of travel time but it is extremely important to plan your trip accordingly.
Take Drive Through Eurong Village
What Will I Find at Eurong?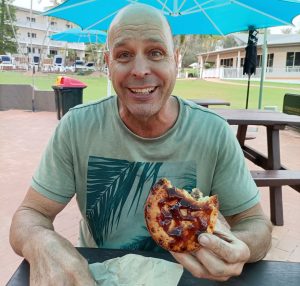 This little township is small but you will find all the essentials.
It has multiple types of accommodation options including the very popular Eurong Beach Resort.
A small Bakery to enjoy a coffee and a pie and a general convenience store with the basic shopping essentials including
Basic grocery items – fruit & veges, tin & packet essentials and some limited meat
Snack foods, chips, lollies, chocolate & ice creams
Cold drinks
Fishing tackle and bait
Maps and souvenirs
Fuel
Ice
The shop is open from 8am to 6pm daily.
What Are The Accommodation Options?
The most popular accommodation is at Eurong Beach resort. It offers hotel style rooms and 2 bedroom apartments that are family friendly.
It has a restaurant and bar that overlook a large lagoon-style swimming pool, while a casual Beach Bar adjoins a second pool, offering nightly entertainment.
Other accommodation options including private rental holiday homes. These are offered on the major accommodation sites and can vary in size and budgets. They are great if you have a few friends or family and all want to stay together.
You have a little more freedom however you wont have the comforts of a swimming pool or daily maid service. You can however still visit the resort restaurant but you will need to make a booking for meals.
You can also camp close by on the beachfront at various campsites that can be found here at QPWS. You will need to book a camping permit for these sites.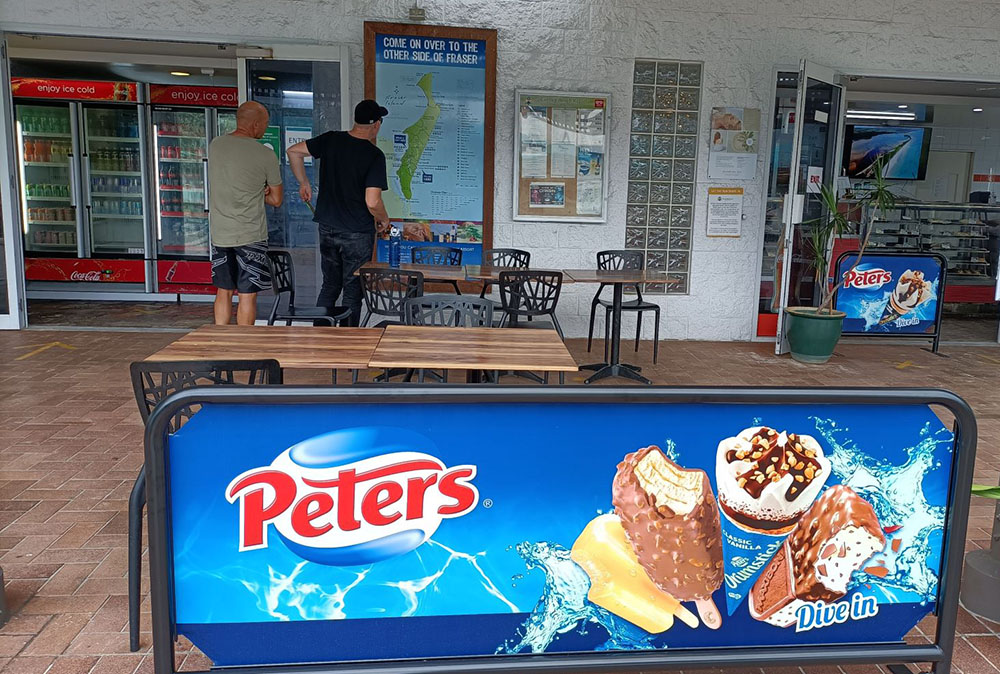 What To Do At Eurong?
As the township is located on 75 Mile Beach it is easy access to most of the major tourist attractions on the island. You can visit:
You can also participate in many beach activities including:
Eurong is a popular spot on the island. It is a great spot for families wanting to enjoy some of the comforts yet still have an offroad, eco friendly, island experience.