How to Board the Fraser Island Ferry?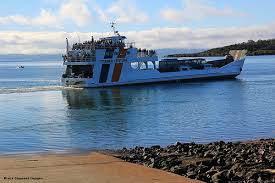 Catching the ferry from River Heads Hervey Bay to Wanggoolba Creek on Fraser island is easy. You just need a ticket.
You can walk on and travel for the day as a day tourist at Kingfisher Bay resort. Or you can cross with your vehicle and depart at Wanggoolba Creek.
The Fraser Venture runs up to 4 services daily from River Heads across to Wanggoolba Creek and Kingfisher Bay on the western side of Fraser Island.
Helpful Information About Using The Fraser Island Ferry
A reservation is always a good idea, especially in peak school holiday times when the ferry runs at full capacity.
Tickets can be purchased and paid for over the phone via credit card or alternatively from the office on site.
On arrival your vehicle is required to be ready and parked in the loading zone 30mins prior to ferry departure time.
Note: All vehicles have to be reversed onto the Ferry at River Head. Make ensure the driver is confident in reverse parking.
Sometimes the company can change the schedule during the off season. So it would be a good idea to keep an eye on the schedule when it come close to your trip.
If you are driving over to the island. Make sure you have all the proper permits and have prepared your vehicle before boarding the ferry.
Travelling on Fraser Island is dictated by the tides. Have a good understanding of the high and low tide time in the area before arrival. The tides will dictate where and when you can drive places.
Make sure you are carry enough fuel and are aware of the road rules. And Stay Safe!
Get a Fraser Island Barge to the south side of the island departing from Inskip Bay to Hook Point
How to Contact The Fraser Island Ferry Service?
To make a reservation on the barge you can call the office on Ph : 1800227437
Fraser Island Ferry Departure Times
The Fraser Island ferry run 4 services daily from River Heads the western side of Fraser Island. Wanggoolba Creek and Kingfisher Bay.
The barge crossing takes approx 40 minutes.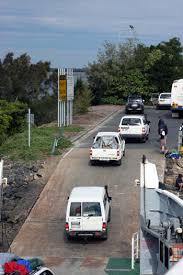 Departure Times from River Heads to Wanggoolba Creek
Departure Times from River Heads to Kingfisher Bay
6:45 am
9:00 am
12:30 pm
3:30 pm
6:45 pm
Departure Times from Wanggoolba Creek to River Heads
Departure Times from Kingfisher Bay to River Heads
7:50 am
10:30 am
2:00 pm
5:00 pm
8:30 pm
What Are The Fraser Island Ferry Prices?
Vehicle ( Driver + 3 passengers ) $ 175.00
Extra Passengers – per vehicle $15.00
Boats Caravans Trailers Campers – Up to 6 ft $80.00
Boats Caravans Trailers Campers – 7-18 ft $120.00
Motorbike $ 70
Walk on Passengers Adult $50.00 – Child $25.00
Where is the River Head Departure Point?
River Head Fraser Ventures service is 20 minutes southeast of Hervey Bay.
Handy Hint
River Heads and Wanggoolba creek are renowned for mosquito's and sand flies so please have your insect repellent handy. You don't want to start you trip full of itchy bites !!