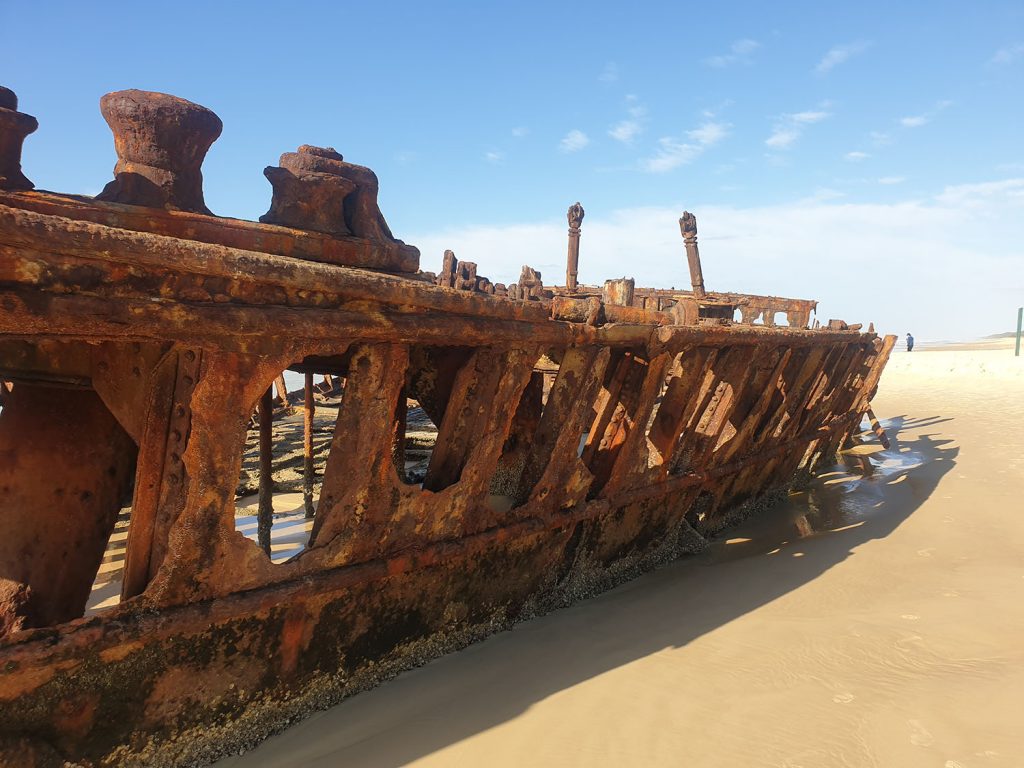 The majestic "Maheno" Shipwreck has a fascinating history and makes a great story. It's a must see icon of the island that will also provide brilliant photographs to brag about and story to tell.
The Maheno is embedded in the sand along the Eastern 75 mile beach of Fraser Island between Eli Creek and the Pinnacles. Can be seen from Kilometres away.
You will see her rise up out of the sand along the beach as you get close and closer to her.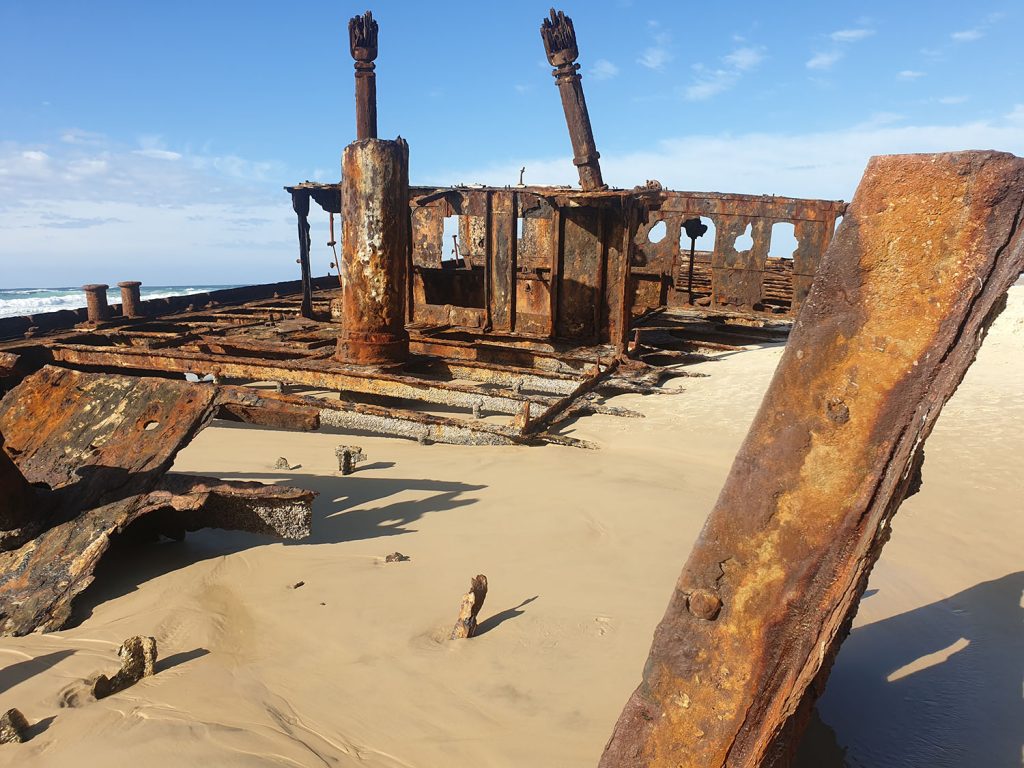 The History of the Maheno Shipwreck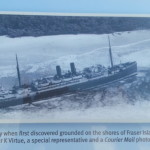 When you look at the rusty old relic its hard to imagine it was once a luxury passenger Liner. Capable of carrying over 300 passengers – surrounded by polished timbers, chandeliers, fine china and a grand piano.
( I am imagining a mini Titanic ).
Now she is pounded constantly by waves and slowly but surely eaten by the corroding salt.
Her history is colourful and makes for a great story.
In the beginning she served the Trans-Tasman ocean route as a luxury passenger liner in her early years and later served as a hospital ship in WWI.
On her retirement she was sold to Japan for scrap metal. On 9th July 1953 she was being towed up the eastern coastline from Sydney when a cyclone hit.
She broke lose of the tow and slowly drifted and beached herself in the sandy grave she lays in today. Attempts to re-float her failed and she was abandoned.
However she served a brief purpose in WWII as a practice bombing target for the Royal Australian Air Force.
She is a poignant sight to behold and one definitely worth visiting.
Photo gallery: The Maheno Wreck
What to see when visiting the Maheno Wreck site
The informative display board on the upper side of the beach across from her is worth a read and provides fascinating photographs.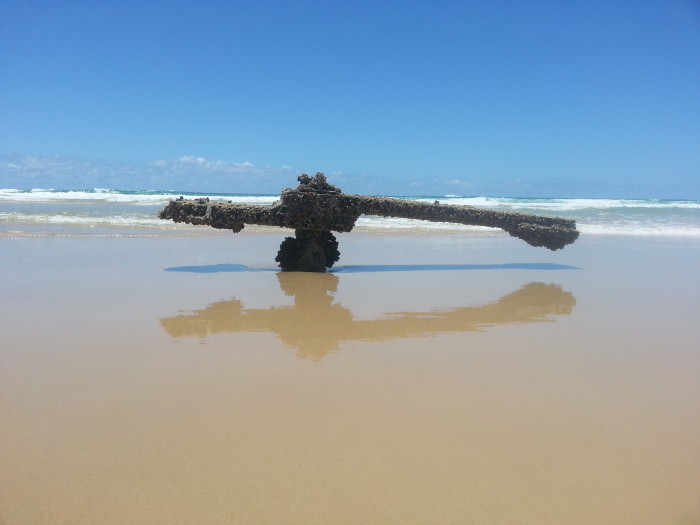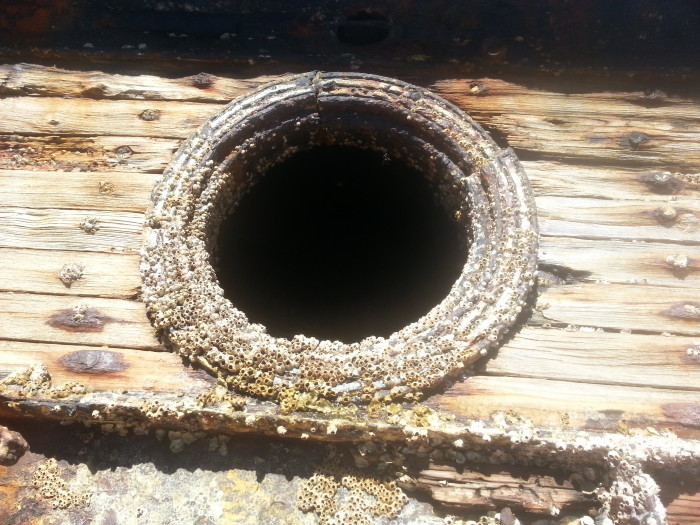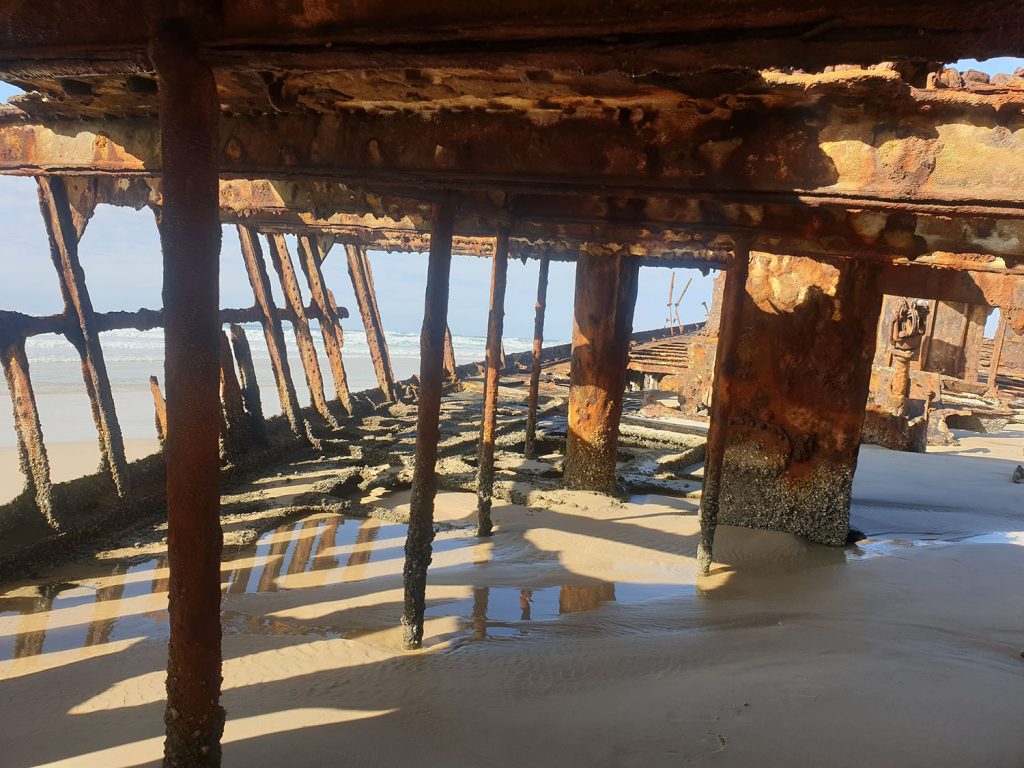 What To Be Aware Of When Visiting The Maheno Wreck
When approaching the wreck by vehicle please slow down as she attracts lots of daily visitors and some cannot hear approaching vehicles when the wind and waves are pounding.
The area is a 40km/h zone from both directions, and police do strictly enforce the road rules in this area.
Watch the video on the 40km/h in this area
Park Your Vehicle High On The Beach
Please park on the upper beach with your vehicle front or rear facing the ocean.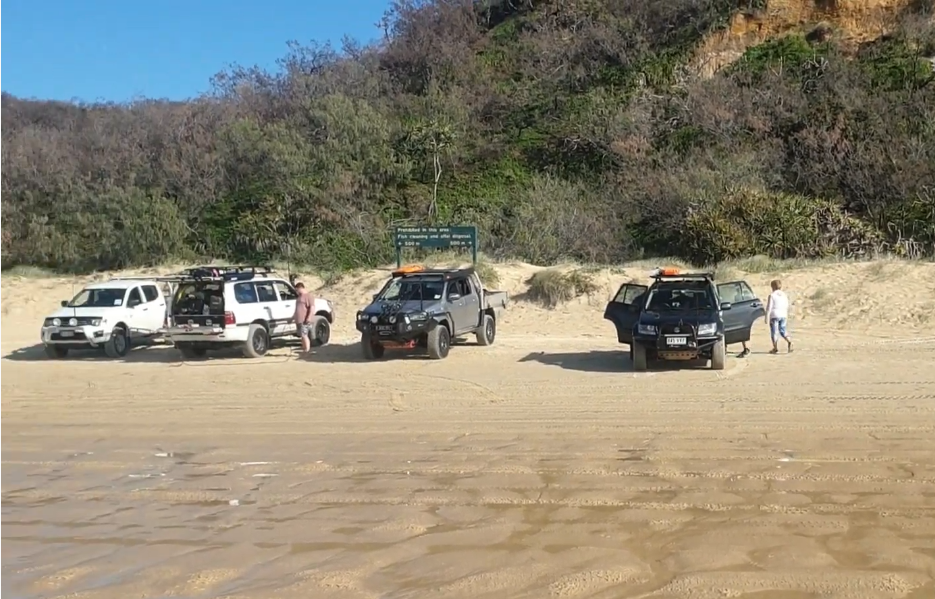 Don't Climb On The Wreck
For the safety of visitors and especially children, access is prohibited within a 3 meter boundary, and it is advisable not to climb over her as she is sharp and rusty.