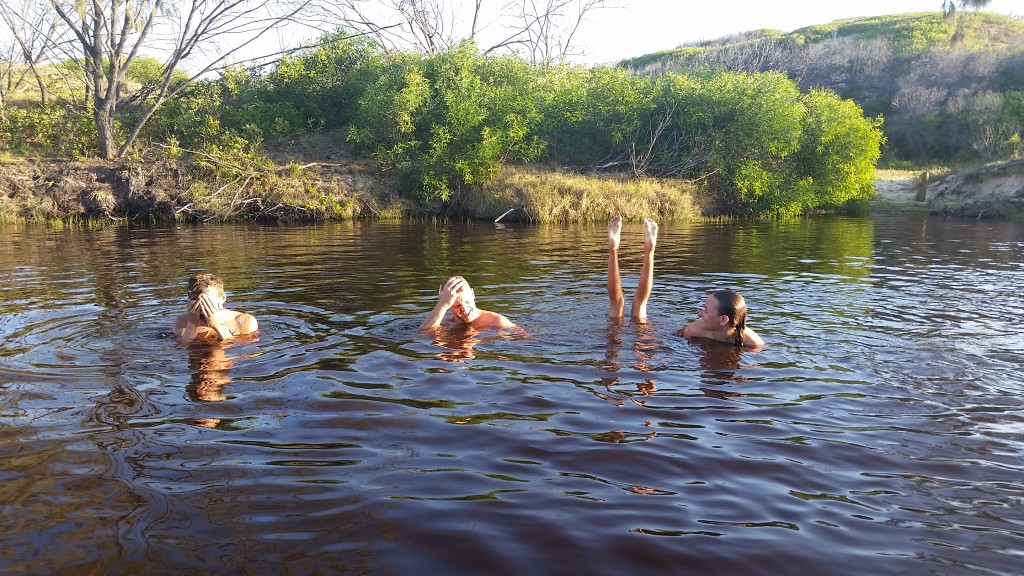 Swimming in the tannin-coloured water of Orange Creek.
Fraser Island has a unique little freshwater swimming hole called Orange Creek.
And yes it is orange-ish, at times and perhaps a little browner than orange at other times. I would describe it as tea coloured.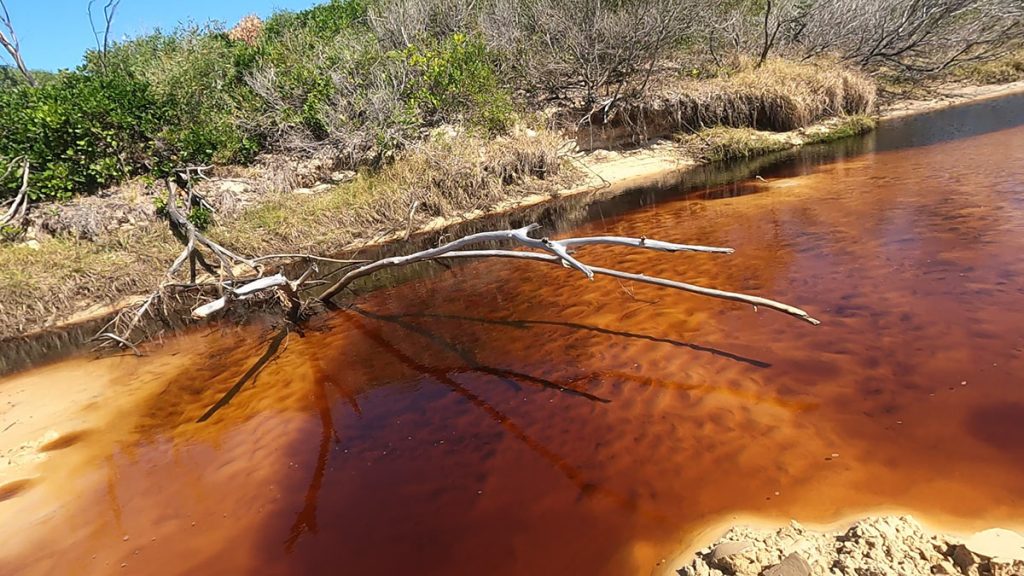 The bright/burned orange colours of the creek
Why Is The Creek Orange?
This natural phenomenon is caused by the settling of leaves that fall into the creek.
The tannin from the dead leaves and other organic matter stains the creek water an orange-ish colour.
It is particularly noticeable in the bright sunlight and at sunset with the reflections of the setting sun.
The water may look eerie however cast aside any fear, it is fresh water (no sharks here) which makes it an ideal spot to have a refreshing swim.
No need to worry about creepy crawlies or other creatures lurking in the water below.
Most part of it is waist deep with shallower water on the edges and where it flows through the sand down to meet the sea.
The other great thing about the spot is it has a sandy bottom with no rocks so perfect for the kids to swim in.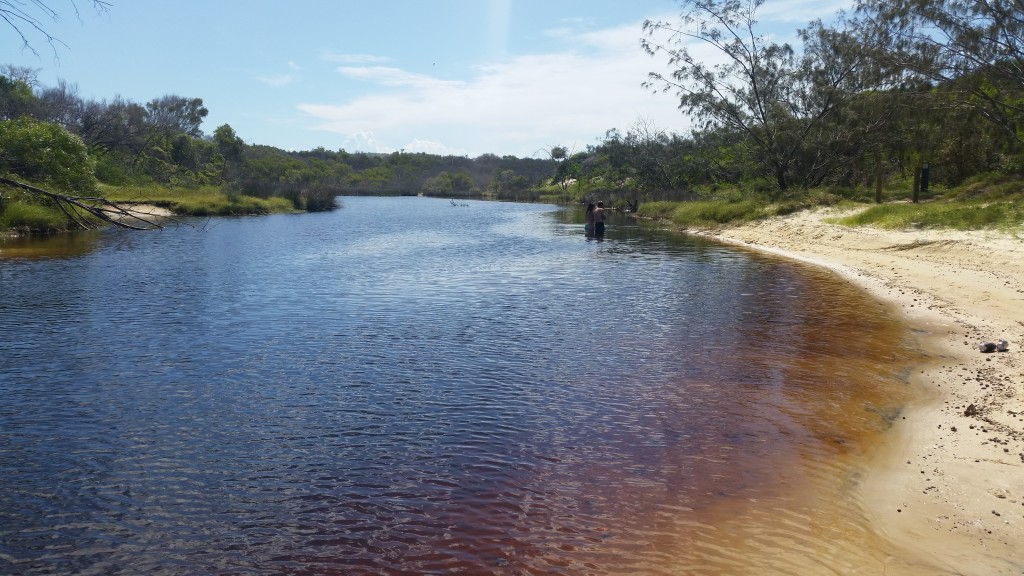 The Tannin Waters of Orange Creek
Where Is Orange Creek?
Orange creek is located towards the northern end of Fraser Island. You will need to drive up to Indian Head, across the inland track to Orchid Beach.
Drive through the township and onto the beach heading north for about 10 minutes and you will cross it.
In the summertime, we frequent this spot daily as it is only a short drive from our house and easy to get to.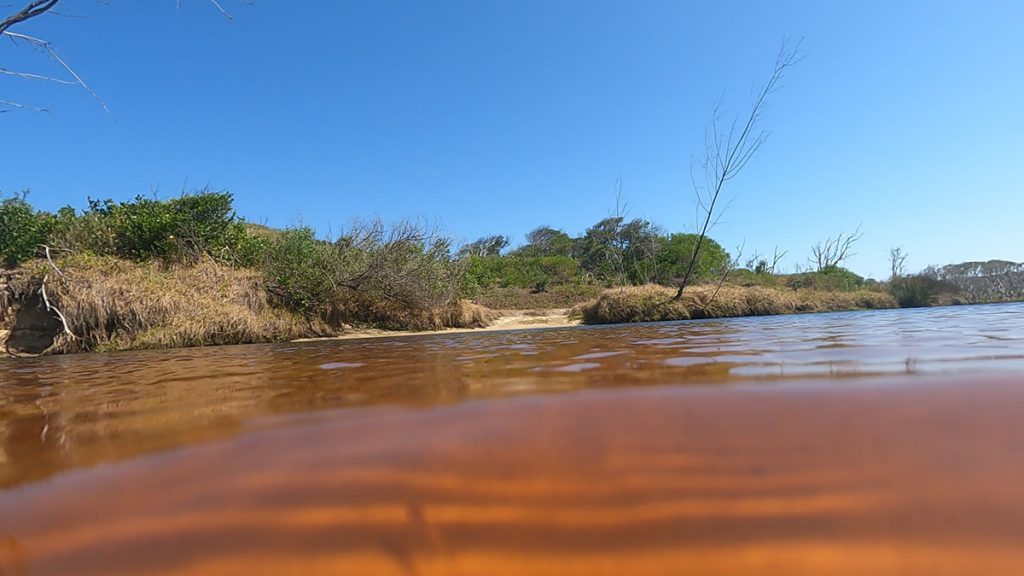 Lovely Swimming in Orange Creek
What Do I Take To Orange Creek?
If you visit the orange creek, pack a snack and a few drinks and play or relax for a few hours.
Always remember that it is a protected area and sensitive to contaminants like sunscreen and insect sprays. Cover up rather than lather up.
Nothing worse than seeing a chemical slick in the water following a person covered in copious amounts of sunscreen.
Wear a sunsuit and hat instead.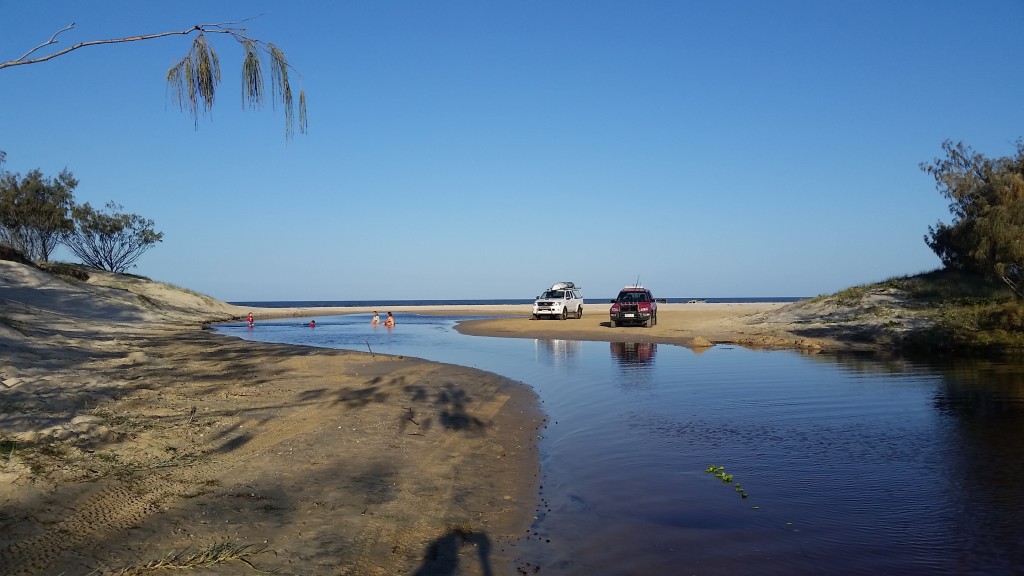 Lovely freshwater swimming spot at Orange Creek Fraser Island
Photo Gallery for Orange Creek
The Unforgettable Island Getaway
Fraser Island, a World Heritage-listed site, with its pristine beaches, lush rainforests, and sparkling freshwater creeks and lakes, the island provides a haven for nature enthusiasts and adventure seekers alike.
From exploring the towering sand dunes to discovering the island's unique flora and fauna, there is no shortage of wonders to uncover.
Whether you choose to embark on a sight-seeing tour or simply indulge in the island's natural beauty, Fraser Island promises an unforgettable getaway.
So, mark your calendar for the peak season, pack your sense of wonder, and prepare to be captivated by the enchanting world of Fraser Island.