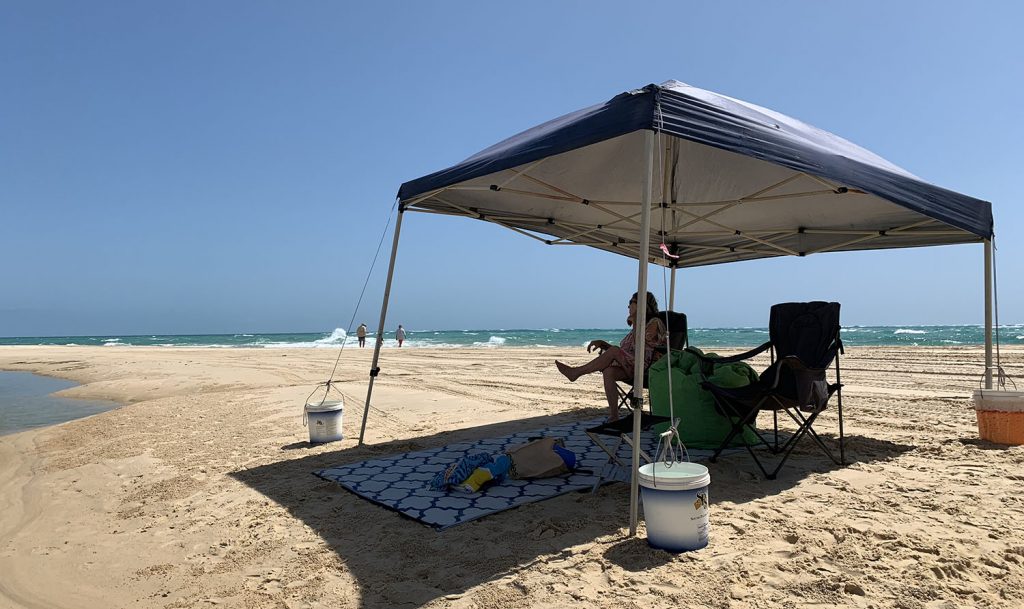 Camping on Fraser Island is one of the best experiences you can have in Australia. With over 300 kilometres of coastline to explore, Fraser offers plenty of space for all sorts of camping activities.
You'll find everything from thick rainforest to beaches and dunes with some fantastic fishing opportunities thrown in for good measure.
While camping on Fraser Island is an awesome opportunity for the adventure lover, if you have little camping experience, this article will help you avoid some common pitfalls so you can get on a have a great holiday.
The 5 Biggest Mistakes To Avoid When Camping on Fraser Island
This may sound like common sense to experienced campers but if you are new to this type of adventure this advice will be helpful.
1. Always Test Your Equipment Before Arriving
Always a good idea to test you camping gear if you have bought it new. Set up your tent, blow up the air mattress and light your gas stove.
These things are the essentials. You can do this in the backyard before you set off on your trip. Ensure there is no missing parts, everything works and you know how it works.
You don't want to be wasting hours setting up a tent that should only take 10 minutes or realising that your new torch needs batteries or the gas cooker doesn't actually come with gas canisters.
2. Research your Location Prior to Arrival
Research your location before you arrival. Find out what facilities are available, such as toilets, hot showers and other facilities.
It is always handy to get a weekly weather forecast for the area. There is no point packing the bikinis if it is forecast heavy rain and thunderstorms.
Remember to book your camping permits well in advance to ensure the perfect campsite spot
3. Don't Arrive at the Camp site in the Dark
In planning your camping trip, it's always a good idea to arrive at your destination a few hours before dark. You want to give yourself plenty of time to unpack and set up camp during daylight hours.
Nothing worse that spending hours pitching the tent in the dark under the car headlights, only to wake up in the morning and find that you are sleeping under a huge ant nest.
Or worse, the previous campers "drop box" is too close for comfort.
4. Don't Only Rely on a Camp fire for Cooking
Never rely solely on a camp fire for cooking or comfort. Many campers are disappointed to find that open fires to cook your snags or roast marshmallows are prohibited.
Unless you are in a managed campground that have fire rings and fires are permitted. It is illegal to have fires on the beach or in the dunes.
During peak summertime temperatures, extremely windy days or a severe weather warning is pending, lighting fires will be prohibited even in the managed areas.
So be prepared for alternate campfire cooking and pack a portable gas burner.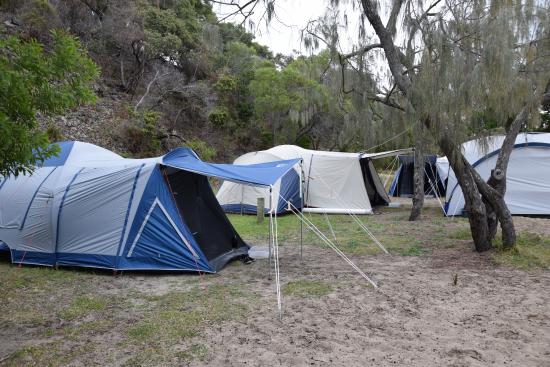 5. Try to Be Prepared for Everything
Unfortunately we can't control the weather on the island but we can get weather predictions that can guide us on what we need to pack for our camping trip to ensure it is comfortable, rain, hail or shine.
This may sound simple but it will be vital for your comfort and safety.
If your camping in the winter ensure you have a thermal rated clothing and bedding or sleeping bag.
Same goes for clothing, you don't want to be hiking bushland in thongs or climbing scorching hot sand dunes in bare feet in the middle of summer.
Fraser Island Freelance Camping Do & Don't Check-list
For your own health and safety here is a list of camping Do's & Dont's :
Do secure all rubbish and dispose of at the Refuse collection Locations, (Dingoes, goannas & other wildlife will try and scavenge any food scraps)
Do secure you food. (Dingos will scab and run off with all sorts of food & items, bags of potato's, wine casks, fresh fruit, loaves of bread)
Do bury all human waste at least 50cm deep and dispose of toilet paper thoughtfully. Do not let it blow in the wind
Do not use detergents or shampoos in freshwater lakes or streams (it is harmful to aquatic life)
Do not light camp fires. It is illegal except in designated fire rings in managed camp grounds
Do not feed the Dingoes. They Bite !! and Massive fines if you are seen or caught interacting with them.
Also see: Fraser Island Camping Checklist
Conclusion to Fraser Island Camping Mistakes
When camping on the eastern beach side it is a good idea to be prepared for strong winds especially if they are coming from the east, pack some heavy duty ropes and pegs.
You will be exposed to all the elements when camping beachside and it is notorious for strong winds.
Be aware that mobile phone signal is limited. There is a Telstra tower located at Eurong, Kingfisher and Orchid Beach. If you are more than a few Km's from these zones you may not pick up signal.
You will also need to be connected with Telstra as no other phone companies have signal on the Island. The western side of the island has very limited and intermittent signal.