The Fraser Coast is one of the most popular destinations to get up close and personal with the majestic Humpback whales.
Read on to find out how.
Fraser Island is off the coast at Hervey Bay, which is one of the most popular areas in Australia where tourist go whale watching.
This makes, our island home, Fraser island ideal to see the great southern humpback whales as the migrate north.
All About Humpbacks
Humpbacks belong to a group of mammals called Cetacea. This group includes all whales, dolphins and porpoises. There are two distinct populations of Humpback whales, the Southern hemisphere Humpbacks and the Northern hemisphere Humpbacks.
They are marine mammals that are warm blooded and breathe air just like other mammals. They also give birth to live young that suckle milk from their mothers.
Humpbacks are the 5th largest of all the whales and they can grow up to 15 meters in length and up to 4 Tonnes in weight.
They are easy to identify with their huge pectoral fins and a massive head covered in tubercles ( lumpy growths the size of golf balls ).
Humpbacks also have no teeth, instead they have hundreds of thin plates called Baleen. They gulp huge amounts of water that is then filtered and sieved through the baleen that traps the food and expels the water.
Where to Spot Humpbacks on Fraser Island
You can get a great view of the whales as they frolic in the waters off Fraser Island.
Best viewing spots :
Indian Head
Waddy Point
Platypus Bay
Indian Head
At Indian Head  you can sit upon the huge cliffs and watch the whales playing and breeching with each other.
It is a brilliant viewing platform to watch these majestic creatures and to take some great photos of them and the spectacular views too.
Its also a good idea to bring your binoculars, some water and a snack because you might  spend more time there than you planned.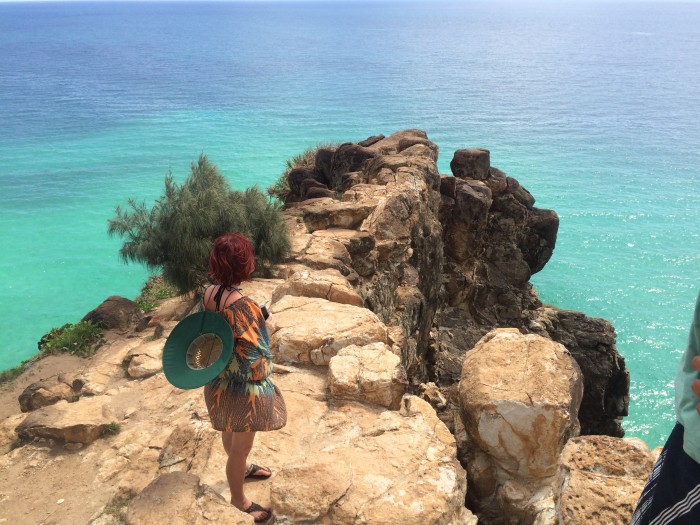 Waddy Point
Another great viewing spot is the rocks on Waddy Point near Orchid Beach.
Its an easy climb up onto the rocks with a lovely view out into the ocean.
Often the whales will come in close to the point as they make their way into the calm waters of the bay.
Platypus Bay
Platypus Bay is on the western side of the island and can be accessed from Orchid Beach via the Wathumba track.
Not only is it a spectacular location with azure waters and white sand, but it is the playground for the whales and their calves.
This bay is where most of the tour operators come from Hervey Bay for spotting.
Pack a picnic, put on your swimmers and spend the day watching the whales frolic about in crystal clear waters.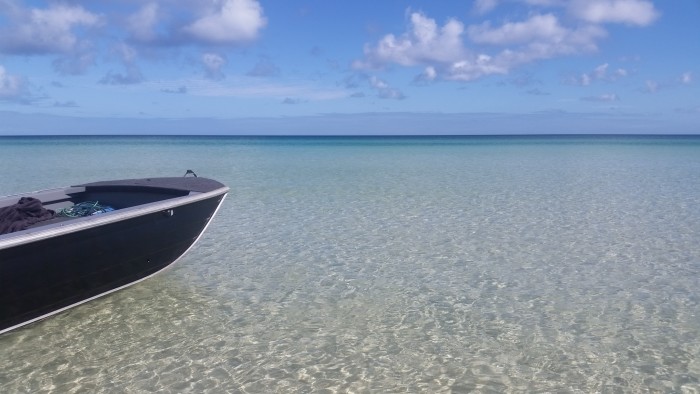 What Time of the Year is whale watching season?
To see a Humpback whale up close is an amazing, intimate experience and an activity that is a must do if you are in the Fraser Coast region from;
Late July to early November
The whales leave the cold waters of Antarctica and make the 5000km journey north to their breeding ground in the warmer waters of the Queensland coast.
During the first few months of the season you will see pods of mainly adults and pregnant mothers.
Then in the later months as the whales turn around and venture back south again they will be accompanied by their newborn calves.
Whale Watching Tours Hervey bay
Booking a professional and reputable whale watching tour is an unobtrusive way to have interactions with these mammals without having a negative affect on their habitat and lifestyle.
You will also be able to take some amazing photos and videos of your encounter watching the whales slapping and waving.
There are many whale watching tours to choose from in the Hervey Bay and Fraser Coast region.
The tourist information centres have valuable information on all the tours options that are available.
On line tour bookings at Whale watch, has a great Fraser Island whale watching package that comes highly recommended.
The special is called "Fraser + Whales package" and gives you two wonders in one; the up close and personal viewing of the humpback migration and 2 nights on Fraser island with accommodation from your base at Kingfisher Resort on the island.
PACKAGE INCLUSIONS: 
2 nights resort hotel accommodation twin share
Hot buffet breakfast daily
Return passenger ferry transfers ex River Heads
Half-day whale watch cruise (shuttle transfers leave from reception to the jetty head)
Once onboard, ask the Whale Cruise staff about purchasing an upgrade to a swim with the whales experience (and don't forget to take your swimmers and a towel).