If your planning a trip to Fraser Island you will need to know the best arrival points. There are 4 main points of arrival and each one caters to a different part of the island.
Depending where you want to go and how long you plan on staying on the island will determine the best point of arrival and departure.
All 4 Arrival Points
River Heads Kingfisher Barge – Direct access to Kingfisher Resort
River Heads Fraser Ventures Boat Ramp – Arrival at Wanggoolba Creek
Inskip Point Manta Ray Barge – Hook Point Barge Landing
The other alternative to a barge arrival is to book a passenger flight from Hervey Bay and fly direct to the Orchid Beach Airstrip via Air Hervey Bay.
River Heads Departure – Kingfisher Resort Arrival
Why this departure point ?
This departure point is perfect if you a planning a visit to Kingfisher Bay Resort. On this barge you have the option of taking your own 4WD vehicle on the barge or as a walk on passenger.
The barge travel time is approximately 50 minutes. The resort is accessible by 2WD vehicle but the rest of the island requires a 4WD to get around or you can rent a vehicle from the resort or go on a guided island tour.
You will be required to make an advanced booking, space is limited and in demand.
As a walk on passenger this is only for those that chose to visit the resort for the day or for a short stay. You can arrange to book a short guided tour of the island in a 4WD Tour Bus.
The resort accommodate for all types of travellers. The resort itself has villas, deluxe rooms and houses available for rent. It has a load of things to enjoy, bars and restaurants. You can play on the tennis courts, enjoy some water sports activities, indulge in a massage and visit the beauty centre.
There is a small general shop for snacks and souvenirs, a bottle shop, and also a petrol station!
This is the best place to come over to the island if you plan to stay for several days in hopes of enjoying the finer things in life on the island. The resort has bitumen roads and fantastic walking tracks all around the resort.
It is also completely fenced making it dingo safe and great is you have small children travelling with you.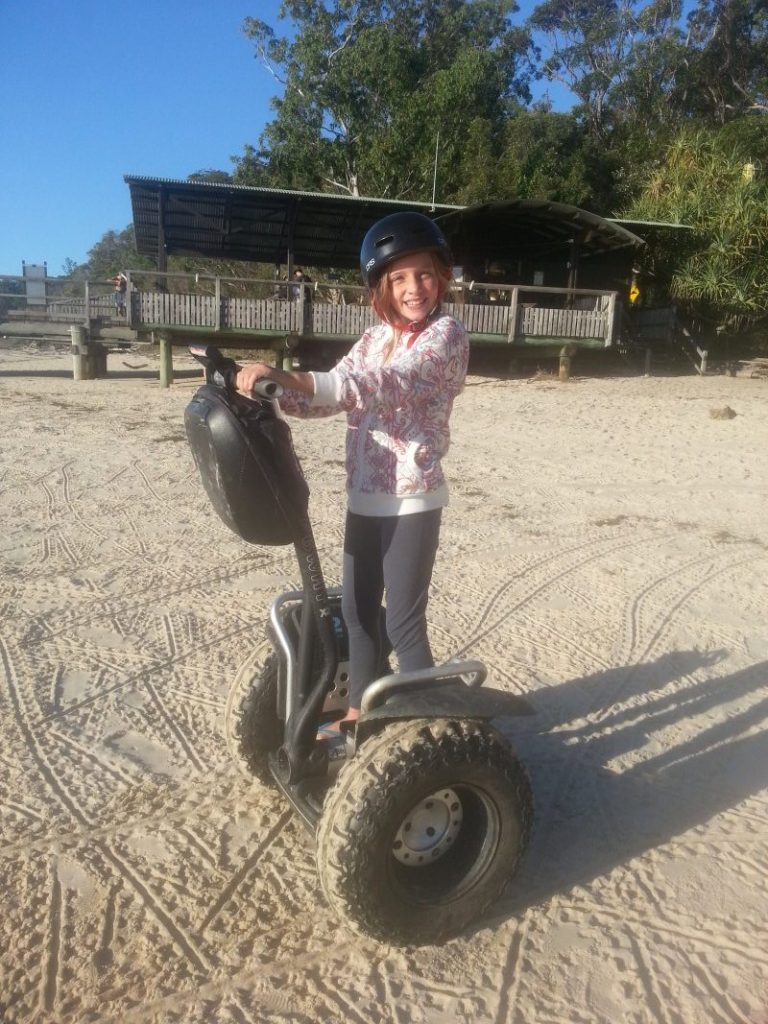 Be aware that this departure point is not for towing boats, trailers or caravans. ( see other suitable departure points below)
For this River Heads barge departure point you will need to travel via Hervey Bay, the drive is approximately 20 minutes by vehicle.
DIRECTIONS Once in Hervey Bay you need to travel down Boat Harbour Drive towards Urangan. Once you reach the Elizabeth street roundabout at the Woolworths shopping centre, you need to turn right.
Follow the signs past the airport until you see a a sign marked River Heads Road on your left. Then follow this road till the end where you will arrive directly at the barge departure point car park.
Cost $ Return
Return cost per 4WD vehicle
Offpeak $195 + $7 per driver, passenger
Peak $ 220 + $7 per driver, passenger
Walk on Passenger
Adult $65
Child ( 4 -14 ) $ 35
Extra Luggage per piece $ 25
Departure times
River Heads – 6.45am, 9.00am, 12.30pm, 3.30pm, 6.45pm
Kingfisher ( return) – 7.50am, 10.30am, 5.00pm, 8.30pm
They are subject to change without notice dependant on season and tide times. Bookings essential
*Subject to change
River Heads to Wanggoolba Creek (West Side of Fraser Island)
Why this departure point ?
This departure point is great for those that plan to travel to Eurong via Central Station or if you want to cross over to the eastern side on 75 Mile Beach coming across from Hervey Bay.
Travel time on barge is approximately 30 minutes.
You can only access this barge with a 4WD vehicle.
Departure times for the Fraser Venture Barge
River heads -8.30am, 10.15am, 4.00pm
Wanggoolba Creek (return) – 9.00am, 3.00pm, 5.00pm
Cost $ Return
Off peak 4WD $195 + $7 per driver, passenger
Peak 4WD $ 220 + $7 per driver, passenger
Return cost per Trailer/ caravan up to 4m
Over 4m prices from $155, quotation and confirmation required at time of booking dependant on length and weight.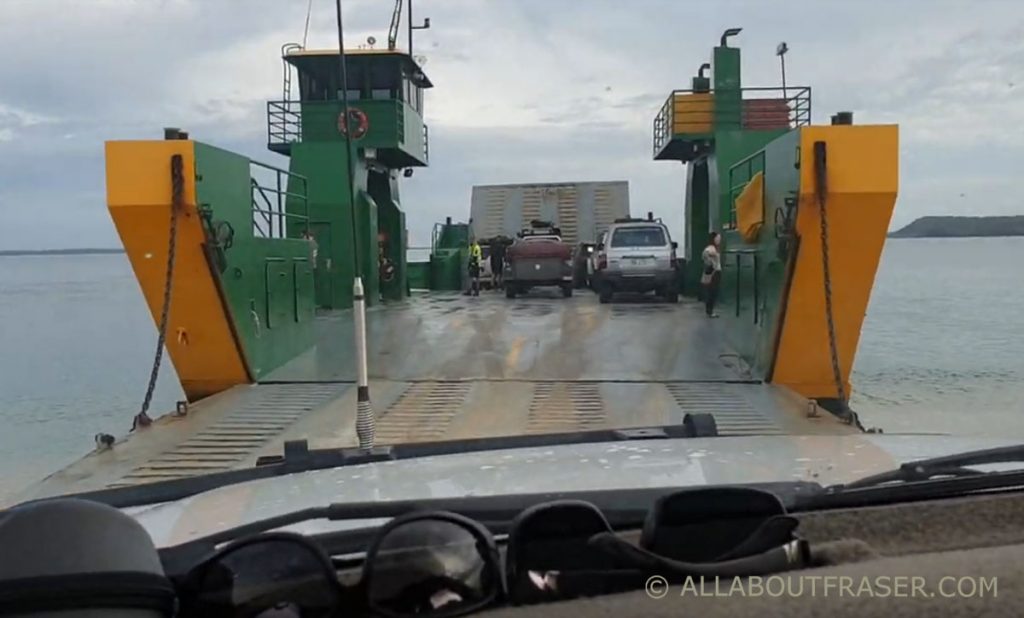 Inskip Point via Rainbow Beach
Why this departure point ?
This departure point is the most popular, the easiest to access and the shortest barge travel time. You can only access this point via Rainbow beach and you will require a 4WD.
The Manta Ray Barge departs Inskip Point every half hour. You do not need to book in advance. This is a continuous service from 6.00am to 5.15pm 7 days per week.
In peak seasons it will start earlier and finish later – from 5.00am to 6.30pm subject to demand.
Its a great access point if you are towing a boat or trailer / caravan.
The journey across to Fraser Island takes about 10 minutes.
You can pay for your return ticket once on-board or pre purchase a ticket at the Rainbow Beach booking office. This is where you will also need to purchase a vehicle permit if you have not booked one online prior to arrival.
Cost $ Return
4wd (including passengers) $130.00
4wd + Camper trailer / Trailer or Tinnie $230.00
4wd + Caravan or Boat $260.00
Motorbikes $60.00 return
Holiday Tips :
If you are planning to visit the island remember to book vehicle permit and camping permit if you plan on camping. QPWS
If you just want to visit Kingfisher Bay resort for the day and use all the facilities, you can do this as a walk on passenger. Just book your ticket in advance.
Inskip Point – Manta Ray Barge service does not require a booking. You can pay for your ticket on board with cash or card.
If you are driving on the island and want to avoid getting bogged in the sand, remember its all about tyre pressure
Watch out for the speed limit signs, police patrol the beach.
ENJOY EVERY MOMENT !!