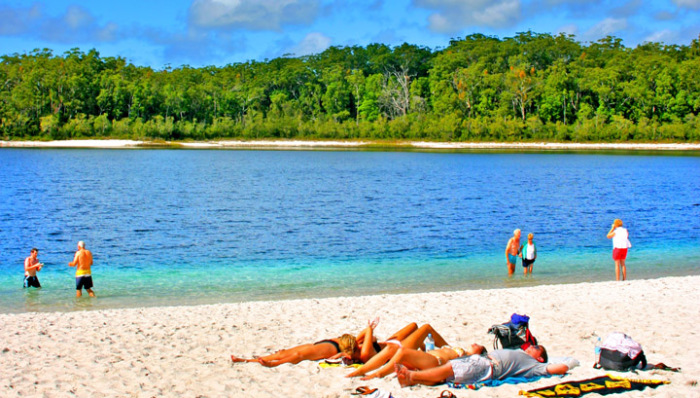 Crystal clear waters of Lake Mckenzie
Lake McKenzie is an absolutely stunning and the most popular freshwater perched lake to visit on Fraser Island. Not only is it beautiful it has a diverse range of flora and fauna as well as bikini clad visitors.
Lake McKenzie is located towards the centre of the island, and is a refreshing stop for tourists passing through the area.
With its bright blue crystal clear water and white sandy beaches, it's no wonder it's been voted as one of the best places to swim in Queensland.
Visitors can, swim, sun-bake, snorkel, paddle in the amazing clean waters. Or take a walk around the shoreline to explore this natural wonderland.
Why You MUST Visit Lake McKenzie?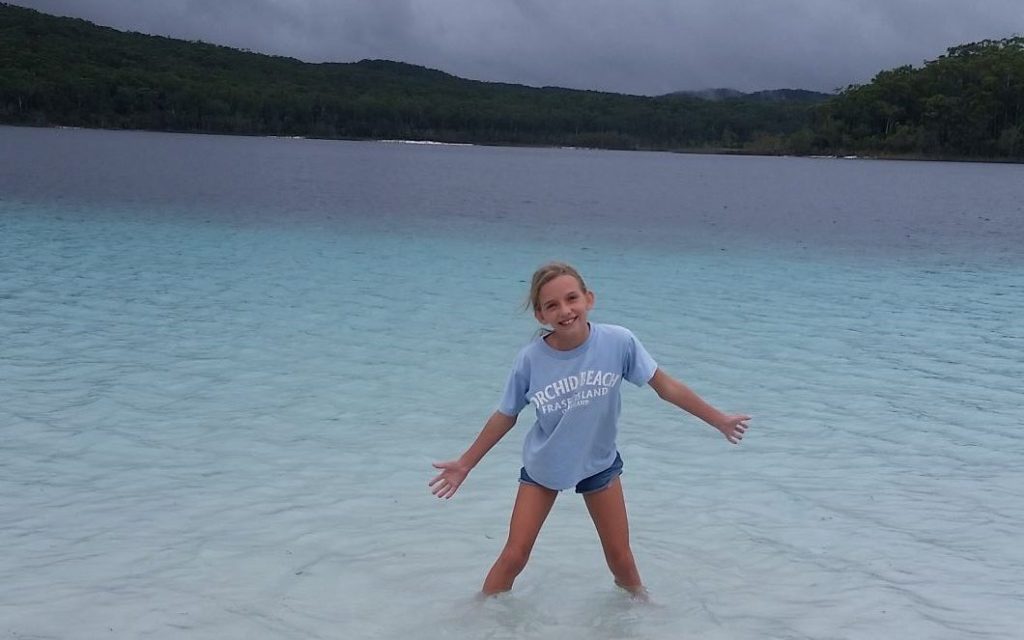 Because It's a photographers dream !!
The lake is circled by pristine white sand, is approx. 13ha in area and sits 80m above sea level.
Lake McKenzie is one of the most popular tourist attractions for swimming, photographing and picnicking. Even on an overcast rainy day it is still beautiful.
You may find that your photos are accidentally photo bombed by the hundreds of tourists that visit everyday or you may be temporarily blinded by the dazzling white sand.
You can swim ( or just dip your toes ) in the crystal azure waters and you may even want to put on a mask and snorkel and look for little turtles that inhabit this freshwater lake. It is amazing to say the least, a natural and beautiful wonder of the world.
We visit here many times a year to bring friends and family. It never disappoints, however depending on the weather the lake can change moods.
On a sunny day it is crystal clear and postcard perfect yet on an overcast day it seems gloomy but still just as picturesque.
The lake itself has a huge surrounding car parking area and a closed car park for the many tourist buses that visit everyday.
It has a day picnic area with tables and bench seats however food is not permitted down by the lake itself. Give yourself plenty of time to explore around the lake as well as enjoy the crystal waters.
Guaranteed you will want to stay longer and come again.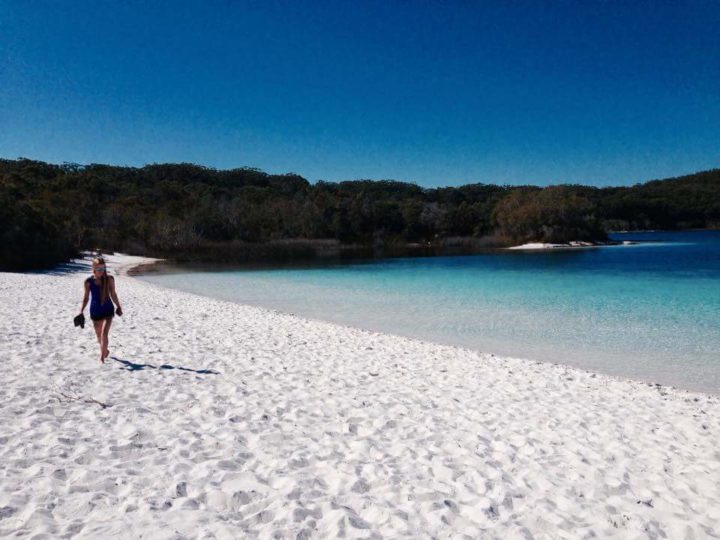 The stunning water of Lake McKenzie
Tips For Visitors to Lake McKenzie
Carry Your Own TP – This popular spot does have toilet facilities however carry some spare toilet paper as it runs out very fast when all the buses pull up and unload the passengers. Nothing worse than empty toilet roll holders when your busting. They are enviro friendly toilets with septic tanks so please no foreign objects to be flushed. Oh….some of the toilets are push pedal flushers so if you cant see a button look for a pedal on the floor.
Walk Around The Lake – Take a stroll around the lake on the walking track, however be sure to let someone know where you are planning to walk just in case you get lost or disorientated. It is a huge lake and surrounded by thick bushland.
See The Freshwater Turtles – The lake is home to hundreds of little freshwater turtles. They frolic around the shallow edges near the foliage away from all the humans. So go for a swim around the edges with your snorkel and goggles and count how many you see. Please do not try to catch them .
FAQs About Lake McKenzie
Tourist who visit Fraser Island generally have a million questions about Lake McKenzie. It's one of the most popular destinations on the island. Here is what we have so far.
Can you swim in Lake McKenzie Fraser Island?
Lake McKenzie is a freshwater lake on Fraser Island and is perfect for swimming.
Is Lake McKenzie safe?
Yes, it is safe to swim in Lake McKenzie. The water is pure and clear, with a refreshing taste. Visitors can see the bottom of the lake even in deep areas.
Lake McKenzie Photo Gallery