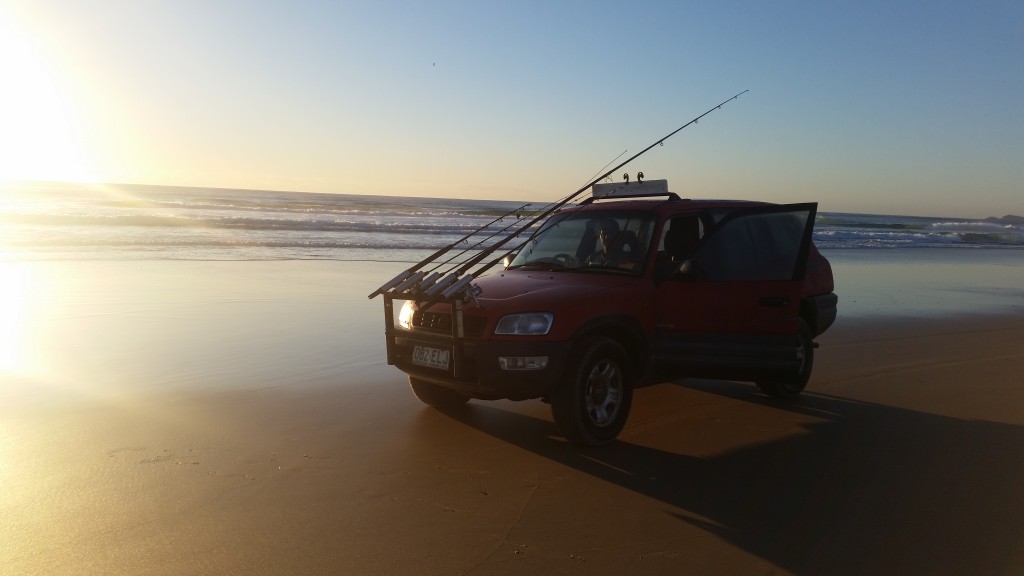 The Fraser Island National Park, most commonly known as the Great Sandy National Park, is one of the most desired parks in the world to visit. Inscribed as a World Heritage Site in 1992, Fraser Island is one-of-a-kind natural wonderland.
The massive sand dunes, perched dune lakes, tropical rainforests, and forests growing in the sand are just some of the things that make Fraser Island exceptional. Not to mention that it's the world's largest island.
What National Park Is Fraser Island?
Fraser Island is located on the eastern coast of Queensland, Australia, stretching over 120 kilometers. It has a massive area of 1,655 km² and offers a diverse and complex ecosystem.
The island is home to more than 40 freshwater lakes, which comprise half of the world's perched lakes. It is also the only island on earth where rainforest grows on sand dunes!
The interesting sand formations, the diverse landscapes, and enticing marine wildlife of the Fraser region attract over 380,000 tourists each year.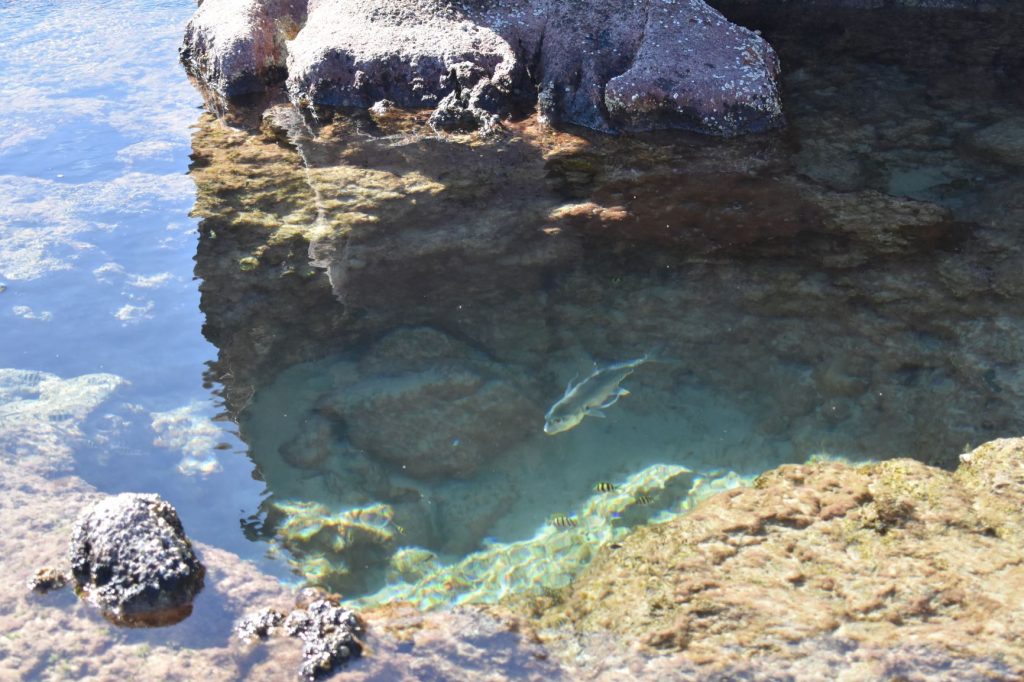 Unfortunately, the heavy influx of tourists is putting a great deal of strain on the island. Currently, most parts of Fraser Island are protected in Great Sandy National Park and managed by the Australian Government.
Fraser Island (K'gari) National Park Main Attractions
The Great Sandy National Park is divided into two regions. These are the Cooloola which comprises the mainland, and Fraser Island that makes up the offshore region.
There are so many things to see and do on Fraser Island, and below are some of the major attractions.
Central Station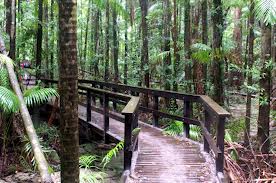 Fraser is an ideal destination for adventure seekers and wilderness campers. With over 45 camping sites, most facing the beautiful Fraser ocean and some even in the rainforests.
Either option you'll have an amazing time experiencing the rugged outdoors an all the beautiful creatures that live there including wild Dingoes and deadly Funnel web spiders.
The Central Station campground on Fraser Island has basic facilities if you don't want to rough it too much, including toilets and picnic tables. From this campground, you can take a scenic boardwalk through the rainforests and Wanggoobla Creek.
The campground features plantations of different varieties of pine trees that grow directly from the sand! It has a wonderful history and full of memorabilia from Fraser Islands logging days that is very interesting for those that enjoy a bit of history.
Lake Allom
If you like to see hundreds of Krefft's river turtles swimming around and poking their heads out of the water, check out this stunning lake. The golden water reflects the surrounding trees and clear blue sky, giving you a panoramic view. While the sandy track going to the lake will push your off-road driving skills to the limit, you'll get rewarded with spectacular views.
So just enjoy the ride!
Lake Birrabeen
Lake Birrabeen is one of the most stunning perched lakes on Fraser Island. A perched lake is formed when organic matter like tree bark and leaves is decomposed together with sand, creating an impermeable layer of rock. Over time freshwater accumulates and a lake is formed. Just looking at these perched lakes is amazing as each one is vastly different in shape and size.
With a pure white sandy shoreline, crystal clear water, and mesmerizing views of the surrounding forest it is a lovely spot and a little under rated in my opinion.
Lake Garawongera
This reed-lined perched lake is locally known as the "place of pigeons." Activities to enjoy in the lake include swimming, canoeing, and kayaking. After a refreshing bath in the crystal-clear waters, you can take a scenic walk in the forest and marvel at the plentiful birdlife and towering trees.
Lake McKenzie
Perhaps the most popular and most visited lake on Fraser Island, Lake McKenzie offers pure freshwater ideal for swimming.
The most stunning part of the lake is the pure white sand surrounding it.
Not only is it incredibly beautiful, but it is also unusually soft.
Ocean Lake
Ocean Lake is another majestic attraction on Fraser Island. What makes it so unique is that the waters are tinted orangeish / red.
There's nothing supernatural here. This colour comes from the tannin produced by the plant life surrounding the lake.
Even more amazing is that in some areas of the lake, the redness of the water is so intense it almost appears black. This lake is huge, like an ocean! This is probably why they call it Ocean Lake. You can swim, canoe, paddle and snorkel in this lake.
It is shallow on the edge but extremely deep out towards the middle as you would imagine. This lake also flows down to the beach through a small estuary type system that is called Orange Creek. As you would imagine this creek has the same coloured water as Ocean lake – Orangeish / Red.
Read More: About Ocean Lake Fraser Island
Ungowa Creek
This historical attraction features old artefacts like the jetty and shipwrecks. It's the perfect place for exploring some of the lesser-known areas of the Fraser Coast.
The creek also offers great spots for catching freshwater fish and mud crabs, perfect for dinner.
Waddy Point
Waddy Point is another popular beachfront camping area in the Fraser National Park (Great Sandy).
It is a managed campground that has toilet and shower facilities as well as BBQ areas.
The campsites are allocated and are perched into the surrounding bushland. They are not beach frontage but do have nice views.
If you're in luck to be camping in that area during the Whale watching season, it is an ideal spot for getting some great photos. Waddy point rocks is a high rocky point with steep cliffs. You can climb to the top via the walking tracks but be careful along the edge it is a long way to fall into the water below.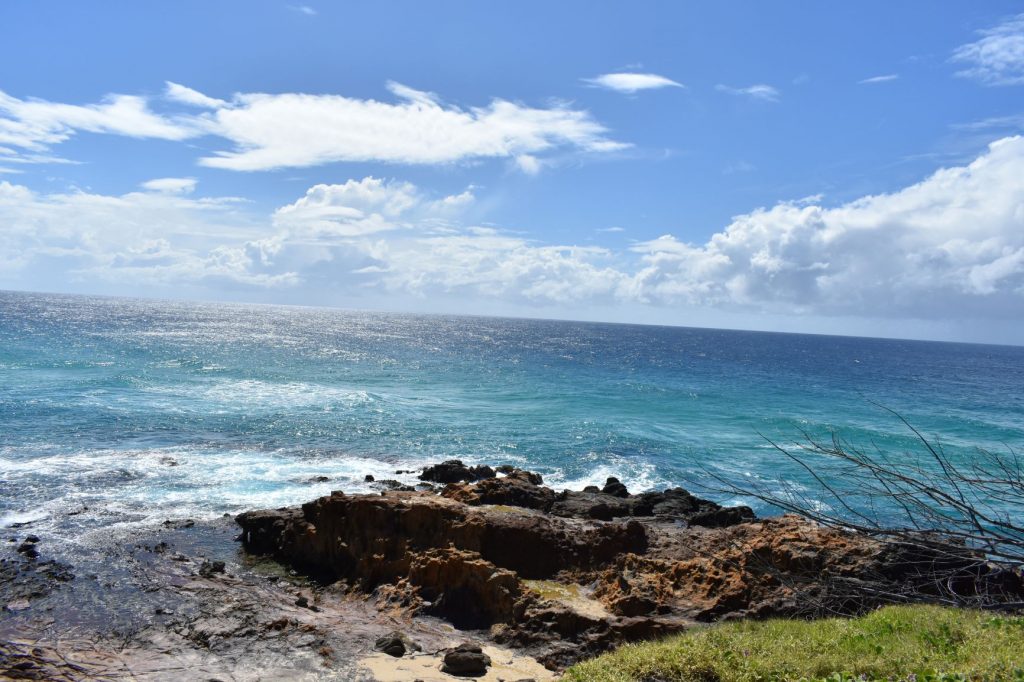 Waddy Point is always a picturesque place to visit and a great little spot to catch fish off the rocks too.
Seventy-Five Mile Beach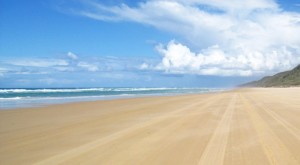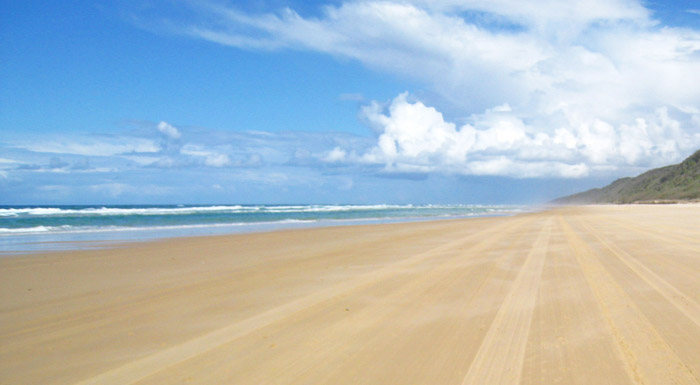 This very long sand highway, as the name suggests, runs along the East Coast. 75-mile Beach is one of the most fun and picturesque 4WD treks in the world.
Since it's literally a beach, there are days when some parts of the "highway" are covered in water and therefore inaccessible. But during low tide, you will be mesmerised by the scenic Oceanside views.
Even though the beach is a great place to drive, it's not ideal for swimming. Tempting as it may seem, there is a large shark population here, and very strong currents. Keep the swimming for the wonderful freshwater lakes and creeks.
Read More: About 75 Mile Beach on Fraser Island
Champagne Pools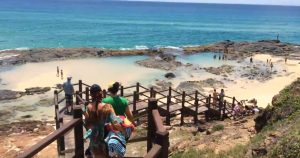 Located along the 75-mile Beach, the Champagne Pools is the only safe place to swim in salt water on Fraser Island.
It's also a fantastic spot for snorkeling. You will find plenty of fish trapped inside the natural pools, almost like a huge saltwater aquarium.
The pools are known for their bubbling water caused by waves crashing over volcanic rocks, so you can call it nature's jacuzzi.
Since the rocks surround you, you're protected from the hungry sharks lurking around and the dangerous currents of the Fraser ocean.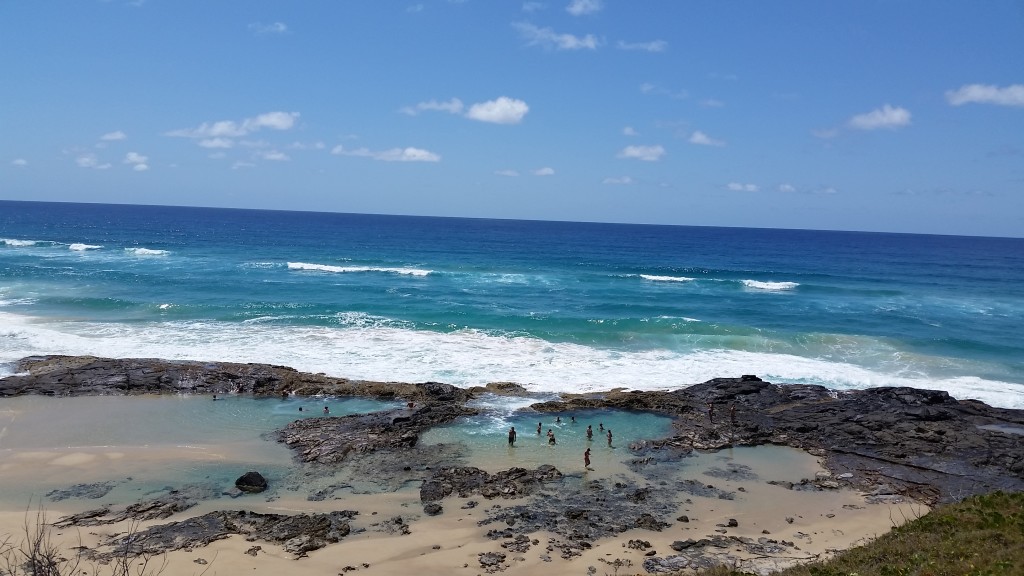 Read More: About The Champagne Pools on Fraser Island
Eli Creek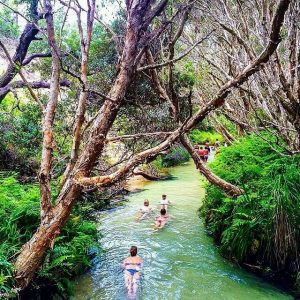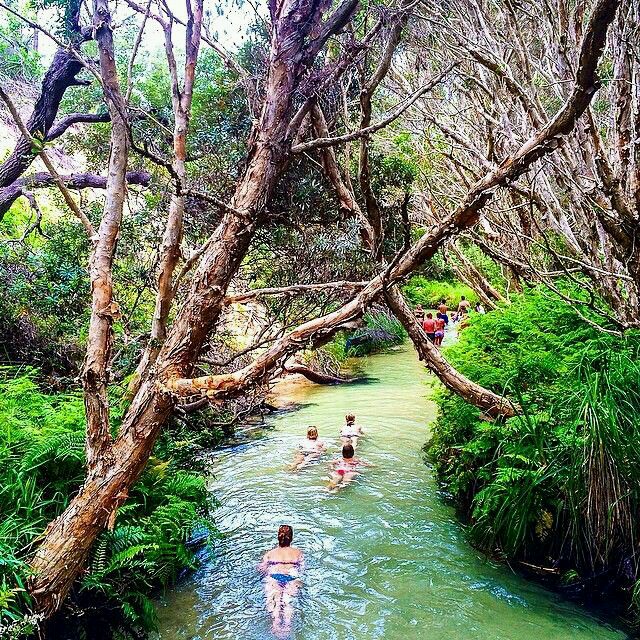 Eli is the largest creek on the east coast of Fraser Island and set on the 75-mile beach. It's a great picnic and swimming spot.
It is also a very popular and can be full of tourists sunbaking, swimming and riding boogie boards as they float down the creek.
Not the place if you want to go skinny dipping and enjoy the tranquillity of nature.
One of the most interesting things about Eli Creek is that the water is fast-flowing, crystal clear and freezing cold.
A great spot for cooling off in the summer time but you may need a wetsuit in the winter.
Read More: About Eli Creek on on Fraser Island
Fraser Island Great Walk
Fraser Island is not all about swimming, fishing, boating, and scenic driving. You can also explore this amazing island on foot.
Discover the ever-changing landscapes and the beautiful scenery at the Great Walk Park. The entire 90km Great Walk takes six to eight days to complete.
Don't worry; there are short easy walks available too. Whether you're camping, hiking, or trekking – this is the perfect place to go.
Is Fraser Island Dangerous?
There's no denying that Fraser Island is one of the most beautiful places not just in Australia but in the world. That said, because of the rich and diverse wildlife on the island, it does have quite a fearful reputation.
Why Is Fraser Island the Most Dangerous Beach?
Below are the reasons why Fraser Island can be dangerous for tourists.
Sharks
Fraser Island is home to some of the most dangerous species of sharks, such as the Great Whites and Tiger sharks. As inviting as the ocean can look, I would not swim too far off shore and certainly not where any schools of small bait fish can be seen in the water.
Dangerous Marine Life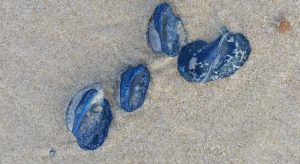 Frasers ocean is also a favourite hangout for poisonous box, blue bottle and Irukandji jellyfish.
If you do swim in the saltwater wear a protective stinger suit to prevent entanglement and stings.
Best to save the swimming for the freshwater lakes and Champagne Pools.
Dingoes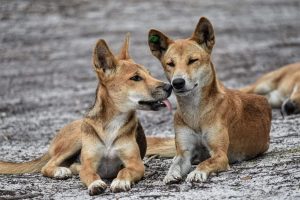 Dingoes are native to Australia, especially Fraser Island.
While attacks on humans are rare, like many animals, they can become dangerous when they feel threatened, during mating season or are on the hunt for food.
Always keep an eye on small children and never walk alone. Dingoes are pack hunters and they are certainly not afraid to approach people.
Keep in mind that it is highly illegal to entice or feed a Dingo on the island.
Rough Terrain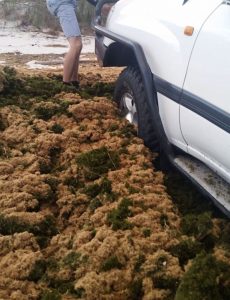 There are no concrete highways on Fraser Island.
You have to be careful when driving your 4WD because the sand can get pretty dangerous particularly when it is dry and soft.
There are also plenty of small creek crossings and always lots of boggy sand on the inland tracks.
Certain times of the year and dependant on the Ocean currents Seaweed can be a big hazard on the beaches.
Many vehicles get bogged and some even permanently stuck in quicksand like seaweed deposits on the beaches and are unable to be recovered.
Rip Tides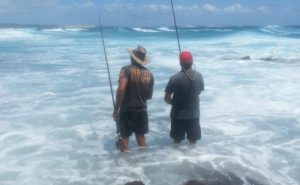 The waves on the beaches are pretty aggressive and can pose threats to even the strongest swimmers.
Surfing is not recommended and there is no patrolled beach areas.
Do You Need a Vehicle Permit for Fraser Island?
All tourists bringing their 4WDs to the island should secure a vehicle access permit from the Queensland government through the Parks and Forest Office. For the Fraser Island Recreation Area, permit fees are $53 for one month or less and $270 for one month up to a year.
If you plan to drive around the Cooloola Recreation Areas, the fee is $86.15 and $432.30, respectively. Your permit must be clearly displayed on your windscreen for inspection by authorised officers on the island.
Note that only four-wheel-drive vehicles are allowed to roam on Fraser Island. Many tour operators offer 4WD rental services if you don't have one.
Fraser Island National Park: The Conclusion
Fraser Island is absolutely worth a visit despite the dangers! The ever-evolving landforms, the amazing diversity of wildlife, and the panoramic ocean views are just some of the reasons why Fraser is one of the most beautiful places on earth.
So long as you follow the guidelines and restrictions set by the authorities, you won't have any problems exploring the Fraser Island National Park.
Start packing and Prepare yourself for an amazing Fraser Island Adventure.