There are many wonderful places to stay on Fraser Island. For tourists looking for accommodation, there are quite a lot of options to choose from.
Below is a list of all the accommodations we know of that are available on Fraser Island, from tent camping right through to luxury accommodation.
The different types of accommodation available on the island are;
Hotels and Resorts (Luxury)
Motels and Retreats (Budget)
Houses and Apartments (self-contained)
Cabins and Villas (family-friendly)
Glamping and Eco-retreats (experiences)
Caravan and Camping (adventurous)
Fraser Island – Hotels and Resorts
Kingfisher Bay Resort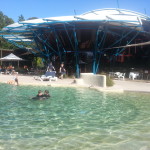 If you're looking for a luxury hotel, the Kingfisher Bay Resort is as good as it gets on Fraser island.
Classified as a 4 Star hotel resort offering a variety of accommodation styles including hotel rooms, villas and a suite of executive holiday houses.
Kingfisher Bay Resort is the ideal Fraser island escape. You can relax with a cocktail by one of the four swimming pools, and indulge in a soothing treatment at the Island Day Spa.
The hotel is only 30 minutes away from the Fraser Island Great Walk. Friendly and knowledgeable staff will help you to arrange tours to discover some of the other wonders on the island.
Make a booking for Kingfisher Bay Resort Here
K'gari Beach Resort – Eurong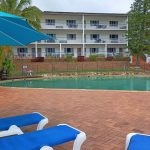 If you are looking for somewhere in a prime location that can be a base to easily visit most of the island's biggest attractions, this may suit you.
Formally the Eurong Beach Resort, this accommodation features beach-themed hotel rooms and spacious family-sized apartments.
The hotel rooms come with a deck or patio, a Queen bed and 1 single bed, Television, In-room bathroom with a hot shower and toilet. Ideal after a big day out at the beach.
It's important to note that the resort is powered by solar power, so air-conditioned rooms are not standard. There are only a few of them and they are not always available.
The resort amenities include two pools, McKenzie's On 75 Restaurant, a BBQ area, General Store and a Bakery.
Make a booking for K'gari Beach Resort Here
Fraser Island Retreat – Happy Valley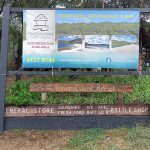 Happy Valley Retreat is a 3 Star eco-resort. It's the perfect place to relax and enjoy nature, with all the comforts of home.
The resort offers 1 bedroom timber cabins – like a motel room with a queen and 2 single beds that will cater for up to 4 people
They also have 2 bedroom cabins with an additional bedroom and a queen bed that can accommodate up to 6 people. Each cabin has its own private bathroom.
There are plenty of activities nearby, including hiking, swimming in the resort pool, and fishing down on the beach.
Make a booking for Fraser Island Retreat Here
Motels and Retreat
Cabins and Villas
Glamping and Eco-retreats
Fraser Island – Houses and Apartments
Fraser Island Beach Houses
Fraser Island Beach Houses are unique 2 and 3-bedroom houses situated on a beach frontage property amongst 1.3 hectares of bushland.
You can choose from beachfront, ocean view or poolside homes.
Conveniently located close to popular Island attractions, they are fully self-contained houses that offer the ultimate in luxury accommodation for singles, couples, families and groups of up to 6 people.
They are extremely comfortable and homely and all tastefully decorated and furnished.
These homes are located at Eurong township along 75 Mile Beach on the eastern side of Fraser.
The first indication that you are approaching Eurong from the south ( hook point) will be the yellow diamond road sign indicating that the aircraft land on the beach.
Drive a few hundred meters on, you will see the Australian flag flying above Fraser Island Beach Houses and a sign identifying "Second Valley". This is Eliza St. Drive-up off the beach and the reception check-in will be on your left.
Houses and Apartments
Cabins and Villas
Kokomo at Kingfisher Bay
Kingfisher bay heights, Fraser island
Holiday Houses
Retreat
Lodges
Sailfish on Fraser
Relaxed holiday Apartments to rent on Fraser island
About Sailfish on Fraser
Fraser Island Fishing Units
If you're a mad keen fishing fan you can't go past a stay at the Fraser Island Fishing Units. As the name suggests, this is the place to stay if you're searching for a fishing adventure with your mates. The location is prime here.
In our opinion, this is a place that is not traditionally suited for families with young children.
Sitting in prime position on Indian Head, the self-contained units are within easy reach of the headland making it an ideal position for catching tailor when the season arrives.
You can walk back to your unit with your catch of the day in one hand and a beer in the other.
It's located right on the beach and has great views of the ocean. The Units offer the choice of a four-bedroom house or two cabins, fully powered by a solar system.
Each unit and house is fully self-contained, offering two fridges, a freezer, gas, hot water and a stove. Barbecue areas with gas barbecues are also provided.
Apartments (self-contained)
Cabins
Fraser Island – Holiday Parks and Camping Grounds
Beachcamp Eco Resort
If you are looking for a comfortable and wallet-friendly place to lay your head, all whilst embracing nature Beachcamp may be the place for you. It is situated on the esplanade just a hop skip and jumps to 75 Mile Beach, on the eastern side of Fraser Island.
It is a camping/glamping resort. You will experience camping without having to over-pack the 4WD with all the stuff. It is great for couples and is also family-friendly with some tents sleeping up to 6.
The tents are furnished lovely and come complete with all linens, en-suite and toiletries.
Holiday Park
Cabins and Villas
Glamping and Eco-retreats
Cathedrals on Fraser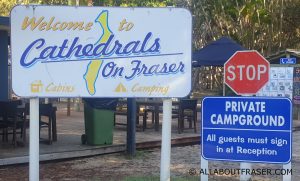 If you want to try the camping option, Cathedrals on Fraser is the perfect place to stay for a relaxing getaway or an action-packed off-road adventure.
The campground is comfortable and affordable, offering self-catering cabins, permanent canvas tents, and powered and unpowered campsites.
It is also the best-stocked general store on the island and just what the campers need for a bit of extra luxury. The campground and store are sheltered behind the dunes 6 km north of the famous Maheno Shipwreck. So it is a great base camp area.
The grounds have plenty of shade with trees everywhere and offer a comfortable, relaxed and friendly management team that will look after you.
Holiday Park
Cabins and Villas
Glamping and Eco-retreats
QPWS Managed Campgrounds
Stay in a Managed Campground with your caravan, camper trailer, tent or swag.
You will need to get a camping permit and you can choose between a tent site and a camper trailer site.
They have a Dingo deterrent/protection fence, and picnic tables and have access to toilet and shower facilities.
The best camp areas for this are the Managed Campgrounds at :
Central Station Campground
Dundubara Campground
Waddy Point Campground
Dilli Village
Eli Creek Campground
One Tree campground
Wongai campground
Lake Boomanjin campground
Some campgrounds have campfire rings that can be used if there are no fire restrictions.
QPWS Free Style Camping
You will need a camping permit and you can choose between a tent site and a camper trailer site.
The camping areas are split into zones.
No campfires are allowed in these areas.
All About Camping on Fraser Island
Conclusion
There are a lot of places to stay on Fraser Island. They offer a range of accommodations from camping to luxury suites.
The hardest part of selecting where to lay your head is to figure out what type of experience you want.
No matter what you chose, your holiday on the island will certainly be memorable. And trust me when I say you will be back. It has a magic power that just keeps pulling you in just, like the tide.
Filed Under: Accommodation, Hotels and Resorts Tagged With Accommodation, Camping, tourist