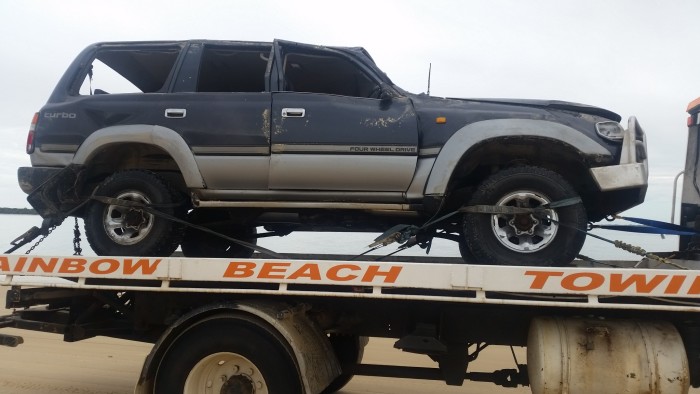 Tourists are shocked to know that there is an active Police presence on Fraser Island. The official Police Station is located on the Eastern beach at Eurong.
The police do regularly patrol the beaches.
checking speed limits
doing random breath testing
and ensuring seat belts are worn.
They are regularly in force, generally ensuring that people are being responsible and doing the right thing.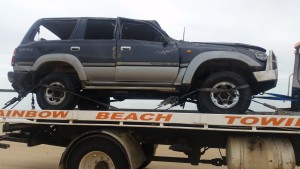 Read on to learn more.
Speeding is dangerous particularly in the sand and signs must be followed for driving safety.
Sand Roll-overs are a common accident and cause serious injuries and deaths every year.
Follow the rules, be aware and avoid a fine, loss of demerit points or a loss of your life or that of someone else.
Here is a guide of general speed limits around the island to be aware of :
SPEED LIMITS ON FRASER ISLAND
80 km/h on the Eastern Beach
30 km/h on inland tracks
40 km/h in high pedestrian areas such as Eli Creek or the Maheno Wreck

50 km/h on hook point inland road
10 km/h in shared use areas including camping grounds
The island can be extremely busy and sometimes chaotic during peak summer times.
If you are driving your own vehicle onto the island you need to follow all Queensland road rules.
This includes :
Wearing seatbelts ( driver and all passengers )
Ensuring you comply to Speed limits
Do not drink and Drive ( blood alcohol limit is 0.05 ) and do not drive hung-over the next morning…you may be surprised to find you are still over the limit.
Indicate if overtaking on the beach
Keep left and be mindful of incoming tide line and oncoming vehicles.
Give way to pedestrians at all times
Related: Best Sand Driving Tips For Fraser Island
Here are some other helpful hints when driving around the island
Fraser Island has a network of tracks and roads. The eastern beach is very long and is used by pedestrians including many children, fishers, wildlife and other vehicles.
Some roads are one-way only, some are shared zones with very narrow tracks
vehicles must give way to pedestrians at all times especially on beaches—and some tracks are management tracks with no public access.
Look for traffic signs on the upper beach—the beach is considered a gazetted road where vehicles are permitted and all road rules apply.
Safety and regulatory signs warn you of the dangers, rules and regulations, and ways to help conserve the special features of Fraser Island.
'Aircraft landing Zone' signs are located at either end of the designated landing (and take off) areas for the authorised small planes that are permitted to land on the island. You will see traffic canes outlining this area and usually a aircraft crew vehicle will direct vehicles when an aircraft is ready to land or take off.