Is Rainbow Beach worth visiting?
Yes, Chris Hemsworth loves to visit Rainbow Beach and so will you.
Let me tell you 5 reasons why our family and Chris Hemsworth loves visiting Rainbow Beach.
If you are looking for a little seaside escape, incredible coastline, love a tasty meat pie and tap beer, enjoy nature and want to relax Rainbow Beach is the perfect place.
In fact so perfect that Chris Hemsworth and his good mate Matt Damon are regular visitors to the area.
They like to escape their hometown of Byron Bay and are often seen frolicking on Rainbows beaches during school holidays with their kids and sometimes with a camper trailer in tow.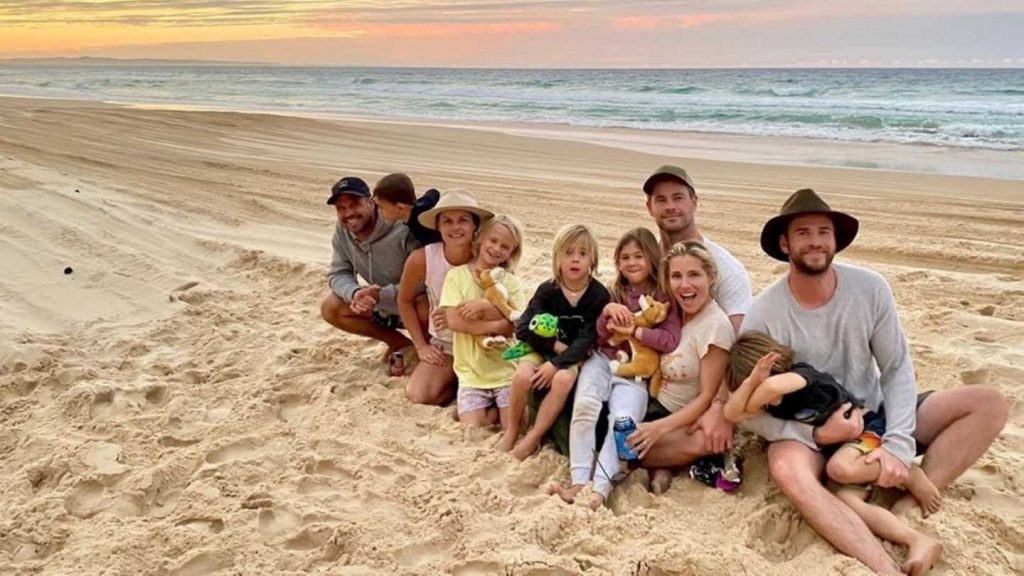 A day at Rainbow Beach for the Hemsworth family and friends
Where is it and how do I get there?
Rainbow beach is a 2 1/2 hour drive North from Brisbane to reach Gympie and then a further 45 minutes from Gympie to arrive Rainbow Beach on the Cooloola Coast.
Rainbow Beach is a major gateway to (K'gari) Fraser Island and only a hop skip and a jump away (15 min. Barge ride from Inskip Point)
Do I need a 4WD to get to Rainbow Beach?
NO. If you are only staying at Rainbow Beach you do not need a 4WD. However should you plan to self drive across to Fraser Island you will definitely need one.
Rainbow beach is accessible for everyone to enjoy . You can come by vehicle or even a Coach/ Bus that stops en-route from Brisbane up to Cairns in the north.
Do I need a permit for Rainbow Beach?
You do not need a vehicle permit to visit or stay at Rainbow Beach. However if you plan to camp in the surrounding National Park at Inskip Point you will be required to obtain a camping permit.
You can obtain a permit from NPWS online at https://parks.des.qld.gov.au/camping
Can you swim at Rainbow Beach?
Yes. Rainbow beach has a lovely coastline dotted with native trees and coloured sand. It does have a voluntary lifeguard patrol year round an in particular during the peak tourist seasons.
It is advisable to swim between the flags when the stations are set up to ensure your safety from rips. The flagged areas are also protected with nets for an added layer of safety.
However, even in patrolled areas always supervise children when they enter the water and also be aware and mindful of currents, waves and rips.
RECOMMENDATION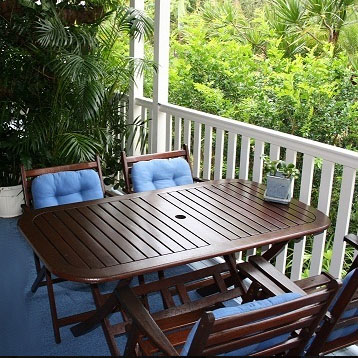 Rainbow Beach Accommodation
Your home away from home! Ideally situated close to beach, shops, restaurants and other attractions.
What about accommodation at Rainbow Beach?
There is an abundance of accommodation options in Rainbow beach even if your budget does not match Chris Hemsworths. You can:
Book into one of many resorts and hotels
Stay at a local Bed and Breakfast
Bring the Caravan and stay at the Local Van park
Stay in a Villa or Cabin at The Van Park
Get a room at one of the Backpacker Hostels
Pitch the tent in the National Park at Inskip Point.
Rent a private holiday home as featured on AirBnB or Stayz
I highly recommend a stay at the local Bed and Breakfast " Debbies Place" It has a few options of accommodation styles to suit couples and families.
It is impeccably clean and has a lovely country home feel. To make a booking jump online and contact Debbie. She is a lovely friendly host.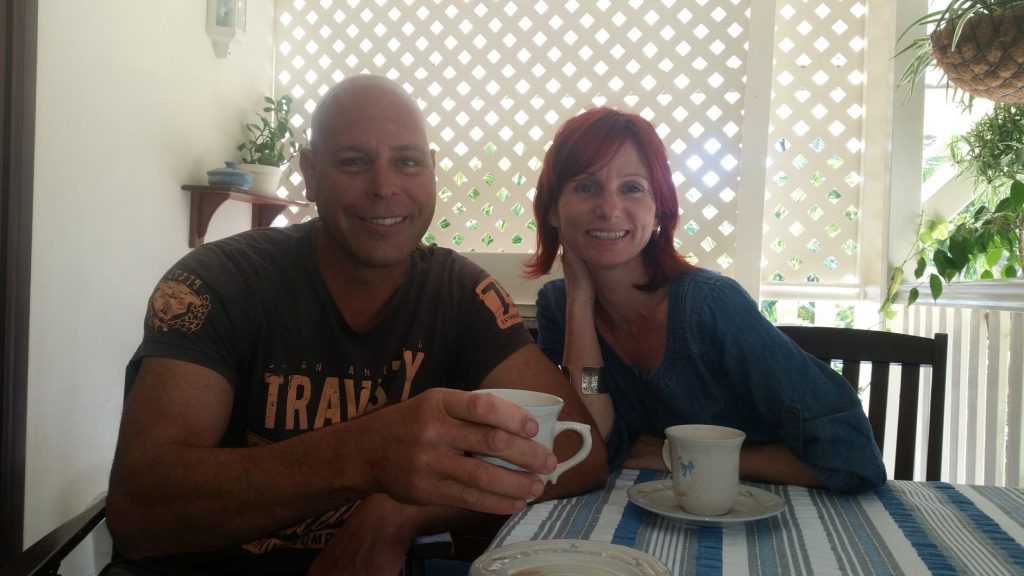 Morning cup of tea on the Veranda at Debbies Place
What activities can I do at Rainbow Beach?
Rainbow Beach is full of activities on land, in the sky and in the sea. There are some fantastic things to see and do that will make a real memorable experience and impressive photo collection.
So tick a few of these off your bucket list:
Where can I find a tasty meat pie at Rainbow Beach?
The best place for a meat pie and cream bun is at Ed's Bakery. Voted Australias #1 Bakery by Creek to Coast viewers. The range of pies includes some sensational gourmet flavours.
They also make great made to order salad sandwiches and roast beef rolls. You will find the bakery located at the Shell Service Station Complex 36 Rainbow Beach Road.
You cant miss it as you head into town. Its located on the left coming into town.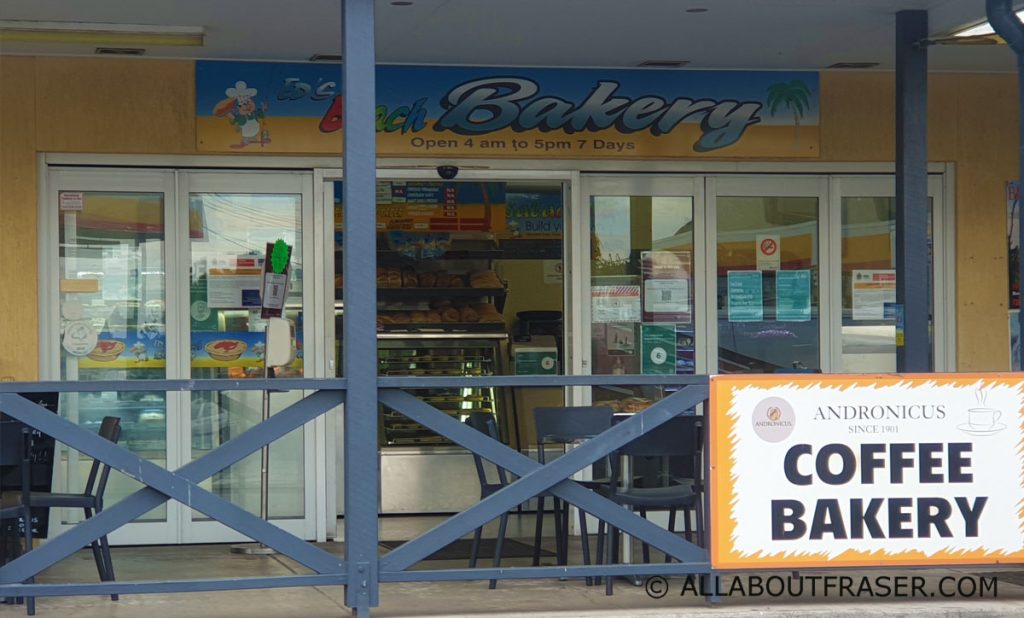 Ed's Beach Bakery
What else is there to know about Rainbow Beach?
Rainbow Beach is only a small little town along the Queensland coast with approx 1300 local residents. There is more accommodation rooms than actual local homes built in the town. You will find some great shopping and cafes along with other conveniences including:
Local post office
Newsagent
IGA supermarket
Gourmet Butcher
Organic Fruit and Veg shop
Bottleshop
Local Surf club
Town Pub
Doctors surgery and chemist
Rainbow Beach is definitely worth the visit. You will not be disappointed. It is a relaxed and quaint town with friendly locals that welcome visitors that come to visit.
There may not be any high end nightlife ( except for happy hour at the local Backpackers) but sunset on the beach overlooking Fraser Island is better than any night on the town.