If you planning a trip to Fraser Island and taking your own 4WD vehicle there are a few important requirements that you will need to follow.
We will provide you with some valuable knowledge about setting up your vehicle and the government permits that you will need before you leave and while you are on the island.
Vehicle Preparation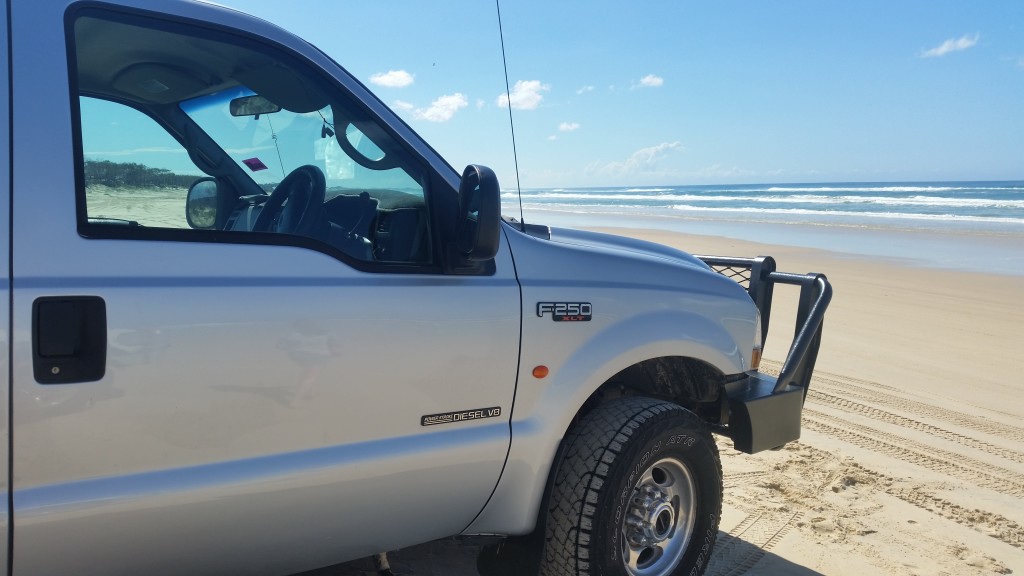 A 4WD is needed on Fraser Island
Service Your Vehicle First
Before you visit, make sure to get your vehicle serviced. There are no mechanical workshops on the island.
But there are plenty of tow truck operators that will charge you a small fortune if you break down and need to be trucked off.
So it is a good idea to service your vehicle first.
We would recommend that you do a basic service on your vehicle for greater peace of mind.
Check oil and water levels, and tyre suitability and ensure everything is mechanically sound.
A worthwhile investment is to have your vehicle rust-proofed as the sand and salt cause immediate corrosion.
Also, a good idea to grease the moving parts on your vehicle where possible.
See more about Vehicle Preparation Here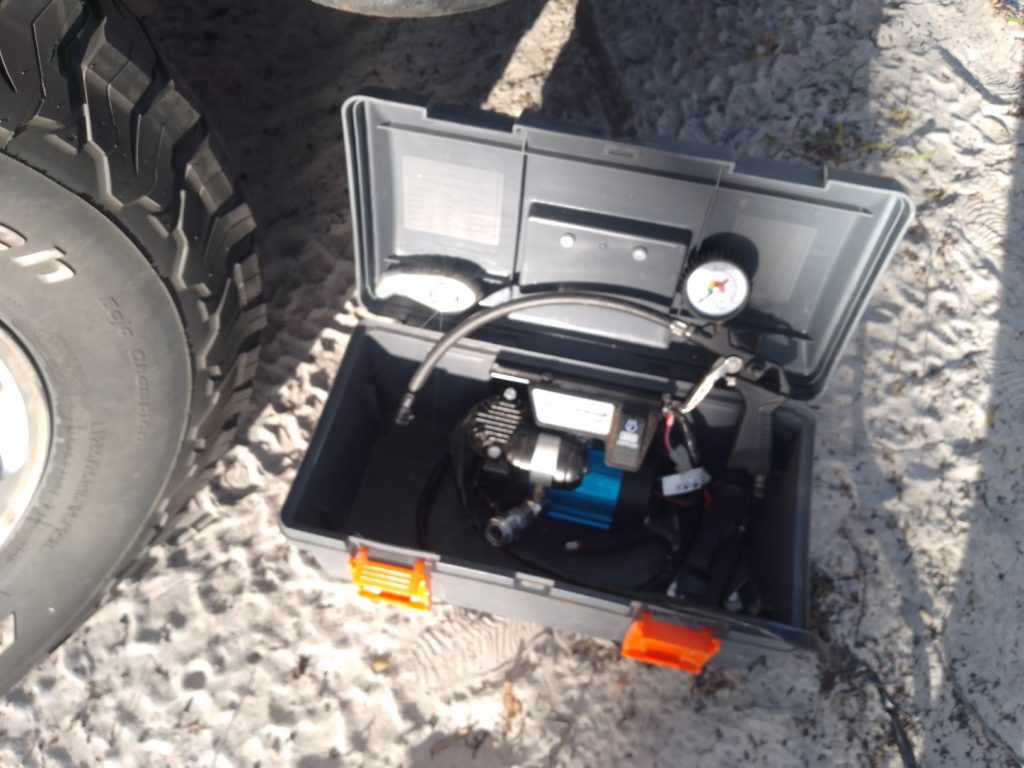 Pack Some Recovery Gear
Equip your vehicle with some basic recovery gear.
We don't carry anything fancy or expensive It is easy to go overboard and buy heaps of equipment, which is not necessary.
Carry basic emergency gear that is relevant to the conditions on the island.
Here is a basic list we put together.
Recommend Gear to Carry
Radiator coolant
A basic mechanical kit with a spanner set
gaffer tape
a can of WD40
jumper leads
zip ties
and a spare fan belt.
Most of the vehicle breakdowns seem to be either flat batteries, electronic failure (in modern vehicles due to salt moisture), fan belts or burnt-out clutches.
If you carry the right recovery gear, it may save you time and money if you ever get stuck or break down.
It's a hefty bill if you have to be towed off the island and some insurance policies do not insure travel on Fraser Island, so check your policy.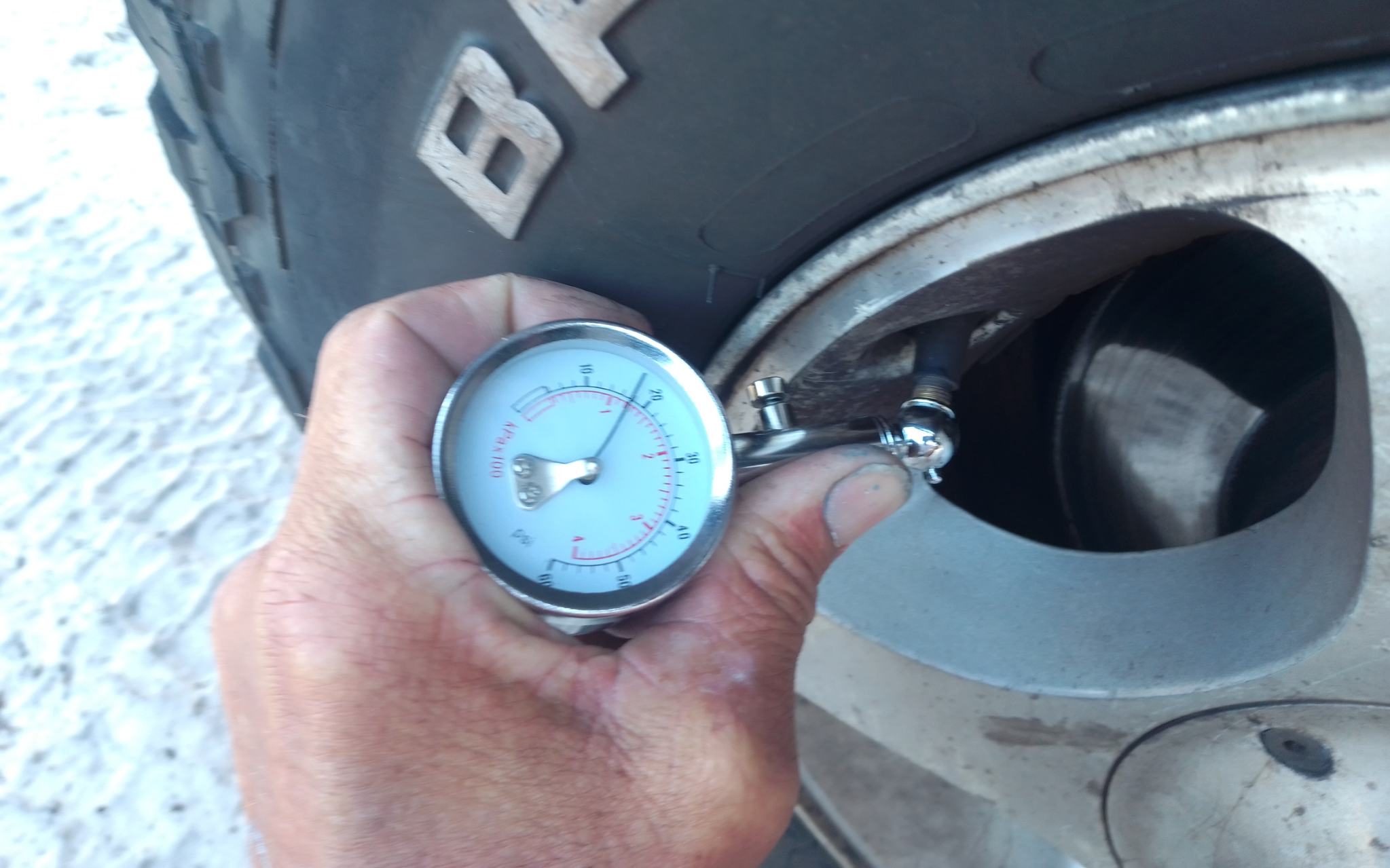 Best Tyre Pressure
Tyre pressure is extremely important when driving on the sand. We can not stress this enough. You MUST let your tyres down at Inskip Point before hitting the sand.
Our family has been driving all around Fraser Island for more than 20 years. Including many hundreds of trips across Inskip point to the barge. We have witnessed countless bogging's.
From our experience, these are the best pressure guides.
Tyre Pressure Guide
4WD only – 18-20 psi of tyre pressure
4WD + trailer (box trailer or camper-van) – 12-18 psi of tyre pressure
4WD + Large Boat or Caravan – 12-16 psi of tyre pressure

Generally, vehicles that get bogged have not let their tyres down sufficiently or not at all. Their tyre pressure is up way too high (25-40 psi). This will always result in bogging.
Note: Tyre pressures can vary. In our experience, 18-20 psi has been ideal for our vehicle ( Toyota Land Cruiser V8 ) when we drive along the beach.
Tyre pressures can vary depending on track conditions. We may lower this on some tracks or in particularly soft sand. Then raise the pressure on harder sand.
Expect to make adjustments.
Lower is usually better than higher until you get a feel for it.
The firmer the surface is, please ensure you put more air into the tyres (18-20psi) particularly if you are doing higher speeds.
High speeds with low tyre pressure are also fraught with danger. Use your common sense and everything should be fine.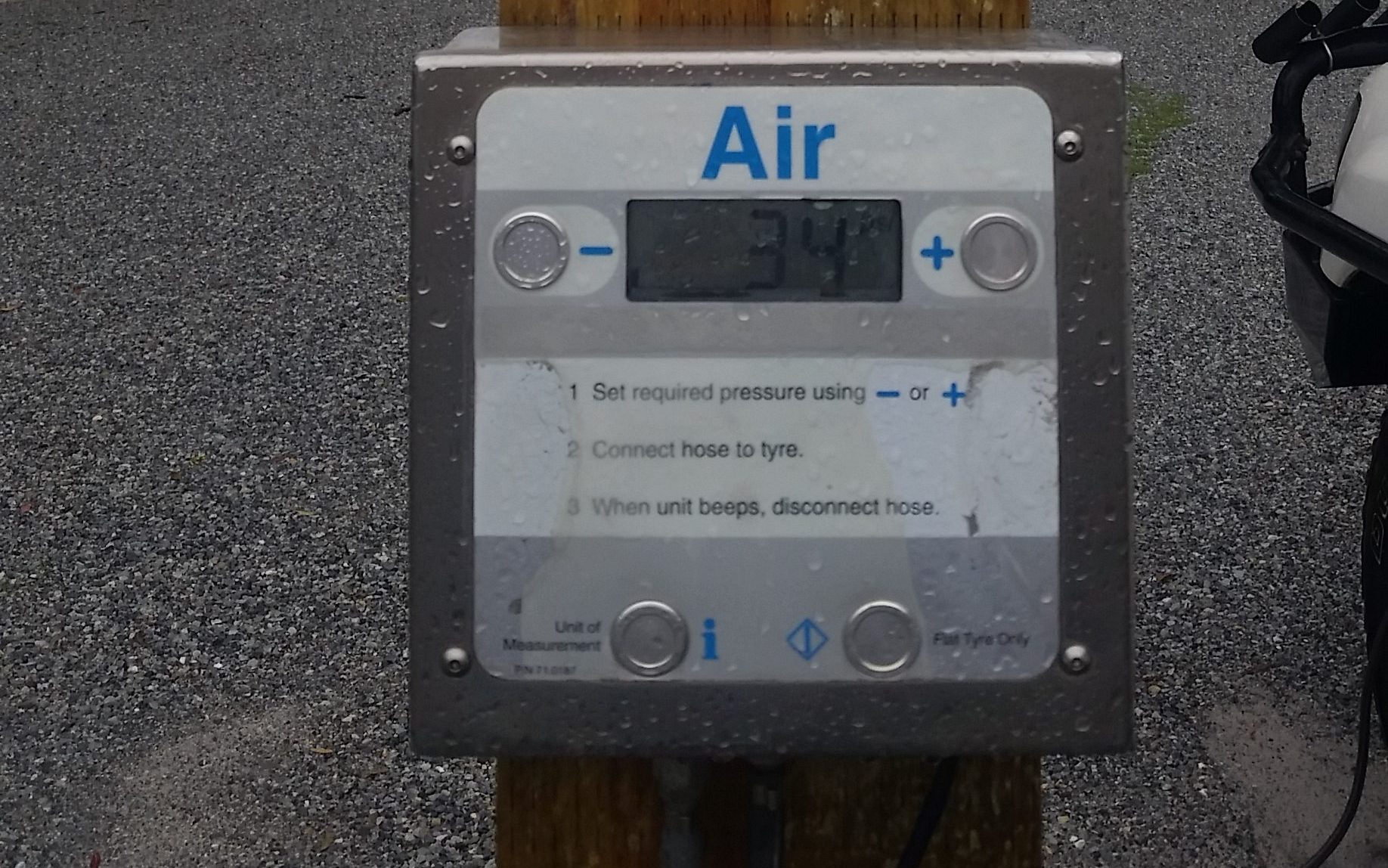 Why Reduce Tyre Pressure?
When you reduce the tyre pressure. For example: under 25psi. It increases the width of the tyre against the sand. This helps your vehicle float over the top of the sand better.
Whereas an inflated one tends to drive the tyre deeper into the sand. Resulting in a bogging.
If you get bogged, you should reduce the pressure again.
Vehicle and camping Permits
If you are planning a trip to Fraser Island in your vehicle you will need to organise a few permits
Vehicle access permit
Camping permit ( if you plan on camping in a tent, swag, camper trailer, or caravan)
Barge transfer ticket
All permit bookings can be made online with the Queensland National Parks Booking Service or over the phone at 13 QGOV.
Vehicle Access permits
A vehicle access permit must be obtained before entering the National Park area of Fraser Island.
The permit can be ordered online prior to arrival or by calling the Call Centre 131340
Alternatively, you can obtain your permits at :
QWPS Rainbow Beach Office (7 am – 4 pm daily) ph: 07 54863160 – Main road into Rainbow Beach
River Heads Info Office – Barge landing car park – (6.15 am – 11 am daily )
Marina Kiosk Hervey Bay – Urangan Boat Harbour – (6 am – 6 pm daily)
It is important that the permit is clearly displayed and obtained prior to going to the island (or other areas that require these types of permits). Failure to do so could result in fines from the government.
They must be placed on the left-hand side of the windscreen so that they are clearly visible.
It's always a good idea that once you have printed the permit if you did it online, you place it in a zip lock bag and tape it to the interior windscreen. This will just protect the permit and make it easier to remove after you have finished with it.
Here are the costs for booking a vehicle permit.
1 month or less = $55.90
More than 1 month (up to 1 year) = $281.40
Note that permits must be purchased in advance before going to the island. You cannot buy a permit on the island!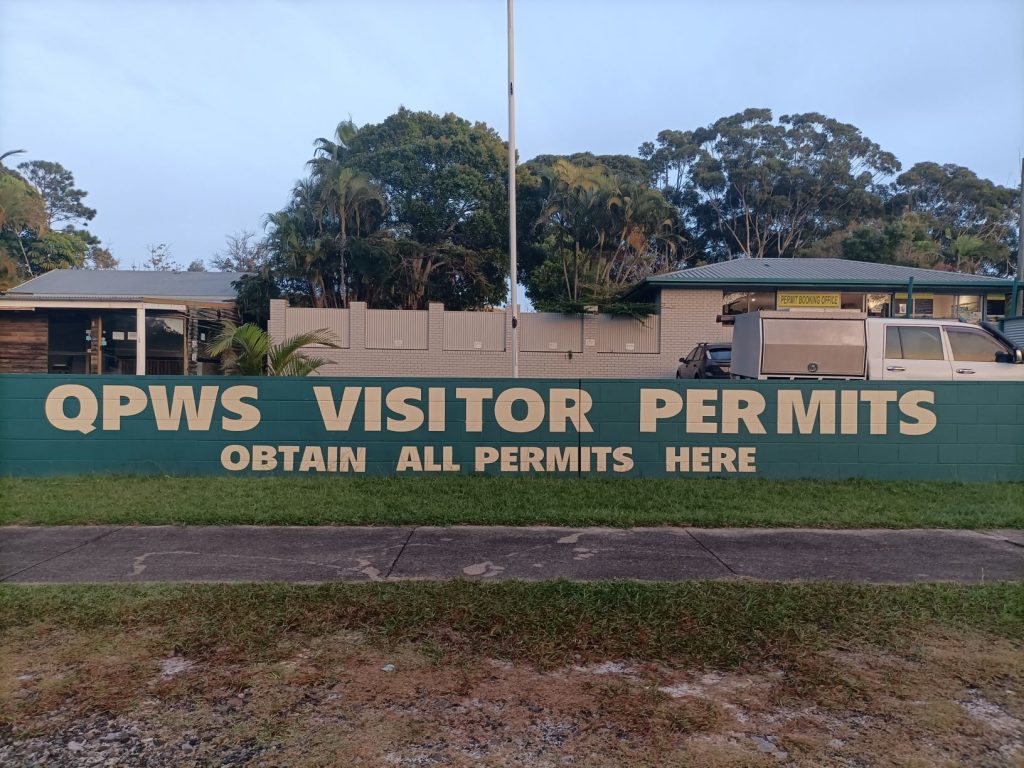 Camping Permits
If you are planning to camp on the island you will need a camping permit. This will be required if you plan on camping along the beach freestyle in a designated zone or if you plan on camping at a managed campground that is fenced and has facilities.
You can book this permit online here. This link will take you to the gov. site where you can directly book all the permits that are required for your visit.
If you are unable to book your permit online you can also obtain one at the QPWS office at Eurong or Rainbow Beach.

Cost of the Camping Permit
From 1 July 2022, the following costs apply for camping on Fraser Island.
$7.00 per person per night, or $28.00 per family per night
$3.85 per person per night for students and accompanying adults on approved educational excursions.
Family rate
A family group is defined as one or two adults and accompanying children under 18, up to a total of eight people. Children under five years of age camp for free.
This camping cost does not include any cost for hot water or showers that are provided at the managed camped grounds. You will need plenty of gold coins for this luxury.
Important note
You must place your camping permit at a visible point on your tent or campsite. This is so that when the Park Rangers come to check your site they can clearly see it, especially if you are away from your site at the time of their visit.
It's a good idea to place it in a weatherproof ziplock bag with a zip tie to attach it to a pole or similar.
The camping permit displays information such as :
the location you have booked
your name
your arrival and departure dates
vehicle registration number
number of people booked on the permit.
This is what the Park Rangers will be checking for. And they will visit. So be sure to have this prior to your arrival on the Island.
Ignorance is no excuse they will fine you.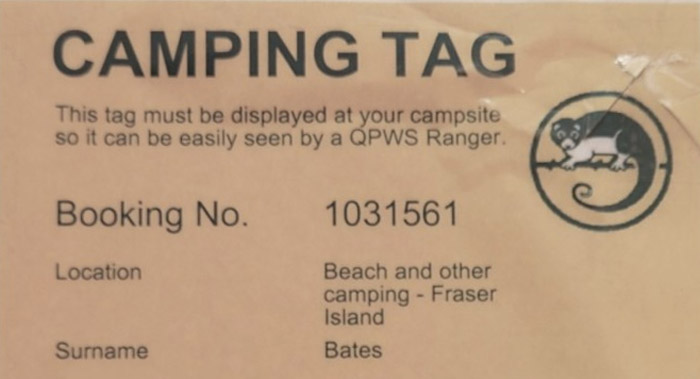 A camping permit that is required by QPWS
Managed Camping Grounds to Explore
Eli Creek campground
One Tree campground
Wongai campground
Fraser Island Driving Times