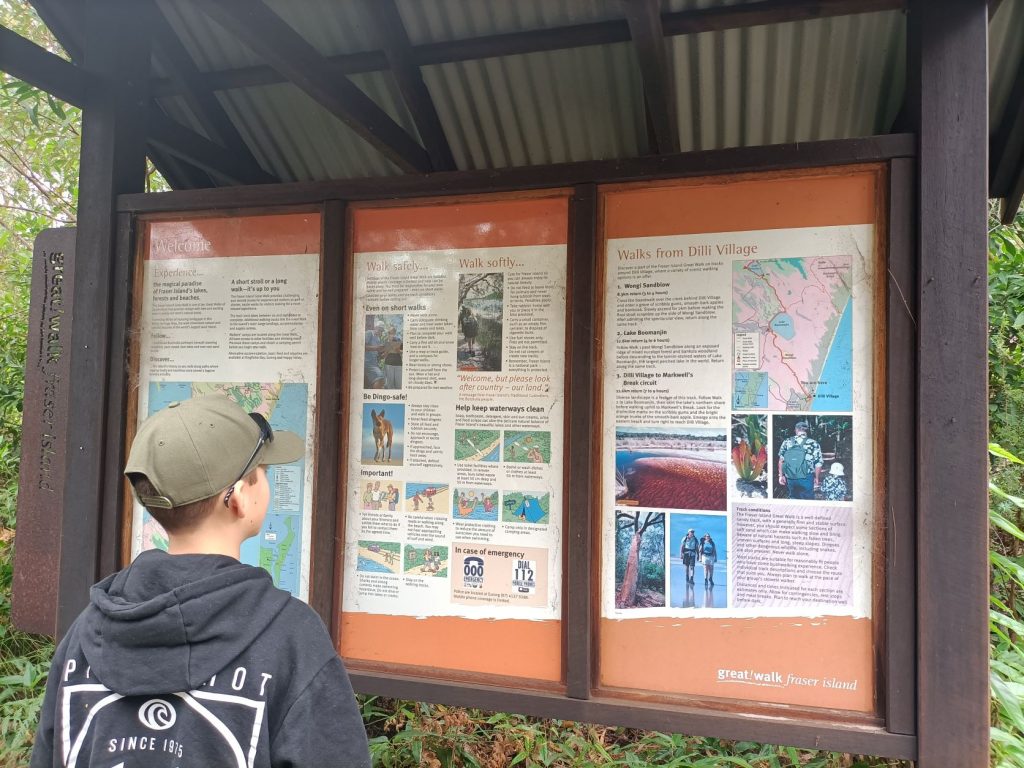 Dilli Village is predominately an Educational Base Camp. You can access the village from the Barge Landing at Rainbow Beach (Inskip Point) then travel across to Fraser Island on the barge.
The barge ride takes approx. 20 minutes and lands you at Hook Point where you disembark.
From Hook Point you can either travel by:
4WD Vehicle – it is approx 24 Kms north of Hook Point or 12.5Km south of Eurong.
Walk – 24Km takes approx 10 hours
Driving from Hook Point to Dilli Village on Fraser Island
The best way to explain the drive is by actually showing you. We travel along 75 Mile Beach then see the sign to Dilli Village. From here we go on a sandy track inland to reach the village.
Please watch our video and it will explain the drive and the track as well as show you a little of the grounds at the village.
What's in the village?
The actual Dilli Village site is a camping ground located between a strip of former beach ridges located between two
parallel creeks — Govi and Gerrawea.
It is only 200 metres from the beach but you will need to cross the pedestrian bridge over Govi Creek to gain access to the grounds.
It is a great location to stay if you plan on doing a bit of swimming or fishing in the ocean. Once your done in the salt water you can wash off with a refreshing dip in Govi Creek.
The camping area is grassy with some shady tress scattered around the grounds. It also has a Dingo Protection fence for added safety of visitors and their belongings.
What accommodation is in Dilli Village?
Dilli Village is a great place for staying if you are holidaying with a large group of family or friends. It has a variety of accommodation options.
Groups travelling together will be accommodated in one area. Bookings for such occasions are essential.
COST for Camping
Site: A$10 per night
Adults: A$15 per person, per night
Children 6–12 years: A$8 per person, per night
Children under 6 years: free of charge
Powered sites are A$5 extra per site per night (please note that these are 10amp outlets suitable only for lighting, fridges and charging phones)
Extra vehicles are $10 extra per site per night (please note that ability to bring more than one vehicle per site may not be available during peak times)
25 Campsites- 9 powered & 6 unpowered sites.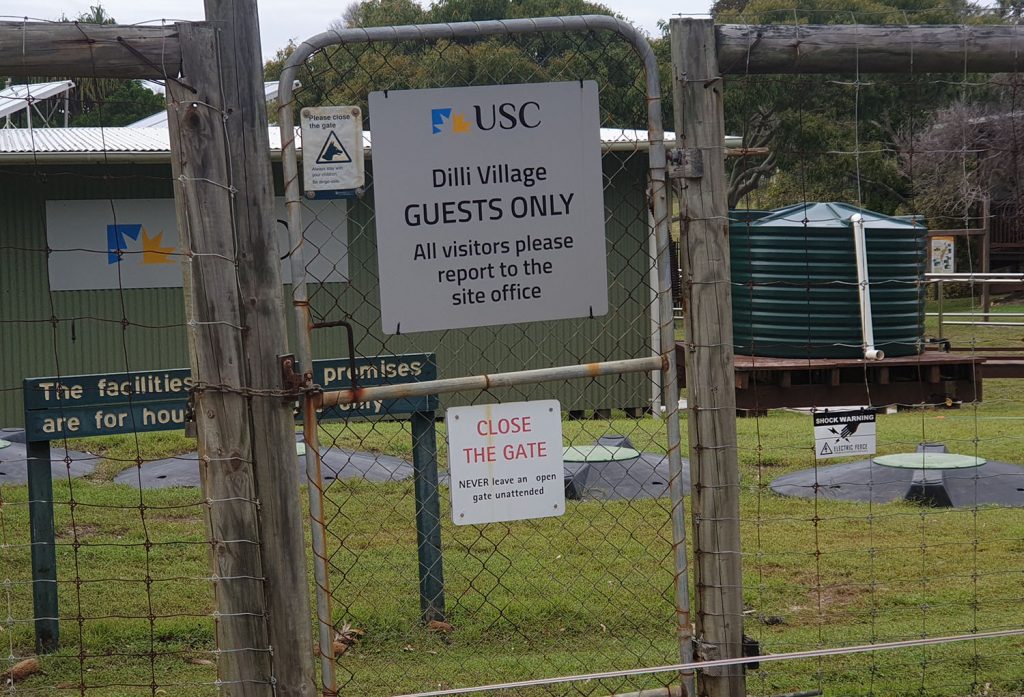 Other Accommodation options
5 Bunkhouse Blocks – 4 rooms in each block x 2 beds per room ( $70 per room per night)
6 Self Contained Cabins – 2 Bedroom, sleeps 4, $160 per night includes linen
Cabins are self-contained and include a toilet and shower, as well as a small kitchenette with sink, fridge, kettle, toaster, microwave, and crockery and cutlery provided.
Environmentally friendly soap, shampoo and conditioner are provided in the cabins and the amenities block.
Bed linen sets including sheets, pillowcases and bath towels are provided as part of the accommodation costs in the cabins and bunkhouses. If you require extra sets of bed linen, these can be hired for A$15 per set.
It also has a large centrally located amenities block and a main building that has a kitchen and dining area.
A personal protection fence has been erected to protect campers and their food from the Dingos.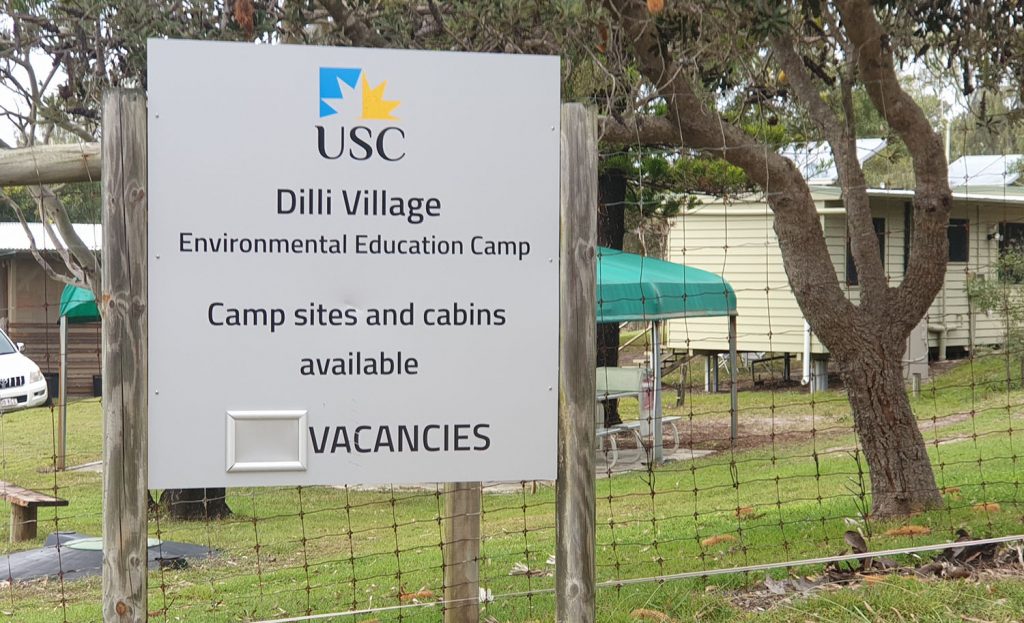 How do you book accommodation or a camp site at Dilli Village.
Dilli Village is managed by the University of Sunshine Coast NOT Queensland National parks like all the other comping grounds.
To book, use the online Dilli Village accommodation booking form or telephone the Dilli Village on-site caretakers direct on +61 7 4127 9130 or +61 7 5456 3520.
Can you stay at Dilli Village for the day?
Yes you sure can.
Picnic and barbecue areas, a lawn area, picnic tables, toilets and hot showers are available for day-use by visitors. All visitors however must check-in at the site office upon arrival and be given a site briefing.
Cost for Day Use
Vehicle charge: A$15 per vehicle up to four people then A$2.50 per person for each additional person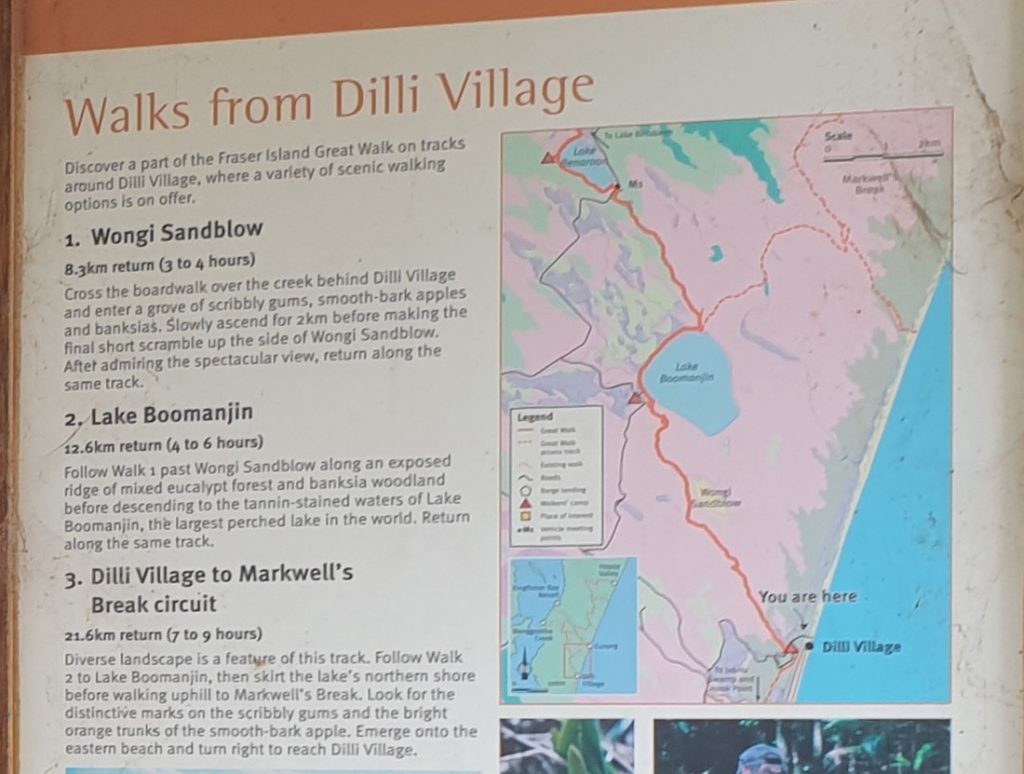 The Great walk Fraser Island Walking Circuit
Things to do when staying at Dilli Village
As Dilli Village is primarily a base camp it is a spot just to enjoy the surroundings and be immersed in nature. Most people that stay at this camp are there to experience a bit of hiking.
The grounds are a short 150 meter walk to the start of the famous Fraser Island" Great Walk"
The Fraser Island Great Walk traverses 90km of stunning landscape between Dilli Village and Happy Valley.
The walk combines challenging and remote routes for experienced walkers, with shorter, easier strolls for day or overnight visitors.

Those that like to walk or hike have the option and flexibility to choose the duration and intensity of their walk.
To complete the entire 90km it is recommended to allow 5-7 days. This way it gives enough time to enjoy the trail and all the natural highlights along the way.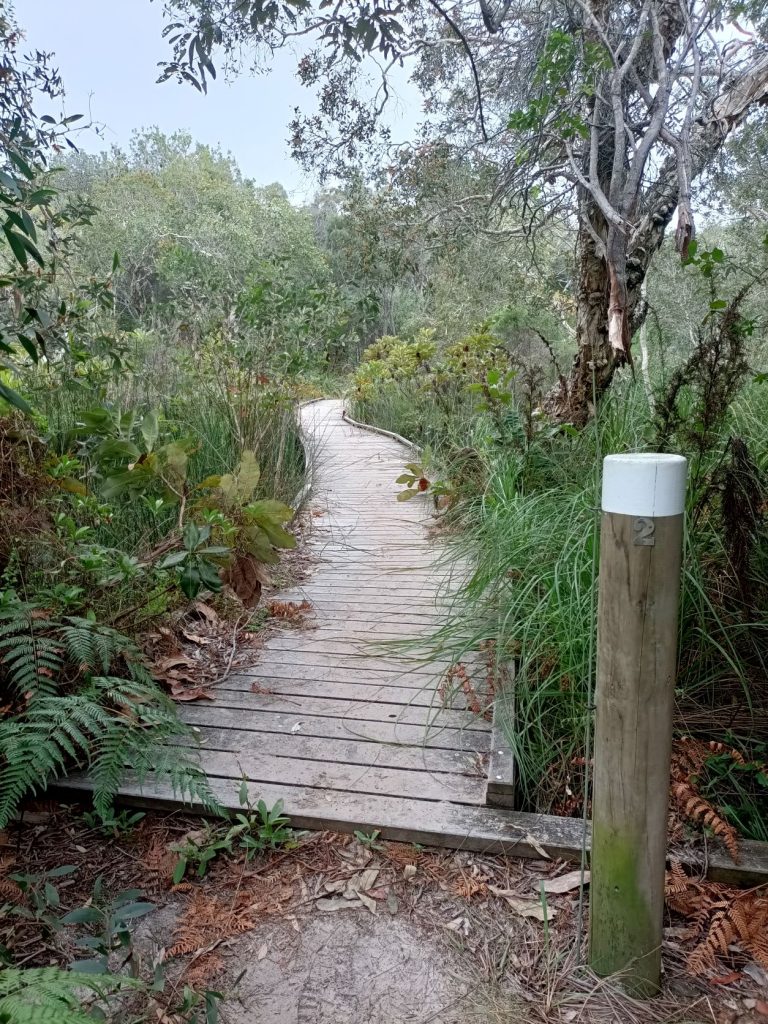 The Start of the Great Walk at Dilli Village
What to expect on the Great Walk
Lake Boomanjin – the largest perched lake in the world;
crystal clear water of Wanggoolba Creek at Central Station;
dazzling white shores of Lake McKenzie;
Wongi, Hammerstone and Badjala Sandblows;
variation of vegetation: open forest, heathland, wetland, vine forest and rainforest;
giant rainforest trees, particularly within Valley of the Giants; and
historic areas of Bogimbah Creek and McKenzies Jetty
Distances between walks on the Great Walk trail
Dilli Village to Lake Boomanjin. 6.3km (2 – 3 hours)
Lake Boomanjin to Lake Benaroon. 7.2km (2.5 – 3.5 hours)
Lake Benaroon to Central Station. 7.5km (2.5 – 3.5 hours)
Central Station to Lake McKenzie – Option 1 via Basin Lake. 6.6km (3 – 4 hours)
Central Station to Lake McKenzie – Option 2 via Pile Valley. 11.3km (3.5 – 4.5 hours)
Lake McKenzie to Lake Wabby. 11.9km (4 – 5 hours)
Lake Wabby to Valley of the Giants. 16.2km (5.5 – 7.5 hours)
Valley of the Giants to Lake Garawongera. 13.1km (4.5 – 6.5 hours)
Lake Garawongera to Happy Valley. 6.6km (2.5 – 3.5 hours)
Short Walks from Dilli Village
Dilli Village to Wongi Sandblow 8.3km return (3 – 4 hours)
Dilli Village to Markwell's Break 21.6km return (7 – 9 hours)
Dilli Village Photo Gallery
Where is the nearest cafe or shop to Dilli Village?
As Dilli Village has no commercial centre so the closest place for food, fuel or other amenities is Eurong.
Driving time to Eurong is approx 30 minutes from Dilli Village along 75 Mile Beach.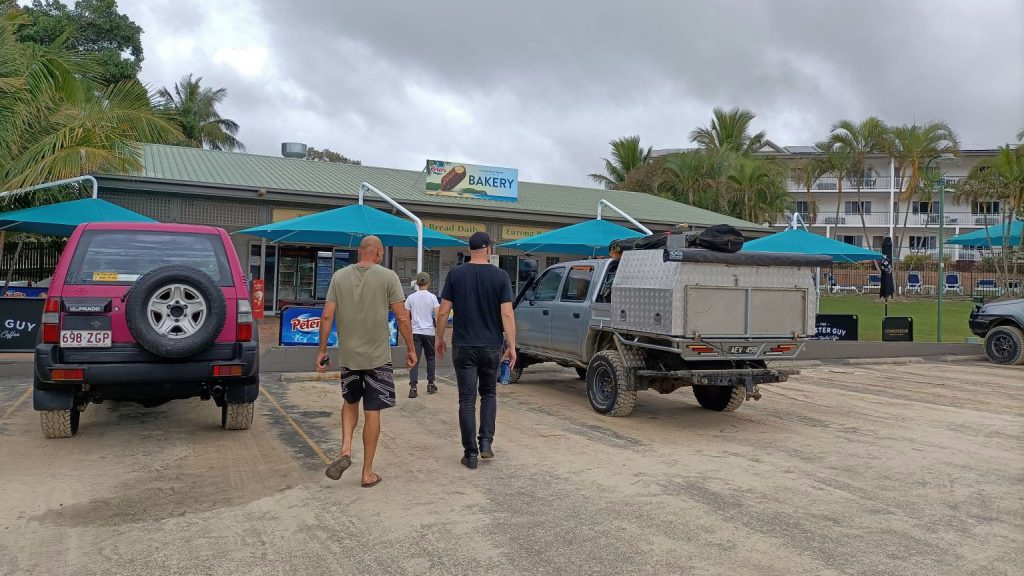 The township of Eurong at the Bakery
As for all beach driving on the island you need to be aware of the tides when travelling. Ideally 2 hours either side of Low tide is ideal for the beach driving.