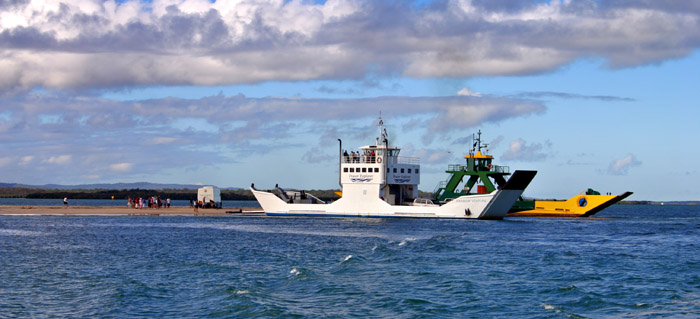 If your travelling by vehicle ( 4WD only ) from Rainbow Beach to Fraser Island you will need to catch a " Manta Ray " barge across from Inskip Point that will land you on Fraser Beach at Hook Point.
The Fraser Island barge leaves Inskip Point 7 days per week 365 days a year
A booking is not necessary as it runs back and forwards from Inskip Point to Hook Point all day.
Crossing times are:
– from 6am till 5-30pm in winter
– from 6am till 6.00pm in the summer.
However there is a fee for the crossing over to Fraser island on the barge.
You can either pay on board with cash or by Eftpos on the upper deck.
If you are really prepared, you can alternatively purchase a ticket from one of the booking agencies in Rainbow Beach or you can purchase online here.
Each ticket purchase includes a return trip.
There is some helpful information that you need to know to ensure that you have a safe and hassle free barge trip
Helpful information about crossing on the Inskip Barge to Fraser Island
Check that your vehicle tyre pressure is adequate for the beach conditions on the other side. Generally 18-20 psi is a good guide. See our vehicle guide.
You may find your vehicle in a line up behind other vehicles waiting for the Barge to cross if it is on the other side.
Once the line starts moving and you near the Barge you will be directed by an attendant exactly where to park as you drive onto the ramp.
Related: Beware the Graveyard: Don't Get Bogged at Inskip Point
It is a drive forward on and off. No reversing required.
Once on board you may purchase your ticket if you have not already purchased one from a booking office in Rainbow Beach.
If you plan on returning the same way ensure you keep your ticket somewhere safe for future reference.
The crossing takes about 15 minutes and gives just enough time to get out of your car and take a few quick photos and wave good bye to the mainland.
As a courtesy to other drivers please ensure that you and your passengers are seated and ready to move when the barge lands on the other side.
The attendant wants vehicles off in a hurry and has little patience with disorganised drivers especially when cars are lining up to get on.
A good indication to get ready is when the ramp starts to lower. Buckle up, start your engine, engage 4WD and be prepared to move off quickly.
But most of all, enjoy the Barge ride. Your Fraser Island adventure is just beginning !!
P S. Keep an eye out for the friendly dolphins that love to put on a little show as they race alongside the bow.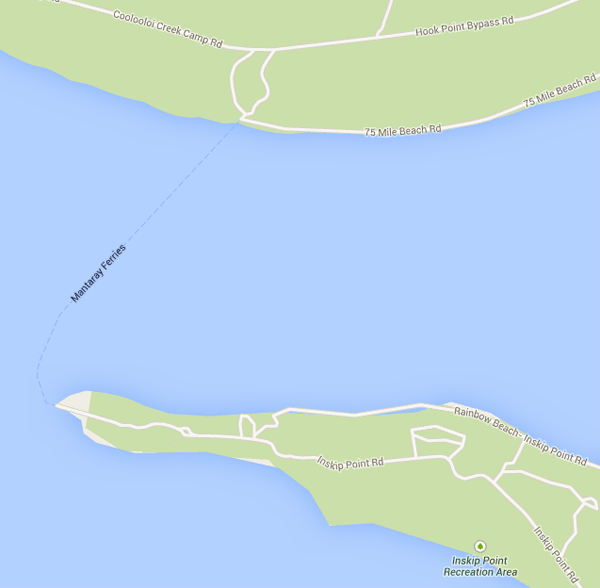 Where Does The Barge Cross at Fraser Island?
Departure Times: No Booking Required
Inskip Point to Hook Point 6am to 5.30pm (Extended hours in peak times)
Hook Point to Inskip Point 6am to 5.30pm
What Are The Fraser Island Barge Prices?
Vehicle incl Driver: $ 110.00
Additional passengers: $ no charge
Vehicle and Trailer / Boat / Camper / Caravan $ 170.00
Motorcycle and rider $ 50.00
Watch Rusty Ride The Manta Ray Barge
How To Contact The Fraser Island Barge?
Ph 07 54863935 or 0418872599
manta-ray@rainbow-beach.org