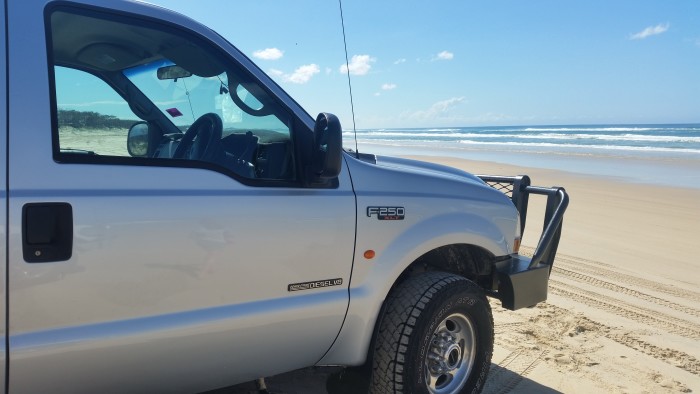 4 Wheel Drive Vehicle Preparations
Preparing your 4WD for your Fraser Island adventure is a must-do. Beach driving can be dangerous so you need to be prepared.
For many, Fraser Island is regarded as a 4WD enthusiasts' playground. It is 4WD Heaven so to speak!
Everything from driving the beach and sandy inland tracks, to crossing creeks and traversing rocky outcrops. It will surely get your heart racing.
Regardless of how much fun you have, we still need you to stay safe when on the island.
Here are our top tips to ensure you and your vehicle are well-prepared to visit K'gari and return home safely.
1. Service Your Vehicle
Before you visit, make sure to get your vehicle serviced. There are no mechanical workshops on the island.
But there are plenty of tow truck operators that will charge you a small fortune if you break down and need to be trucked off.
So it is a good idea to service your vehicle first.
We would recommend that you do a basic service on your vehicle for greater peace of mind.
Check oil and water levels, and tyre suitability and ensure everything is mechanically sound.
A worthwhile investment is to have your vehicle rust-proofed as the sand and salt cause immediate corrosion.
Also, a good idea to grease the moving parts on your vehicle where possible.
2. Carry Basic Emergency Recovery Gear
Equip your vehicle with some basic recovery gear. This is a list of accessories that we carry in our vehicle.
We don't carry anything fancy or expensive It is easy to go overboard and buy heaps of equipment, which is not necessary.
Carry basic emergency gear that is relevant to the conditions on the island. Here is a basic list we put together.
Recommend Gear to Carry
Radiator coolant
A basic mechanical kit with a spanner set
gaffer tape
a can of WD40
jumper leads
zip ties
and a spare fan belt.
Most of the vehicle breakdowns seem to be either flat batteries, electronic failure (in modern vehicles due to salt moisture), fan belts or burnt-out clutches.
If you carry the right recovery gear, it may save you time and money if you ever get stuck or break down.
3. Check Your Tyre Pressure
Tyre pressure is extremely important when driving on the sand. We can not stress this enough. You MUST let your tyres down at Inskip Point before hitting the sand.
Our family has been driving all around Fraser Island for more than 20 years. Including many hundreds of trips across Inskip point to the barge. We have witnessed countless bogging's.
From our experience, these are the best pressure guides.
What's The Recommended Tyre Pressure Guide?
4WD only – 16-20psi of tyre pressure
4WD + trailer (box trailer or camper-van) – 12-16psi of tyre pressure
4WD + Large Boat or Caravan – 12psi of tyre pressure
Generally, vehicles that get bogged have not let their tyres down sufficiently or not at all. Their tyre pressure is up way too high (25-40 psi). This will always result in bogging.
Note: Tyre pressures can vary. In our experience, 18-20 psi has been ideal for our vehicle ( Toyota Land Cruiser V8 ) when we drive along the beach.
Tyre pressures can vary depending on track conditions. We may lower this on some tracks or in particularly soft sand. Then raise the pressure on harder sand.
Expect to make adjustments.
Lower is usually better than higher until you get a feel for it.
The firmer the surface is, please ensure you put more air into the tyres (18-20psi) particularly if you are doing higher speeds.
High speeds with low tyre pressure are also fraught with danger. Use your common sense and everything should be fine.
Why Reduce Tyre Pressure?
When you reduce the tyre pressure. For example: under 25psi. It increases the width of the tyre against the sand. This helps your vehicle float over the top of the sand better.
Whereas an inflated one tends to drive the tyre deeper into the sand. Resulting in a bogging.
If you get bogged, you should reduce the pressure again. We have a guide for how to get out of a bog here.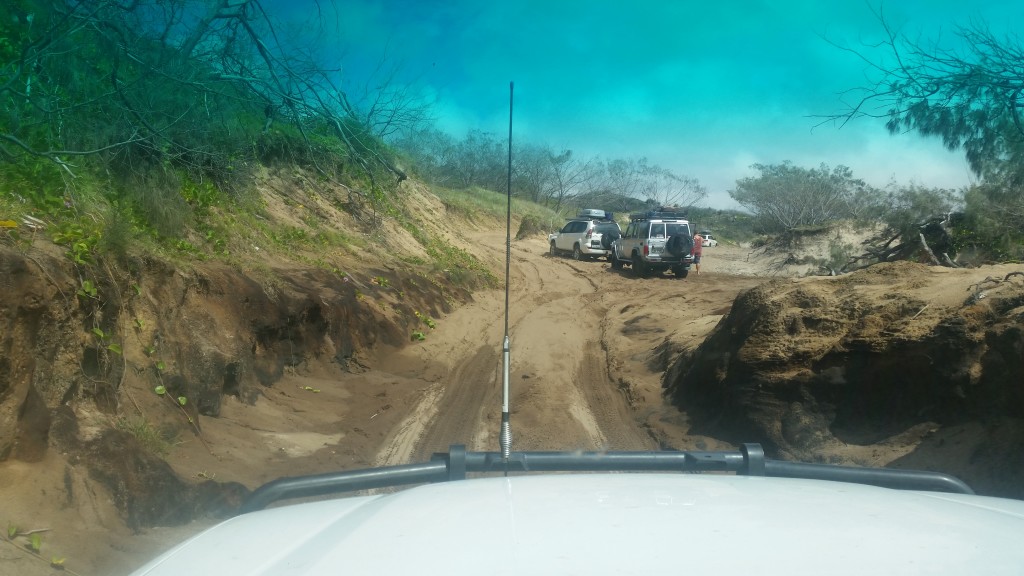 Tips for Deflating Tyres
When travelling from Gympie to Rainbow Beach. Stop to deflate your tyres under the trees in the shade at the Rainbow / Inskip campground prior to hitting the sandy track to the Barge.
If you are boarding the barge from River Heads Hervey Bay, it's a good idea to deflate your tyres while on the barge.
However, in the times that we have found ourselves bogged (especially towing a trailer or our boat), we have deflated the tyres to as low as 12psi to get ourselves out.
Once we are out of the boggy sand we will re-inflate the tyres back up to 20kpi to continue our journey.
Over the years we have seen hundreds of vehicles bogged at the Inskip Point waiting area. The local "Fraserites" call this spot the "Graveyard". The worst thing is seeing visitors who haven't even driven onto the Barge or reached the island yet. Stuck! Oh Dear, not a good start to your trip if this happens.

Rusty Boston (Fraserite)
The importance of preparing your vehicle with a service, carrying some basic recovery & breakdown tools and tyre pressure are simple things you can do prior to your Fraser Island adventure to minimise the stress on you and your vehicle.
Driving on Fraser Island (K'gari)
Do you need a 4-wheel drive on Fraser Island?
Yes, you must have a 4WD to drive on Fraser Island.
How to drive on Fraser Island?
Always have 4WD engaged while driving. Use low range for soft sand. Deflate and inflate tyres according to conditions. Don't stop or turn abruptly. Specificity with low tyre pressure on a hard surface with a fully loaded vehicle. Read more sand driving tips here.
Do you need a permit to drive on Fraser Island?
Yes. You need to have a permit to drive on Fraser Island. A RAM vehicle access permit is required before entering the National Park area of Fraser Island. More about Vehicle Permits here.
Do the same road rules apply on Fraser Island?
Yes. Australian road rules apply to Fraser Island. Even on the sand. Speed limits (max 80 km/h on the beach) and keeping to the left still apply. You can be fined for traffic offences just like on the mainland.
What if I get my 4WD bogged while driving on Fraser Island?
Stay calm and stop spinning your wheels. Point the steering wheel forward. Get out and access the situation. Clear the underbelly of sand. Continue Reading here
What is the best sand driving tip for Fraser Island?