Fraser Island snorkeling is a fun and exciting way to appreciate the enchanting underwater life. The marine wildlife of Fraser Island is one of the best in the world.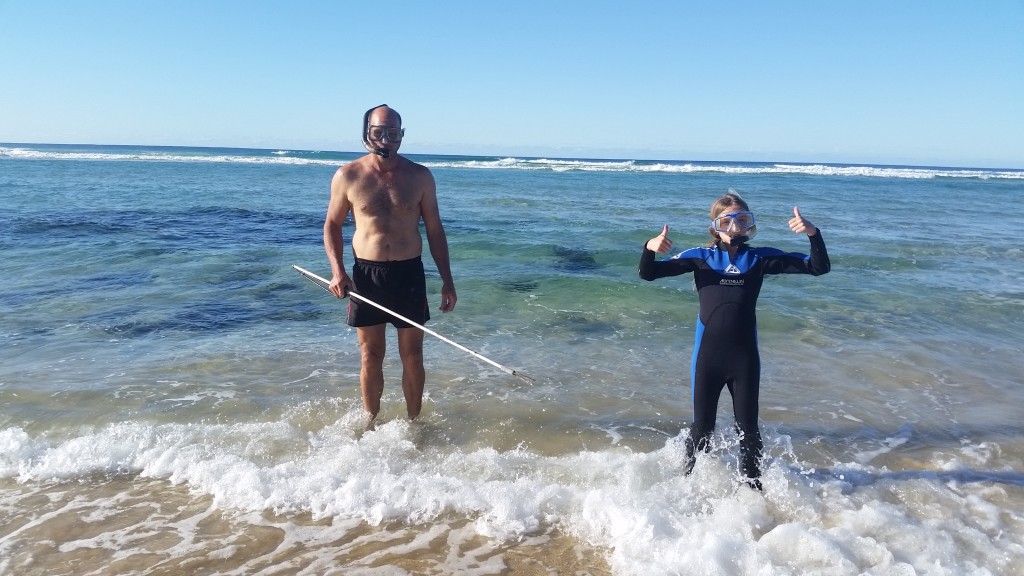 Being the largest island on earth, it's home to millions of marine species. Snorkeling on the island is a unique experience. From interacting with huge catfish on the island's deepest lake to snorkeling in rock pools and swimming with the turtles, you're going to love the thrill and adventure!
Can You Snorkel at Fraser Island?
UNESCO recognises Fraser Island as a World Heritage site for its outstanding natural universal values. Stretching over 120km off Australia's Eastern Queensland coast, it is undoubtedly the largest sand island in the world.
There are so many things to see and do on Fraser Island. Whether you are staying for a couple of days to several weeks, every day is a unique experience. While you can tour the island for a day, it's best if you can extend your stay for at least three days.
Since the island is so big and offers plenty of attractions, extending your trip is a great way to maximise your vacation. If you love being in the water and interacting with marine wildlife, you might be wondering if you can snorkel at Fraser island.
Of course, you can! Aside from swimming, driving along the 75-kilometer beach coast, swimming in Lake McKenzie, boating, and fishing, you can explore the underwater life of Fraser Island through snorkeling.
Where Can You Snorkel on Fraser Island?
Before you grab your snorkeling gear, there's something you should know. The ocean surrounding Fraser Island is not intended for snorkeling. The tides are often so aggressive, so as the wildlife!
You really don't want to be anywhere near the sharks, do you? The ocean is also off-limits for swimming and other activities besides fishing.
So, where can you snorkel on Fraser Island? Luckily, there are lakes and creeks within the island that are great for snorkeling. If you're a beginner or travelling with kids, lakes are a safe place to experience all the life that occurs under the surface.
Below are some of the top spots for snorkeling in Fraser.
Lake Wabby for Freshwater Snorkeling
You can find this tiny, beautiful green-colored lake on the eastern side of Fraser Island. Of the 40 dune lakes on the island, Lake Wabby is the deepest.
For this reason, the lake has become a popular spot for boating and fishing, swimming (just make sure to wear a vest), and of course, snorkeling. Since it's pretty deep, diving in the lake is discouraged.
The best thing about freshwater snorkeling is you don't have to dive deep to see the beauty of the freshwater environment. In most cases, you only need a pair of goggles, a mask, and fins.
Since Lake Wabby is pretty close to the ocean side of Fraser, you can expect several varieties of fish and other forms of marine life. It's also home to freshwater turtles. You'd also be amazed by the abundance of catfish that almost looks like sharks.
Since catfish have a docile nature, you can get close without disturbing them. You might also encounter rainbow fish and the rare honey blue-eye, which is endemic to Southeastern Queensland. If you notice small fish nibbling the dead skin off your feet or tickling your legs, that's them!
The freshwater lake is also surrounded by extensive forests, making it one of the most stunning sites on Fraser Island. Before snorkeling, take a walk to wander around the area and appreciate its majestic beauty.
Unfortunately, in a hundred years or so, Lake Wabby will disappear. Being a barrage lake, the giant dune that borders Lake Wabby will eventually move into the lake and cover it. So while it's still there, don't miss out on the opportunity to see and explore its beauty!
Champagne Pools for One-of-a-Kind Saltwater Snorkeling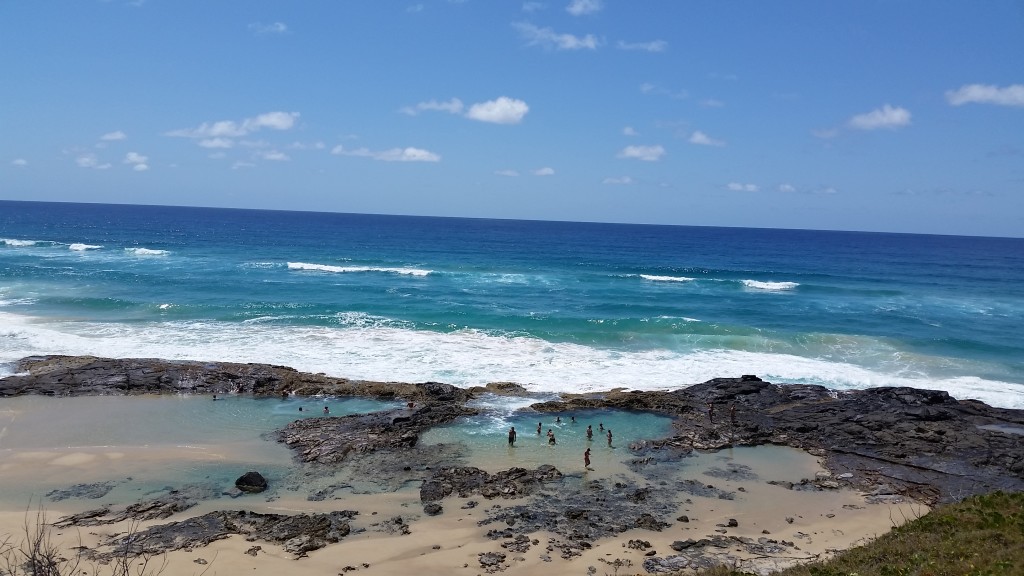 Champagne Pools are a great place for snorkling
If you prefer snorkeling in saltwater instead, no problem! Just because you can't snorkel in the Fraser ocean doesn't mean you can only visit the lakes.
For a totally different Fraser Island snorkeling, you should check out the Champagne Pools in the northern part of the island. They are one of the most stunning places on Fraser, so even if you don't want to swim or snorkel, your trip to the Champagne Pools is worth it.
Champagne pools are basically rock pools; volcanic holes in the rock that are constantly filled and emptied by tides. These pools are nature's jacuzzis. The rocks also stand in the path of the crashing waves, creating a beautiful bubbling effect, just like sparkling champagne.
Thanks to the rocks, the area is also protected from sharks, so you can safely swim and snorkel in Champagne Pools. Each "pool" is large and deep and harbors diverse marine life. Expect to see crabs, fish, starfish, and different kinds of marine plants.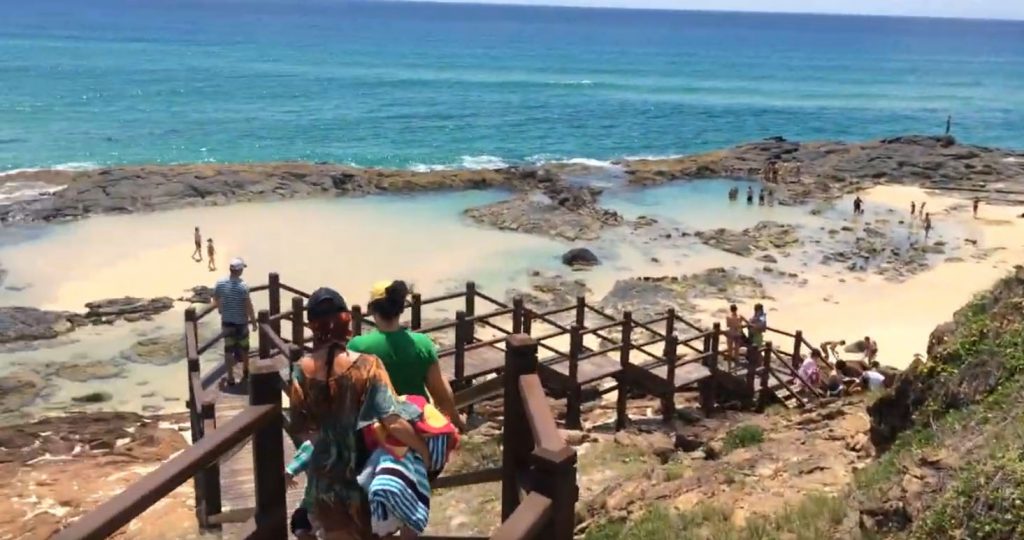 The Champagne Pools are also bigger than the average rock pool, which makes it snorkeling-friendly. With your goggles and mask on, you can catch a glimpse of the "mini" underwater
worlds as you hop from one pool to another. Just make sure to wear a pair of reef shoes to avoid painful cuts from the jagged rocks.
The Champagne Pools are the only saltwater spot on Fraser Island where tourists and locals can swim. The best time to visit the pools is during low tide since you have to drive the 75-mile beach to get there. You see, you can only drive on the beach when it's just hard sand and no water.
Don't worry. There would still be enough water in the rock pools to swim and snorkel, and the aggressive waves won't slap you.
Related: Visit Champagne Pools on Fraser Island
Lake Allom for Freshwater Snorkeling With Turtles
Lake Allom is every nature lover's paradise. This amazing attraction on Fraser is where you can see hundreds of river turtles poking their heads out from the water.
Lake Allom is home to Kreff's river turtles which are highly identifiable due to the yellow streak on the side of their heads. These beautiful marine creatures are not aggressive, so you can swim with them. With your goggles and mask on, you can get up close and personal with these freshwater turtles.
Aside from snorkeling, there are other fun things to do in Allom Lake. It's an ideal spot for a family picnic or camping. There are picnic tables provided so you can chill out and eat.
Before you go back to your hotel, you can also take a scenic drive in your 4WD. It will be a challenging drive due to the sandy road, but you will be rewarded with impressive sights and picturesque views of dense rainforests surrounding the beautiful lake.
Fraser Island Snorkeling Tours
If you want to make the best of your Fraser Island adventure and skip the hassle, you should seriously consider joining a guided tour. Many companies offer Fraser Island snorkeling tours, which most likely cover all of the aforementioned destinations.
Tour packages are mostly inclusive of your entire Fraser Island escapade. Your guide will pick you up at designated locations, such as Hervey Bay, and from there, take you on a scenic tour around the island.
What's great about these tours is that you will have a knowledgeable tour guide. You won't be wasting so much time trying to figure out how to get to the island's snorkeling spots.
They can arrange everything for you so you can focus on enjoying your trip. Snorkeling gear is also included in most packages, but you can always carry your own if you want.
One thing you have to keep in mind is to choose the best provider of snorkeling tours. There are so many companies that offer travel guide services on Fraser.
Look for a company that has a solid reputation and experience and is known for its excellent customer service.
Frequently Asked Questions
1. Do I Need a Snorkel for Fraser Island?
As mentioned, if you're availing of a snorkelling tour in Fraser Island, they will provide the gear you need. However, if you're backpacking, solo travelling, or you snorkel frequently, it's a good investment. Also, in some destinations, you might be required to bring a few basics, such as a mask, snorkel, fins, and wetsuit.
2. Can You Swim on Fraser Island Beaches?
People are discouraged from swimming in the ocean and along the coast. Aside from the very dangerous rip tides, there's also a huge population of sharks on Fraser Island. In fact, it is often described as the "most dangerous" beach in the world.
You can, however, swim in Fraser Island lakes. The island has some of the most stunning lakes where you can swim and interact with marine wildlife. The Champagne Pools are the only saltwater where tourists and locals can safely swim.
3. Are There Sharks at Fraser Island?
Yes. The vast ocean surrounding the island is a favourite hangout of great whites and tiger sharks. Great whites are often spotted in shallow waters where they hunt for food.
Snorkeling in Fraser Island
Fraser Island is among the best destinations for freshwater and saltwater snorkeling. You can either book guided tours or explore the island on your own. You will also love its beautiful scenery, making your visit and vacation worthwhile!