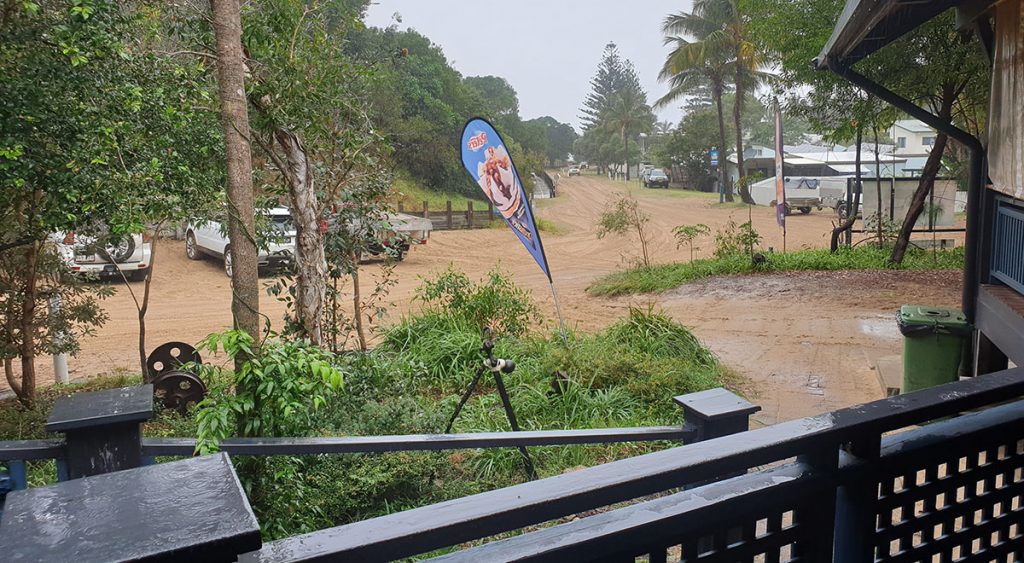 Down-town at the tiny town of happy valley on Fraser Island
If your doing a bit of research or planing a trip to Fraser Island, you may want to know what facilities and services are available at Happy Valley.
Read on, as we have compiled a detailed description of every thing you may want to know about this tiny Fraser Island township.
What Is Happy Valley?
Happy Valley is a small township on Fraser Island. It's a popular place to stay for tourists as it's conveniently located to some of the most popular attractions on Fraser island.
It is located approximately around the centre of Fraser Island which is just off the coast of Queensland on the Australian East coast.
The town has a small café, restaurant/bistro, public bar, general store, holiday rental homes and a holiday retreat, surrounded by some incredible sand dunes and amazing sea views that make Fraser Island so popular.
Where On Fraser Island Is Happy Valley?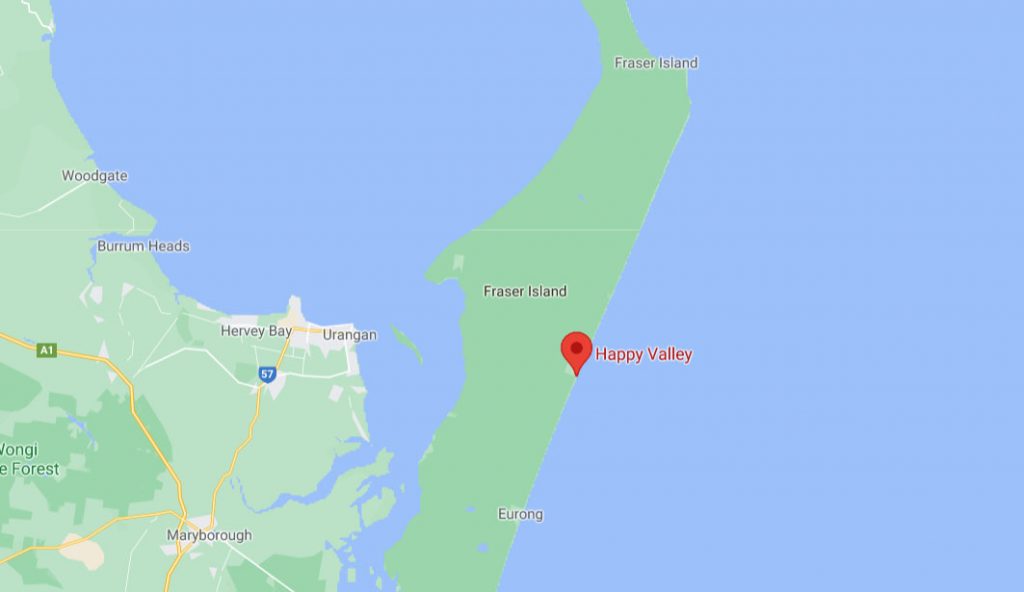 A map of Fraser Island showing where happy valley is located
The township of Happy Valley sits almost halfway up the eastern coast of the island along 75 Mile Beach. You will need to have a 4WD to drive along the beach to get there.
How to get To Happy Valley, Fraser Island?
You will see a large sign advertising the township as you drive along the beach. You cant miss it. The track from the beach up into the township can get a little hectic and often is in terrible condition.
Once at the top there is a public parking space that you can park your vehicle while you stop for a visit. This can be busy during peak seasons and often parks are hard to get so parking down on the beach and walking up is a better option.
How Long Does it Take to Get to Happy Valley?
The trip from the barge landing point at Hook Point to Happy Valley by vehicle takes about 50 minutes. This is providing that the beach conditions are good and you are abiding by the speed limits.
It may take longer if the tides are high or the beach is in bad condition.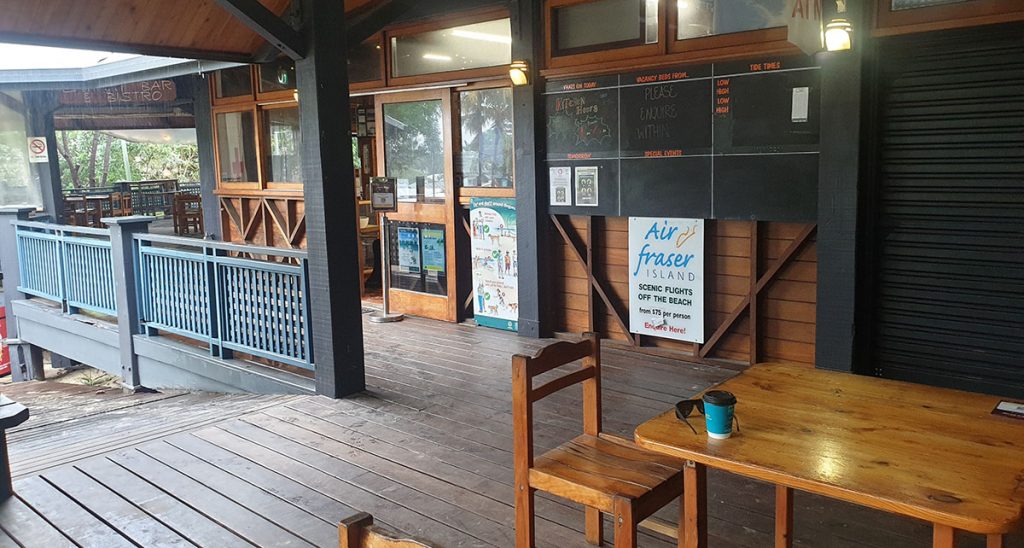 Outside the general Store at Happy valley Fraser Island
What Will We Find When We Get There?
Happy Valley is called a township but that could be a little stretch of the truth. This township has a general store, bar, cafe/bistro & service station but its all under the one roof.
That may be convenient but its not a lot to look at and not much to do there except order a coffee, burger and hot chips and re fuel the 4WD.
It does have accommodation available.
Happy Valley Accommodation
Happy Valley does have a nature retreat with cabin style accommodation should you want to stay a few nights. The retreat is called Fraser Island Retreat.
Fraser Island Retreat at Happy Valley Accommodation
There are 9 separate timber cabins. The retreat has a swimming pool and you can enjoy a cooked meal for dinner at Satinay Bistro/Bar. The kitchen is Open from 4.30pm to 7.30pm so come in early for dinner or you will miss out.
There are also some private holiday houses in the area that can be rented. The township has a surrounding dingo protection fence and electric grid to prevent them wandering into the township where families are staying.
What Can You Buy At The Happy Valley General Store?
The local general store has all the basics that you may need: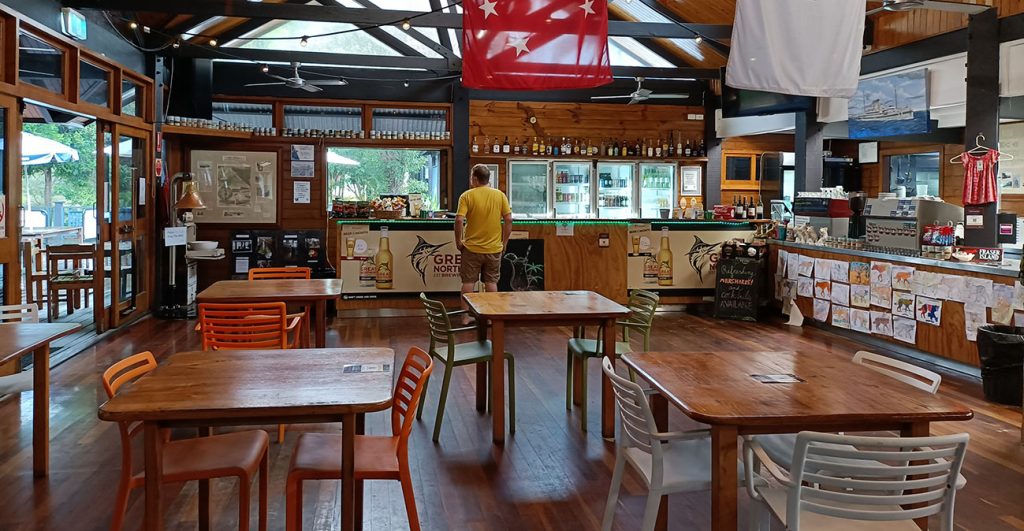 The public bar and takeaway area of the happy valley general store
Groceries and Takeaways
The general store has some essential groceries such as milk, bread, butter, canned food, some fruit & vegetables.
They also have drinks and bottled water. While you're there you can pick up snacks, ice-creams and chocolates for the holiday cravings.
Alcohol and other beverages are for sale as well as limited selection of fast food, hot coffee.
Basic Auto Parts
While you should have you 4WD prepared before you arrive on Fraser island it's good to know you can get some basic 4WD equipment like snatch straps and batteries. Also other items for you vehicle like, fuel and oil.
Yes, you an get fuel in Happy Valley. The service station has Diesel fuel and Unleaded petrol and air available if you need to top up.
Fishing Gear
The store has range of gear for the fisherman, such as Ice, bait and other general fishing gear.
Souvenirs
The store has other items for tourists such as a range of souvenirs, fishing shirts, thongs, hats, sunscreen, postcards and stamps to name just few.
Cash out
An ATM Machine is available in-store if you need to get hands on some cash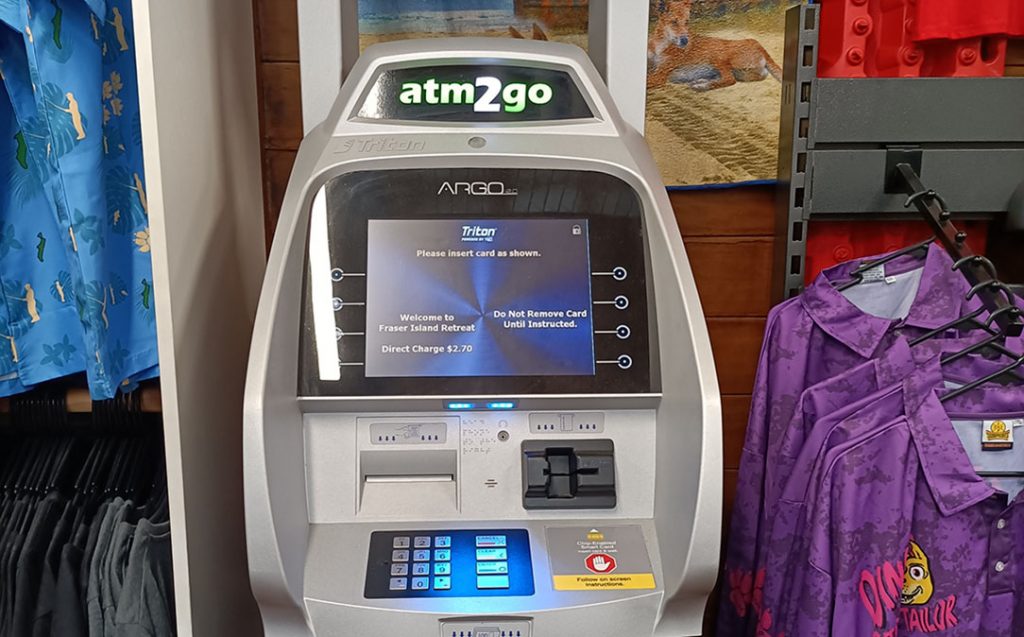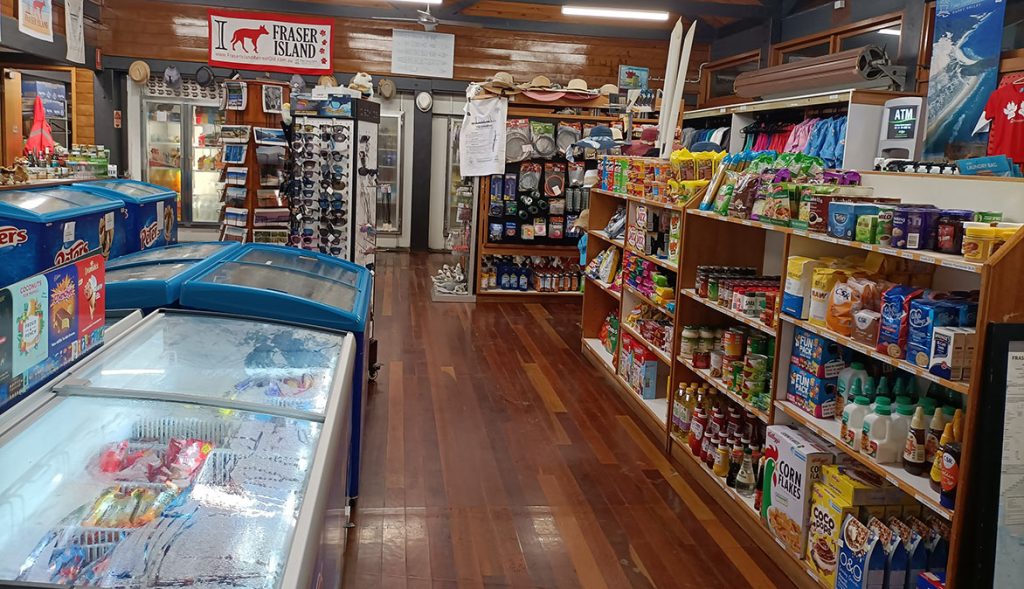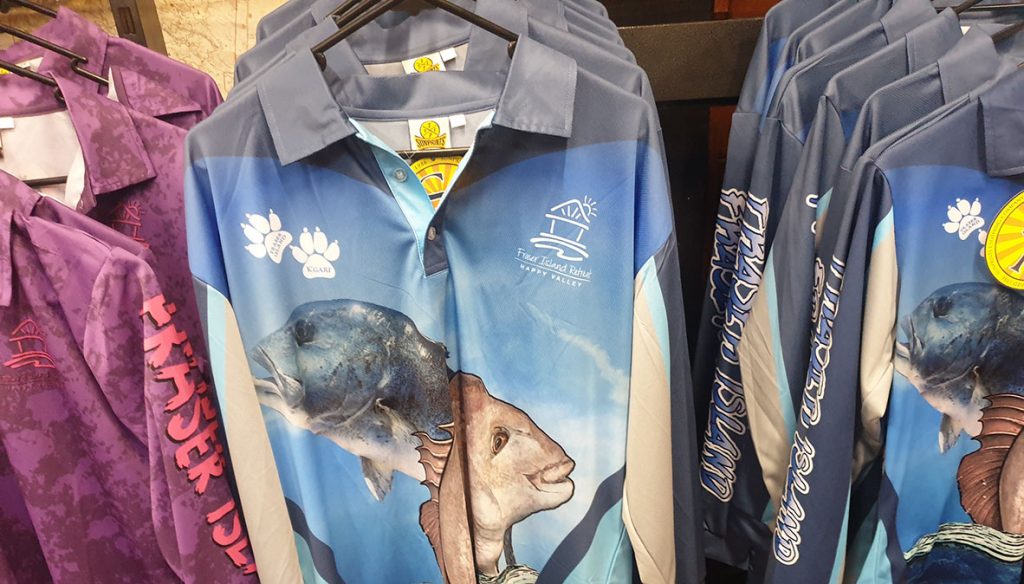 What is available at the Happy Valley general Store
Expect to pay more than the mainland. Prices may be a little steep but remember you are on a remote island and it takes a lot of effort and cost to get supplies on the barge and trucked up the island.
Happy Valley General Store Opening Hours
The general store is open from 8.00am to 8.00pm
Lunch in Santiray Cafe from 11.00am to 2.00pm
Dinner in Santinay Cafe is from kitchen opening at 4.30 to 7.30pm kitchen closed.
Santinay Public Bar open from 11.00am to 7.30pm.
Does Happy Valley Have Public Toilets?
YES there are public toilets at Happy valley. They are very basic and environmentally friendly, so no flushing foreign objects down the toilets.
It's also a good idea to bring in your own hand sanitiser as often there is no hand soap. Also they are known to run out of toilet paper also, so take a few sheets in if you have some handy just in case.
What Other Facilities Or Services Are There?
An added bonus and well worth a look is the historic memorabilia that is located inside the shop. It has a full history of the Mahino and the Marloo shipwrecks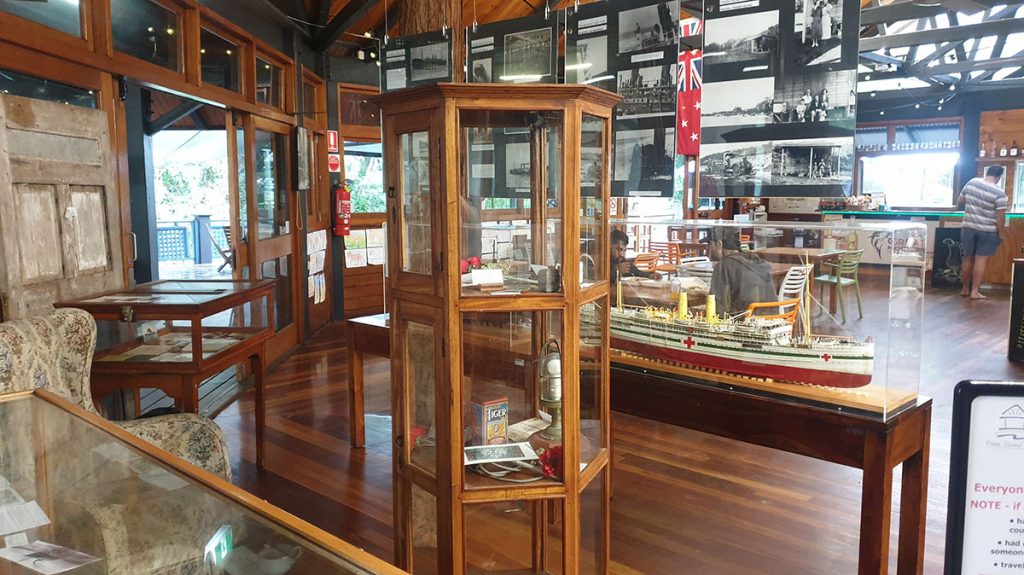 The historic memorabilia at happy valley
You will find detailed black and white photographs and 2 intricate handmade models of the Ships encased in glass. There is also some actual treasures that were salvaged from the shipwrecks. It really is an interesting history lesson.
Happy Valley also provides air and water for your vehicle should you need to inflate your tyres or top up water levels.
It also has a public Post Box that you can mail postcards or letters. It also has an ATM Machine to access cash.
What Else Should We Know About Happy Valley?
The great thing about Happy Valley is that it is central along 75 Mile Beach and it is close to some great sightseeing spots. The Maheno Shipwreck and Eli Creek are close, as is the Pinnacles.
Head a little further north and you can reach Indian Head and Champagne Pools.
If you are camping along the beach nearby it is a convenient central location to access everything and enjoy a few refreshing comforts. Nothing better on a stinking hot day to be able to grab an ice cream and re stock the esky with ice.