Visitors planning a trip to Fraser Island often ask if they can travel over in a standard car.
The simple answer is NO…You must have a 4WD.
However, you can go over in a tour bus group or fly in as another option.
See more: How to get to Fraser Island?
Fraser Island is the largest sand island in the world. This means you are either driving along the beach in the sand or driving in the sand on inland tracks across the island.
There is no bridge from the mainland to the island. You need to get across on a barge in your vehicle or as a walk-on passenger.
There are no bitumen roads to travel along. The only exception to this rule is the small township of Eurong and Kingfisher Bay Resort. They have a bitumen road at the entry of the resorts.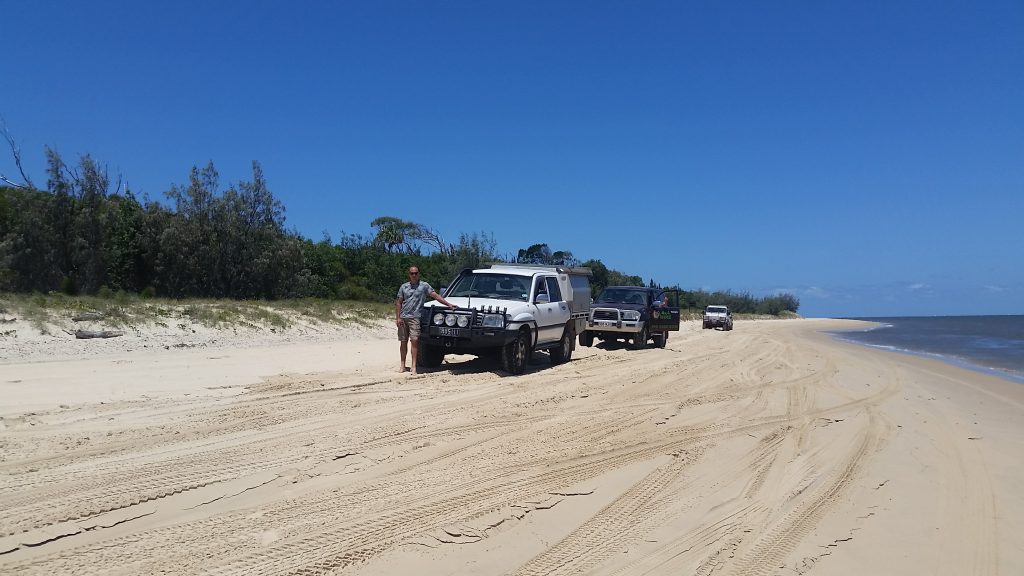 But what if you don't own a 4WD?
There are plenty of other options if you want to visit Fraser Island but don't have a 4WD.
You can hire a 4WD for a day or for a few days.
You can book a day tour on a 4WD Bus adventure
You can book a multiday overnight tour package that includes accommodation
Fly onto the Island with a scenic tour in a light plane or helicopter.
We recommend a company called Fraser Tours that can assist you with all of these options.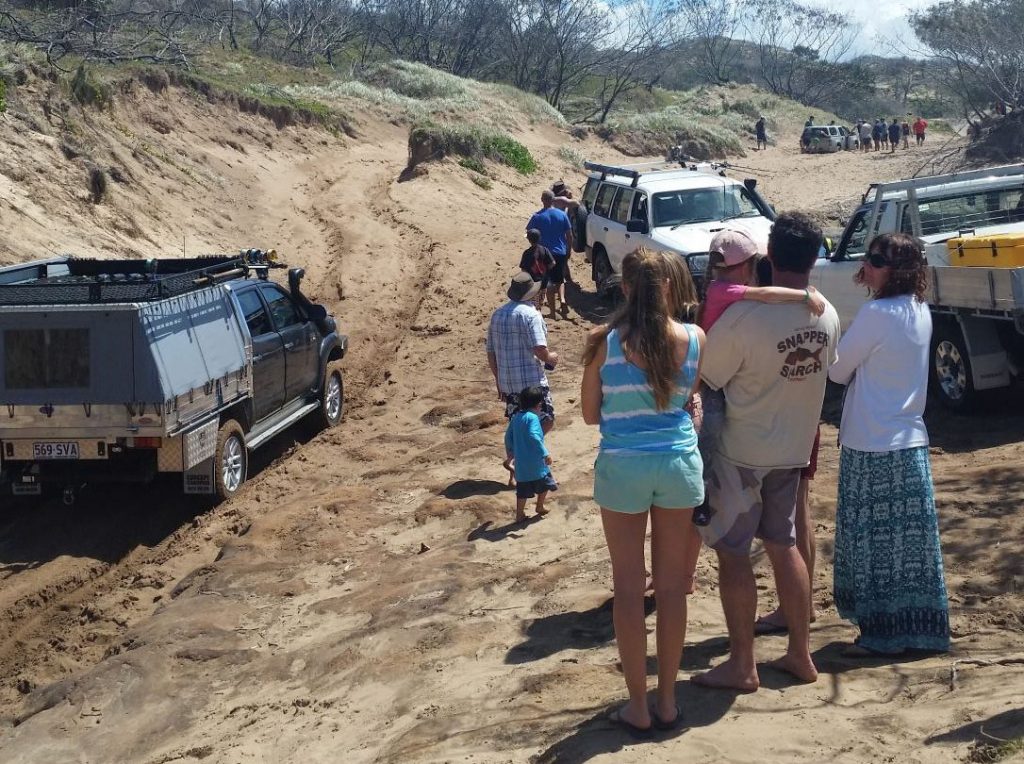 What are my chances of getting bogged on Fraser Island if I drive?
Taking a 4WD over to Fraser Island is essential. The chances of getting bogged as an inexperienced 4WDer is extremely HIGH.
Travellers often make the mistake of trying to take fancy All-Wheel-Drive Vehicles across to the island and find themselves bogged at the Barge or within minutes of landing on the island.
The reason for this is usually because they do not have underbody vehicle clearance or tyre pressure is too high.
In addition, limited experience with sand driving will also contribute to getting bogged.
What to do if I get bogged on Fraser Island
Drivers with a standard 4WD, with no modified suspension or lift kit, will also find themselves in a bit of strife on occasion.
Unless you are driving on the eastern beach at low tide on the compacted sand, drivers will probably find themselves bogged if they travel outside of the 75 Mile Beach zone.
Even driving through some of the bypass tracks around the small townships can be boggy on the uphill tracks. Even more susceptible to getting bogged is through the Indian Head to Orchid Beach tracks.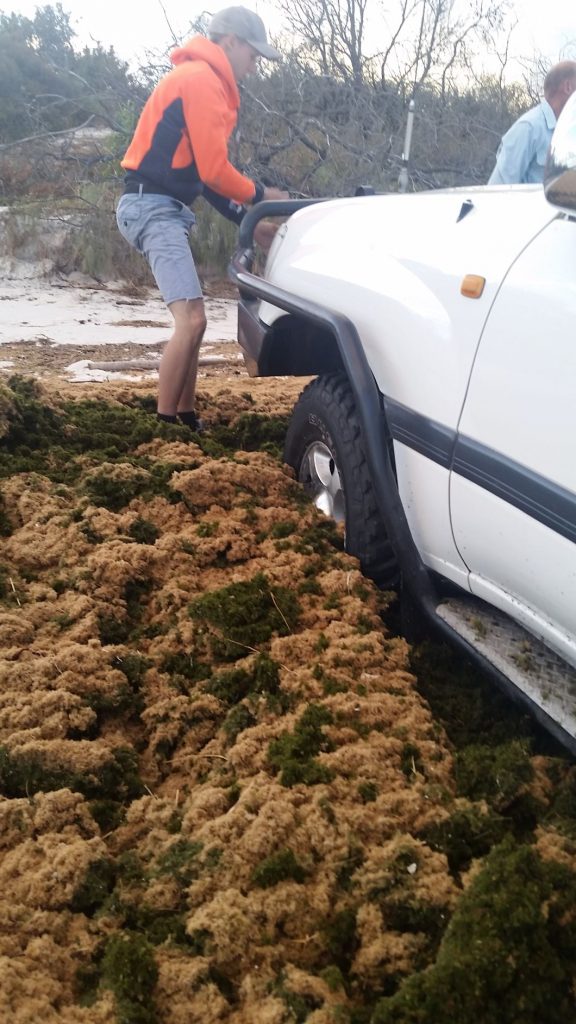 So here's what to do if you get bogged
Stay calm
Don't accelerate and keep spinning the wheels- you will just dig deeper into the sand
Ensure that 4WD is engaged
Check that your steering wheel is straight
Assess the situation- is the vehicle underbelly in the sand? Clear away the sand.
Engage the reverse gear and see if the vehicle will back out of the bog first
Reverse and forward a few times to compact a base in the sand
If this does not work- check tyre pressure – * it should be around 16-20psi for most vehicles.
If tyre pressure is higher than 20psi – drop the pressure equally on all wheels ( 12-16psi is a good start )
Engage reverse again- hopefully, you can reverse out a decant distance- stop – put in first gear and build momentum forward again
Should this not get you out of the boggy sand you will need to resort to more serious recovery.
Disembark all passengers for a lighter load-use manpower to try and push if possible
Clear away sand from the front and rear wheels
If you have spare water try tipping some into the sand to compact the sand.
Pull out the recovery gear…max tracks, shovels, car mats, snatch strap etc
Hopefully, you can ask for assistance from another vehicle to assist with a tow out.
Remember safety and take care – use enough power only to gain momentum- no need for serious engine revving or you may end up with a burnt-out clutch or something more sinister.
Once you are out of the boggy sand and on a firmer surface ensure you put more air into the tyres ( 18-20psi) particularly if you are doing higher speeds.
If you do find yourself stuck the biggest thing to remember is don't panic and check tyre pressure. This is the best simple advice that we can give. Lots of drivers, even the experienced ones find themselves bogged at some point.
Think of it as an adventure, take some photos and smile! These times are where memories are made from.
Recommend Gear to Carry
Radiator coolant
A basic mechanical kit with a spanner set
gaffer tape
a can of WD40
jumper leads
zip ties
and a spare fan belt.
REMEMBER…If you do take your 4WD across to Fraser Island you will need a Vehicle Access Permit and a Barge Ticket.
Happy Travels!