In this video Rusty shows you what you need to know about the Fraser Island inland track around Indian Head.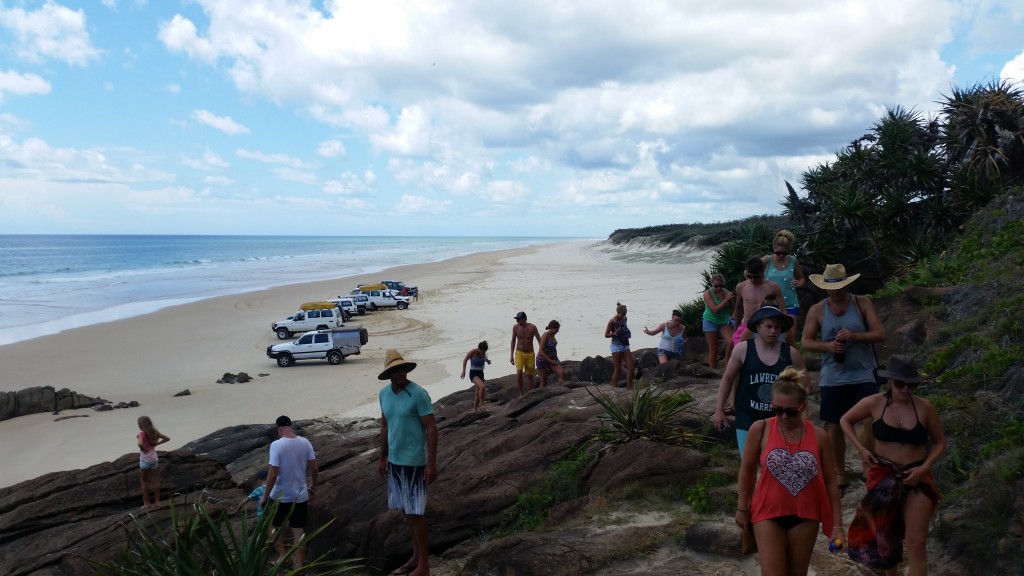 Tourists climbing up the Indian Head track up the rocks
Approaching Indian Head From The South
As you drive along 75 Mile beach be prepared when you see the rocky headland in the distance. As you approach Indian head, this section of the beach can be quite soft. At low tide the approach run up is it's fine but at high tide it's very very soft and chewy as you are further up towards the soft sand on the bank.
Its always a good idea to approach the jump up track slowly, have a look for oncoming vehicles or ones that are bogged blocking the track.
And if there is somebody stuck in there you are better off waiting until they clear before you go in. Because if you stop you may get stuck yourself as it is hard to gain momentum in soft sand from a standstill.
The jump up track at Indian Head can be quite boggy at times, so just make sure you select the right gear. Make sure your tyres are on about 18-20psi.
I generally just go in first gear high range and make sure I've got the revs up. Just maintain your momentum and cruise straight on through. Don't try and stop or change gears in the middle.
The Indian Headland
Indian Head itself is a beautiful lookout. You can walk up the back of the head and stand right on the top of that peak and look straight down into the crashing ocean below and out to the amazing horizon into the distance. You have 360 degree views from the top and it is spectacular, especially early mornings and at sunset.
From this view point you can see manta rays, turtles, sharks, dolphins, and in the whale season you will definitely see a lot of whales frolicking about as they pass closely around the headland.
The Humpback whale season is usually May, June, July, August.
Unlike other rocky outcrops like Poyungan rocks, Indian Head is a headland that you can't drive around on the beach. You have to drive an inland track to get around it.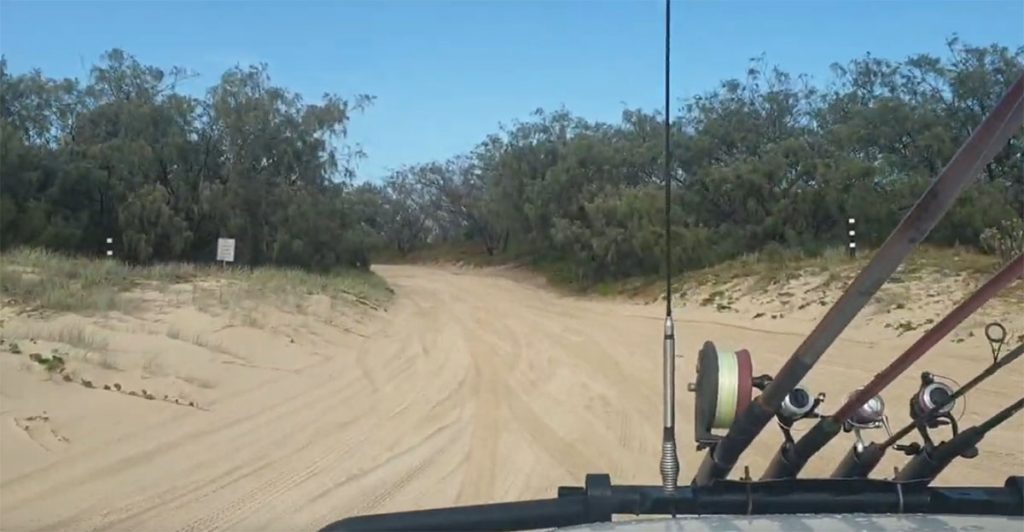 Jump up track around Indian Head – north side entry point
The Track Around Indian Head – Video commentary
[Rusty slows down and waits for the vehicle in front to get a good distance before proceeding]
[..then starts approaching the jump up track around Indian head]
So right now I've just put it in first gear. Luckily we have had some rain so the track is quite firm at the moment and it's not boggy in any way shape or form.
[music plays] [ground get boggyier]
Now you see it can get quite chewed up in here, the soft sand seems to fall in from the sides so it ends up as quite deep soft sand. Just maintain your momentum and cruise through.
[music plays]
[vehicle in front jumps around violently]
Oh.. We might slow down for those bumps. What do you reckon? Hmm.. he was bouncing around all over the place.
[Rusty slow down for some big bumps in the track]
Here we are at the other side of Indian head. This is a beautiful little bay. It's a little protected. When it is a south easterly wind we go fishing in the corner. That is also the look out at the top of Indian heads. It's a lovely spot for a picnic there.
And in front of us now is the next set of rocks called the Champagne pools.
More on that another day..
Find out what else you can see in the area?
https://allaboutfraser.com/category/island-attractions/
More about Indian Head
https://allaboutfraser.com/indian-head-fraser-island/
This footage was shot along 75 Mile Beach
https://allaboutfraser.com/seventy-five-mile-beach/
More: Fraser Island Fishing
https://allaboutfraser.com/fraser-fishing/
Want More? What About Fraser island Camping
https://allaboutfraser.com/fraser-island-camping/
Stay on Fraser Island (Up to 16 People)
https://allaboutfraser.com/footsteps-on-fraser
Fraser Island T-Shirts
https://www.tshirtshop.com.au/