Fraser Island is the largest sand island in the world. It is also the only sand island in the world that encompasses a tropical rainforest growing in its dunes.
If you want to know exactly where this famous island paradise is, its located off the coast of Queensland, on the eastern side of Australia.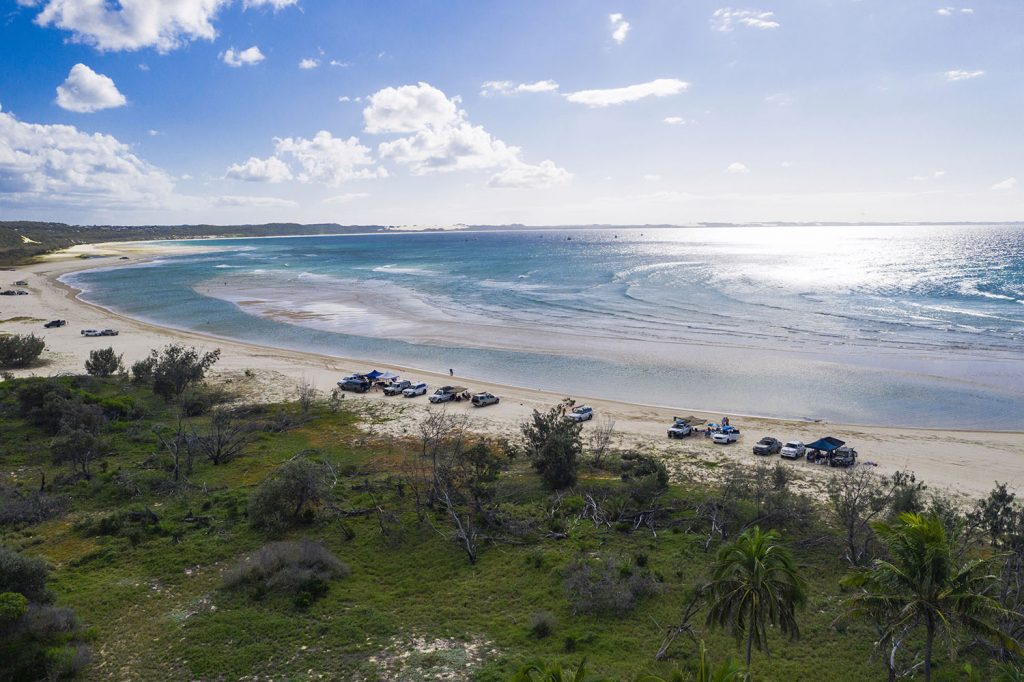 It is a massive sand island and the largest in the world at a whopping 120 kilometres long and up to 22 km wide with a land size of approx 1840 square km.
In fact it is estimated that over 10,000 ha within the island is rainforest. But that is only one of the many reasons that Fraser Island is of world heritage significance. The island is famous for its beautiful beaches, perched lakes, rainforest, and wildlife.
While most of the sand that makes up Fraser Island has come from the far south-east of Australia, some of it has travelled for thousands of kilometres and millions of years from Antarctica, starting its journey before Australia and Antarctica split from each other.
It is believed by scientists that approximately 700 million years ago Antarctica had mountain ranges that rival the modern-day Himalayas.
It is believed that the island was created by a series of volcanic eruptions that happened about 23 million years ago. The sand was pushed into the ocean by a volcano that had been on land and then it slowly moved into the ocean.
This along with the eroding mountain ranges resulted in sands being accumulated on the continental shelf where Fraser Island now lies.
This phenomenon is only one of the many reasons why hundreds of thousands of tourists and visitors come to this sacred island every year.
Why Visit Fraser Island
This island paradise is found on lots of buckets lists all over the world. It's also famous for being visited by Royalty.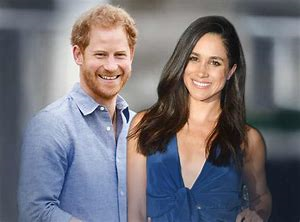 In 2018 The Duke and Duchess of Sussex came to visit to unveil a plaque as part of the Queens Commonwealth Canopy Dedications, an initiative to preserve forests.
This is particularly evident in the Valley of the Giants and deep in the rainforest at Central Station along Wanggoolba Creek.
Some of the trees on the island are over hundreds of years old.
You can identify the most prominent trees in the rainforests of Fraser Island. They are the enormous satinay (Syncarpia hilii) and brush box (Lephostemon confertus).
These are the dominant species along with piccabeen palms, cherry satinash and blush satinash. They can reach heights of over 40 metres.
The satinay and brush box (Lephostemon confertus) found in this area are thought to be more than 1200 years old and greater than four metres across the trunk. Which is incredible being that they are all growing in the sand!
These ancient trees form most of the high canopies in the rainforest areas, but you'll also be able to spot hoop pines, kauri pines, creepers, and native orchids.
The King Fern can also be found along Wanggoolba creek, growing in the crystal clear freshwater of the sandy bottom creek. They are magnificent, giving the prehistoric feeling of being in Jurrasic park without the Dinosaurs.
The rainforest on the island is so incredible because it grows directly out of the sand. This is extremely impressive, being that sand is not typically a base for growing things.
When we think of sand we may think of the desert. In this terrain, there are very few plants littered across the landscape that have the ability to grow.
So the question is often asked, " how is it possible that an entire, massive rainforest has been able to seed and thrive out of the sands of Fraser Island?"
It's actually one of the must-see reasons to visit Fraser Island to actually witness nature at its finest.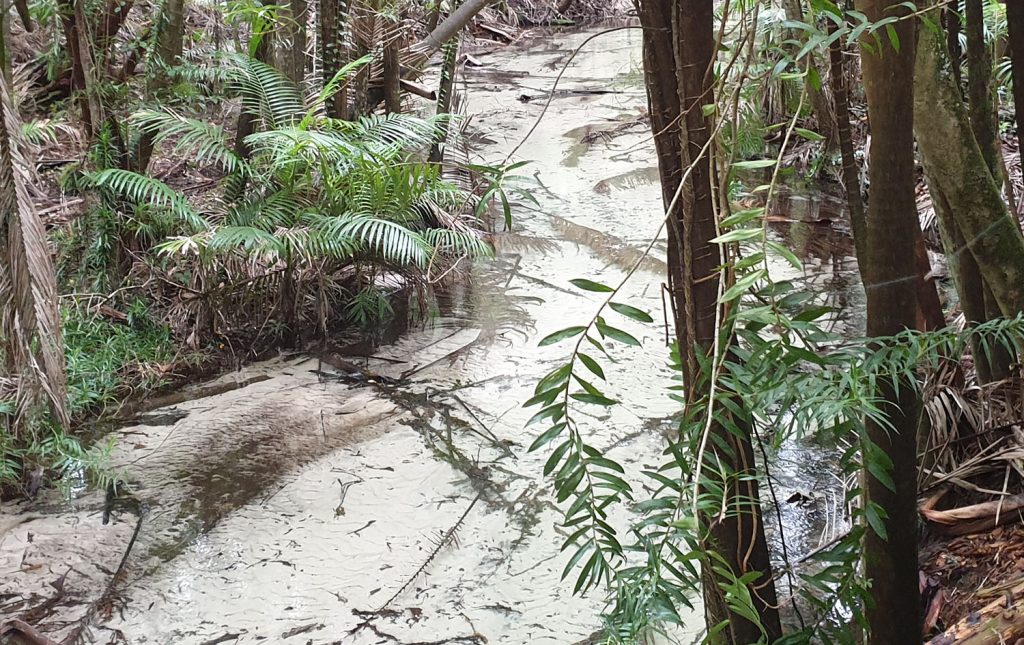 Wanggoolba creek
Some of the popular and common trees Of Fraser Island
Satinay (Ancient trees, found along Basin Lake and Valley Of The Giants)
Brush box (ancient trees, found along Basin Lake and Valley Of The Giants)
Scribbly gums (a variation of a eucalyptus tree, found along Basin Lake)
Hoop, Kauri and Cypruss pines
Strangler fig
Paperbark, Red bloodwood and Blackbutt ( variations of eucalypt)
Crab apple
Blue quandong
Wattles
Tallowwood (a variation of eucalypt)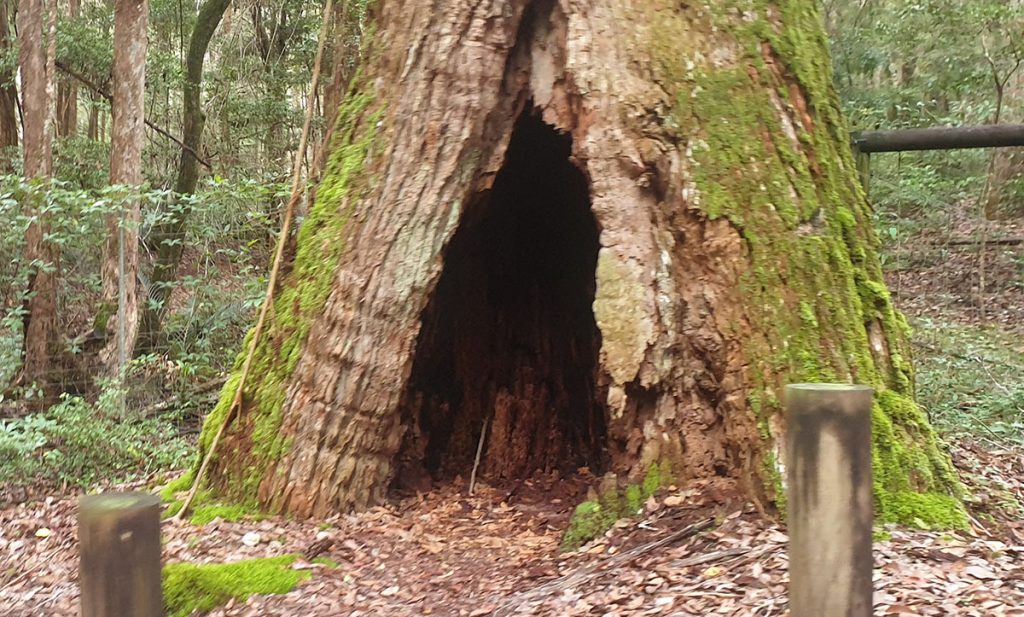 The Most Awesome Natural Gifts Fraser Has
Fraser Island offers several awesome natural gifts, such as crystal clear beaches, spectacular sunsets, and aboriginal history dating back thousands of years.
The island is home to the Maheno Wreck, a large ship that ran aground in 1935 and now stands as a tourist attraction.
You can also visit Central Station for a history lesson on the island including details about the traditional sacred owners and the logging industry on the island.
Stand on top of the towering Indian Head and look below at the passing Humpback whales or re-enact the sighting by Captain James Cook as he passed by this lookout point.
You can even run through thousands and thousands of marching soldier crabs on low tide at Wathumba creek. This is an awesome experience for all the family.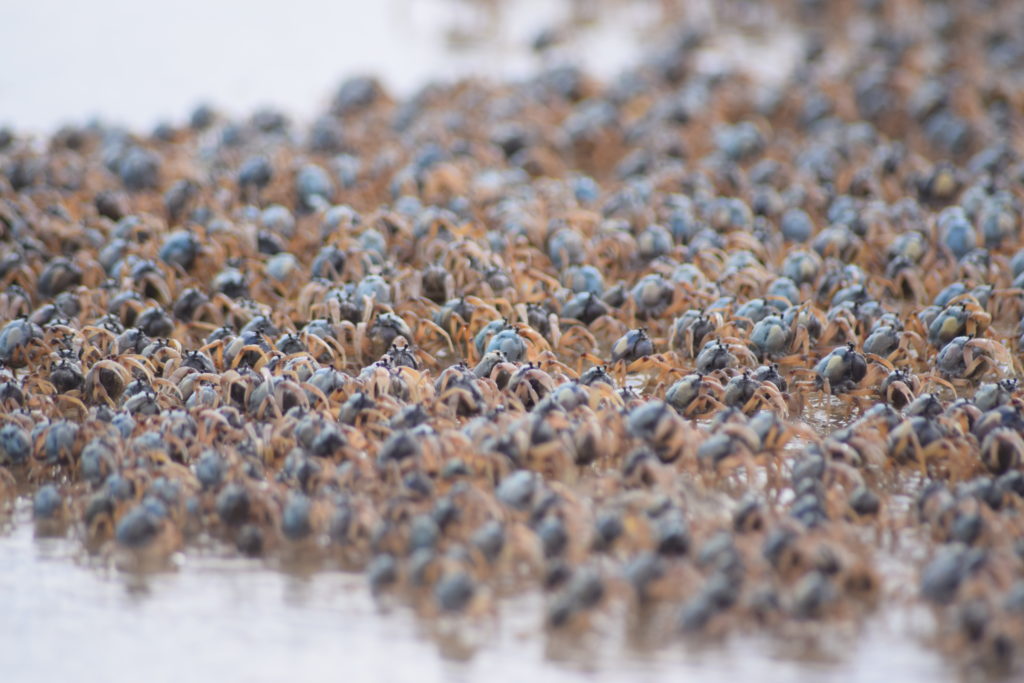 Marching Soldier Crabs at Wathumba Creek
The island has been rated by the National Geographical Society as one of Queensland's top ten tourism destinations.
Wildlife Wonders On Fraser Island
The island is home to a wide variety of animals, including dingoes and 40 other mammalian species. It is also home to rare frog species, freshwater turtles, reptiles including goannas, snakes and pythons, and home to the deadly funnel-web spider.
The island has also been identified by BirdLife International as an Important Bird Area because it supports the entire population of 29 bird species endemic to Queensland's subtropical habitats, such as the gorgeous fairywren and superb parrot.
It is also home to over 350 species of birds, including migratory wintering grounds for ducks and shorebirds.
In fact, some of the birds, animals and plants on Fraser Island are found nowhere else in the world and are unique to this environment.
ADVERTISEMENT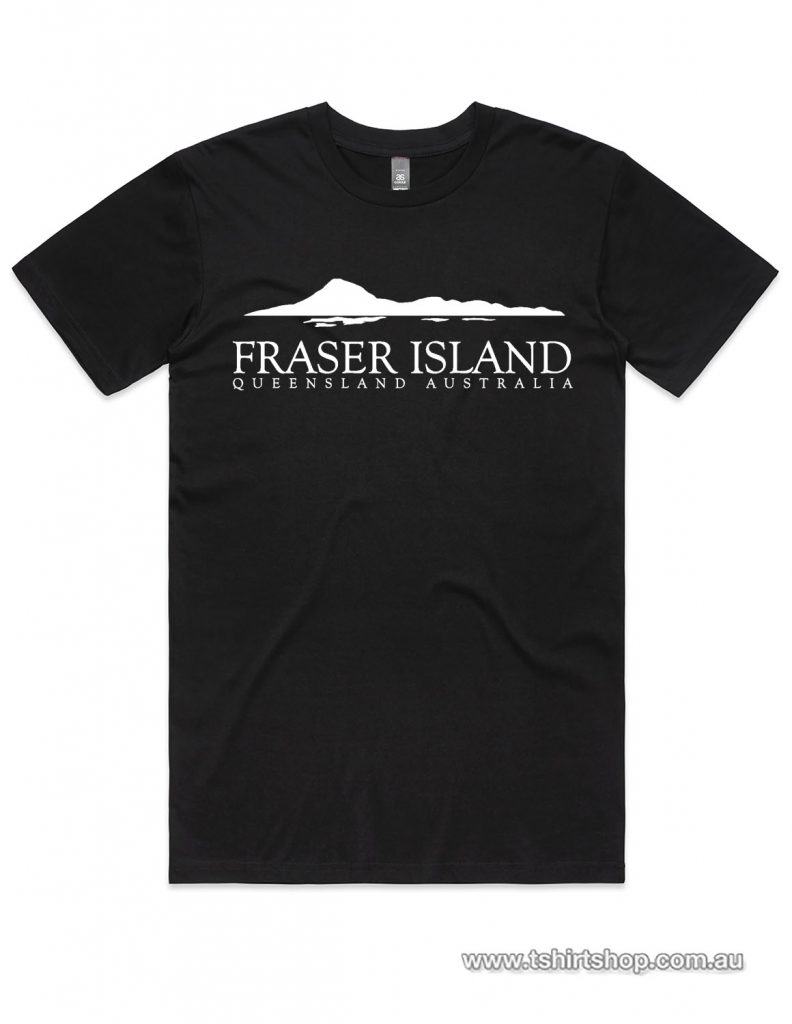 The Infamous Fraser Island Dingo
Fraser Island can proudly boast that it has some of the purest breeds of dingo in the world. This is because the isolation and protective nature of the island make interbreeding with domestic dogs rare.
It's hard to know the exact dingo population on the island. However, it is estimated by Park Rangers over 150 dingoes inhabit Fraser Island.
This is largely monitored and controlled by rangers as food sources are scarce and overpopulation can cause a variety of problems to both the dingo and the human interaction.
The wild dingoes rove all around the island to mate and hunt for food. They are often in packs and hiding just beyond the dunes out of sight.
Often they look thin and emancipated but this is their natural lean appearance.
They're not starving so don't feed them as this only encourages interaction and can result in an attack. Just take a quick photo and leave them to their wanderings.
Keep Your Children Dingo-Safe
It is highly important to teach your children dingo safety rules if you're visiting Fraser Island. This may just save your child from an attack.
Warn your children dingoes are different. They're not pet dogs. They're wild animals like lions and they are natural hunters.
Never try to feed a dingo.
Children need to stay close enough to their parents to see them and hear them at all times. NO wandering away especially alone.
What To Do If Attacked By A Dingo
If you see a dingo or you are being stalked. You need to Stop. Still and stand your ground.
DO NOT RUN !!! Dingoes can easily outrun humans, they will chase and bite at  legs and buttocks and consequently make you fall to the ground
Stand tall, face the dingo and outstretch your arms to look larger.
If in a group, hold hands, stay close and yell!
If attacked defend aggressively. Yell and scream at them, pick up a stick or throw an object. For groups of children always stay together.
If children feel threatened or are being watched by a dingo take note of identifying features such as the colour of the ear tag, which ear the tag is in ( left male right female) fur patterns and colours or scars from injuries.
Report any threatening behaviour by a dingo to the local ranger's office or police.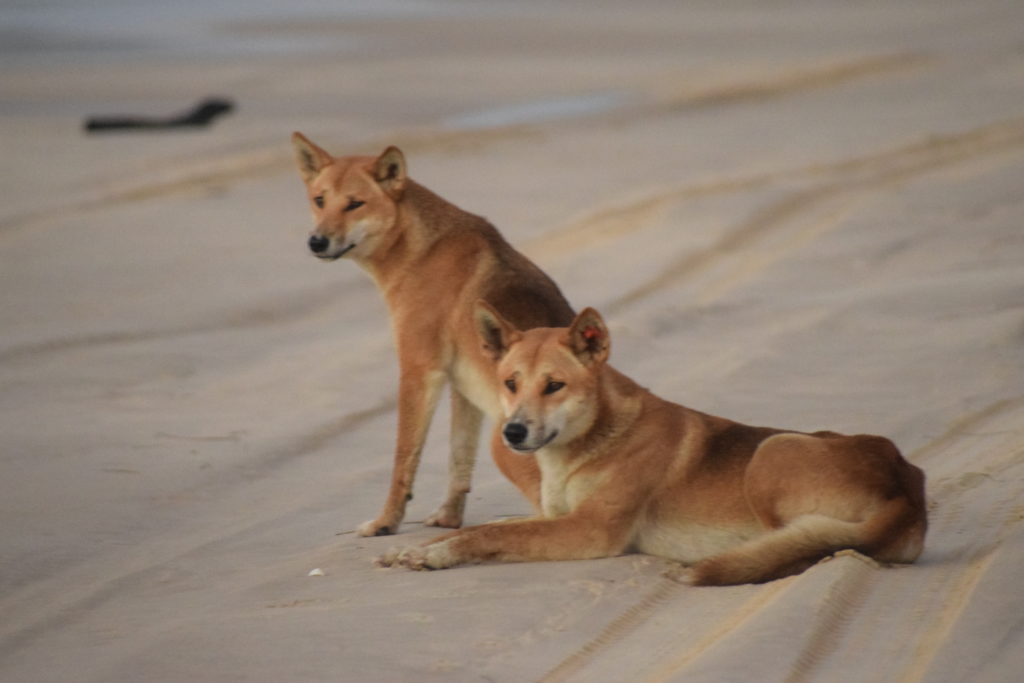 Where to stay on Fraser Island
When visiting Fraser Island you can stay at one of the resorts that are located with easy beach access. You may want to check out:
Kingfisher Bay Resort
Eurong Beach Resort
Happy Valley Eco Lodge
You can also go camping on the beach or at any of the managed campgrounds located on the island. If you decide to go camping you will need to reserve an authorised campsite. This information can be found on the QPWS website and can be booked online.
Fraser Island tours and travel
Fraser Island offers many different types of tours and accommodations. Accommodations range from economy campsites to luxury beach houses, and tour groups can be as small as a single individual or as large as several hundred.
Popular activities include camping, fishing, 4WD tours, wildlife spotting, and walking.
Although the island is most commonly visited by tourists, it also attracts scientists and researchers because of its diverse animal population and landscape.
A great way to experience Australia's most awesome natural gifts is on a Fraser Island tour with an experienced guide!
Check out all Tours
We do hope that you get the opportunity to tick Fraser Island off your bucket list. It truly is an incredible place to visit.
Map of Fraser Island