We're just heading over to Wathumba Creek today for some fishing. We've had a little bit of rain so the tracks are actually pretty good but still, it pays to take it nice and steady.
Remember there is going to be oncoming traffic, this is definitely a two-way track so you will need to pull over when cars come the other way.
Great Place For Small Boats
So when we tow our boats across here, because it's a great spot to bring your tinnies over. You don't want a particularly big boat.
Something small because as the tide goes out, if you're up the creek and the tide goes out you'll be stuck there until the tide comes back in. So just be aware that when you bring your boat over.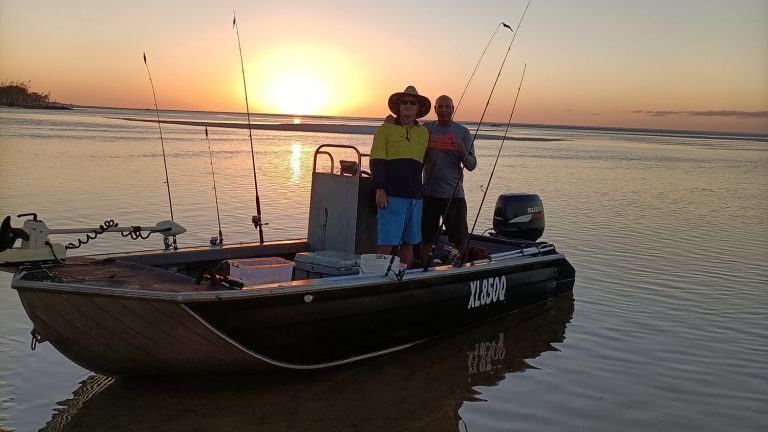 Fishing The Incoming Tide
So your better off coming at a low tide, getting your yabbies, and then fishing the incoming tide.
You get a lot of good Whiting, Flathead, we've caught Grunter over here. Different other fish in the river but mainly Whiting.
There's an abundance of Whiting here, most days you won't have to keep anything under 28 centimeters. 28 to 35 is sort of an average size.
So if you get any smaller ones, just let them go because you'll definitely get the big ones.
Towing Your Boats Across
When you do tow your boat through here, just be very gentle on your trailers, because we have repaired a lot of trailers that bounce across here.
And when they go a bit quick they end up breaking their trailers or damaging their boats and snapping drawbars and all sorts of things.
Then they have difficulty getting them back to Orchid Beach and then they have to pay someone to get them repaired.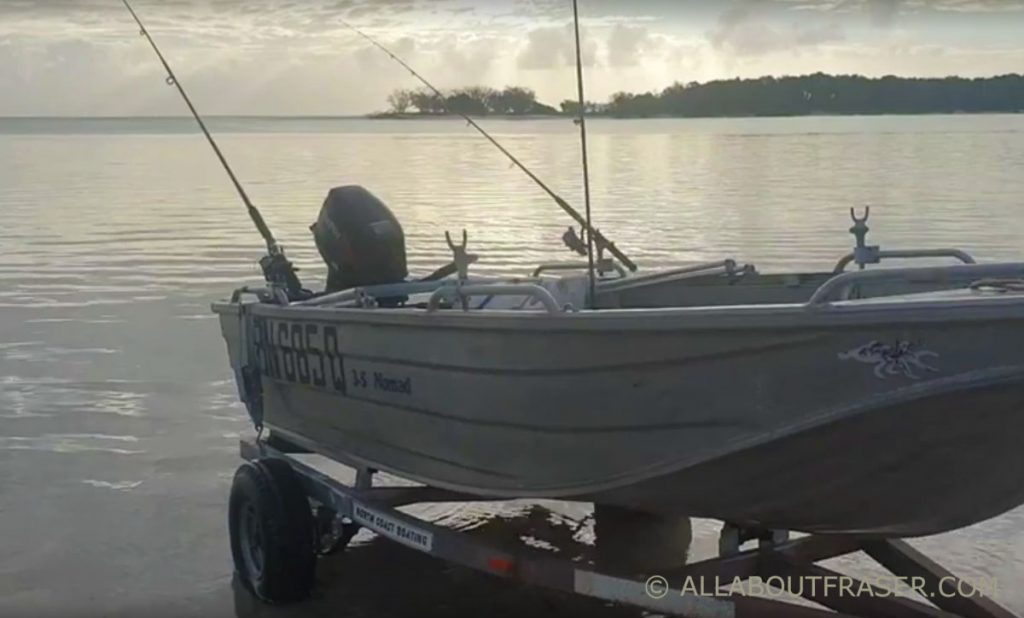 Remember that when you do tow your trailers, make sure you drop the air pressure in the trailer tires as well.
Depending on the weight of the boat, we've sort of run our trailers at about 15 psi. Seems to float over the sand nicely and doesn't drag the vehicle down.
Halfway Hill
Here we are at Halfway Hill.
There is the track there, that's the fire break track that runs through the middle of the island. But when you get to that track you know you are halfway. There is an overtaking lane here.
Wahtumba Creek Swamp
This is the the start of Wathumba swamp. So this big open area that's just up ahead
in front of us, are the Headlands or the wet area that feeds Wathumba
Creek.
You can go. On high tide you go right up the creek and up into this swampland area.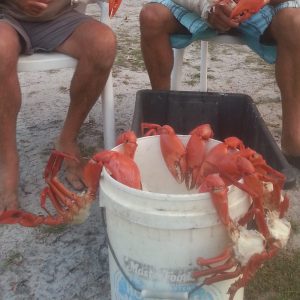 When you go right up the creek, at low tide, there are deep corners that are still a couple of meters deep, one and a half meters deep.
When the tide's low we put our crab pots on those corners so they don't come out of the water.
Because if the crab pot comes out of the water generally the Sea Eagles or the Kites will come down and snip the ropes on them and steal your bait.
We thought people were raiding our pots and stealing the crabs because all the ropes were snipped. And it was actually the kites that were doing it, the Sea Eagles that we're doing and not people.
So you have to make sure at low tide your Crab Pot stays in the water.
You can also get good Mangrove jacks up here. On the Deep bends you go Jack fishing. And yeah, some days we get a good haul of Jacks.
At high tide, the water is crystal clear up the Estuary. So you can pretty much sight them, you'll see every fish you catch.
At low tide, it's a very Tannery colour, like tannin from the trees and from the water in this big swamp area. When the tide pushes in the water is crystal clear.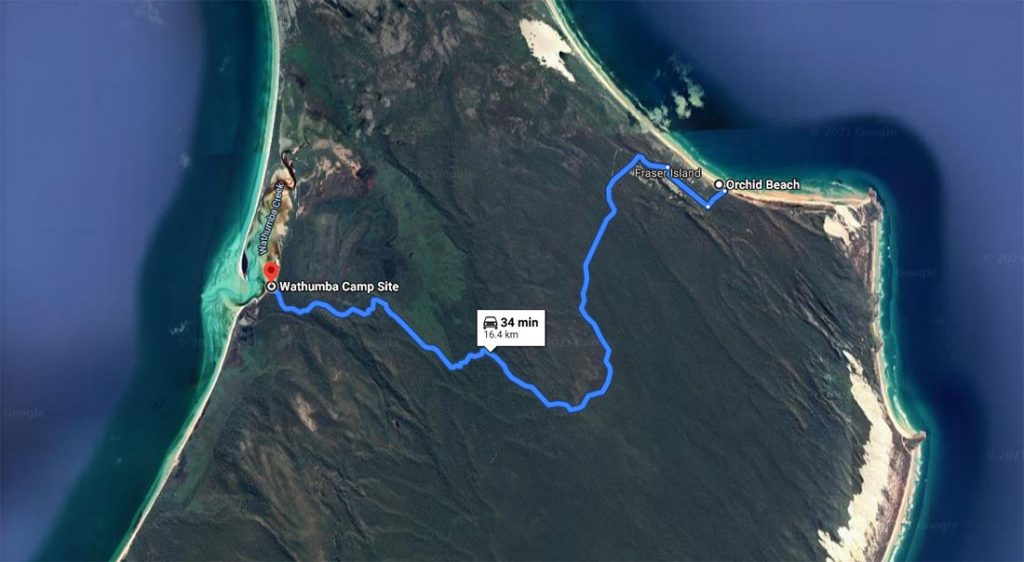 Driving Tips For Wathumba Track
When you're towing your boats over here. I am always on the way here, taking note of where the steeper hills are.
Like the one we just went down, so then when I'm coming back I make sure I'm in the right gear and I've got enough momentum to get up the hill. And I don't end up getting bogged on the hill.
So yeah just sort of take a mental note of where all the steep hills are or the more difficult bits so you can approach them at the right speed and the right gear.
Recommend Gear to Carry
Radiator coolant
A basic mechanical kit with a spanner set
gaffer tape
a can of WD40
jumper leads
zip ties
and a spare fan belt.
Access To Platypus Bay
On the other side of this big swamp over there, that's the track to Platypus Bay.
So Platypus Bay is just north of Wathumba Creek really, so if you have your boat here, just go out the mouth of the creek and yeah head north and you're at Platypus Bay.
Often when we go squid fishing, we'll actually put the boat in the creek here, and then zoom down to the rocks and catch our squid. And then come back.
Sometimes it's easier or when they have Platypus Bay Road closed. It's just as easy to put the boat in the creek here.
Fishing Off The Coast
At certain times of the year, fishing in the bay, you get all the juvenile Sailfish and little Marlin and a lot of Tuna. Mac Tuna, Bonito.
And massive schools of birds where there might be up to 100 birds feeding on Bait fish in the bay here Great fun to race around with little metal lures and catch the Tuna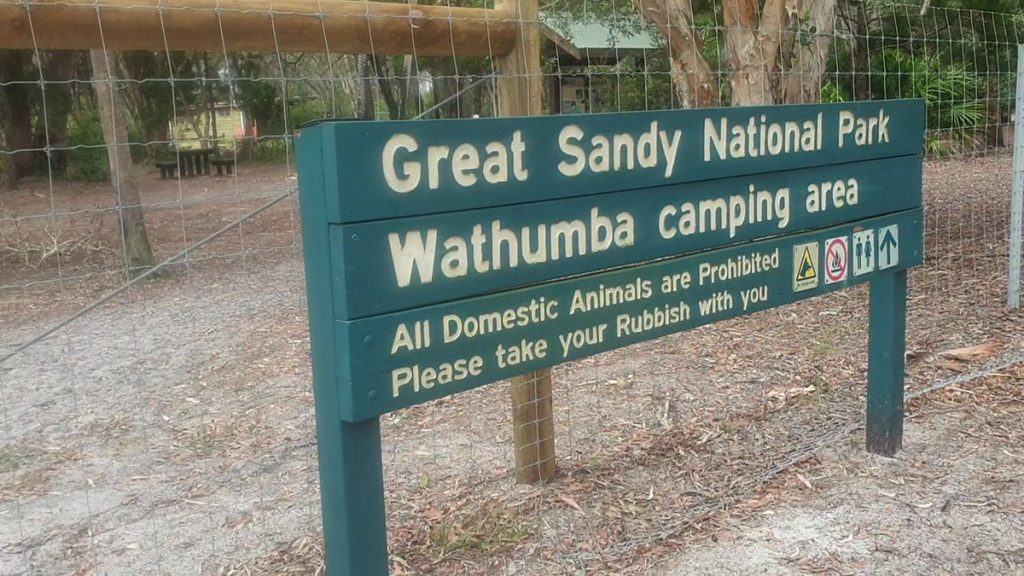 Camping Grounds
Approximately 40 minutes later.
Here we are at Wathumba Creek and there's a campground in here, to our right. It's all dingo fenced off. Pretty sure they've got cold showers and toilets in there.
But if you do camp here, you get nailed by a million sandflies at night. Still, people love it and they camp here.
A few people at the beach today, the Tide's almost full and coming up towards high tide.