Staying on Fraser Island while experiencing its wonders, is one of the best experiences you can have in Australia.
With over 300 kilometres of coastline to explore, Fraser Island offers plenty of space for caravans, camper trailers and tent camping activities.
You'll find everything from thick rainforest to beaches and dunes with some fantastic fishing opportunities thrown in for good measure.
Caravan on Fraser Island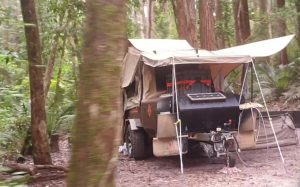 This subject matter is extremely important if you plan on towing a caravan or camper onto Fraser Island.
Especially so if you have never done off-road sand driving.
The first thing is not to underestimate just how treacherous driving on Fraser Island can be.
With continuous tide changes, weather and vehicle traffic, the beaches, the sand and the tracks are constantly changing.
[Read more about a caravan on Fraser island…]
Also See: Accommodation
Camping on Fraser Island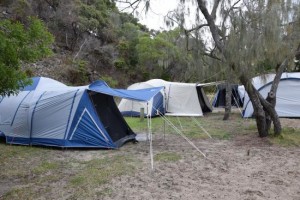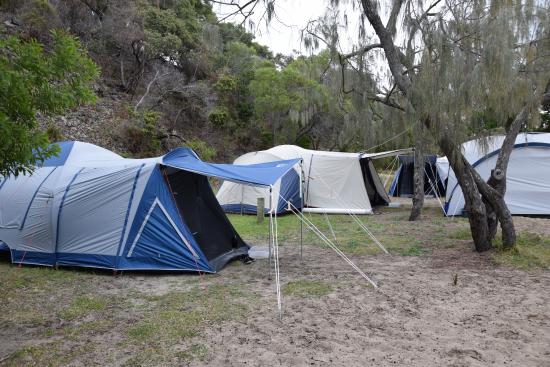 Fraser Island is not only famous for its beautiful coastal views and diverse marine wildlife.
It also boasts exceptional landforms, ranging from complex dune systems to vast mangrove forests, eucalyptus woodlands, and rainforests growing straight from the sand.
All these make the island an ideal spot for avid campers. If you're on the hunt for the best places to camp on Fraser Island, this guide is for you.
[Read more about camping on Fraser island…]
Also See: Accommodation
Fraser Island Camping Mistakes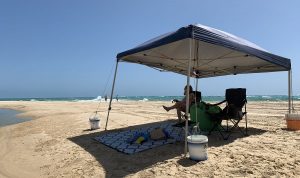 While camping is an awesome opportunity for the adventure lover to have a great holiday.
Fraser is a remote island and there are certain must-know guidelines that will minimise camping disasters.
Fraser Island Camping Checklist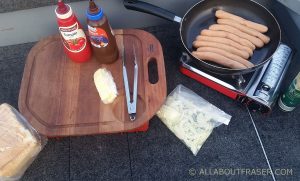 See our 20-Part Checklist for Freelance Camping on Fraser Island.
If you want to have a stress-free camping experience it's a good idea to do your research. In a location like Fraser Island, you are not on the mainland.
Vehicle and Camping Permit For Fraser Island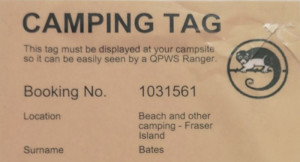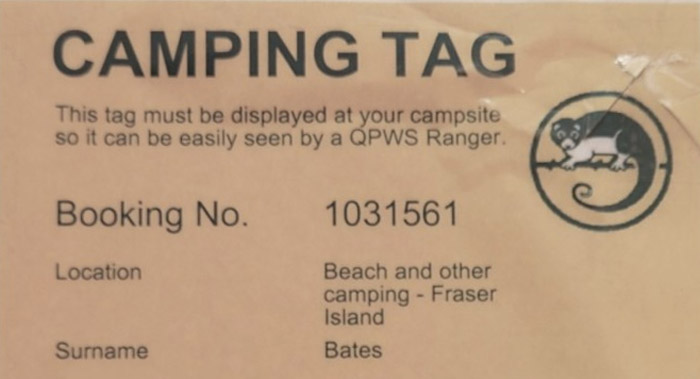 If you're visiting Fraser Island and plan on Camping you will need to purchase 2 permits.
A Vehicle Permit and then a separate Camping Permit needs to be visible at your designated campsite.
Fines will apply if you are caught by rangers without a permit as they check the beaches and campgrounds daily.
Also See: Accommodation
[Read more about Fraser Island permits…]
Managed Campgrounds
In managed campgrounds, you are typically there with lots of other campers in a restrictive area. However, they are protected and good for children.
Typically with a Dingo deterrent/protection fence and other facilities of a holiday park, like picnic tables and access to toilet and shower facilities.
Generators are not permitted and they have restrictive arrival and departure times. Some campgrounds allow campfires if fire rings are present and there are no weather restrictions.
Cathedrals on Fraser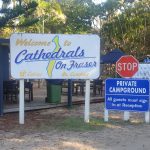 If you're looking for a place to get away, Cathedrals on Fraser may be just what your family needs.
It could be described as a retreat/resort/caravan park/campground, it's all of it rolled into one awesome place to visit.
It has affordable and comfortable accommodations as well as the best-stocked general store on the island – not to mention tree-studded grounds that provide a natural bush oasis that everyone can enjoy!
We certainly loved it.
[Read more about Cathedrals on Fraser…]
Also See: Accommodation
QPWS Managed CampGrounds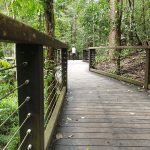 Stay in a Managed Campground with your caravan, camper trailer, tent or swag.
You will need to get a camping permit and you can choose between a tent site and a camper trailer site.
They have a Dingo deterrent/protection fence, and picnic tables and some have access to toilet and shower facilities.
These are some of the QPWS Managed Campgrounds.
Eli Creek campground
One Tree campground
Wongai campground
QPWS Camping Zones
This is what we call freestyle camping. These are remote places to camp on Fraser Island – where you need to bring everything with you. They are unfenced with no water and toilet facilities.
Eastern Beach
Govi Camping Area (Zone 1)
Wangai Camping Area (Zone 1)
One tree Camping Area (Zone 2)
Cornwells Camping Area (Zone 2)
Gabala Camping Area (Zone 2)
Poyungan Camping Area (Zone 3)
Winnam Camping Area (Zone 3)
Eli Camping Area (Zone 4)
Guluri Camping Area (Zone 4)
Maheno Camping Area (Zone 5)
Wahba Camping Area (Zone 5)
Eugarie Camping Area (Zone 6)
Yurru Camping Area (Zone 6)
Guruman Camping Area (Zone 6)
Wyuna Camping Area (Zone 7)
Burad Camping Area (Zone 7)
Marloo Camping Area (Zone 8)
Ocean Lake Camping Area (Zone 8)
Duling Camping Area (Zone 8)
Diray Camping Area (Zone 9)
Carree Camping Area (Zone 9)
Western Beach
Bowarrady Creek Camping Zone
Coongul Creek Camping Zone
Awinya Creek Camping Zone