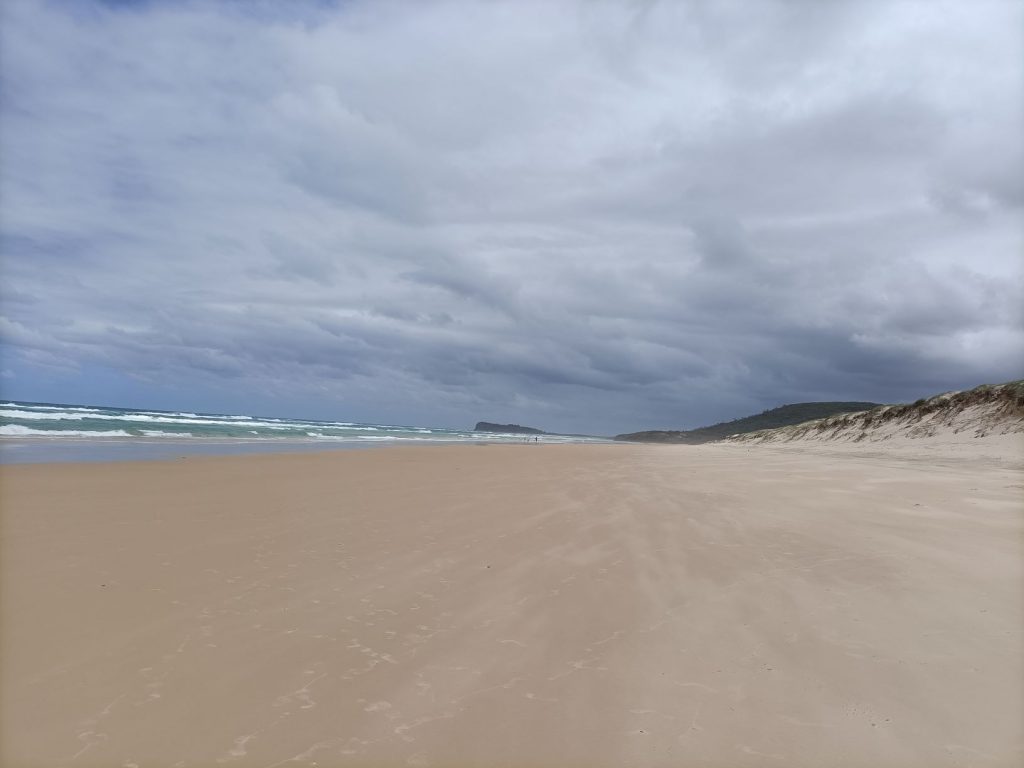 Perfect riding conditions for the dirt bike along the shoreline at Fraser Island
It is totally legal to ride a dirt bike onto Fraser Island provided it is registered and roadworthy.
Every year hundreds of thousands of tourists visit Fraser Island. Some of those visitors are avid Trail bike or Dirt bike riders looking for a 4×4 adventure of a lifetime.
Fraser Island is the largest sand island in the world but it is also home to some of the world's most beautiful natural wonders.
Imagine riding along 75 Mile Beach with the wind blowing in your hair and the waves lapping at your knobbly tyres.
Or riding into Ocean Lake to cool down for a freshwater swim.
The adventures you can experience are endless. Attach your GoPro to your helmet or bike and capture every moment of thrilling awesomeness !!
However, if this sounds like your style of ride you may have a few questions that will help with your planning.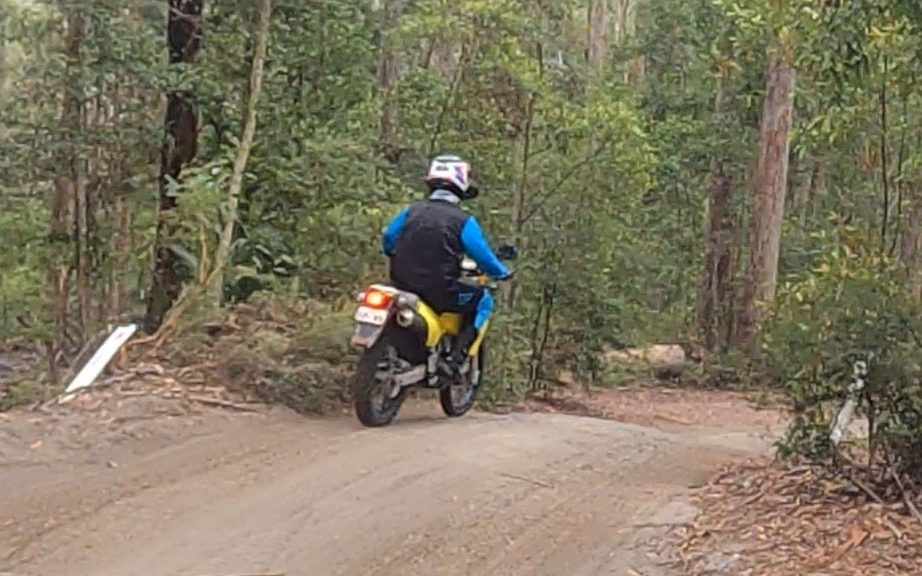 Common Questions about Dirt Bike Riding On Fraser Island
We get a lot of questions about travelling to Fraser Island. We have prepared a list of some of the most common questions with answers that we hope are helpful.
We try to answer them in a place where everyone can benefit from the answers.
Can you take a dirt bike or trail bike across to Fraser island?
Yes, you sure can! However, it will need to be registered and roadworthy.
Unlicensed riders are not allowed to ride their bikes on roads in any national parks, state forests, forest reserves and plantation forests including the Fraser Island National Parks.
Can you ride a road motorcycle on Fraser Island?
Fraser Island is not suitable for the weekend ride on the Harley Davidson. As the island is a sand island there are no roads, only sand and dirt tracks. The only type suitable for these conditions are dirt bikes/trail bikes.
What is the Fraser Island Dirt Bike Rules?
Driving a motor vehicle or motorbike on Fraser Island the same standard road rules apply to the mainland.
The beach and tracks on Fraser Island are zoned as gazetted roads. So normal road rules apply including these:
Speed limits apply (signs are visible along 75 Mile Beach)
Maximum 80kmph
Keep Left unless overtaking
Indicate to pass/overtake
Overtake only when safe to do so
Other applicable dirt bike riding rules on Fraser Island
Do not ride in closed areas or along firebreaks
Off-track exploring is prohibited (no driving on sand dunes)
Speed limit 80km unless otherwise signed
The helmet must be worn
Applicable permits must be visible on the bike.
What Permits Are Applicable For Fraser Island?
Every vehicle including motorbikes must have a VAP – Vehicle Access Permit specifically for visiting Fraser Island.
These permits can be purchased online at the QPWS website…
Once this permit has been paid for it must be visibly displayed on the bike.
It is recommended that it is laminated for protection from sand and water and attached to the bike or carried on your person at all times.
Be warned that motorbikes are targeted by the National Park Rangers, to ensure riders possess this permit.
It is also an opportunity for Rangers to detail to riders the "no-go zones" on the Island for safety and protection of the environment and sand dunes.
What Are Barge Fares For Dirt Bikes?
The cost for a trip from Inskip Point, Rainbow Beach across to Hook Point Fraser Island on the Manta Ray Barge is $ 40 one way.
Cash/card payable on the Barge is preferred as bookings are no longer taken online.
You can arrive or depart from other Barge points on the Island, including Kingfisher Bay, Moon Point and Wangoolbba creek.
Where Can You Get Fuel and Supplies?
Luckily, Fraser Island has a few fuel bowsers scattered around. You can get fuel and basic food supplies at:
Eurong (fuel, supplies, accommodation & meals)
Happy Valley ( fuel, supplies, accommodation, meals)
Cathedral Beach ( fuel, supplies, meals, camping)
Orchid Beach Trading Post ( fuel, supplies, meals & private house rentals)
Tips and Tricks for Riders
You must wear safety gear. An open-face helmet with goggles is best. Padded gloves, boots and a protective jacket & pants. In the summertime, the heat and sun can be extremely harsh.
Carry a backpack instead of loading up the bike. It just helps a little more with the balance when navigating sandy and boggy conditions.
Plan your ride around the tides if you are travelling 75 Mile Beach. Best on a low tide so you can ride in the compacted sand.
Fraser Island dirt bike adventures and tours
Unfortunately, we are yet to find a specific tour operator that offers a dirt bike adventure on Fraser Island.
It seems that most riders that come to the island are individuals or they come from small clubs that have organised their own adventure and exploration ride.
A good idea to look up some forums to find a little more information about joining a motor-x group that may have a future trip in the planning.