The rules to teach your children if you're visiting Fraser Island.
It is highly important to teach your children dingo safety. This may just save your child from an attack.
Warn your children dingoes are different. They're not pet dogs. They're wild animals like lions and they are natural hunters.
Never try to feed a dingo
Children need to stay close enough to parents to see them and hear them at all times. NO wandering away especially alone.
If they see a dingo or are being stalked they need to Stop still. DO NOT RUN !!! Dingoes can easily outrun humans, they will chase and bite at  legs and buttocks and consequently make you fall to the ground.
Stand tall, face the dingo and outstretch arms to look larger. If in a group, hold hands, stay close and yell.
If attacked defend aggressively. Yell and scream at them, pick up a stick or throw an object. For groups of children always stay together.
If children feel threatened or are being watched by a dingo  take note of identifying features such as colour of ear tag, which ear the tag is in ( left male right female) fur patterns and colours or scars from injuries.
Report any threatening behaviour by a dingo to the local rangers office or police.
Be dingo aware
Keep kids close
Never feed or coax a dingo to come close
Lock up your food and belongings.
Secure your waste and rubbish
Bury fish offal deep
Secure bait bags and buckets.
Report any threatening dingo behaviour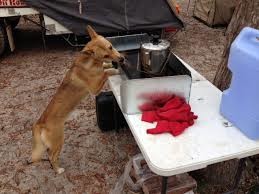 Dingoes in their natural environment are hunters.
They are intelligent mammals and know that humans present great opportunity for an easy food supply.
Feeding them encourages scavenging behaviours that are unnatural and effect the traditional hunting skills that they teach their pups.
Dingoes are also naturally scared of humans and they need to know that were are the dominant species.
This is why the avoidance of feeding them is so important. Therefore ensure that you lock away your food, secure rubbish and close ice boxes.
Dingoes have also been known to rip open tents that have strong odours from clothes or other belongings.
In conclusion be aware, be safe and enjoy your Fraser Island holiday.