There are many different and beautiful hotels on Fraser Island. For tourists looking for accommodation on Fraser Island there a quite a lot of options to chose from.
Below is a compilation of the best places to stay in each category. These are based on our experiences and opinions as residents with our own home on the island for over 20 years.
Most of the best accommodation options are located near the most popular attractions on the island. Some are eco friendly, some provide a real resort style and others allow for a budget friendly place to lay your head without the frills and the fuss.
The island is one of Australia's most famous tourist destinations, and with these great places to stay it should be easy to find a place that suits your needs.
Best Glamping Experience Accommodation
Beachcamp Eco Resort
If you are looking for a comfortable and wallet friendly place to lay your head, all whilst embracing nature Beachcamp may be the place for you. It is situated on the esplanade just a hop skip and jump to 75 Mile Beach, on the eastern side of Fraser Island.
It is a camping / glamping resort. You will experience camping without having to over-pack the 4WD with all the stuff. It is great for couples and is also family friendly with some tents sleeping up to 6.
The tents are furnished lovely and come complete with all linens, en-suite and toiletries.
Prices per night start at $140
Address : 102 Esplanade, Eurong.
Best Fishing Location Accommodation
Fraser Island Fishing Units
If your a mad keen fishing fan you can't go past a stay at the Fraser Island Fishing Units. As the name suggests, this is the place to stay if you're searching for a fishing adventure with your mates. Location is prime here.
In our opinion this is a place that is not traditionally suited for families with young children.
Sitting in prime position on Indian Head, the self-contained units are within easy reach of the headland making it ideal position for catching tailor when the season arrives.
You can walk back to your unit with your catch of the day in one hand and a beer in the other.
It's located right on the beach, and has great views of the ocean. The Units offer the choice of a four bedroom house or two cabins, fully powered by a solar system.
Each unit and house is fully self-contained, offering two fridges, freezer, gas, hot water and stove. Barbecue areas with gas barbecues are also provided.
Prices vary but a week stay starts at $1760 per week
Luxury Resort Accommodation
Kingfisher Bay Resort
If you're looking for a luxury option then Kingfisher Bay Resort fits the bill.
YOu can access this resort from Hervey Bay via the Barge service that operates daily. You do not need a vehicle to visit this resort as you can be a walk on passenger.
On arrival guests can expect to enjoy a nature-based retreat surrounded by native flora and fauna, bush tucker-inspired fine dining experiences and breathtaking sunsets along the western beach.
The resort offers a variety of accommodation styles including resort hotel rooms, villas and a suite of executive holiday houses.
Kingfisher Bay Resort is the ideal island escape. You can relax with a cocktail by one of the four swimming pools, indulge in a soothing treatment at the Island Day Spa.
The resort has 4 restaurants and 2 bars to chose from all catering to different tastes.
If you are travelling with kids they will love the Junior Eco Ranger program, with interactive wildlife experiences including beach games, bushwalks, campfires and stargazing, all led by the resort's ranger team.
Kingfisher Bay Resort is a paradise for nature-based activities, such as swimming, bushwalking, fishing and birdwatching.
The hotel is only 30 minutes away from the Fraser Island Great Walk. Friendly and knowledgeable staff will help you to arrange tours to discover some of the other wonders on the island.
Prices do vary depending on the time of year.
Our family has enjoyed many stays here over the years and we are always impressed with the staff and the service. However in our opinion some of the resort hotel rooms are getting a little tired and in need of a little attention.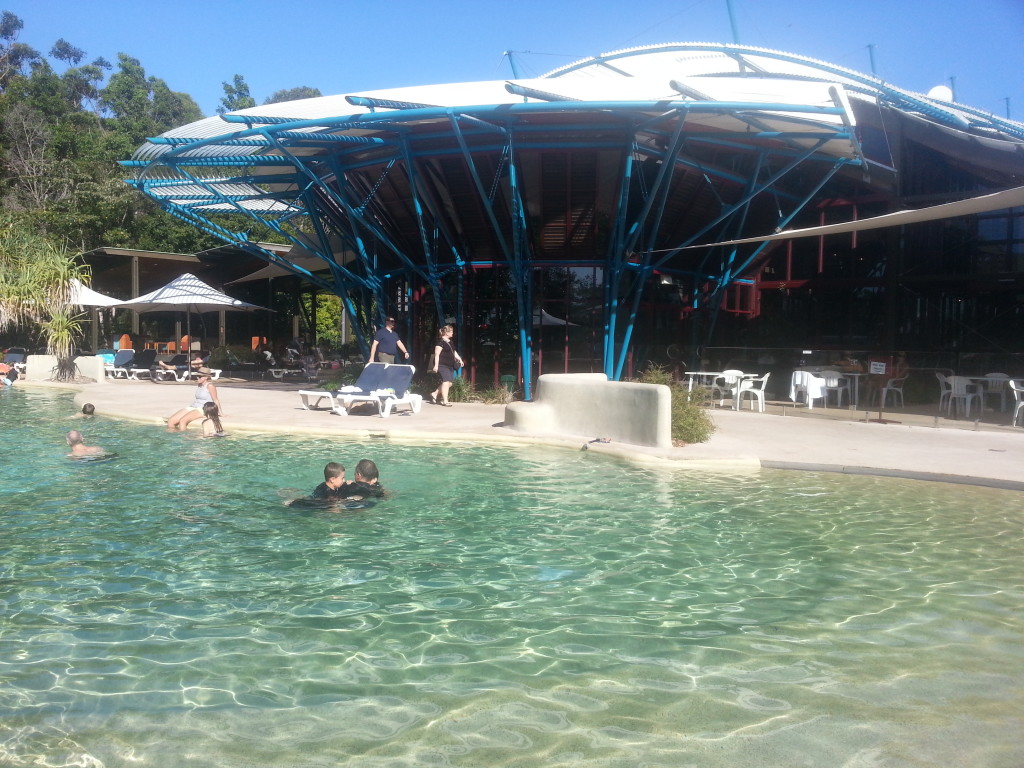 Poolside at Kingfisher Bay resort
Best Family or Budget Resort Accommodation
K'gari Beach Resort – formally Eurong Beach Resort
If you are looking for somewhere in a prime location that can be a base to easily visit most of the Islands biggest attractions, this may suit you.
It has beach themed hotel rooms and spacious family sized apartments.
The hotel rooms offer:
A deck or patio
Queen bed and 1 single bed
Television
In-room bathroom with hot shower and toilet.
Standard rooms are fitted with ceilings fans as the resort is powered by a solar power initiative.
It is important to note that Air-conditioned rooms can be purchased for an additional fee and are subject to availability.
The resort amenities including two pools, McKenzie's On 75 Restaurant, BBQ area, General Store and a Bakery.
Apartments
They are tastefully furnished with Queen and single beds that can sleep up to 6. They also include:
Generous living area
Fully functional kitchen
Outdoor deck or balcony for upper levels
Television
Bathroom with hot shower
Ceiling fans
An air conditioner can be requested for an extra fee
The resort is comfortable and family friendly. It has a pool, restaurant and bar.
It is also located next to the bakery and the convenience store.
Best Eco Accommodation
Happy Valley Eco Retreat
Happy Valley Eco Retreat is a beautiful, serene resort. It's the perfect place to relax and enjoy nature, with all the comforts of home.
It offers timber cabins that come in two sizes;
• 1 Bedroom – like a motel room with a queen and 2 single beds – max. 4 people;
• 2 Bedroom – have an additional bedroom with a queen bed – max. 6 people.
Each cabin has it's own private bathroom.
There is also Hotel Rooms (Max 4 people per room) which have an allocated private bathroom that is a few steps down a passage in a shared area.
The resort is surrounded by bushland and offers a short walk for stunning views of the ocean.
There are plenty of activities to keep you busy at Happy Valley Eco Retreat, including hiking, swimming in the resort pool, fishing down on the beach.
The resort also offers a range of accommodation options, from camping and caravanning to cabins and villas.
It also has a onsite restaurant, bar and shop that can be accessed by public visitors.
If you're looking for a relaxing holiday escape, Happy Valley Eco Retreat is definitely worth considering.
Luxury Family Holiday Homes Accommodation
Fraser Island Beach Houses
Fraser Island Beach Houses are unique 2 and 3 bedroom houses situated on a beach frontage property amongst 1.3 hectares of bushland.
You can choose from beachfront, ocean view or poolside homes.
Conveniently located close to popular Island attractions, they are fully self contained houses that offer the ultimate in luxury accommodation for singles, couples, families and groups of up to 6 people.
They are extremely comfortable and homely and all tastefully decorated and furnished.
These homes are located at Eurong township along 75 Mile Beach on the eastern side of Fraser.
The first indication that you are approaching Eurong from the south ( hook point) will be the yellow diamond road sign indicating that aircraft land on the beach.
Drive a few hundred meters on, you will see the Australian flag flying above Fraser Island Beach Houses and a sign identifying "Second Valley". This is Eliza St. Drive up off the beach and the reception check in will be on your left.
Best Camping Grounds
Cathedrals on Fraser
If you want to try the camping option, Cathedrals on Fraser is the perfect place to stay for a relaxing getaway or an action-packed off-road adventure.
The campground is comfortable and affordable, offering self-catering cabins, permanent canvas tents, powered and unpowered campsites.
It also the best-stocked general store on the island and just what the campers need for a bit of extra luxury. The campground and store is sheltered behind the dunes 6 km north of the famous Maheno Shipwreck. So it is a great base camp area.
The grounds have plenty of shade with trees everywhere and offer a comfortable, relaxed and friendly management team that will look after you.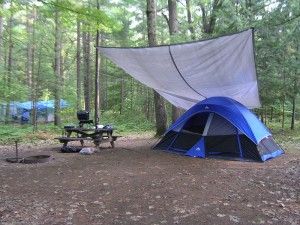 Conclusion
There are a lot of places to stay on Fraser Island. They offer a range of accommodations from camping to luxury suites.
The most well-known hotel on the island is Kingfisher Bay Resort & Spa – it has 5 star accommodations and offers all-inclusive packages for guests. WE have stayed here many times and can firmly recommend particularly if you have children.
The hardest part of selecting where to lay your head is to figure out what type of experience you want.
Luxury Resort style
Comfortable family holiday home
Glamping or camping style
Eco friendly and immersed in nature
You can find many great deals for these online with the links we have supplied or you can search the popular accommodation booking sites for more choices and availability.
No matter what you chose, your holiday to the island will certainly be memorable. And trust me when I say you will be back. It has a magic power that just keeps pulling you in just, like the tide.
Happy Holidays !!