Fraser Island is an island in a remote area and is only accessible by air or barge/ferry/boat.
Due to the remote location, this assumes that prices for accommodation, food, fuel, and all goods and services will be inflated.
But by how much compared to mainland pricing? Let's find out.
Cost of Accommodation
Being that Fraser Island is primarily a holiday destination, there are different types of accommodation choices. Expect to pay the following for a basic night's accommodation :
Campsite from $7.50 per person per night
Eurong Beach Resort from $160 – $300 per standard room per night
Kingfisher Bay Resort $ 220- $450 per standard room per night
Private rental houses from $ 200 -$600 per night prices vary checkout Stayz
These prices are a guide and minimum, as they inflate from this price during peak season times.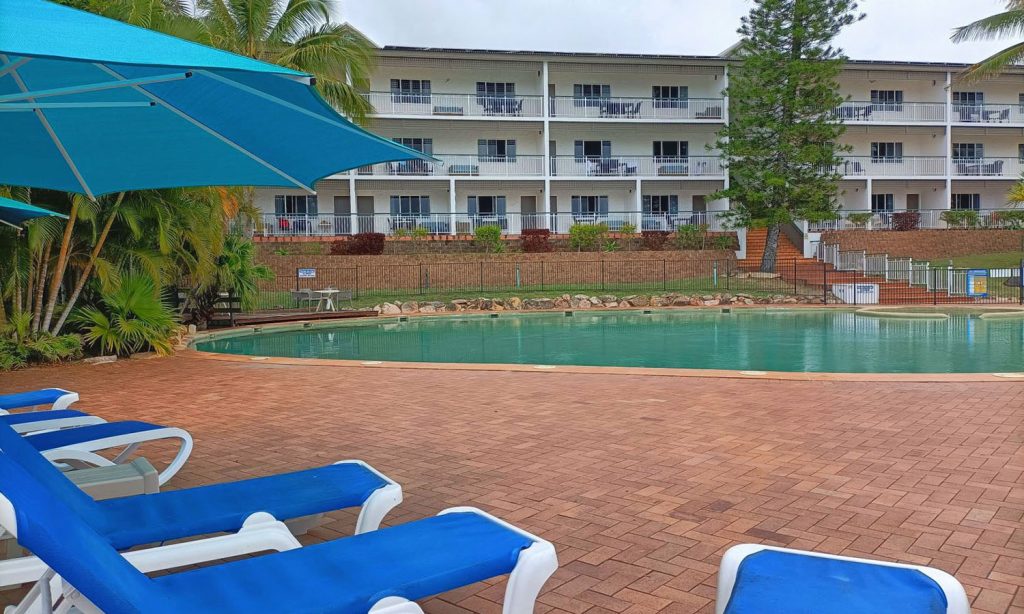 Cost for Food and Supplies
Remember that you are in a remote location, you will not find a Coles supermarket or Aldis. With that in mind, your options on the island are limited.
The best place to find staple items is at Happy Valley and Cathedrals. Here you will find just about everything you need. Bread, butter, coffee, cereal, milk, biscuits, snacks and various fresh fruits and vegetables.
I would always recommend bringing food from the mainland and only relying on shopping here if you run out of something or forgot to pack it.
Prices are inflated up to about 30 % of standard mainland prices. Considering the effort to deliver to the island the prices are pretty good.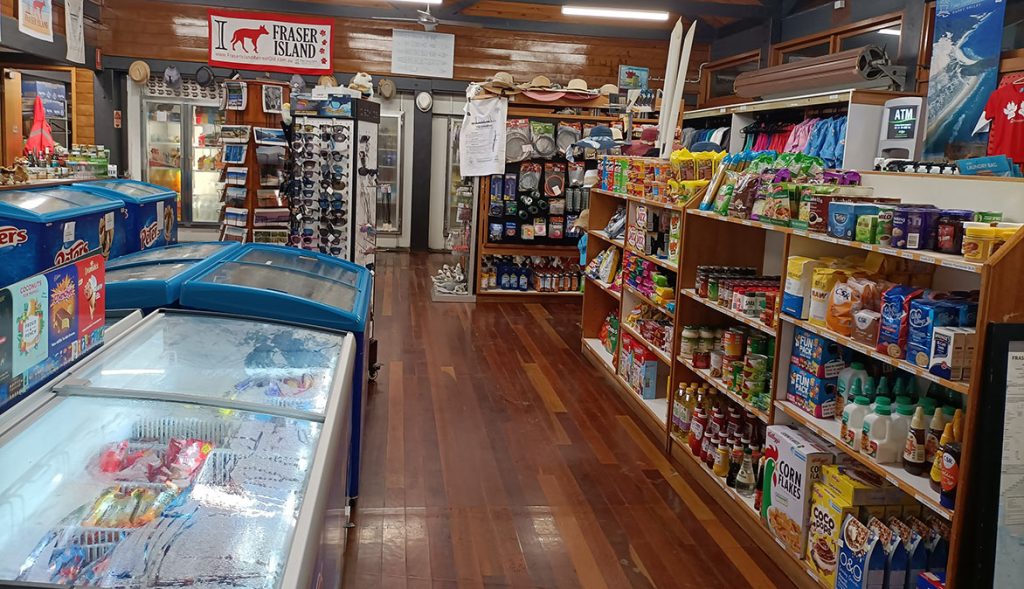 Happy Valley supply store
Cost For Fuel
Many travellers that come to the island are surprised by the expensive cost of fuel. There are a few townships on the island that sell fuel. Those being: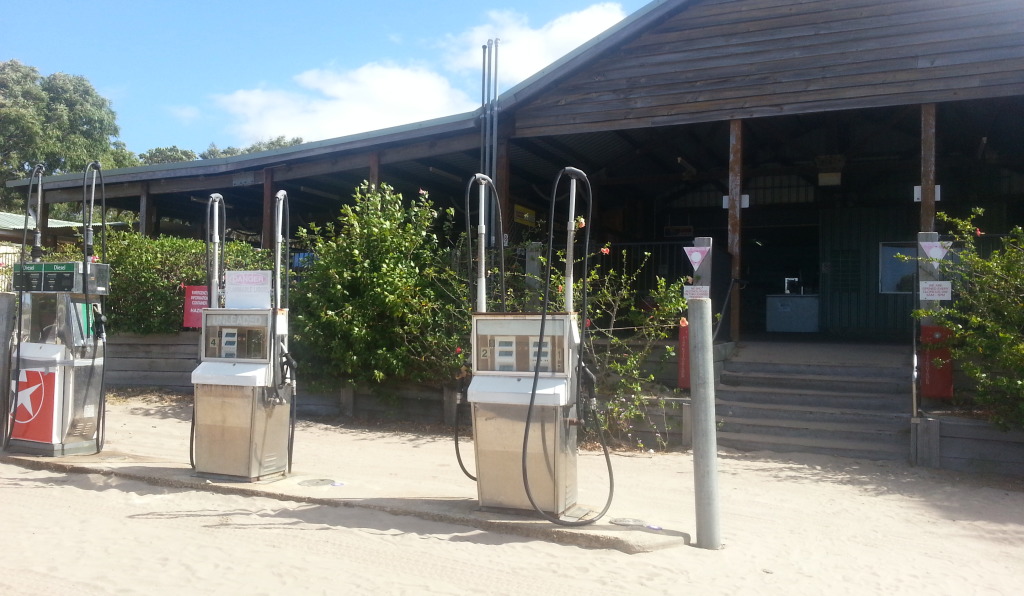 Orchid Beach fuel
The price of fuel does vary on the island. The southern end at Eurong has slightly cheaper fuel than the northern end at Orchid Beach.
Expect to pay at least 30-40% more than Mainland Brisbane fuel prices. This is due to the cost of transportation by 4WD tankers to the island. Remember that it takes up to 2 hours to get from the bottom to the northern end of the island, then return.
It is a good idea to top up your fuel at either Rainbow Beach for Inskip departure or Urangan for River Heads departure.
Plan your driving itinerary so that if you need to refuel it will be minimal travel to the nearest fuel stop.
It's also a good idea to travel with a 20Ltr Jerry can for just in case. If you can carry more bring them. Beats paying for expensive fuel.
Other Goods and Services
Fraser Island is a remote area so apart from a few scattered resorts and small supply shops in a few little townships there are no other services.
There are no boutique shops or cafes, day spas, hairdressers, mechanics, shopping centres, medical centres, chemists, or paid entertainment. Nor can you hire, jetskis or paddleboards like at other beach destinations.
There is however a Towing service. So if you have a vehicle breakdown you can get towed off the island but it is costly.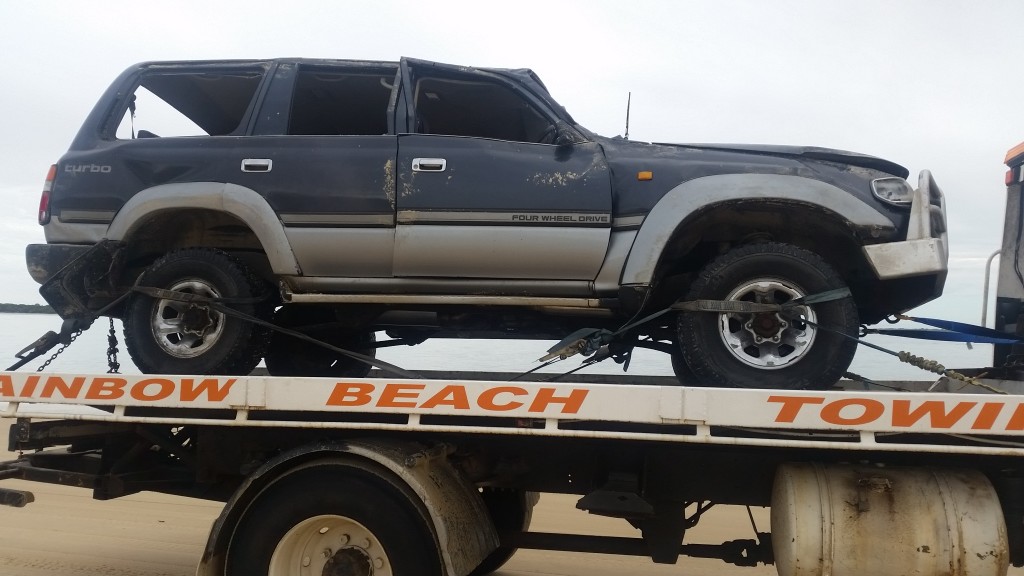 Towing service for vehicle breakdowns
Keep this in mind if you want to save some money
Be fully self-sufficient with supplies if you are camping or staying in private accommodation
Carry a few Fuel cans if you plan to do a lot of driving around the island as fuel is expensive
Ensure that your vehicle is fully serviced prior to getting to the island. If you break down you are up for a lot of money to get your vehicle towed off.
Even if you are staying in a hotel or resort and plan on eating out every meal, bring some snacks, especially if you have hungry kids.
Safe travels and Happy Holidays