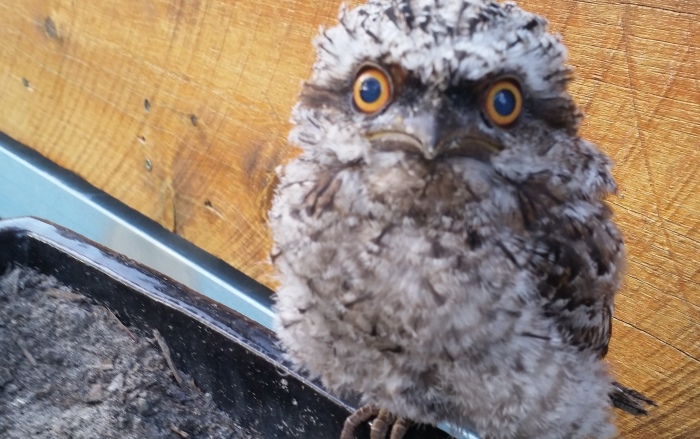 The rescue and recovery of a little Tawny Frogmouth Owl….
This little orphaned Owl was brought to us by someone who had found him all alone on the side of a sandy track, with his mother no where to be seen.
As local residents of Fraser Island and avid nature lovers we have earned a reputation for caring for injured or orphaned animals. Unfortunately in a remote area there is not the convenience of a resident veterinarian or wildlife organisation.
Our 12 year old daughter Lotus is passionate about birds particularly and has a wealth of knowledge for such a young age. ( She aspires to be an Ornithologist and travel the world studying birdlife. )
We estimated from his size and feathers that he was about a month old and was probably pushed or fell from his nest.
Our daughter Lotus immediately fell in love with his silky soft feathers and huge big eyes. Amazingly they seemed to have an instant connection and she became his substitute mother.
We presume that he is a HE..and until he lays an egg…. a He, he will be….His name is IRWIN ( as in remembrance to Steve Irwin the wildlife warrior )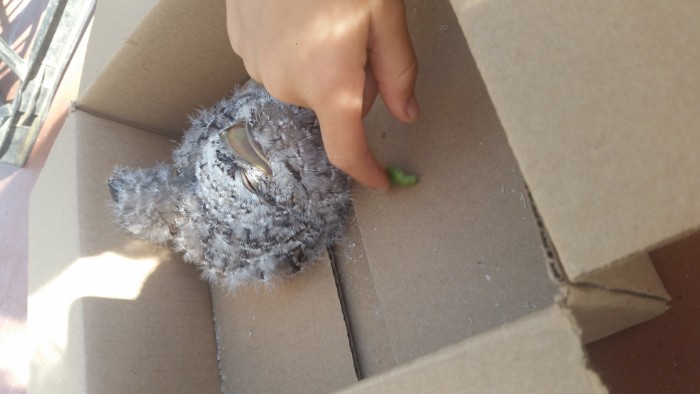 The trials and tribulations…
FEEDING IRWIN
Our first concern was what we were going to feed him….."Google" gave us some hints…so off we trotted to our green house to collect some creepy crawlies…caterpillars, moths and worms.
We mashed them with our mortal and pestle so they were easier for him to swallow and digest, he had a HUGE mouth which was surprising. Irwin needed to be fed every 2 hours otherwise the squawking became unbearable.
Lotus soon became familiar with sleep deprivation and the joys of parenting a baby….owl.
He was growing rapidly and we started feeding him raw mince and boiled eggs. He loved the eggs the most. As you can not feed owls water directly, we added it to his mince to ensure we minimised his risk of dehydration.
We tried to mimic his mothers feeding technique and held the food above his head and when he opened his mouth as we placed it deep into the back of his throat.
By his 3rd week with us he had grown more feathers and we decided he was ready for some flight practice.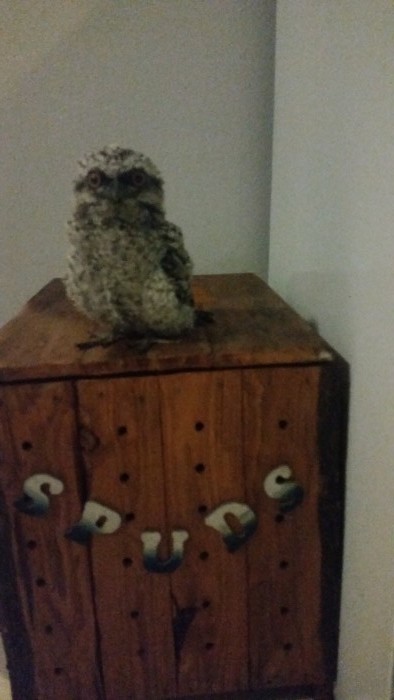 FLYING LESSONS
As owls are nocturnal we only practised flying lessons at night time. We set up a few milk crates in the house in which we tried to coerce him to fly from one to the next.
With a meaty treat on each crate he soon got the hang of our little flying circuit. Strangely he always wanted to get to the highest point of the house like the fridge and photo frames which never went well, often crashing into the fridge door and walls.
The training was short bursts of wing flapping to each crate.
Every day we spaced them a little further apart. The downside of this was that he had been spending lots of times indoors and seems to have developed a love interest in the TV….He loves a good soapy especially Bold & the Beautiful.
In fact he has found a comfy sitting spot perched on the back of our sofa.
Within a few weeks he had mastered indoor flying and we decided the next step was the great outdoors. Our backyard is full of huge trees and surrounded by National Park bush land.
We sat him on a log and watched from a far waiting for him to fly onto a nearby tree branch. He wobbled around clumsily in a circle checking his surroundings and then he flapped his little wings hard and fast and flew.
It was amazing to see him take off until we realised he was returning back to the comfort of our house and sofa!! Eventually he was flying back and fourth from the log to our house, landing on the patio chairs to watch TV.
As he grew he got extremely vocal, so noisy in fact that we decided it was time to put him outside for the entire night on his own.
Lotus placed his little crate and cushion high up on the Bow of our boat where we knew he would be safe from predators.
We left an outdoor light on to attract bugs into the area so hopefully he would try to catch his own food instinctively.
Thankfully, with lots of prayers he was on his crate in the morning safe and soundly asleep.
RELEASE BACK TO THE WILD
Irwin grew very big rapidly and we were concerned that he was becoming dependent on our interaction with him.
We decided that in his best interest we would refrain from unnecessary contact with him.
Slowly but surely he moved further away from us. It has been a year now and he still returns occasionally at night time. The only difference now is that he often brings a friend with him to visit.
We are sure that his friend is another Tawny owl that we rescued years before that we called " Bucket "…ironically he was found as a baby trapped in a bucket.
We hope they are living happily ever after with each other.